Amy Schumer, calling herself "heartbroken" after a gunman killed two people watching her movie in Louisiana, joined her senator cousin on Monday to call for a stronger background-check system for gun buyers.
"These shootings have got to stop," she said. "I don't know how else to say it."
The comedian and Sen. Charles Schumer, a New York Democrat who is her second cousin once removed, announced a bill to reward states that submit records on felons, spousal abusers and the mentally ill to the federal background check system. It would penalize states that don't.
They also want the Justice Department to survey states and find out which have the best standards for involuntary commitment to mental health facilities, and they want Congress to restore proposed cuts to mental health programs.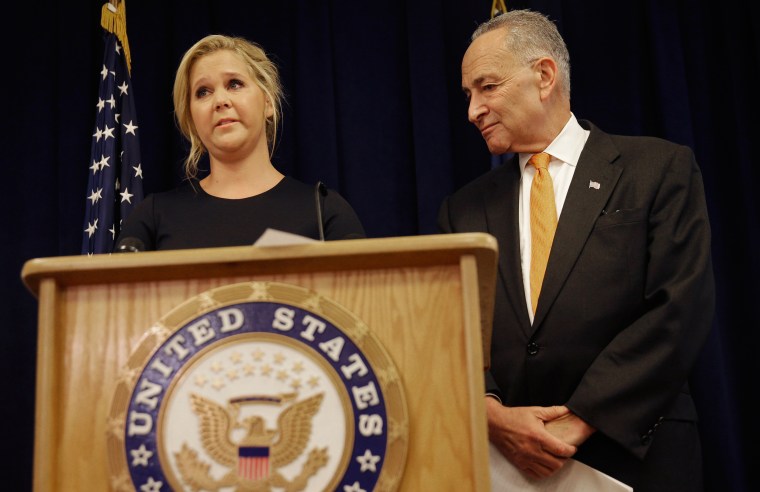 "These are not extreme ideas," Amy Schumer said. "No one wants to live in a country where a felon, the mentally ill or other dangerous people can get their hands on a gun with such ease."
Schumer's movie "Trainwreck" was playing at a Lafayette theater on July 23 when John Russell Houser, a gunman with a decades-long history of mental health problems, killed two people and injured nine others before taking his own life.
Amy Schumer's voice broke as she described the victims, a 33-year-old artist and a 21-year-old student.
"I was heartbroken when I heard about Columbine and Sandy Hook and Aurora and so many other names of places that are seared into our memories," she said, "and I was heartbroken again when I heard about Lafayette. And I still am."
The senator said the country cannot "just sit back and allow mass shootings to become commonplace in the United States."
"How many breaking news flashes will it take for Congress to act?" he said. "How many tears? How many lives lost?"