Here's a bit of reassuring news — children who must get multiple X-rays and CT scans because of heart disease don't have much of a higher risk of cancer later in life from the radiation, a new study shows.
But a few kids who had the most imaging had significantly higher risks — especially girls, the team at Duke University Medical Center found.
"In general we found that most of our patients are not getting exposed to really high doses of radiation so their lifetime risk is not that great," said Dr. Kevin Hill, a cardiologist at Duke who led the study. "There was a subgroup of very complicated patients who did have a higher risk."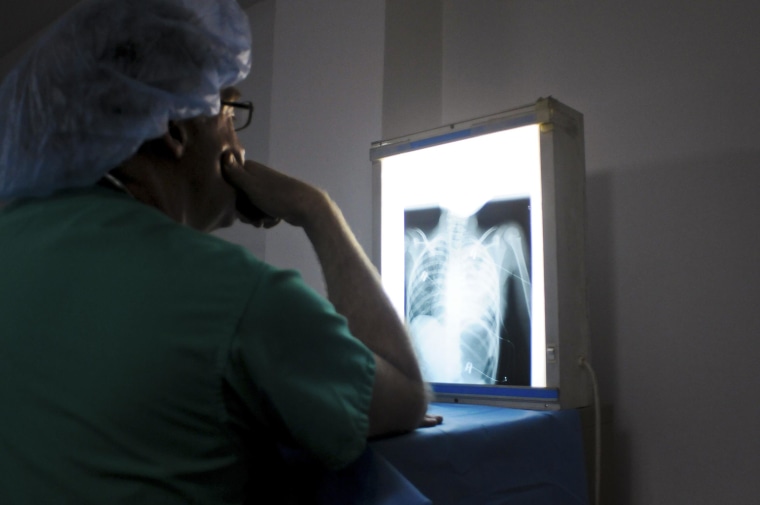 Hill's team studied 337 children under the age of 6 who had surgery for heart disease at Duke between 2005 and 2010. They gauged their radiation dose to calculate and project their lifetime cancer risk.
It's an issue because children are three to four times more likely to develop cancer from exposure to ionizing radiation like that given in an X-ray or computed tomography (CT) scan. "Radiation exposure in childhood is of particular concern because children have immature developing organ and tissue structures," Hill's team wrote in their report, published in the journal Circulation.
These kids got an awful lot of imaging — 13,932 X-rays, CT scans and other procedures before, during and after surgery. The X-rays didn't deliver much radiation at all, Hill's team found.
The big culprits are cardiac catheterization exams and CT scans. They can deliver up to 1,800 times more radiation than a standard X-ray. Children who got many of these complicated and time-consuming scans did get enough radiation to triple their risk of cancer, Hill found.
On average, children don't have a high risk of cancer, though, so even doubling or tripling that very low risk still doesn't make them very likely to develop cancer.
"Even though their risk is threefold greater, it is not necessarily a high risk," Hill said. "I think it is important for parents to understand that there is a small amount of risk."
Doctors can and should do their best to minimize radiation exposure, Hill said. New technology can help with this, as can techniques that make it necessary to use the shortest possible burst of radiation.