The shooting of a Black teenager who rang the wrong doorbell after mistaking the residence for one a block over has sparked outrage on social media, a weekend protest and calls for the shooter's arrest.
Nationally prominent civil rights attorneys Lee Merritt and Ben Crump announced Sunday that they were taking the case and promptly criticized authorities in Kansas City, Missouri, for releasing the man who opened fire, who they said is a white man.
Ralph Paul Yarl, 16, was released from the hospital Saturday after he was shot just before 10 p.m. Thursday.
Yarl, a high school junior whose teacher said his goal is to study chemical engineering in college, was shot once in the head and a second time in the arm, Merritt and Crump said in a joint statement.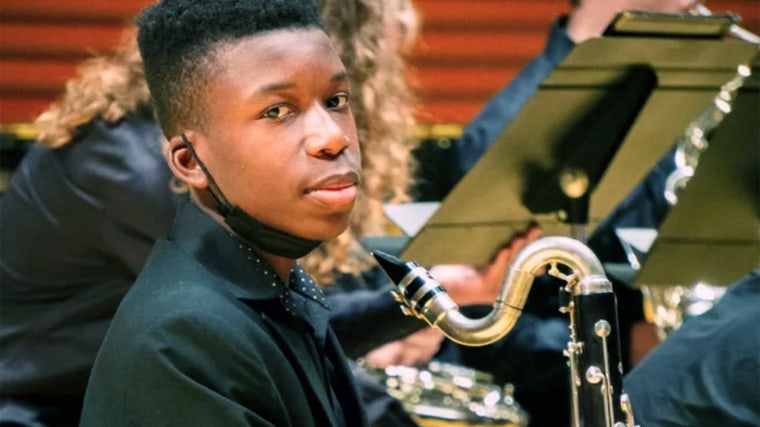 "There can be no excuse for the release of this armed and dangerous suspect," the lawyers said.
Kansas City police said the child mistook a residence in the 1100 block of Northeast 115th Street for the location of his siblings, who were at a home in the 1100 block of Northeast 115th Terrace, according to NBC affiliate KSHB of Kansas City.
Demonstrators targeted the location Sunday as word of the shooting started to reach a national audience through social media.
Protesters marched toward the residence where the shooting took place, chanting "What do we want? Justice! When do we want it? Now!"
Yarl's aunt, Faith Spoonmore, said Sunday at the protest: "My nephew is alive and he is healing. It is not the story that that individual intended for us to tell. We are telling a story that is different from the stories that you normally hear," KSHB reported.
Police Chief Stacey Graves explained why the man who opened fire was released and vowed to investigate thoroughly.
The resident, whose name and race has not been released by police, was taken into custody and held for 24 hours, the maximum for a suspect in a felony until charges are filed.
"After consulting with the Clay County prosecutor's office, the homeowner was released pending further investigation due to the need to obtain a formal statement from the victim and compile additional information for a case file to be presented," the chief said.
A firearm was taken as evidence, Graves said.
She said that a vast majority of felony suspects are released after 24 hours but that many are re-arrested once enough evidence is gathered to trigger charges.
In this case, Graves said, detectives, working "as expeditiously and as thoroughly as we can," will work to build a solid foundation for prosecution.
"As soon as the case is complete, it will be presented to the Clay County prosecutor for their review," she said.
"I want everyone to know that I am listening and I understand the concern we are receiving from the community," she added.
Clay County prosecutors said in a statement on Monday that, "at this point, we have not yet received a criminal referral from the Kansas City Police Department regarding this case. However, we are actively working with law enforcement in an attempt to speed up that process so that we can review the file when it is submitted and determine whether criminal charges are appropriate."
Investigators will consider whether the suspect was protected by Missouri's "Stand Your Ground" law, Graves said.
The law says a would-be shooter defending life or property does not have to retreat before taking violent action.
Graves also said she has been in touch with the teen's family and is listening to the concerns of the Black community.
Mayor Quinton Lucas, who attended the news conference, said there's a "thorough" investigation underway now.
"We will make sure we do all we can to be fair, to make sure we're as expeditious as possible and more than anything to make sure that everyone, no matter their background, knows that justice can be obtained here in Kansas City," he said.
Lucas also said he's been in touch with the victim's family.
"My heart goes out to the victim of this shooting, the victim's family, my heart goes out to everyone impacted," he said.