"Inspired by" are the words that viewers of Netflix's new miniseries "Self Made: Inspired by the Life of Madam C.J. Walker" should heed most about its title because the series is made up of as much tawdry fiction as it is the fascinating truth about the black hair care entrepreneur — and her equally determined rival — widely described as one of the nation's first self-made millionaires.
The series, which comes out on Friday, is based on the 2002 biography "On Her Own" by Walker's great-great-granddaughter A'Lelia Bundles and stars Academy Award winner Octavia Spencer as Walker, which is a pretty prestigious pedigree even before one gets to the 10 executive producers that include Spencer, NBA star LeBron James and "Harriet" director Kasi Lemmons. Despite the many powerful people behind the film, "Self Made" sensationalizes the life of Walker in petty, familiar ways that seem designed to ramp up drama by hewing to ugly stereotypes about black women — a curious choice, since she experienced plenty of interesting and unexpected drama in her 51 years.
Born Sarah Breedlove on a Louisiana plantation in 1867, Walker was the first person in her family not born into slavery. The free newborn's life might have seemed filled with possibility, but Walker suffered a series of setbacks before reaching adulthood. She was orphaned as a small child and then forced to live with her older sister and abusive brother-in-law, a predicament she fled by getting married as a teen. That marriage proved to be just a temporary escape, as her husband died a few years after their nuptials, leaving Walker not only a widow but a single mother too.
"Self Made," however, elides over much of Walker's backstory, thereby giving the impression that she was simply a striving capitalist instead of a woman who transcended abject poverty (based on her gender and race) in search of a life for her daughter that didn't involve the backbreaking labor of being a washerwoman.
Several scenes include Walker discussing her hopes of striking it rich — particularly Rockefeller rich — but her ambitions are given little context. "All you care about is money," her third husband, C.J. Walker (played by Blair Underwood), snaps as their marriage deteriorates, and viewers aren't necessarily disinclined to object.
The real Walker was a businesswoman, yes — but she was also a philanthropist who made it clear that her immense wealth would serve to uplift her race, as well as a political activist who campaigned against lynching, sued an Indianapolis movie theater for charging blacks more for admission than whites and was spied on by the FBI. As one of the nation's richest women — black or white — at a time when women's right to own property at all varied by state and marital status, Walker helped her female sales agents earn significantly more money than they would have as domestic workers and encouraged them, too, to take up political causes.
Somehow, though, "Self Made" reduces Walker to a woman so nakedly ambitious that she "emasculates" her husband who — as is predictable for fictional stories about wealthy or ambitious women — cheats on her. Walker's husband was unfaithful in real life, but he wasn't necessarily driven to cheat because his wife was neglectful and dismissive, as the series implies. This trope is particularly tiresome in black film and television because it sends the insidious message that black men, deprived of the power that white men enjoy, are too fragile to contend with high-achieving wives, so black women should sacrifice their hopes and dreams to coddle them.
Just as alarming as that trope is that the series links the Walker's hair care business, and thus her wealth, to her purported insecurity about being a dark-skinned black woman with kinky hair. In fact, Walker emphasized that she was proud to be a black woman and shot down the misconception that her products, such as the Wonderful Hair Grower, straightened hair or that she intended to make black women look "whiter." During a time when many hair care ads featured white or nearly white models, Walker featured herself and other brown-skinned women on her products.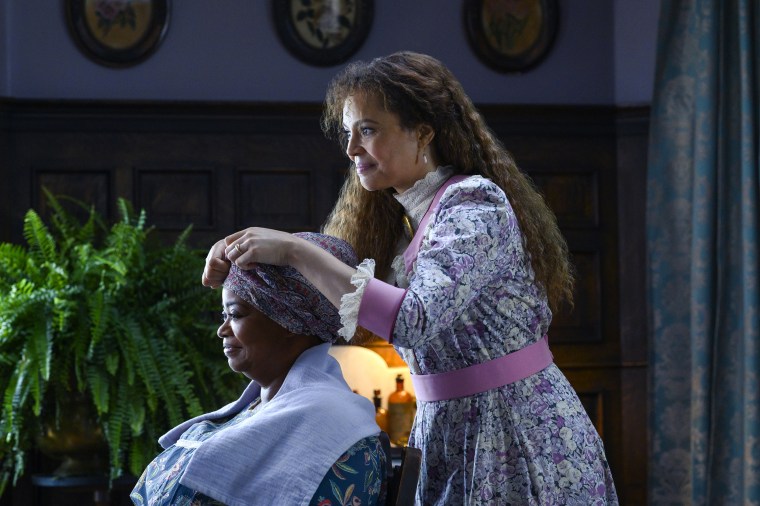 Beyond that, her business rival in the series, Addie Munroe (played by Carmen Ejogo), is a "light, bright" biracial woman with the wavy tresses historically called "good hair" in the black community.
Addie, though, is loosely based on Walker's real-life business rival, Annie Malone — with some glaring differences that lean into stereotypes both about colorism and black female rivalhood. Unlike "Munroe," Malone was a dark-skinned black woman, as Walker was. While Malone had access to a K-12 education and a knack for chemistry, Walker received little formal education growing up and went to night school as an adult to catch up academically.
According to the biography "On Her Own Ground," Walker suffered from what was then called "tetter" — or scalp psoriasis. The treatments marketed for the condition at the time were either "snake oil" or contained alcohol, which made it worse, as did malnutrition, infrequent shampooing and hair products made of animal fats. Malone, who got her start as a gifted science student and conducted experiments in her lab, knew that hygiene played a key role in restoring scalp health and that alcohol was an irritant, and her products helped and ultimately inspired Walker to get into the fledgling hair care industry. (And Malone ultimately enjoyed even greater financial success than Walker.)
In "Self Made," Addie Munroe begins as a savior of sorts to Walker. Selling her hair care line door to door, she meets the washerwoman, stuck in a violent second marriage and with hair that's falling out in clumps, and her products magically regrow Walker's hair. The series, however, never explains why; for a show about a black beauty mogul (and her rival), "Self Made" seems painfully disinterested in the ins and outs of black hair.
Ultimately, Munroe becomes a light-skinned foil to Walker, and is portrayed as clownish, spiteful and devoid of scientific knowledge. Walker, meanwhile, is portrayed as resentful of Munroe's perceived beauty. While, as a black woman who came of age during the turn of century, Walker assuredly experienced colorism, "Self Made" gives the issue undue attention considering that she didn't have a "high yella" foe in real life.
"Self Made," then dishonors Malone's legacy by presenting her avatar, Munroe, as a scheming and colorist businesswoman who deems Walker too dark, country and unattractive to make it in the hair care industry. And it does the same, to a lesser degree, to Walker, by overemphasizing her insecurities instead of her pride.
"Self Made's" emphasis on colorism has even prompted Walker's great-great-granddaughter and biographer to speak out. A'Lelia Bundles recently told the Indianapolis Monthly that she disliked the series' portrayal of Walker and Malone's interactions. "I know Hollywood narratives exaggerate reality to create conflict and drama, but I was disappointed that the script defaulted to Madam Walker and Annie Malone cursing and fighting each other," she said. "It felt like a clichéd way to show their competition with each other."
Hair and beauty are undoubtedly political, and Walker knew as much, but "Self Made" glosses over how newly freed African Americans managed their appearance in the late 1800s and early 1900s. Investing in how one looked was a means to demonstrate black equality and to exhibit racial pride after generations of subjugation.
But "Self Made" cheapens this history, using the idea of black hair, rather than even its reality, as fodder for a tawdry storyline about two businesswomen who often behave more like cartoons than real people. Both Madam C.J. Walker and Annie Malone deserve better.