A gift card seems like the can't-go-wrong present. But let's be honest, sometimes that gift card misses the mark. Maybe you don't shop at that store or eat at that restaurant anymore. Maybe you just want the cash.
It's easy to sell unwanted gift cards. Just be careful so you don't fall victim to a gift card resale scam.
Fraud.org, the website run by the National Consumers League (NCL), just issued a Fraud Alert about these scams. John Breyault, the NCL vice president who manages the site, said people run into trouble when they try to sell their unwanted cards on Craigslist or eBay or by responding to offers on social media.
"Once they find a buyer, the seller provides the codes from the back of the card and the buyer pays them," Breyault told NBC News BETTER. "If it's a crook, they will cancel the digital payment as soon as they get the codes and quickly spend the money on the card. The victim is left without any money and a useless piece of plastic."
That's what happened to Bendada Abdallah of Madison, Wis. He got burned when he tried to sell $380 worth of Apple gift cards for nearly face value on eBay. Abdallah emailed the card numbers and PINs and got paid via PayPal.
By the time Abdallah figured out he'd been robbed — the scammer used a hacked PayPal account, so he never got paid — the cards had been used to buy things.
"I learned my lesson," Abdallah said. "Be very careful when you try to sell something online."
How to Cash Out Gift Cards Safely
The smart and safe way to sell unwanted gift cards is to use a well-known legitimate gift card exchange, such as Giftcards.com, Cardpool, CardKangaroo, CardCash, ABC Gift Cards or Raise.com. You might want to start at GiftCardGranny.com, an online aggregator that lets you instantly compare offers from various reputable websites.
We offered to sell a $100 Walmart card on Gift Card Granny and got seven offers, ranging from $74 to $90.
"If you go to a trusted gift card reseller, there's a company sitting in the middle handling the transaction for you," said Shelley Hunter, the Gift Card Girlfriend on GiftCards.com. "They're brokering between you and the seller, so you don't have to worry about interacting with a person that you can trust."
Online exchanges base their offers on supply and market demand. As a rule, they tend to pay more for cards that people want and the exchanges need. That's why people selling iTunes cards, the most resold gift card last year, were paid about 65 percent of value ($65 for a card worth $100) while those selling a Nordstrom card got 87 percent, according to a recent report from Gift Card Granny.
In most cases, you can choose various payment options, including check, PayPal, electronic deposit or another gift card.
Some Gift Cards Are Worth More Than Others
Based on its analysis of 2017 sales, Gift Card Granny found that gift cards for gas stations and grocery stores pay the best — 89 percent (on average) of the value on that card. These 10 cards had the highest return rate last year:
92 percent: Safeway
90 percent: Shell, ARCO, Walmart, BP
89 percent: SUNOCO
88 percent: Best Buy, Speedway, Target, Chevron
"It's better than keeping that gift card sitting in a drawer when you're never going to use it versus selling it and losing a little bit and then getting cash or exchanging it for a gift card that you are more likely to use," said Trae Bodge, shopping expert at Gift Card Granny.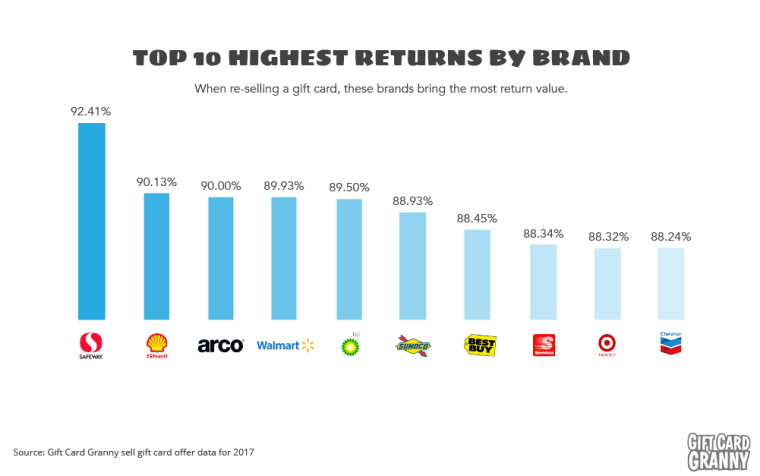 More Ways to Cash Out
You can always regift the card.
Trade it in at Target. Many Target stores will exchange popular retail and restaurant gift cards for a Target gift card that can be used at the store or online. Right now cards from 140 merchants – Aerosoles to Zumiez – are being accepted. This is done in the electronics department.
Get instant cash or a store gift card from Cardpool at one of their yellow in-store kiosks or partner retailers, such as Target and Safeway. They currently accept cards from more than 250 retailers and restaurants, as long as they have a balance of more than $15.
Donate the card to charity. Many non-profits are happy to accept gift cards.
Many Target stores will exchange popular retail and restaurant gift cards for a Target gift card that can be used at the store or online.
One more money-saving tip if you're looking to buy: These exchange sites resell the gift cards they buy at a discount. For example: We checked and found $50 Starbucks gift cards selling for $43.99, a 12 percent discount.
GET MORE SIMPLE MONEY HACKS THAT'LL HELP YOU SAVE
Want more tips like these? NBC News BETTER is obsessed with finding easier, healthier and smarter ways to live. Sign up for our newsletter and follow us on Facebook, Twitter and Instagram.