March 8 marks International Women's Day, a time designated to honor women for their economic, political and social achievements.
But when it comes to the business world, there's a strong feeling that American women have not come far enough on issues like equal pay — and on having a seat in corporate boardrooms.
"The challenges of 20 years ago for women are still with us," said Susan Nethero, managing director of Golden Seeds Investment, a firm dedicated to female-owned and -managed businesses. "There's been some improvement, but it's not really gotten any easier for women to be successful at high levels in business."
Nethero spent 20 years in corporate America working in management positions for companies like Xerox and Dow Chemical as well as starting and working as CEO of her own retail firm. She said women still don't feel part of a business culture still dominated by men.
That culture, said Margery Kraus, founder and CEO of consulting firm APCO Worldwide, creates a kind of exclusion against women.
Norway, Finland and France have quota laws requiring in some cases at least a 40 percent level of female representation on corporate boards.
"We face discrimination at all levels, like trying to raise money for a business," said the 67-year-old Kraus, who is chairman of the board of the Women Presidents' Organization, a group dedicated to helping women entrepreneurs. "There's a presumption that women can't do certain things in business and that's just wrong."
U.S. lags other advanced countries
Women hold 16 percent of corporate board seats in the U.S., and they hold 14 percent of executive officer positions, according to Catalyst Research. Just 23 of the Fortune 500 CEOs are females.
CEOs like Mary Barra at General Motors, Meg Whitman at Hewlett-Packard, Laura Alber of Williams-Sonoma, Marissa Mayer at Yahoo are examples of progress.
Compared with some countries, the U.S. trails in the number of women occupying corporate chairs. In Norway, 41 percent of board seats are held by women. In Sweden and Finland, it's 27 percent; in France, it's 18 percent.
However, getting to those higher levels came through regulation. Norway, Finland and France have quota laws requiring in some cases at least a 40 percent level of female representation on corporate boards, other times an equal 50-50 men-to-women ratio.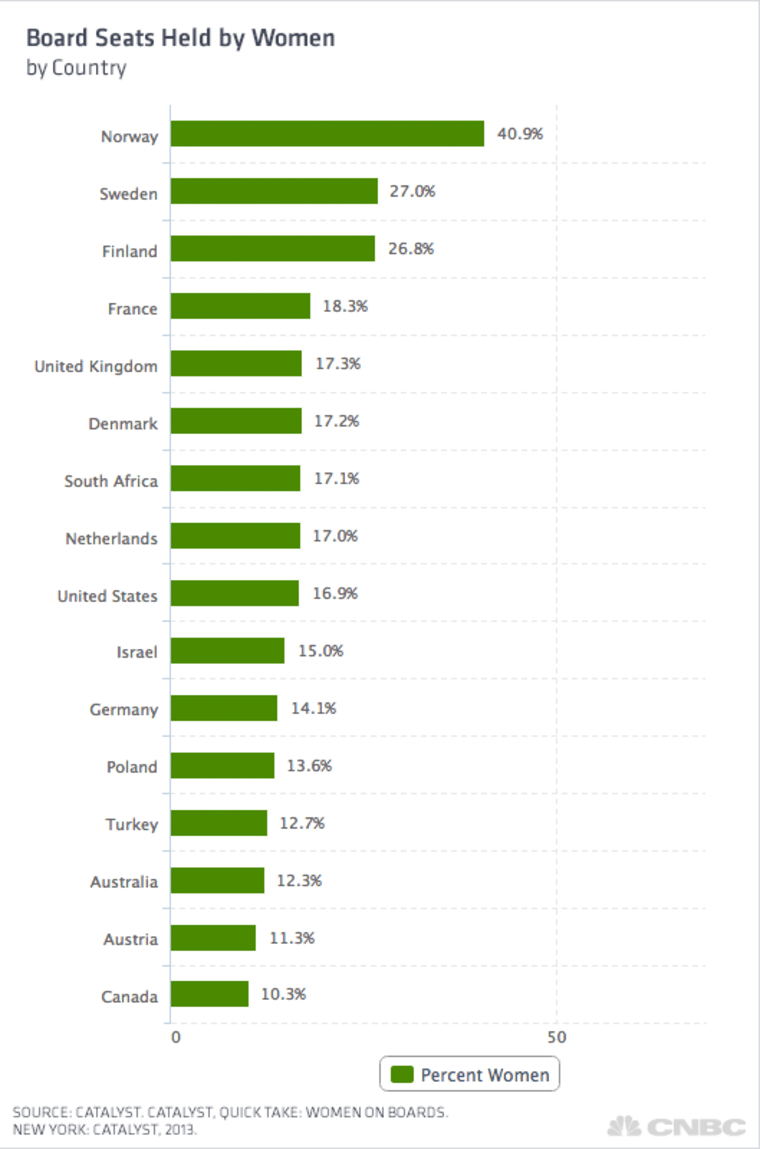 "A lot of people in Europe don't like the quotas," said Marijo Bos, managing director of Bos Advisors, a business consulting firm based in New York and Madrid.
On a phone call from Spain, the California-born Bos said she was not promoting quotas for the U.S. and didn't believe they would happen here — but she added that the laws "have put more women in place on boards, and that's a positive."
(The Spanish government passed a no-penalty law in 2005 that recommends that 40 percent of all board seats be held by women.)
The dearth of women on corporate boards may come down to their resumes, said John Alan James, executive director of the Center for Global Governance at Pace University.
"Most new board appointments come from recommendations of current board members, and it is difficult to find females who have major career experience in areas like compliance and major tech issues," he said.
But a colleague at Pace said boards are limiting themselves in their search. Leslie Seidman, an executive director at Pace's Lubin School of Business, said companies should change their criteria on what they believe qualifies a candidate.
"They aren't taking the broader spectrum of what women have done and go past their usual network of connections," added Seidman, former chairman of the Financial Accounting Standards Board.
Seidman joined the board of directors at Moody's credit service last spring, replacing a man. She is one of two women on a nine-member board.
Culture change sought
Getting to a place where women and men are equal in pay and around boardroom tables will take a culture change, said Veronica Hagen, CEO of materials maker Polymer Group.
"We could have legislation, but instead, we have to create an atmosphere of a diverse workforce," argued the 68-year-old Hagen, who said she successfully raised a family during her business career.
Hagen added that her experience of being a woman on several boards has taught her that businesses need diversity, including women, in order to be successful.
"The awareness is there, but there has to be a higher level of effort for this," she argued. "That's the difficult part."