Gov. Andrew Cuomo's decision Tuesday to raise minimum pay for all New York state workers to $15 an hour underscores the powerful role governors and local governments can play in shaping the national wage fight.
To date, no other state has enacted a $15 public sector minimum wage. "It's a groundbreaking move," said Connie Razza, director of strategic research at the Center for Popular Democracy. The center conducts research and helps organizers on public policy issues, including the minimum wage.
About 10,000 state employees will benefit from the governor's decision, which will phase in higher pay from year's end through 2021.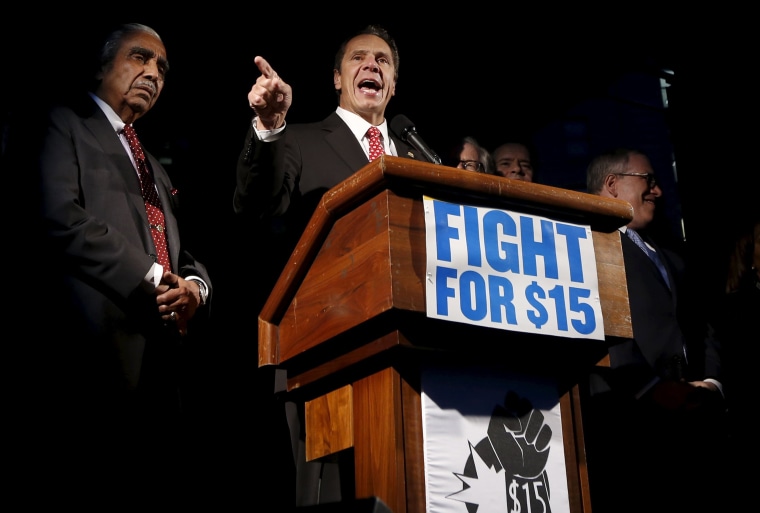 Cuomo's move is "exactly the kind of steps that governments and mayors can be taking right away, even as we move to raise the minimum wage for all workers through legislative or electoral means," Razza said.
Democratic Gov. Cuomo has used a multipart strategy to push for pay hikes without legislative action — moves that could be replicated by other governors in states with similar legal authority.
The $15 Minimum Wage Fight Just Got a Lot More Interesting
The New York wage board — appointed by Cuomo — previously set in motion a recommendation to lift hourly minimum pay to $15 for thousands of state fast food workers.
The power of wage board laws and ultimately governors also reveals how labor advocates are creating local momentum for higher national pay. They're targeting occupations in a single industry, and focusing on wage battles by city and state.
"The wage boards, this announcement by Cuomo and the success of minimum wage ballot initiatives in the last election all point to the need for the minimum wage to rise," said Razza of the Center for Popular Democracy.
Governors in a few states have authority to lift wages independently without state action, according to the National Employment Law Project. States with administrative wage authority — and their current statewide, minimum wages per hour — are:
New York at $8.75
California at $9
Massachusetts at $9
New Jersey at $8.38
Opinions on both sides
The International Franchise Association in July said Cuomo's decision on fast food worker pay discriminates against the quick-service food industry. The association also says mandated pay broadly hurts job growth and franchise business owners.
"Applying a new mandatory minimum wage increase to a narrow group of businesses creates an un-level playing field for owners that provide important entry-level jobs and valuable experience for millions of workers across the state of New York," said the group's president and chief executive, Steve Caldeira, in a prepared statement.
Others contend boosting pay can raise employee retention and ultimately help businesses long term.
Kelly Vlahakis-Hanks is chief executive of Earth Friendly Products, the maker of the "Ecos" brand of cleaning items including laundry detergent. The value-priced brand is available at large retailers, including Whole Foods, Target and Wal-Mart.
Her father founded the small business in 1967, years before consumer consciousness about such products became widespread. Earth Friendly Products has since expanded to five U.S. manufacturing plants and nearly 400 employees.
How Unions, Cities Are Flexing Their Power in the Wage Fight
Employees who work on the production side of the business earn $17 an hour — more than double the federal minimum wage of $7.25 an hour. Vlahakis-Hanks says higher pay has helped her lift employee retention, attract quality talent and reduce training costs. Some employees have been with Earth Friendly Products for 40 years.
"People stay with us," Vlahakis-Hanks said. Current job growth has exceeded 5 percent compared to the same period last year, she added.
On Tuesday, fast food workers demanding a $15-an-hour wage walked out in dozens of cities.