Many of us who are self-employed look back on our 9 to 5 cubicle days and wonder: How did I ever do that? Not because we didn't enjoy our full-time careers, but because it's just so different now: We make our own schedules, build our own clientele, choose our workspace and are 100 percent responsible for our financial growth. Everything we do — and every decision we make — is self-directed. We are the boss.
Sure, it can be pretty daunting at first, but going freelance or starting your own consulting business is absolutely worth it if you're ready to commit. Consider these pointers from 10 pros who've made the transition:
Remember This: You Know More Than You Think
It may sound corny, but believing in yourself and your vision of success is probably the most important step in the entire process of going solo. Part of believing in yourself means recognizing that you have everything it takes — right this very minute — to plant the seed of self-employment.
"A mistake a lot of people make is thinking that they don't have what it takes — they don't have an MBA, or the background that they think is necessary to start a business," says success strategist Carlota Zimmerman, who built her own career coaching business from scratch after working for years in TV news. "You don't need some kind of proof; all you need is to commit to your passion. Don't get hung up on all the stuff you don't know. Focus on making this dream a reality by doing everything with what you do know."
To Get Things Off the Ground, Set Aside Some Funds
Make a list of all your monthly expenses and figure out what you'll need to cover them. Abbey Ashley, founder of The Virtual Savvy, a training service for women launching virtual assistant businesses, recommends setting aside at least three months of savings.
"This not only makes you feel more secure as you transition, but also gives you enough of a buffer to cover unexpected emergencies or expenses during the times that freelance projects are slower," says Ashley. "If you are working a salaried position plus freelancing on the side, I recommend saving almost all of your freelancing profits until you have reached this 'buffer" goal.
Tidy Up Your Social Media — People are Looking
Zimmerman reminds us that "How you present yourself is how you're perceived." And social media can be a big part of how we appear to the world. Be mindful of what you share on Facebook, Instagram and other online hubs where you may connect with prospective clients and fellow professionals.
"If they see photos of you tipsy at brunch, they'll [get the idea] that you're not serious," says Zimmerman, who also recommends setting up a Google Alert for yourself so that you can be in the loop when you or your business is mentioned online.
Tap Into A Network of People Like You
Community is important, and it can be a little scary leaving your office pals behind. This is why you should join networking groups either in person or online. You won't only make friends — you'll also meet mentors who are pursuing similar dreams.
Mi'Jan Celie Tho-Biaz, a cultural worker and documentarian who left her full-time job to go freelance, says that she's found peer networking groups useful for a list of reasons including "mutual goal setting support, accountability, championing of achievements and having access to an extra set of trusted eyes to provide meaningful feedback on new ideas."
You may be able to find the right networking group in your city, but you can also look for groups on LinkedIn and Facebook. I've made great friends (and even landed awesome gigs) from being active in online forums for freelance writers.
Don't Burn Bridges When You Leave Your Fulltime Gig
Ok, so you're finally ready to walk away from the job that has been stifling your inner passion. While it may be tempting to act out that fantasy where you tell your boss off in dramatic fashion, aim for a professional, graceful exit. Your former co-worker or employer could be your best advocate down the road.
"A lot of my leads actually come from people who used to report to me, or from previous clients," says Felicia Sullivan, CEO/founder of the marketing and storytelling collaborative Phoebe & Kate.
Daryl Weber, a brand consultant and author who ditched his job doing brand strategy at Coca-Cola to go freelance, has also found past work connections to be incredibly valuable.
"What worked best for me was having a solid network of people that I had worked with in the past that could provide me with leads, jobs and recommendations for work," says Weber.
Get An Office Space — It's A Write-Off!
One of the big perks of self-employment is that you can usually work from anywhere with a Wi-Fi connection. This makes it tempting to colonize the couch, but you should avoid it. Your environment can be the gateway to your productivity.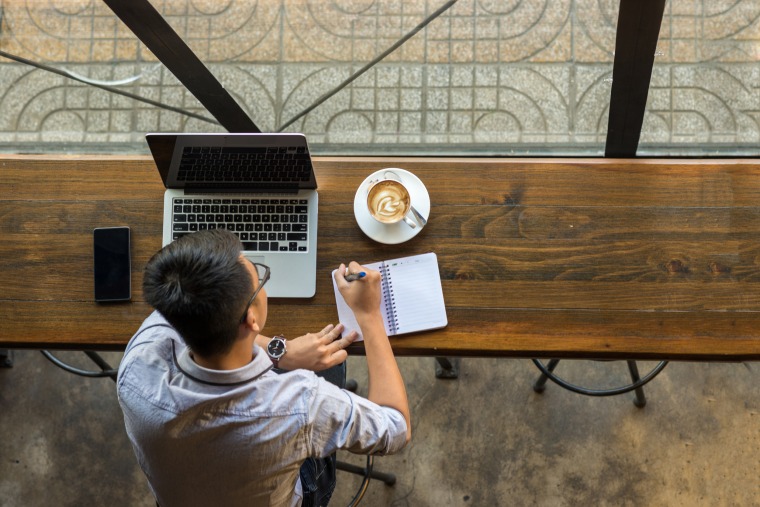 "It changed my life to [get an office] and be away from home during the day, but close enough that I could get there in less than 10 minutes," notes Andrea Burnett, who founded the PR firm ABPR after she had twins and wanted a more family-friendly schedule. "If you have a home office, it is so easy to get pulled into the day-to-day, transactional, housekeeping or parenting tasks. My office has become my personal sanctuary and I love being able to hop on a conference call without the kids playing and dog barking in the background."
Another bonus? You can write-off your workspace as a business expense come tax time. Same goes for if you convert a room in your home into an office — just make sure it really is an office and not say, a guest room that happens to have a computer in it.
Do Your Taxes On A Quarterly Basis
Speaking of write-offs, you're going to be in charge of taking taxes out of your income, so always set aside 30 percent of whatever you make. Just lock it up in a separate savings account if that helps.
"It took a little while to build up my discipline for setting money aside for taxes, but once I actually started paying quarterly taxes I got used it very quickly," says Katie Stanton, who transitioned from working in digital communications for non-profits to running her own digital communications consulting shop, The Good Lemon. "And setting up an IRA and depositing regular amounts into it myself, as opposed to having it taken out of my paycheck before I see it, makes me take retirement much more seriously now than I did when I was working in an office for someone else."
Farrell Klein, who branched out on her own to do brand strategy for emerging retail brands notes that while you can hire an accountant, you can save money doing it yourself.
"TurboTax actually has a great section for self-employed professionals," Klein notes.
Schedule Yourself Like A Boss
Poonam Mathis, who launched StealthForce, a marketplace for people like herself who had worked in institutional real estate investment firms, and are now freelance, recommends setting strict log-on and log-off times.
"Some people will start the day at varying times, hampering productivity; others will find themselves unable to log-off, damaging their personal and family relationships," said Mathis. "You own your hours now, so you have to police yourself! And a good boss doesn't need a good employee burning out."
Don't Forget to Eat (It Happens!)
Imagine this: You're deep in your work and all of a sudden you hear your stomach growling and realize the only thing you've eaten all day is coffee. Avoid this scenario by blocking off at least a half hour daily in your calendar for each meal, and consider cooking in advance so you can save time, money and eat well.
"I try to cook healthy meals in batches so I'm not tempted to order in things that will slow me down and save the 'treat yourself' moments for weekends or special occasions," says Stanton.
Schedule in Exercise — It's Good for Business
Just as we can forget to eat when we're working, we can forget to go to the gym (or if you're like me, you may talk yourself out of it because you don't want to stop working). But staying fit will help you stay sane and more productive in the long-term.
"[Exercise] is a great way to gear up for work in the morning or clear your mind at the end of a long day," says Burnett. "I also have a rule that if I'm on the phone, I must stand up and walk around in the office. No sitting while talking — it's better for my back."
Unplug Completely Sometimes
When you're running your own show, it's hard to convince yourself that emails and texts from clients can wait. But for your own peace of mind, you have to set some boundaries with your smartphone.
Clarissa Silva, a behavioral scientist, researcher and founder of C Silva Solutions admits that it took some time to learn to unplug, but realized working all the time and being constantly connected was not sustainable.
"I just started adopting a method of revising my production schedule and giving myself time to unplug and not feel guilty," said Silva. "To do this it means that you have to disconnect from devices, which is sometimes challenging in our very digital world."
Be Patient. You Got This.
"You are starting a new chapter of your life. It's like when you were learning to walk. You crawl first and then you walk," advises Zimmerman. "Know that you don't need to solve everything you're worried about today or even this year."
It's going to take time for you and your business to flourish, and probably you'll work harder than ever before, but if you have passion and take care of yourself, time will fly — and before you know it, people will be coming to you for advice on how they too can master the leap from corporate life to being your own boss.