Dr. Mehmet Oz, a celebrity doctor who frequently extols weight-loss products on his syndicated television show, got a harsh scolding from several senators on Tuesday at a hearing about bogus diet product ads.
Oz was held up as the power driving many of the fraudulent ads, even as he argued he was himself the victim of the scammers. The hearing is a follow-up to the Federal Trade Commission's crackdown last January against fake diet products.
"I don't get why you need to say this stuff because you know it's not true," Missouri Sen. Claire McCaskill, a Democrat who chairs a Senate subcommittee on consumer protection, said at the hearing. "So why, when you have this amazing megaphone…why would you cheapen your show by saying things like that?"
Oz plays a role in perpetuating scams, McCaskill said.
"When you feature a product on your show it creates what has become known as the 'Dr. Oz Effect' — dramatically boosting sales and driving scam artists to pop up overnight using false and deceptive ads to sell questionable products,' she said.
"While I understand that your message is occasionally focused on basics like healthy eating and exercise, I am concerned that you are melding medical advice, news, and entertainment in a way that harms consumers."
Oz, a frequent guest on NBC's TODAY show, admitted he uses "flowery" language on his shows, and said he realizes that the moment he recommends a product, the scammers use his words to sell spurious products. "I concede to my colleagues at the FTC that I am making their job more difficult," he said.
But he said he has to be "passionate" to engage his audience. "When we write a script, we need to generate enthusiasm and engage the viewer," Oz said.
"I actually do personally believe in the items I talk about on the show," he added. "I recognize that oftentimes they don't have the scientific muster to pass as fact. I have given my family these products."
"I don't get why you need to say this stuff because you know it's not true."
Oz said the products give people hope to keep trying to lose weight — something almost all experts agree is a very difficult thing to do. Two-thirds of Americans are overweight or obese.
The FTC says it's been struggling since 1927 to battle fake diet claims. But the Internet has made things worse than ever and it's often near impossible to track down fraudsters who hide behind shell companies and post office box addresses.
And celebrity endorsements haven't helped, said the FTC's Mary Koelbel Engle.
"For instance, within weeks of an April 2012 Dr. Oz Show touting green coffeebean extract as a miracle fat burning pill that works for everyone, the marketers of the Pure Green Coffee dietary supplement took to the Internet making overblown claims — like 'lose 20 pounds in four weeks' and 'lose 20 pounds and two to four inches of belly fat in two to three months' — for their dietary supplement," she said.
"In the past 10 years, the Commission has brought 82 law enforcement actions challenging false or unsubstantiated claims about the efficacy of a wide variety of weight-loss products and services."
Oz, who has sued some of the companies using his image, said he never sells any products and says the scammers will misuse his image no matter what he says. "You know … the biggest disservice I have done for my audience?" he asked. "It's that I never told then where to go to buy the products."
He said he did that for ethical reasons, but it backfired by opening up a market for "fake stuff, real stuff, it doesn't frankly matter and start to use my name to start to sell."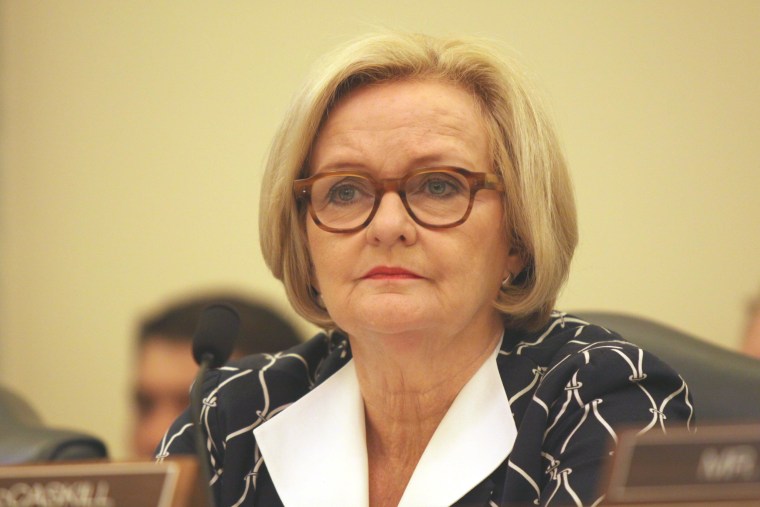 McCaskill asked why Oz didn't use his show to promote what actually has been proven to help people lose weight — careful eating and exercise. "I want to see all that floweriness, all that passion, about the beauty of a walk at sunset," she said.
"The scientific community is almost monolithic against you in terms of the efficacy of a few products that you have called miracles," she added. "I just don't understand why you need to go there … You are being made an example of today because of the power you have in this space."
McCaskill also rebuked media companies that run the ads. "I find it troubling that broadcast and satellite radio witnesses who were asked to be here today were unwilling to appear. To me, this indicates that either there is something to hide or they don't have a good story to tell," she said.
The Advertising Self-Regulatory Council, the Council for Responsible Nutrition, which represents supplement makers, and other groups said they supported self-regulation. They also support the FTC's seven point "gut check" that the agency says people should use as a guide in assessing ads for products that look too good to be true.
Take a hard look, FTC advises, if the ad claims the product
Causes weight loss of two pounds or more a week for a month or more without dieting or exercise;
Causes substantial weight loss no matter what or how much the consumer eats;
Causes permanent weight loss even after the consumer stops using the product;
Safely enables consumers to lose more than three pounds per week for more than four weeks;
Causes substantial weight loss for all users; or
Causes substantial weight loss by wearing a product on the body or rubbing it into the skin.