Game day, Taco Tuesday ... your random Wednesday night with the guys. When doesn't it seem like a good idea to share an order of nachos? Um, never.
Unfortunately, some of our favorite nacho concoctions (looking at you, Ultimate Loaded Nachos) may have a more lasting effect on our waistlines than our bonds with our best buds. After all, these nacho dishes are usually made to serve up to six people, and are loaded with greasy meat, chili, multiple kinds of cheese and fatty toppings, like sour cream and aioli sauces.
But, there's no reason you can't dig into a plate of this southwestern comfort food with lower fat and carbs without losing flavor and style. How, you ask? For starters, start with sneaky, yet simple tricks — even trades — when it comes to the base, says Bonnie Taub-Dix, RD, nutritionist and BETTER contributor.
"Baked chips are better than those that are deep-fried," she says. "The best thing to do is take a handful and break them up so that they last longer."
Tortilla chips can also be extremely salty, so to lower sodium levels, try using butternut squash or sweet potatoes "chips" as a nachos base. Even whole grain pita and corn tortilla chips are better than tortilla chips, adding B vitamins and digestible fiber that will also keep you fuller longer.
For toppings, swap cheese for fresh hummus and tzatziki to cut calories and fat or choose lower fat, shredded cheese options, which melt more evenly than chunks of cheese. Then add a dollop of Greek yogurt instead of sour cream, and be generous with the veggies.
"Load them up with veggies and beans to increase bulk on your plate instead of on you!," she says. "And salsa is low in calories and add lots of flavor (especially the hot and spicy types!)"
With summer fiestas just around the corner, dip your "chip" into these six healthier nacho recipes.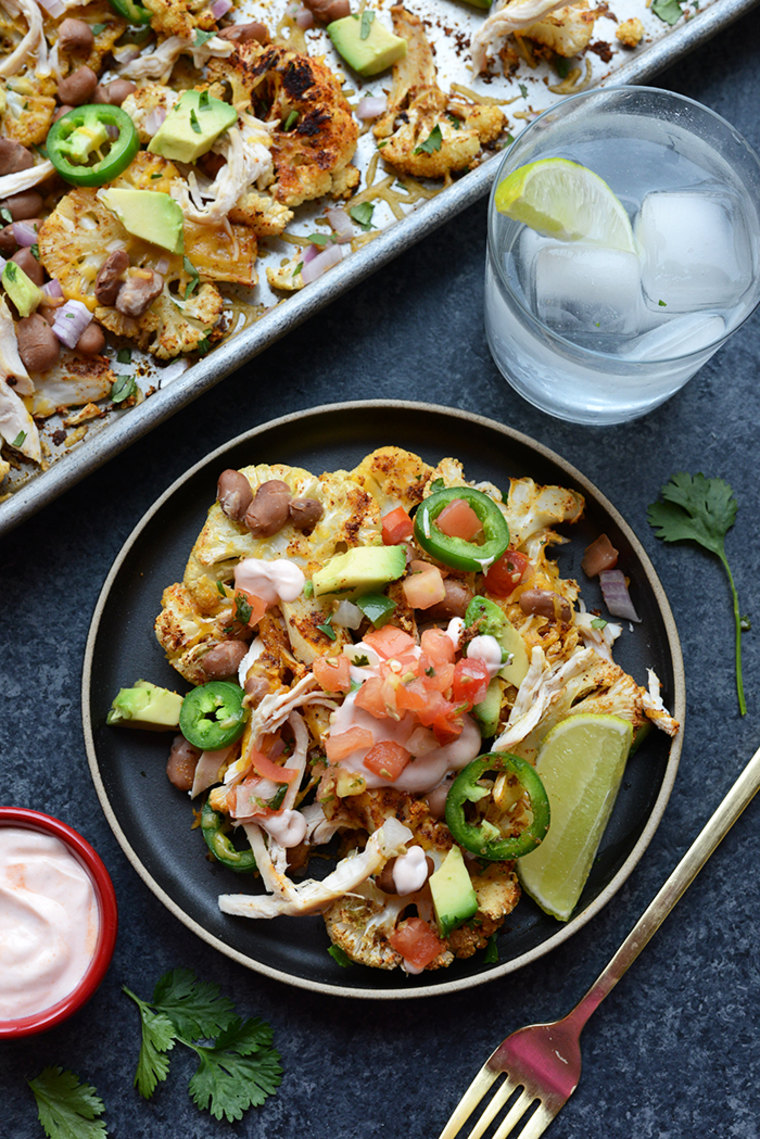 One-Pan Cauliflower Nachos
Sometimes the smallest of changes can yield the biggest (and most flavorful) results. Tortilla chips are swapped for crispy cauliflower slices in this one-pan (read: minimal dishes!) nachos recipe. Follow the topping suggestions for this recipe — rotisserie chicken, beans, fresh veggies — or do a fridge dump and sneak in your favorite healthy toppings!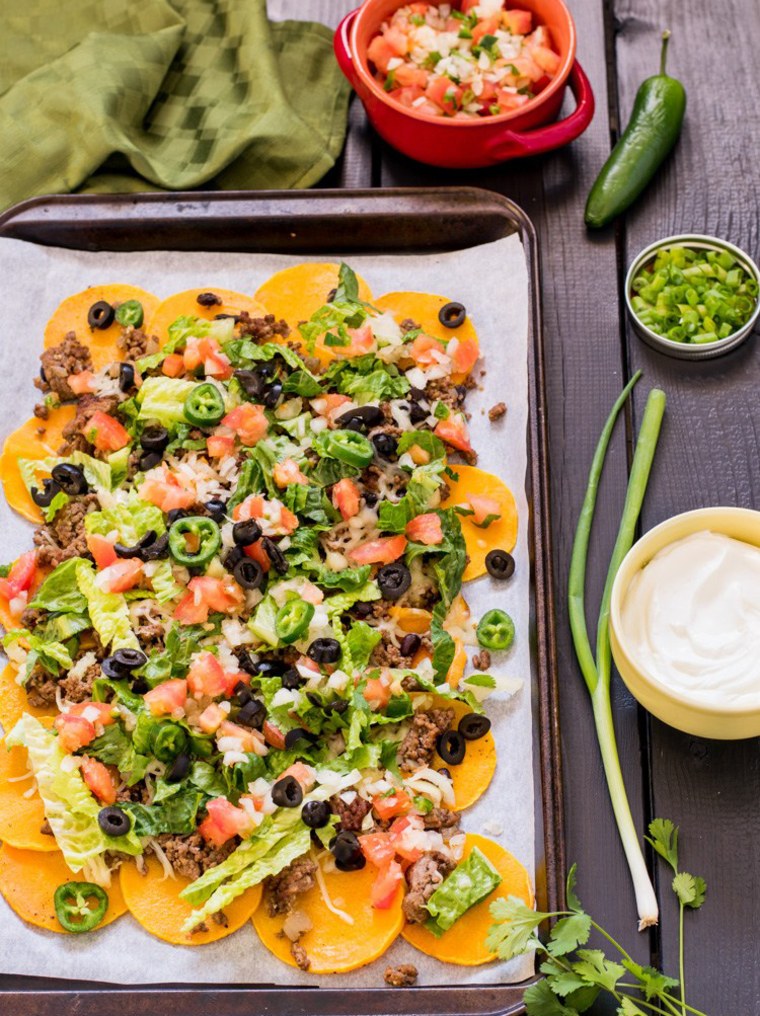 Loaded Squachos
First of all: we love this name! Second of all: we also love this unique recipe that uses baked butternut squash for its colorful base and perfect vehicle for nacho toppings. They look like chips, pack a crunch and are loaded with vitamins A and K, not to mention potassium and fiber. Top with lean ground beef (use lean ground turkey or chicken as an alternative), beans and your choice of cheese for protein. Chopped romaine lettuce, pico de gallo, jalapeños and salsa finish the dish off with a healthy bang!
RELATED: 5 Better, Healthier Bowls of Ramen to Make Tonight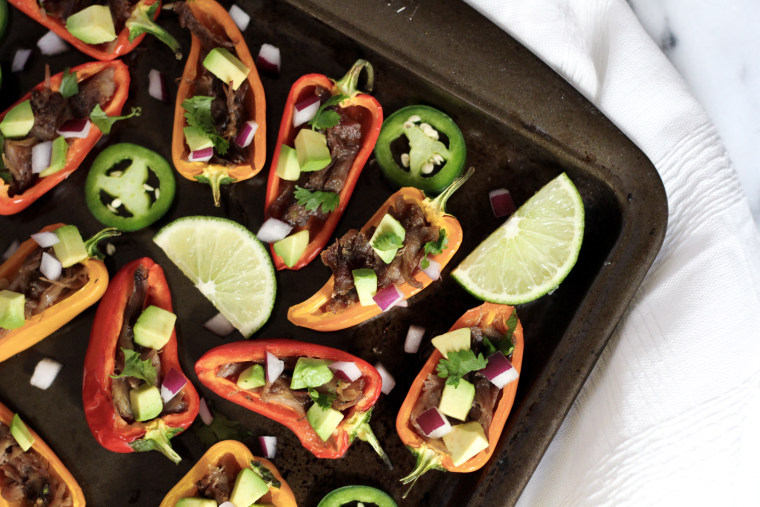 Crockpot Carnitas and Paleo Nachos
If you prefer your nachos topped with hearty meat, this recipe is your ticket to chow town! You'll love the hint of fresh thyme flavor in the pork rub, sweetness of the bell peppers and bite from the jalapeños and salsa verde on top. Not into pork? Choose a leaner meat to slow roast like chicken. These nachos are a Paleo dieters dream. Plus, the individual bell pepper halves make for easier munching (no spills!). Bonus: you can make the carnitas ahead of time, freeze, and break them out and reheat when you're ready to make the nachos.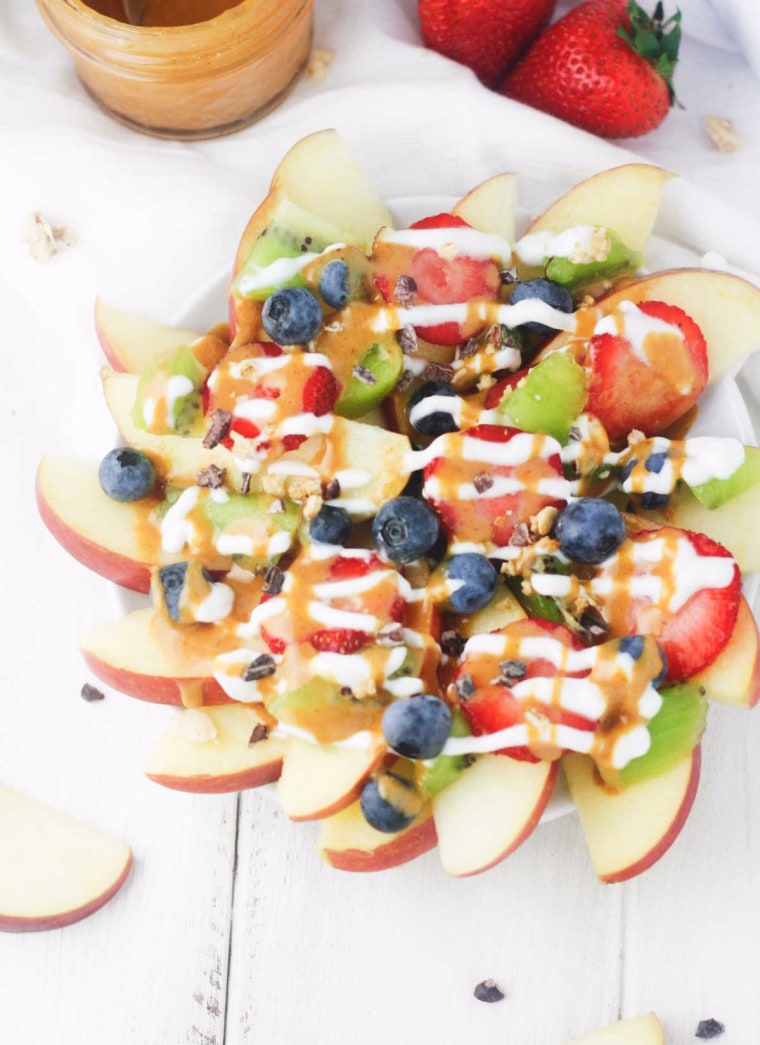 Fruit Nachos with Peanut Butter Drizzle
Nachos don't always have to be of the savory variety. Satisfy your sweet tooth in a healthier way with "dessert" nachos! Slice an apple and arrange as the "chips," then sprinkle with your favorite fruit, like blueberries, raspberries or strawberries. Pack a protein punch with drizzled Greek yogurt and peanut butter (sounds like a heavenly mix to us!). Finish with even more crunch by adding chopped cocoa nibs, granola, nuts or even shredded coconut! Happy desserting!
RELATED: 5 Delicious Ways to Eat More Veggies at Breakfast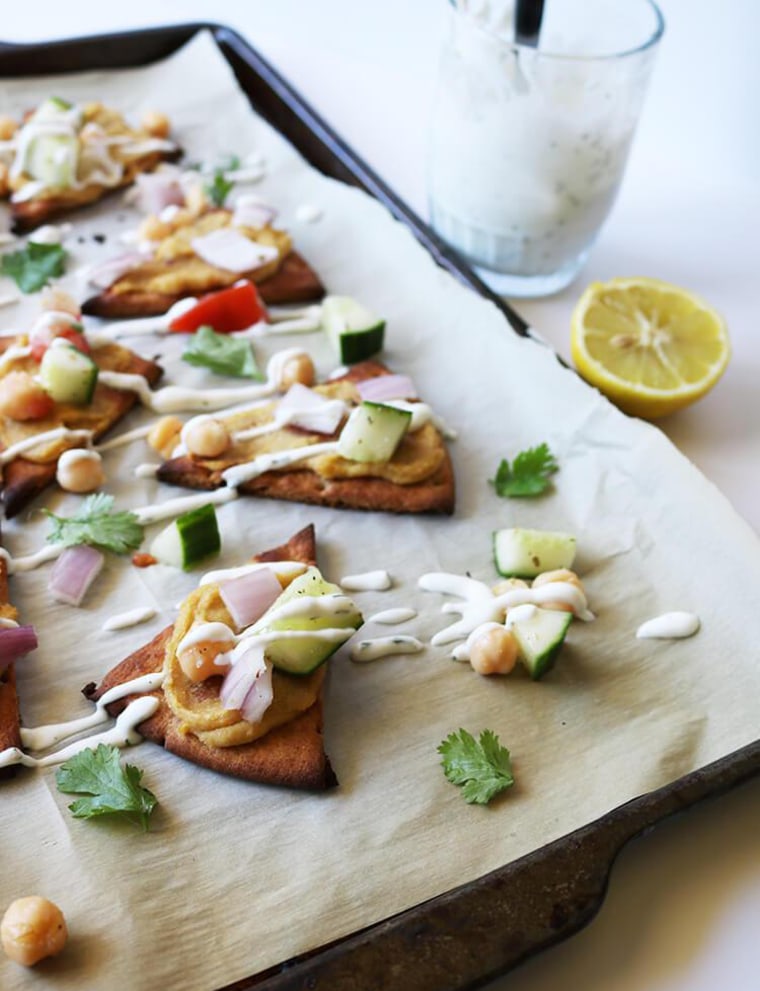 Greek Nachos
If you're not into sharing that big pile of cheesy goodness (or not into cheese at all) these single serve Greek nachos are for you! To lighten the crunch, use pita chips in lieu of tortilla chips. To make, grab a bag of fresh pita (whole wheat, if available), cut into triangles, and bake! Top with your choice of hummus, cucumber, chickpeas, tomato, red onion and drizzle with tzatziki. You're in for one refreshing bite!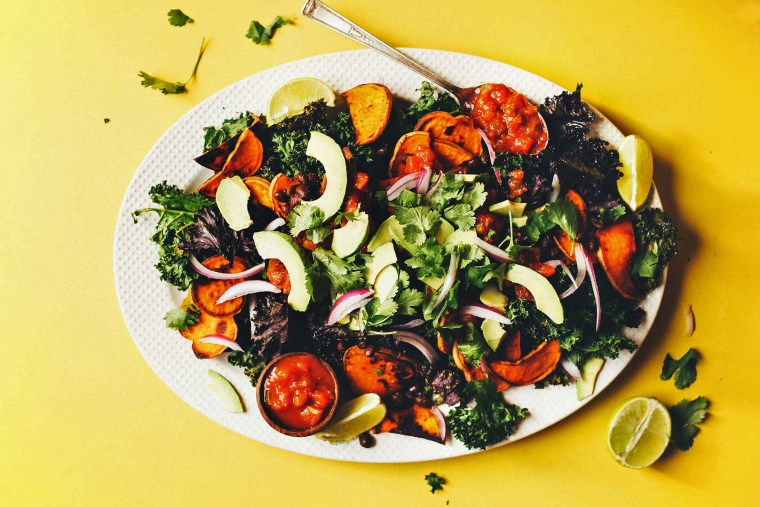 30-Minute Kale Chip Nachos
Kale chips keep riding the food trends wave, now serving as the heart of this 7-ingredient vegan nacho recipe. Crisped purple and green kale chips and steamed sweet potato slices are layered for the "chips" and loaded with vitamins K, A and lots of heart-healthy fiber. Vegan "cheese" is mimicked with nutritional yeast, which is nutty in flavor, slightly resembling the taste of cheese. But, you don't have to be vegan to enjoy this recipe. If you want to add cheese, lightly sprinkle a lower-fat cheese, like part-skim mozzarella, over the "chips" before baking. Add as many fresh vegetable toppings, salsa and black beans as your stomach desires!