I have always dreamed of becoming a morning person — the type of person who calmly enjoys a delicious cup of coffee while watching the news before work. In reality, and I'm lucky to get out the door in matching socks, without spilling coffee on my white shirt or burning myself with my curling iron.
So when I heard that my editor wanted us to try out Daybreaker, the "morning dance party that will start your day with energy and intention," I wondered if I was doing this whole morning thing wrong. Could a high-energy workout and calming yoga be the key to a happy and productive day?
Daybreaker starts off with a calming yoga session, followed by a healthy breakfast and a full-out dance party. All of this happens before the work day starts, and without alcohol.
RELATED: Strangers Dancing While Sober is the Hot New Party Trend
Co-founder Radha Agrawal created Daybreaker to see if people were as tired of alchohol-induced nightlife experience as she was. She wanted to recreate the nightlife experience by eliminating alcohol from the equation and providing healthier options such as green juice and tea. She wanted a happy dance environment, rather than a crowded nightclub where people trip all over each other and are on their phones the entire time.
The popular before-work dance party launched in 2013 and is now in 17 cities around the world and will soon be expanding to colleges across the country. Radha says she hopes that "Daybreaker could actually shift culture... college kids become young professionals. You could start them off in college thinking, wait I don't need a solo cup in my hand to have a good time?"
Would this combination of calm mindfulness and high energy activity make my day better? I set out with two colleagues to see what the hype was about.
4:45AM: Waking up
"What in the world am I getting myself into?"
I could barely open my eyes wide enough to get my contacts in, but after chugging a cup of coffee, I was feeling a bit more awake when I left my apartment. I trekked through the dark streets of New York City with my pink yoga mat slung over my shoulder, ready to see what the morning would bring.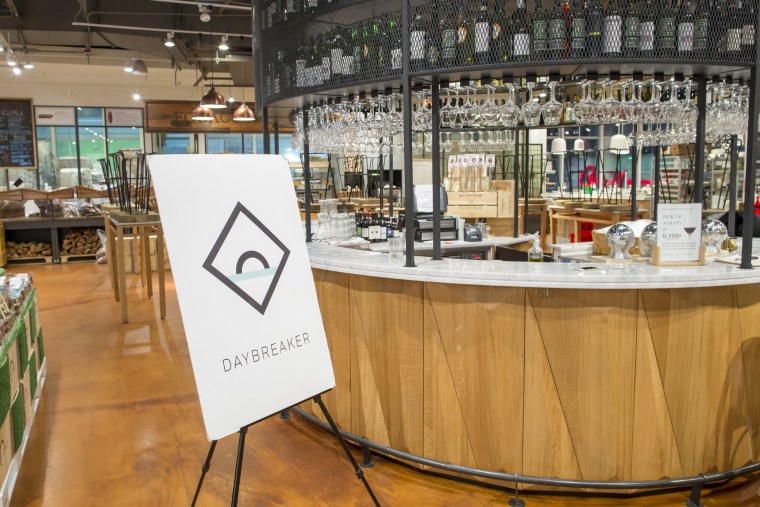 5:45am: Time for a hug
Nick, Geraldine and I arrived at Daybreaker, which was being hosted at the Italian food mecca Eataly in the financial district. When I got there, a man in a toga gave me a hug. Wow, he's friendly, I thought. It turns out this was only the first of many hugs from toga-clad morning lovers. Agrawal later told me that Daybreaker actually has a "hugging committee" at each event, to "make people feel welcomed and part of their community."
6:00am-7:00am : Yoga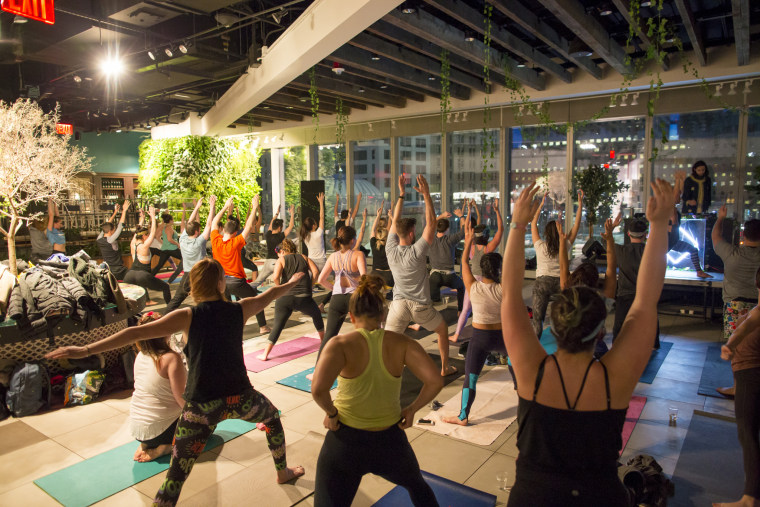 First up, Yoga! From 6am to 7am, we did yoga with the other 500-some (per Daybreaker's estimate) attendees. The three of us unrolled our mats in the back of the room and did our best to follow along.
I typically don't work out in the morning, so this was different for me. By the time I usually wake up for work, I had finished my workout for the day. I'm not going to lie, I felt really accomplished and ready to take on the day.
7:00am-9:00am: Toga dance party!
After Yoga, it was time to get our togas on — literally. The party was toga-themed for Eataly ("when in Rome") so we brought white sheets with us to make our togas, which one kind volunteer helped us put together.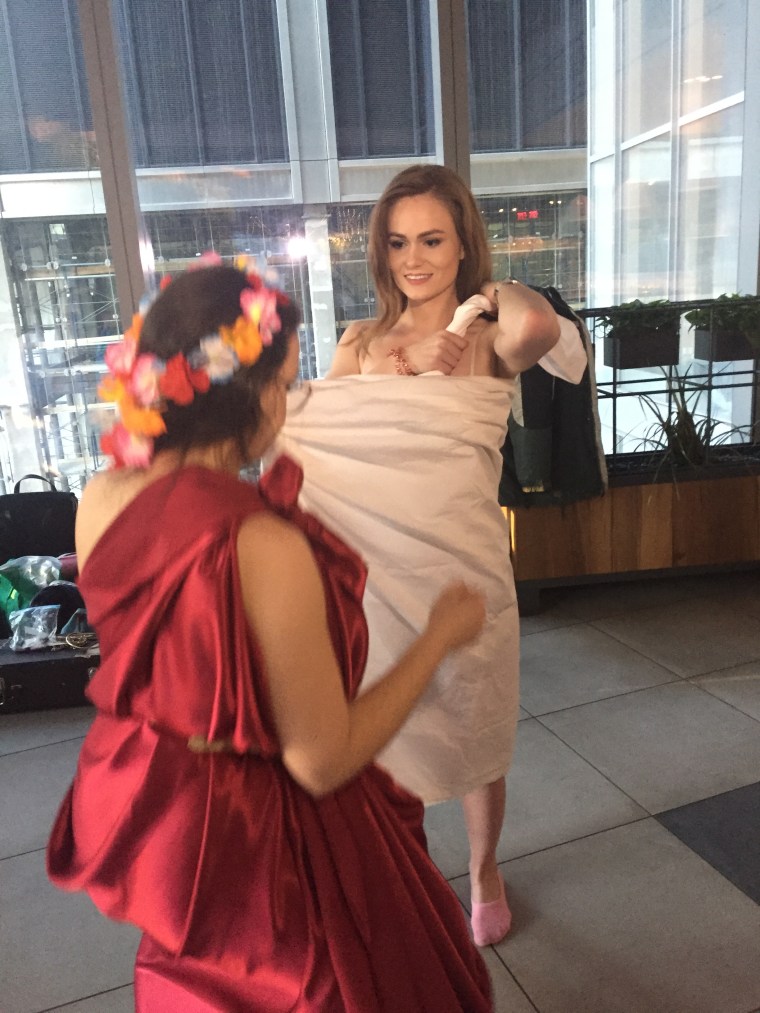 With a little bit of twisting, pinning and creativity, we were ready to go. I decided to fully commit to this and got a flower crown — I've been looking for an excuse to wear one for quite some time, so I was very excited!
After we got situated in our togas, it was time for breakfast, to fuel up before the dance party. Men and women dressed in togas in all different colors and patterns lined up to grab glasses of orange juice, pitchers of coffee and food.
Then the real party began. In the same area where we were all practicing our Pigeon and Tree poses just an hour ago, a DJ, emcees and other volunteers took over, while hundreds of men and women danced around in their togas.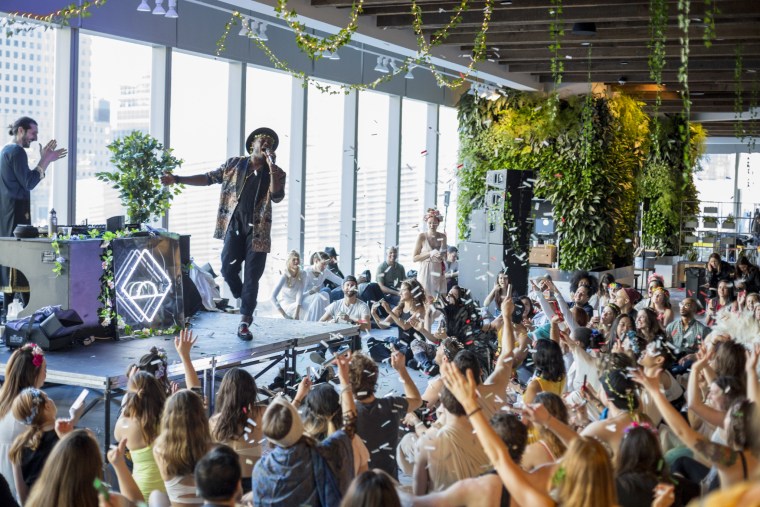 This was a little bit too much for me so early—and sober. I was literally in a room full of strangers, wearing a toga.
Some background: I will fully admit, I am a horrible dancer. This has been documented throughout my life, from ballet class to school performances, social gatherings and even pageants. I would literally always be put in the back of any organized dance routine on stage.
I was surrounded by strangers in togas at a dance party, dead sober. I thought to myself, "am I being punished?" This was my worst fear.
The first few minutes of the dance party was hard to get used to — everyone looked like they were having an amazing time, but I felt incredibly awkward. I timidly went out to the dance floor with Nick and Geraldine and did my best to dance and relax.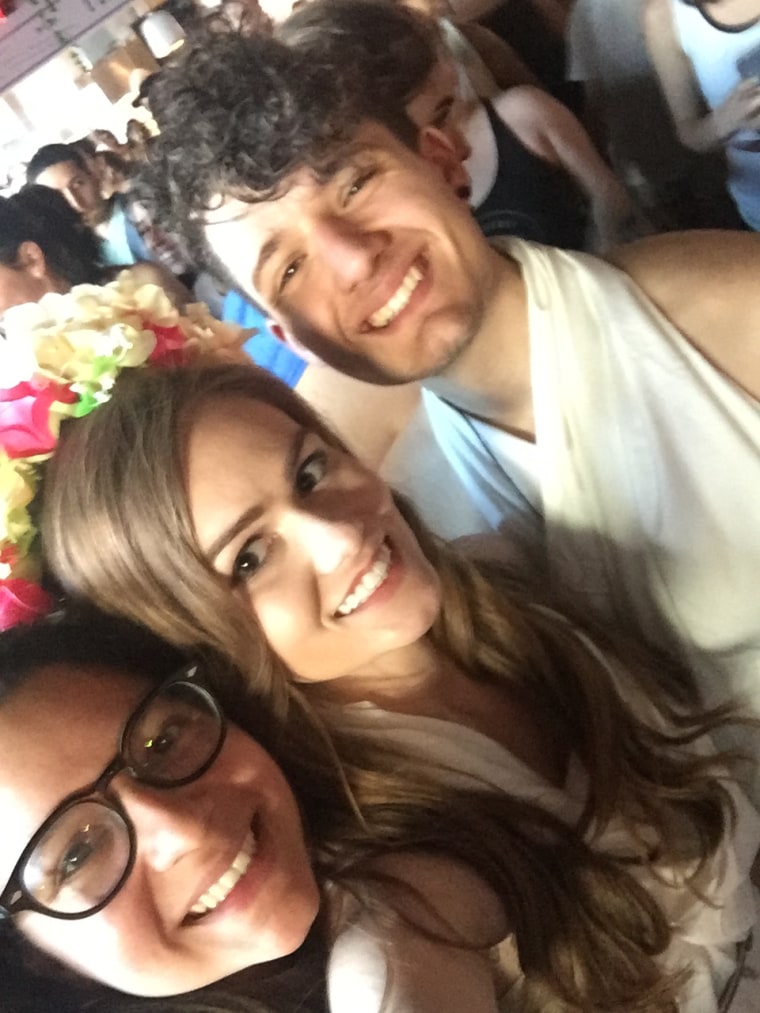 Eventually, I did loosen up and got comfortable. At the end of the day, I realized that everyone was in a toga — so what was there to be worried about? Everyone was friendly and approachable — it was incredibly refreshing…which makes me wonder if I'm jaded from being in New York City.
They closed out the event by having everyone in the room read from an "Intention Card" — a small square of paper, with a motivational quote and a "mission of mischief": Write a poem on love or friendship, and tape it to a park bench for someone to find #daybreaker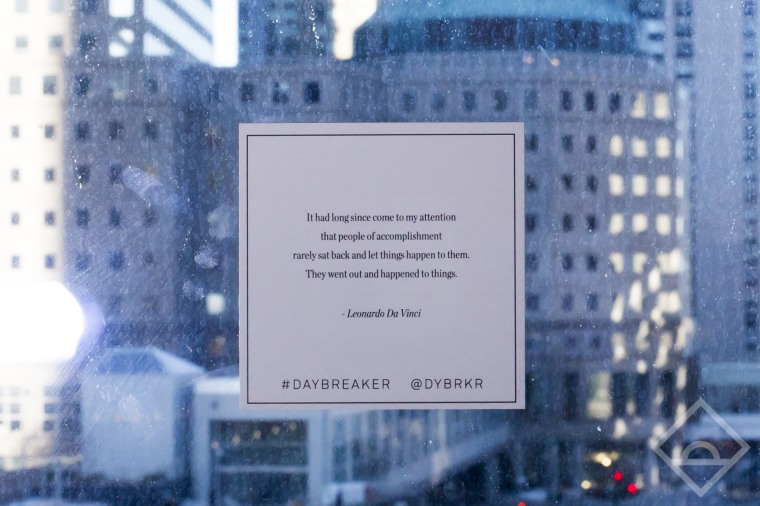 I felt inspired and really excited to take on any obstacles during the day. It was similar to a pep talk — it was truly encouraging. It was nice to start the day with a positive mindset.
9:00AM
I felt great! I was a little tired, but I felt inspired, happy and ready to go to work.
Afternoon
By noon, I was pretty beat. My wind of energy had fully worn off and forming sentences become a difficult task. I was exhausted and ready for a nap. I somehow got through the remainder of the day, delirious and with bloodshot eyes. Needless to say, I slept very well that night!
Would I do this again?
Although I was exhausted and work was difficult that day, I would definitely do it again. I would have never expected a sober toga dance party to be fun, but I was wrong. I liked Daybreaker's culture and intention — it was a really welcoming community. Even though I was surrounded by strangers, it didn't feel so lonely. Everyone that was there truly wanted to have a good day — it was nice to see a group of people with the same goal of making their lives better in the same room.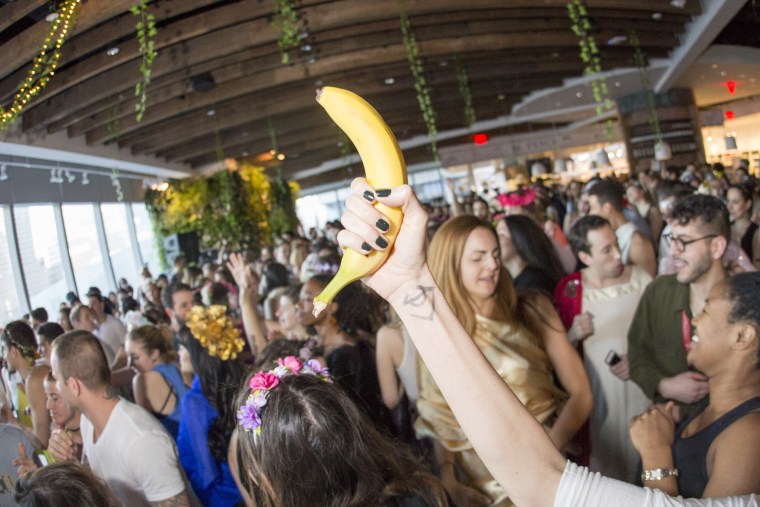 The combination of high energy activity and centering myself helped me feel balanced and calm. I couldn't do this every day, but I would certainly make an effort to go when I could and next time, I'll go to bed as early as I can. Going to Daybreaker on five hours of sleep didn't cut it for me.
Even though I was exhausted, I was still happy. I learned that starting the day with the intention of having a positive mindset can really affect your day, even when you are faced with obstacles.