Healthy eating doesn't just boil down to the choices we make in the kitchen or at our local bistro. Sure, that's a big part of it, but a new survey among more than 177,000 interviews from Gallup-Sharecare Wellbeing Index found that three non-food factors can inspire healthier eating:
Pick the right people to surround yourself with. The survey found that two-thirds of adults who agreed that they had someone encouraging them to be healthy, had friends and/or family providing positive energy, and reported having a close relationship with a spouse, partner, or friend reported eating healthfully in the previous day. Among those who did not agree with these statements, the number dropped to just 50 percent.
Seek the right career path. For those who say their careers inspire a sense of purpose, that they have a leader who makes them feel optimistic, and that they opportunities to learn or do something interesting, the percentage of healthy eaters was high. Just as before, those who disagreed with these sentiments were less likely to be eating well.
Reduce financial stress. In the survey, people were asked if they had enough money to do everything they wanted to do and among those who said yes, 69 percent were healthy eaters compared to 57 percent who did not agree with that statement.
Scan your social circle and see who is more likely to inspire and encourage you to eat and live better.
Let's unpack this for a moment. First off, these results don't show that landing your dream job or getting your finances in order will lead to a change in your eating habits. What I believe they do show is that social support, optimism, opportunities to learn and stress management can be very powerful predictors of healthy eating, and that we can become better eaters by taking steps toward cultivating these qualities.
Social Support Is Critical to Eating Better
Just like the Gallup survey, a study among overweight and obese women found that those who received the most frequent support from family and friends were very successful at weight loss. Almost 72 percent shed meaningful weight compared to about 46 percent of women who didn't receive encouragement.
RELATED: How to Make Your Fast Food Habit Healthier
Scan your social circle with this lens and see who is more likely to inspire and encourage you to eat and live better. I'm not suggesting you dump your pals who aren't high on the list. Rather, seek different ways to connect with both groups. Maybe you see a play or visit a museum or join a book group with some of your friends, but take a walk, enjoy a meal or try a new gym class with your army of encouragers. What you do together is key.
Optimism Can Help You Make Better Choices
Though the Gallup poll investigated these qualities on the professional spectrum, what we've seen in previous research is that people who are optimistic tend to be healthier eaters. Optimism is a way of viewing the future—in a hopeful sense—that can lead to better physical and mental well-being, and there are three simple, science-backed ways to cultivate it.
Keep a gratitude journal. It might sound hokey but there's research here! Creating a habit around what you're grateful for can create feelings of happiness and positivity. If you're not the journal-writing type, make a mental note of some of the blessings you received that day. Every moment of appreciation need not be mind-blowing. Perhaps you found a great parking space or noticed a beautiful sunset. It's the act of reflecting on both big and small things that create a sense of well-being.
RELATED: How a Spreadsheet Helped This Man Lose 60 Pounds
Say thank you. Gratitude can be defined as a state of thankfulness or appreciation and to that end, it helps to say thanks to cultivate a positive outlook. Did the barista remember you like an extra shot of espresso in your latte? Why not acknowledge that with a warm thank you? Or send an old school note to your child's teacher or coach to recognize their valuable contributions. These simple acts can up your optimism.
Opportunity for Growth Helps, Too
Even if you're not on a career trajectory that provides purpose and opportunities to learn and grow, there's a lot you can do to capture those ideals. Based on the ideas of psychologist Mihaly Csikszentmihalyi, pursuing just-right challenging activities (not too easy, not too hard) can create a sense of purpose and happiness and allow us to thrive. Maybe you want to take up an instrument, learn a new language or tackle a do-it-yourself project. The idea is that engaging in such activities creates more meaning in your life, and that equates to more happiness.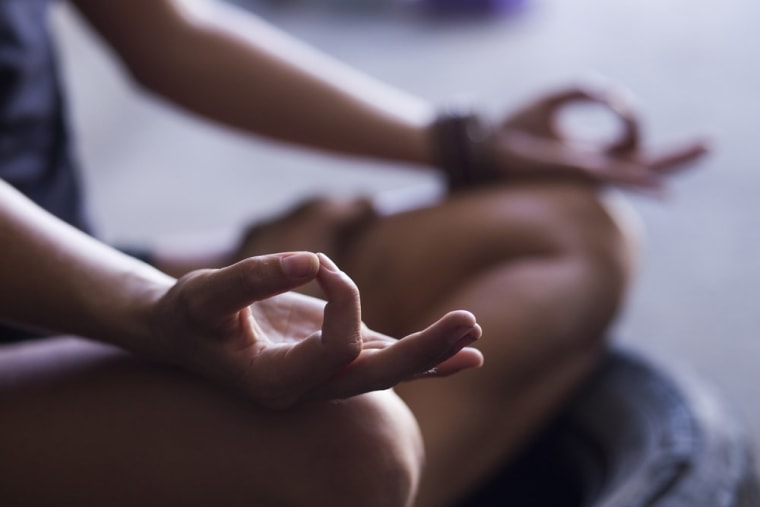 Stress Reduction Is Key to Living Well
Managing stress, including the financial stress that was the subject of the Gallup survey question, is critical to living well. Yet, according to the American Psychological Association, stress is on the rise for the first time in ten years. Certainly, getting your finances in order is a good way to get a handle on a big cause of stress. I encourage you to tackle that, but I also encourage you to try other ways as well.
RELATED: Dinner Ideas That'll Help You Stress Less
Those who know me know I'm a fan of meditation. It's a powerful tool to reduce stress and gain mental clarity, it's free (or low cost), and it doesn't take much time. The free 10-day track on Headspace is a good primer with guided meditations that are great for newbies and skeptics. (After 10 days, there is a monthly subscription.) I also love Insight Timer, which provides no-cost access to more than 5,000 guided meditations. It's like a grab bag of blissful content—whether you need help managing a difficult emotion, relaxing into sleep or just focusing on your breath—you can find numerous instructors offering sessions for as few as five minutes.
Living a better life, including eating more healthfully, has wide-reaching benefits. I encourage you to eat better—by boosting your fruit and veggie intake, replacing refined grains with whole ones and eating quality sources of protein. But don't stop there. I hope you'll support these efforts by leaning on your most valuable social networks, cultivating hope and optimism, creating meaning and purpose by trying new things and finding ways to manage stress.