If the continued hype around pumpkin spice lattes is any indication, we're all ready to take the plunge into fall food trends. Luckily a lot of them are a whole lot healthier than the sugar-loaded calorie bomb that has a special place in every sweater-lovers' heart.
To the contrary, fall produce is chock full of healthy nutrients. We all know that in-season foods tend to be a little easier on your wallet, plus they introduce a whole new array of ingredients to get creative with in the kitchen. (Admit it, you're a little tired of the chopped salads.)
What's on the menu? Root vegetables like turnips and sweet potatoes, winter squash and a new lineup of fruit to fill the bowl on your kitchen counter.
Whether you're cooking up a weeknight dinner for one, meal prepping lunch or serving a hungry crowd of football fans, use the super foods of the season as inspiration to infuse autumn flavor and nutrients into your meals.
Cauliflower
From pizza to rice to mashed "potatoes", cauliflower continues to be an increasingly popular ingredient for healthy home chefs. But beyond it's trendy appeal, the starchy vegetable offers up nutritional benefits that give it major staying power when it comes to fall produce picks. Cauliflower contains "vitamin C and folate, and like other members of the cabbage family, is rich in sulfur-containing compounds (glucosinolates) which act as antioxidants, and are anti- inflammatory," says Susan Bowerman, RD, director of Worldwide Nutrition Education and Training for Herbalife, who is a fan of turning it into a low-carb rice substitute for a healthier fried rice. Simply pulse it in the food processor, then sauté in a little oil in a large skillet with a beaten egg, chopped leftover cooked veggies and leftover cooked meat, fish, shellfish or poultry (or tofu).
"Cauliflower is a cruciferous vegetable that has become a popular substitute for pizza crust and rice. It's no surprise why — one cup chopped has under 30 calories and 85 percent of your daily value of vitamin C," says Lainey Younkin, RD, founder of Lainey Younkin Nutrition in Boston, MA. "You can also roast cauliflower 'steaks' for a more flavorful option."
Recipe box: For a 30-minute weeknight meal, try this Cauliflower Steak seasoned with a smoky shawarma spices blend, roasted until tender with a crust, and served with chutney, from Minimalist Baker.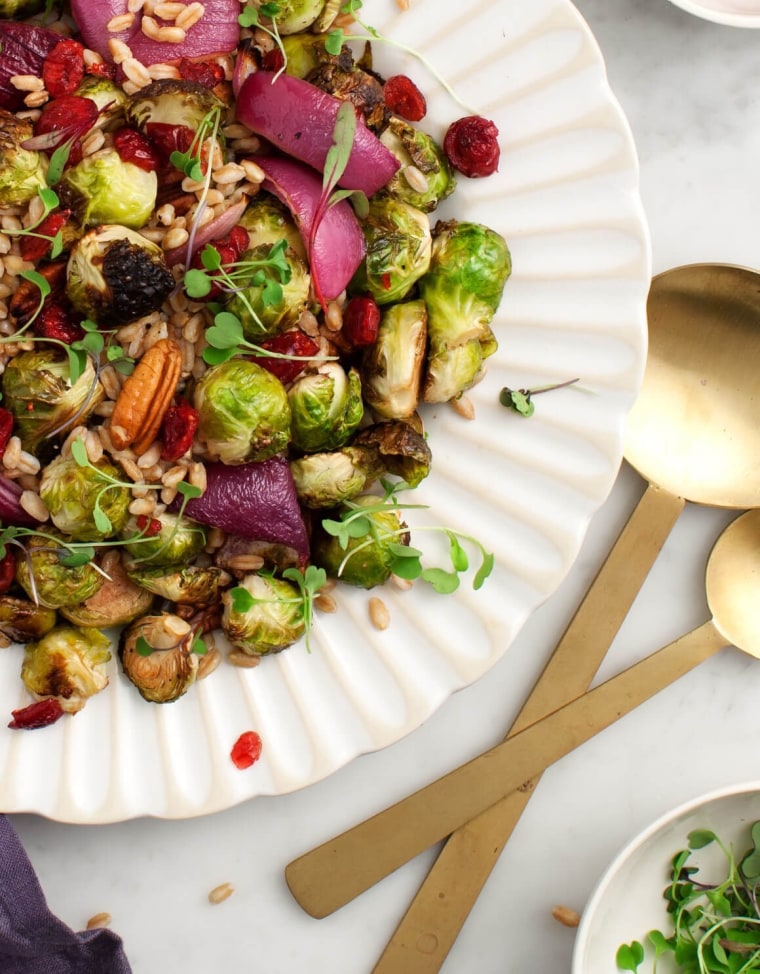 Brussels Sprouts
"Brussels sprouts are cruciferous vegetables, which means they're loaded with cancer-fighting compounds," says Younkin. "They are also high in vitamin K, which helps your blood clot. Shred them in a food processor and use as a base for your next salad or simply roast them on a baking sheet in the oven — add a little maple syrup for a sweet-savory punch."
Recipe box: Serve Maple-Balsamic Roasted Brussels Sprouts as a side dish, or toss with onions, cranberries and toasted pecans and serve over farro for a heartier main course. (We are bookmarking this one for our Thanksgiving spread!)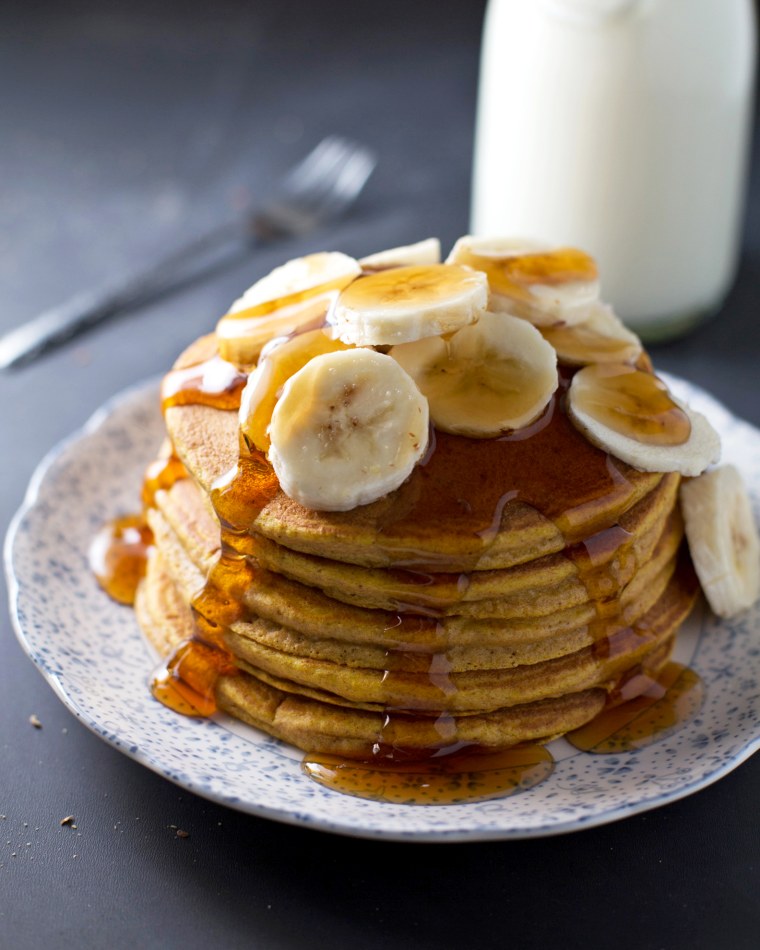 Pumpkin
Canned pumpkin may just be the best kept secret on the grocery store shelves. While it's available all year long, we feel a re-invigorated love for the ingredient when fall rolls around.
"A cup of sliced pumpkin has almost 200 percent of your daily value of vitamin A and is shock-full of vitamin C and potassium," says Younkin. "As long as you aren't drinking it in syrup form in your latte, pumpkin is a healthy addition to any fall meal. A 1/2 cup of canned pumpkin delivers 3 grams of fiber and has just 5 grams of sugar and 50 calories. There isn't much you can't do with pumpkin — stir it into a soup, mix it into your morning oatmeal, or add it to a smoothie if it's an unseasonably warm day.
Bowerman suggests using canned pumpkin in smoothies and as a nutritious topping for Greek yogurt. She says to make sure you're buying canned pumpkin and not pumpkin pie mix, which is packed with added sugar.
Recipe box: Give breakfast an autumn twist with these Whole Wheat Pumpkin Pancakes. Top with sliced banana, a sprinkle of cinnamon and a drizzle of syrup.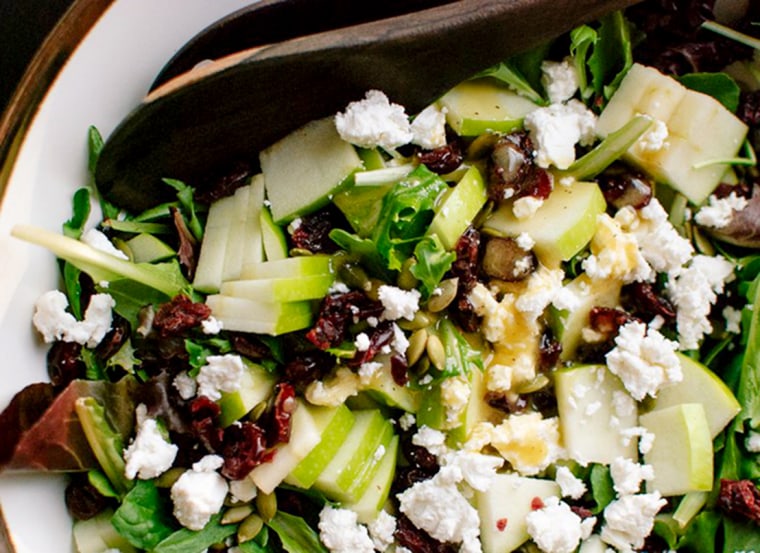 Apple
While apples contain vitamin C and phytonutrients, fiber is the shining start on the nutrition facts panel. "One medium apple has 4 grams of soluble fiber — the type that helps lower your cholesterol. Eating adequate fiber can also help with weight loss," says Younkin.
"In the fall, I love to add very thinly sliced apples to a green salad with a lemony vinaigrette dressing," says Bowerman. "It makes the salad seem more festive and the sweetness of the apple is a nice contrast to a tangy dressing."
Recipe box: Add lots of fall flavor to your salad routine with this Green Salad with Apples, Cranberries and Pepitas recipe tossed in an apple cider vinaigrette.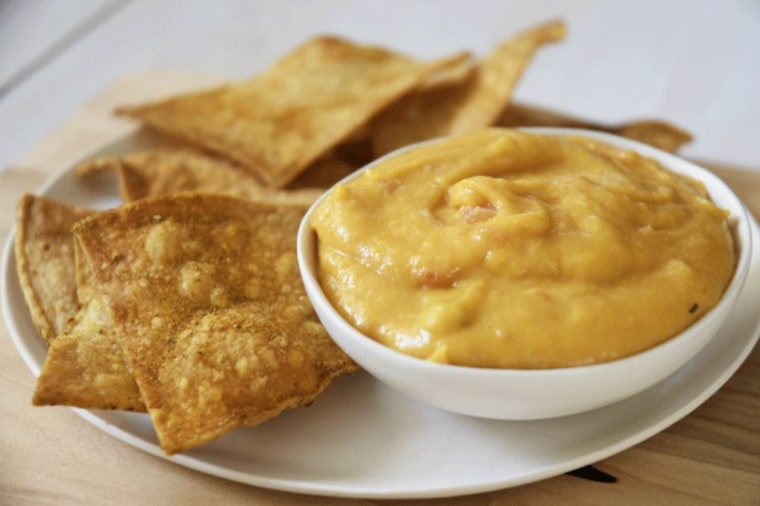 Butternut Squash
"Like pumpkin, butternut squash is also a very rich source of vitamin A," says Bowerman. "[It's] also a good source of potassium, magnesium and fiber."
"The orange color in butternut squash comes from beta-carotene, an antioxidant that is converted to vitamin A in the body," adds Younkin. "Beta-carotene fights free radicals, while vitamin A ensures healthy bones, skin and teeth."
Younkin recommends roasting butternut squash with sliced apples and a dash of brown sugar for a sweet and savory side dish for any fall dinner. Or try it in a soup, like Bowerman: "Simmer cubed squash in chicken or vegetable broth with some onion, lemon juice, ground ginger, thyme, salt and pepper until tender; stir in some cubed silken tofu and heat through, then puree the mixture in the blender."
Recipe Box: Another football spread upgrade this Queso with Butternut Squash and Cauliflower, sneaks in veggies that add enough creaminess it calls for no milk or butter at all.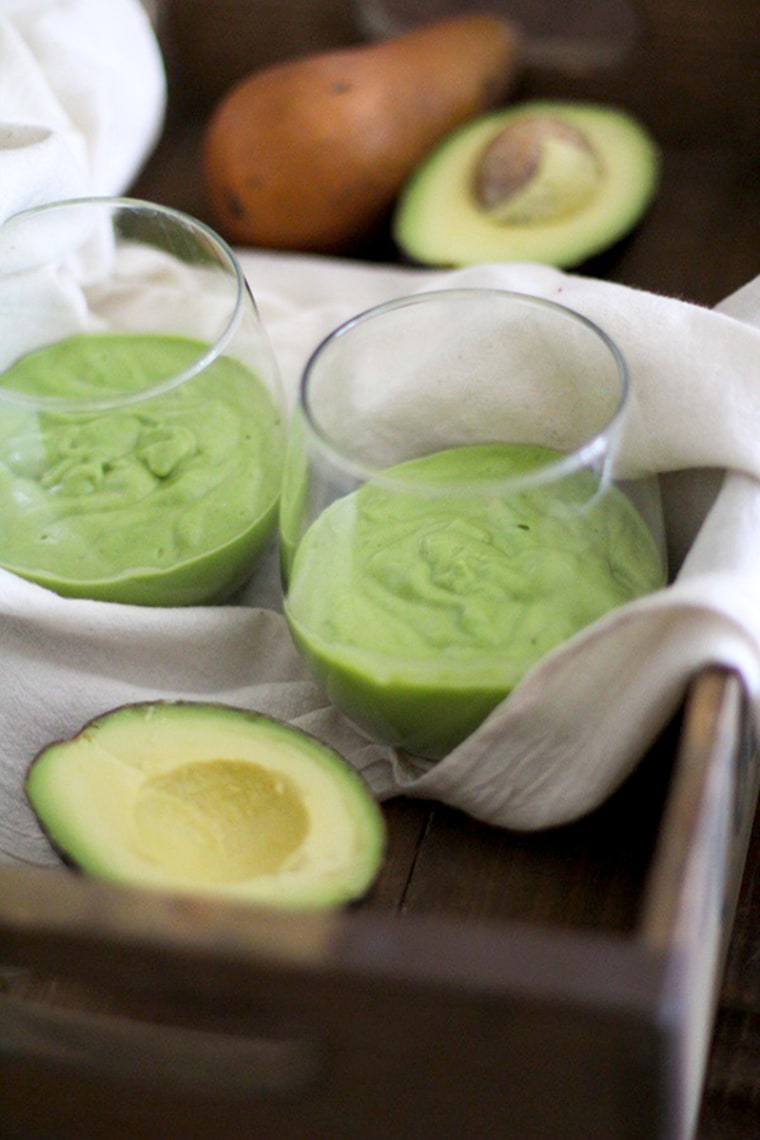 Pears
"Pears are loaded with fiber and potassium, two nutrients that Americans don't get enough of, according to the 2015 Dietary Guidelines," says Younkin. "For just 100 calories, one medium pear has a quarter of your daily value of fiber. Sliced pears are a sweet addition to any fall salad. They also pair well with meat so don't be afraid to throw them on your next turkey burger."
Bowerman recommends adding slices to a sandwich with almond butter, or adding chopped pears when you braise short ribs or brisket: "They'll fall apart and add a touch of sweetness and the fiber adds texture to the braising liquid," she says.
Recipe box: If you're still stuck in summer smoothie mode, swap in summer berries for pear, like in this recipe for a Pear Avocado Ginger Kale Smoothie.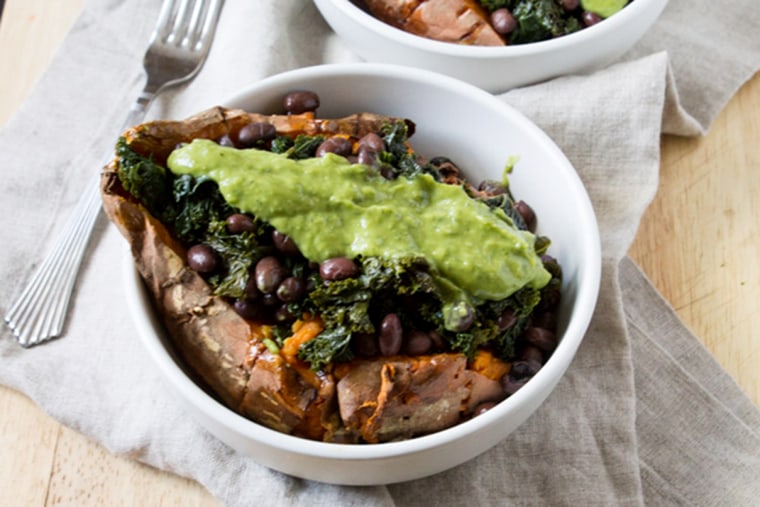 Sweet Potatoes
"Sweet potatoes are one of the easiest fall foods to whip up," says Younkin. "Simply wash one, poke a few holes with a fork, microwave for 3-4 minutes, and voila! One sweet potato has almost 400 percent of your daily value of vitamin A, and contrary to popular belief, it only has 5 grams of sugar. Swap your stuffed pepper for a stuffed sweet potato. They are delicious filled with ground turkey and kale. You can also roast your own sweet potato fries or jump on board the latest trend — sweet potato 'toast.'"
"I like to make potato pancakes with grated sweet potatoes instead of white potatoes because they're so pretty. Top with eggs for a delicious brunch dish," says Bowerman.
Recipe box: For an easy brown bag lunch or dinner for one, turn to these Loaded Sweet Potatoes, packed with black beans and kale, and topped with a green goddess dressing.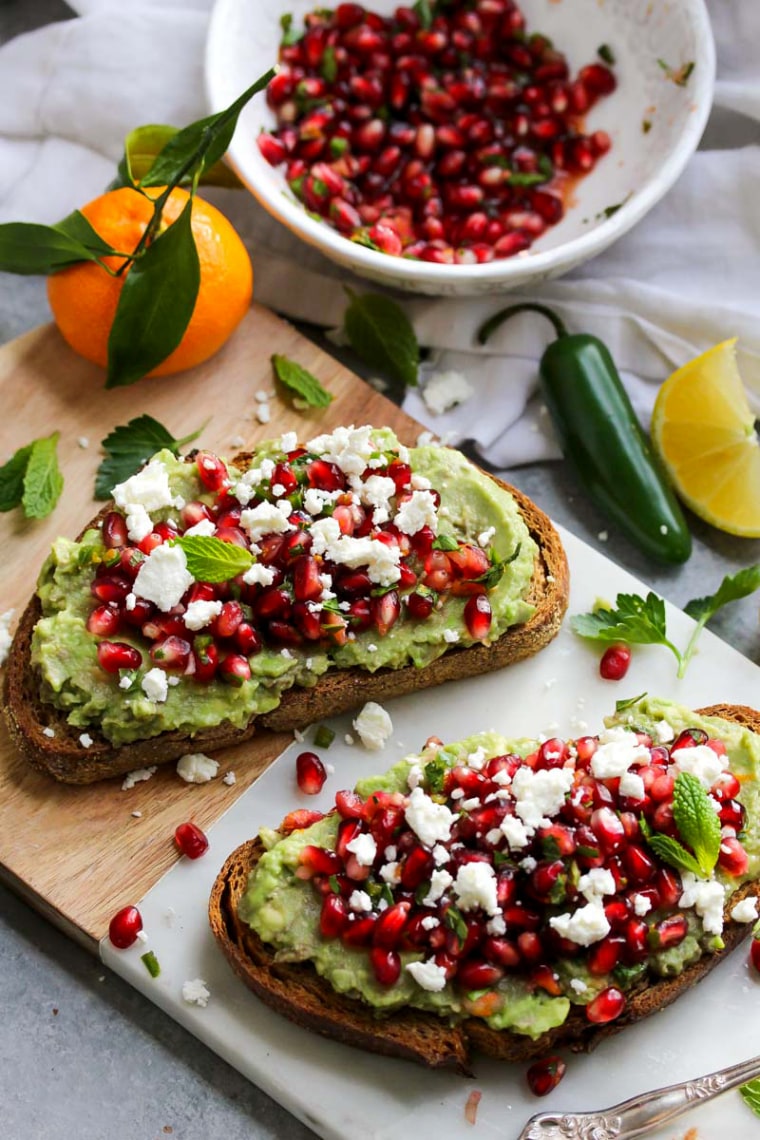 Pomegranates
"Pomegranates are packed with vitamin C, potassium and fiber, as well anthocyanins, the antioxidants that give fruits a dark red/purple color and fight free radicals in the body," says Younkin. "Put a sliced pomegranate in a bowl of water to extract the seeds and then add them to Greek yogurt, kale salad or oatmeal for a fiber-full tangy topping."
"Sprinkling the pomegranate seeds on top of anything makes it look festive — they're like little jewels," agrees Bowerman. "I like them in salads, on yogurt or cottage cheese, on hot or cold cereal. One of my favorite winter salads: slice carrots thinly on the diagonal, steam until crisp tender and chill. Dress with cumin-seasoned vinaigrette and sprinkle with pomegranate seeds. The color contrast is eye-popping."
Recipe box: Give your favorite Mexican condiment — and trendy brunch order — a fall twist with this Avocado Toast with Pomegranate Salsa. Pair with whole-grain pita chips or use as a salad topper.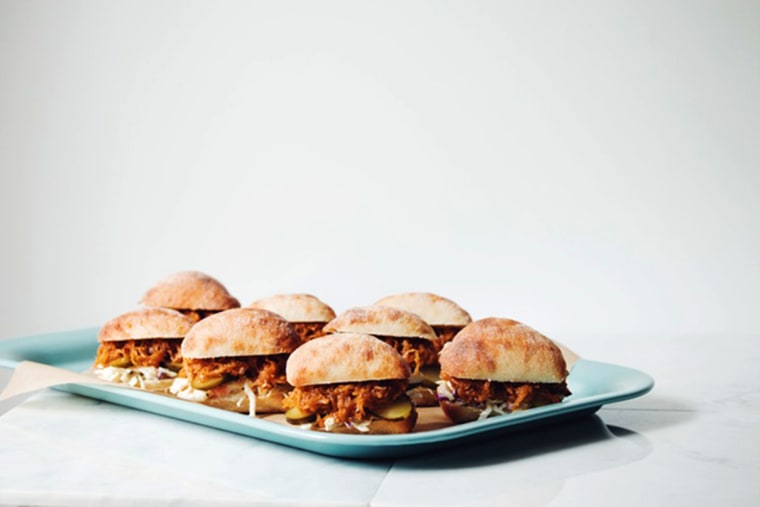 Spaghetti squash
A favorite of pasta-lovers-on-a-diet, spaghetti squash is a low-cal, versatile ingredient to begin incorporating into your diet in the fall. "A popular weight-loss food, spaghetti squash is a winter squash often used in place of spaghetti noodles. Just one cup of spaghetti squash has only 30 calories, while a cup of pasta has about 200," says Younkin. "Mix with vegetables and a sauce of your choice for a healthy 'pasta' dish or try stuffing it with beans and veggies for a simple but fiber-full dinner."
Bowerman recommends using it as a filling for veggie tacos. "Toss cooked spaghetti squash in a large skillet with chili powder, cumin, salt, pepper and lime juice until heated, then add some canned black beans (drained). Use to fill tacos and top with salsa and guacamole," she says.
Recipe box: Most people know the pasta-substitute hack, but you may be surprised to know if can sub in for meat in a pulled pork sandwich as well. Give it a try with these Pulled BBQ Spaghetti Squash Sliders.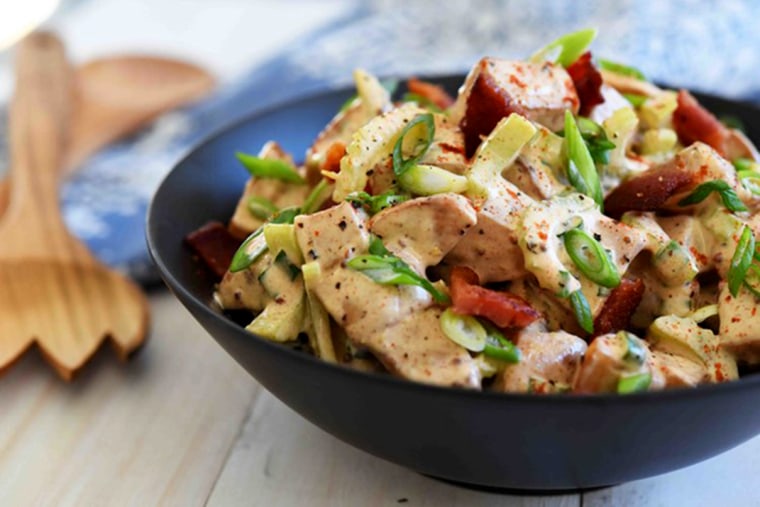 Turnips
The root veggie is a good source of vitamin C, potassium, folate and fiber. Bowerman suggests making turnip mashed potatoes: "Steam or boil potatoes and turnips together until tender, then mash and season as you would mashed potatoes. Saves a lot of calories and it's a great way to work more vegetables into your day. If you're lucky enough to have the turnip greens, you can cut them very finely, sauté in a little olive oil, and serve alongside," she says.
Recipe box: Give the football spread a healthy twist by swapping out traditional potato salad with this Turnip No-Potato Salad recipe, which not only utilizes nutrient-packed turnips but also swaps out half of the mayo for protein-packed Greek yogurt.
MORE RECIPE IDEAS
Want more tips like these? NBC News BETTER is obsessed with finding easier, healthier and smarter ways to live. Sign up for our newsletter and follow us on Facebook, Twitter and Instagram.