"It's no surprise a record 67 million American adults plan to gift a wearable device this holiday season," said Steve Koenig, senior director of market research, Consumer Technology Association (CTA). "Wearable devices, like dedicated fitness activity trackers, empower consumers to live healthier lifestyles by providing valuable data, sharing real-time feedback and encouraging more physical activity. The personalized response and increasing capabilities in every device motivates consumers to not only get in shape — but stay in shape."
While trackers began as a fitness phenomenon, the newest batch of monitor a slew of metrics, with super-sensitive technology able to detect everything from your REM cycles to your fertility levels. The next generation of trackers boast light, functional and (dare we say it) even fashionable technology, with most so wearable you barely notice they're there. And since they all feature apps that sync with your phone, it's easy to monitor your progress at a glance. With a tracker for seemingly every metric under the sun, we're narrowed down the best — and most giftable — tech gifts of the bunch.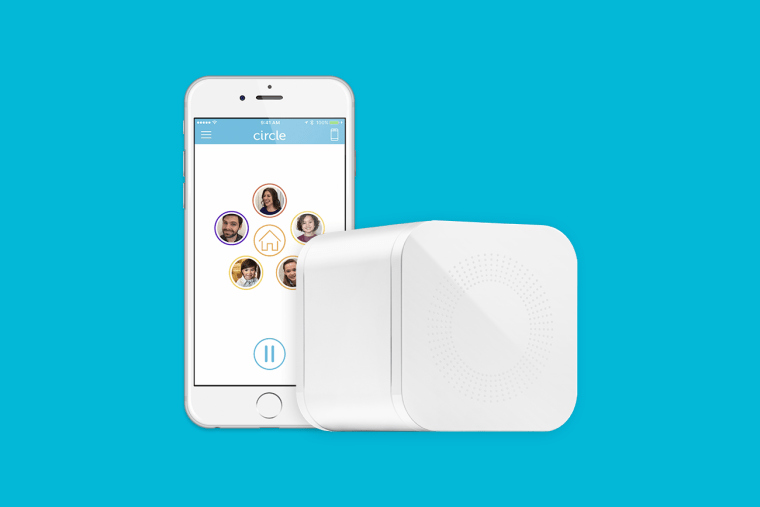 Price: $99
With kids often holed up in their rooms, at school or hanging at friends' houses, monitoring their screen time might seem like a Herculean task: not so with Circle Home, a smart tracker that wirelessly pairs with your family's wi-fi network to manage devices. In the era of 24/7 screen time, Circle's ability to track how much TV or iPad your children are consuming is a godsend. In addition to monitoring what (and how much) they watch, you can also set TV limits, auto turn-off devices (no iPad after 7 pm!), create age-appropriate filters, temporarily pause the internet or schedule connectivity-free time and monitor devices for safety and content.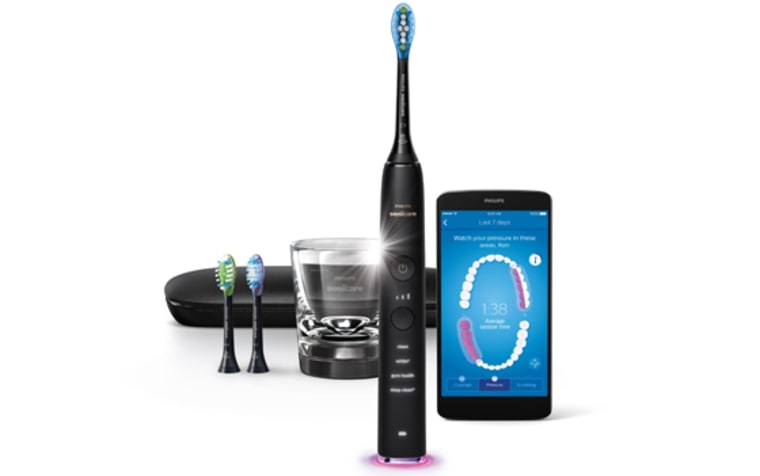 Price: $219.95
With five cleaning modes tackling everything from gum care to whitening, not to mention 31,000 brush strokes per minute, the Philips Sonicare Diamond Clean toothbrush is another unique offering in the tracker space. For those who want to precisely monitor those pearly whites, Philips offers an app that syncs with your toothbrush, telling you what section of your teeth to work on next, alerting you if your technique is bad (read: you're moving too quickly), monitoring the optimal time on each quadrant of your mouth and directing when to stop.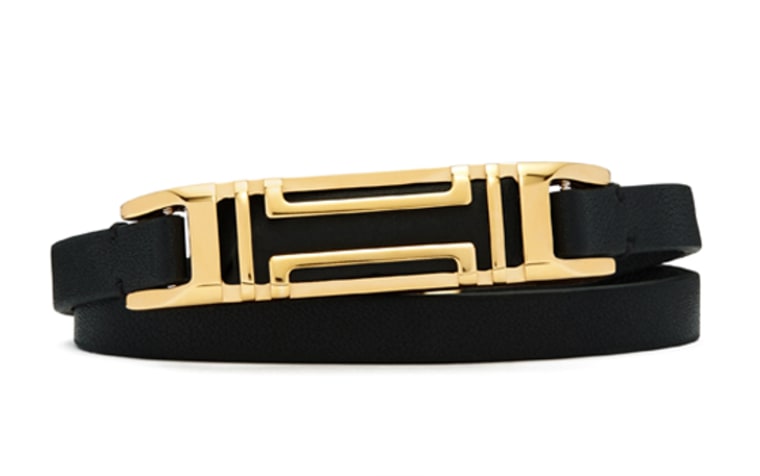 Price: $209
Perfect for the fashion conscious, the Tory Burch Fitbit bracelet is a leather band that pairs with the versatile Fitbit Flex 2: a slim, swim-proof fitness wristband with tracking capabilities including sleep. (Pop it out of the leather Tory band and into the rubber Fitbit Flex 2 wristlet, and you have a swim tracker, too). The tracker automatically recognizes and records exercises and features LED lights along the wristband that alert you if you've reached your goals, if you need to exercise more and if you're receiving a phone call or a text message. It's Fitbit for the uber-chic (or incognito fitness junkie).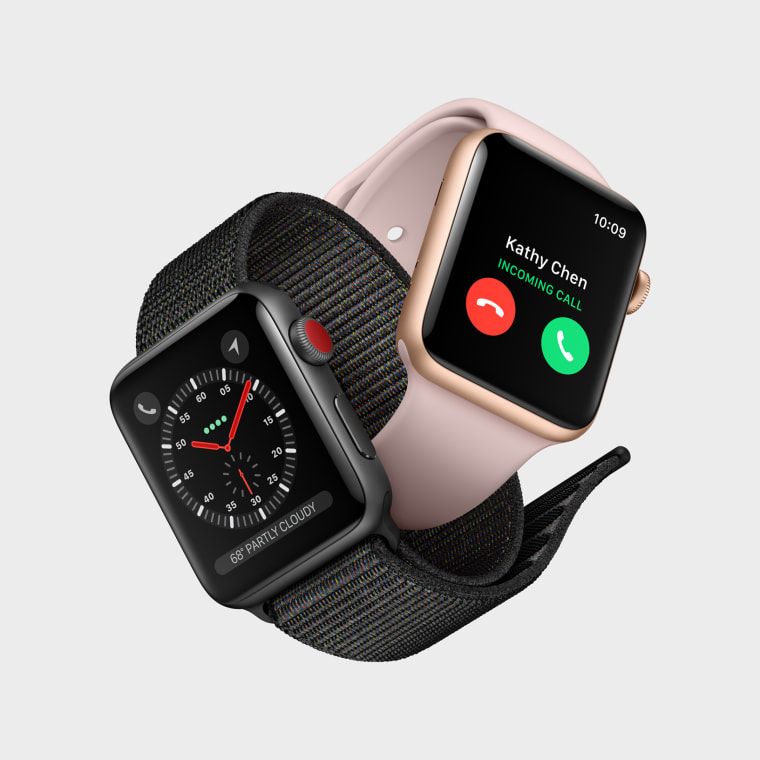 Price: $329-$749
Apple's newest smart watch, the waterproof Apple Watch 3, has a bevy of features making it one of the year's most coveted wearables. Beyond its impressive fitness capabilities, its swimming features are particularly noteworthy — including both pool and open swim tracking, and metrics including distance covered, lengths and average pace. The watch also distinguishes between different types of stroke style, features a GPS for open-water and syncs with a variety of third-party swim apps for a slew of additional insights. Even better, it's cellular compatible, meaning you can stash your phone in your locker or car and make phone calls — as well as check emails, messages, calendar notifications and apps like Facebook —poolside.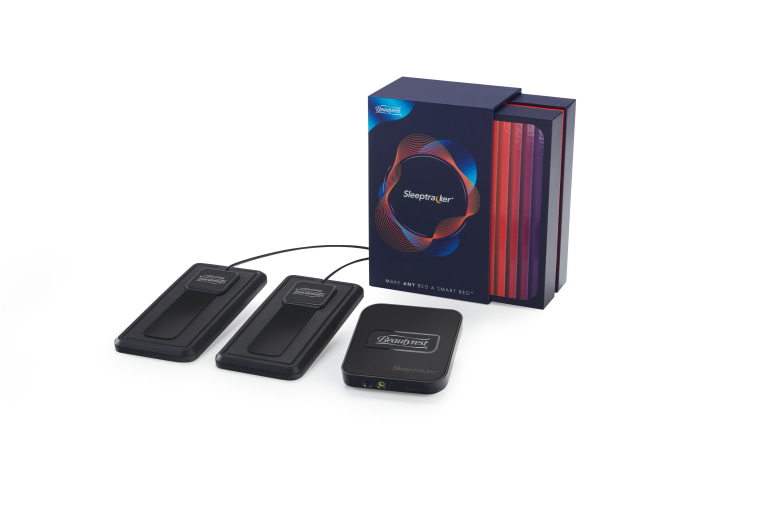 Price: $129.95
For those who toss and turn, the Beautyrest Sleeptracker provides the ability to track sleep metrics with the first non-wearable sleep monitor on the market. A non-invasive device placed under the bed, the monitor is Alexa-enabled and features an AI Sleep Coach and a Sleep Cycle Alarm, and tracks metrics including sleep efficiency, respiration, heart rate, body movement and wakefulness for up to two people. Dianne Augelli, M.D., a sleep physician at Weill Cornell Medicine in New York, told BETTER that while sleep trackers aren't precisely accurate, they can give you some sense of how restful your sleep is. "It can be helpful if you're tracking your number of hours of sleep and making sure you get adequate sleep and that you're going to sleep around the same time," she says. "That can be a problem with a lot of people, just not sleeping enough hours. If you're not getting your seven hours of sleep then [a product like] this can help track for that."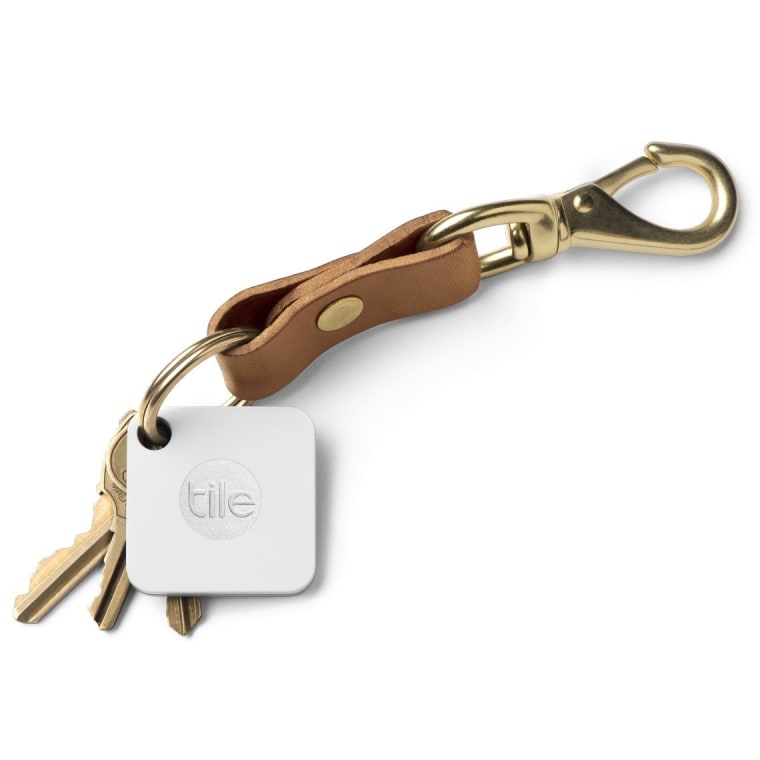 Price: $25/one; $59.99/four-pack
Ever wish your keys could yell, "Hey! I'm over here!" as you frantically search for them before work? Well with Tile, they can. Simply attach the tiny Bluetooth tracker to your phone, keys, wallet or anything else you don't want to lose, and sync with the app to locate it in seconds. When your Tile is within the 100-foot range, it will play a loud tune until you find an item; if you're out of range, the app also has a map feature that enables you to see where you were the last time you had an item. Gift your favorite forgetful friend a four-pack so they never have to turn the house upside down digging for their essentials again.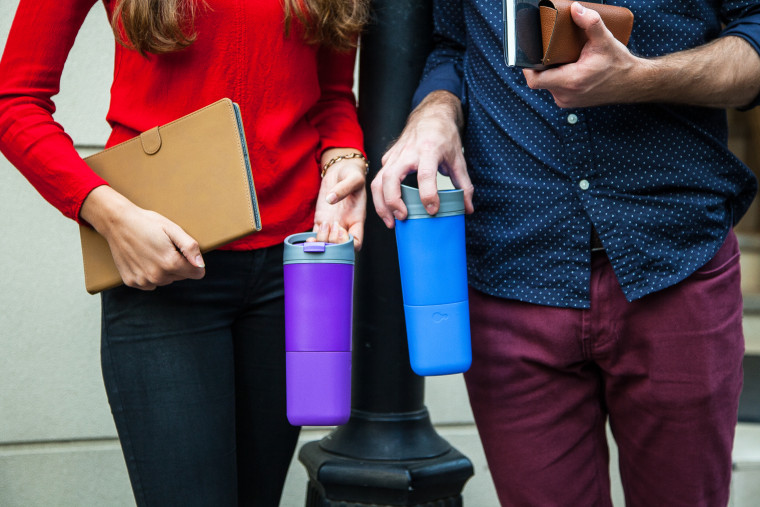 Price: $69.99
With water making up approximately 60 percent of your body, getting enough is critical — but it can be difficult to reach that coveted eight-glasses-per-day goal. Enter the intelligent water bottle to track your consumption. One of the most popular offerings is also the smartest: the BPA-free Ozmo, which connects with an app to record your water consumption and to track your hydration progress throughout the day. Unlike other bottles, it also automatically tracks your coffee consumption (after all, coffee is mostly water!), allowing for manual input of other drinks such as tea. For tracker enthusiasts, it syncs with your Fitbit, Garmin or Apple Watch to check how much water you need after a grueling workout, and it vibrates throughout the day to remind you to drink more. We love that unlike other bottles that need to be kept on a tabletop to track hydration, level sensor technology allows the Ozmo track on the go (and features a watertight cap and up to three weeks of battery life).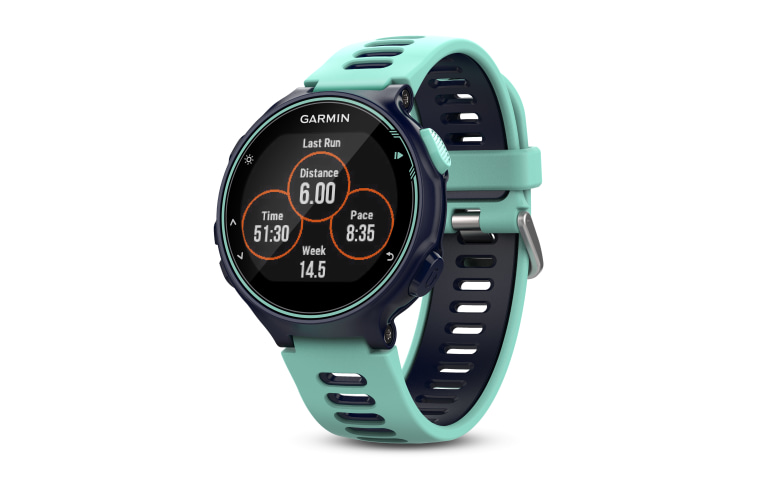 Price: $299.99
For those who live for the euphoric thrill of the runners' high, it's important to have a great watch to keep pace with your achievements. According to running addicts, the best of the best is the waterproof, lightweight Garmin Forerunner 735XT, a serious watch made for serious athletes. Metrics calculated include ground contact time, stride length, recovery time needed after workout, lactate threshold and even V02 max estimate — plus automatic activity tracking, an optional heart-rate monitoring strap and a comfy band. For those who want to stay in contact on-the-go — without being tethered to your phone — the watch also delivers call alerts, text messages, What's App, calendar and email notifications.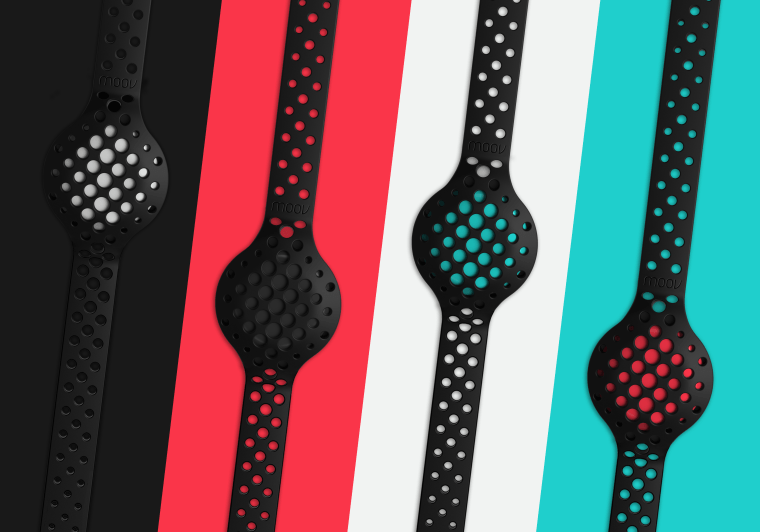 Price: $59.99
For serious cyclists, an important — and difficult — metric to precisely quantify is cadence: pedal rotations per minute, which helps monitor performance and track improvement. Unlike wrist-based trackers, Moov Now solves this problem by attaching unobtrusively to the ankle, with a 9-axis motion sensor also measuring distance, calories and exertion levels, as well as providing a GPS. Meanwhile, a training aid gives live audio feedback and coaching — so cyclists don't have to look down — and alerts riders to their tallest climb, the route difficulty and when to shift gears to conserve energy. The accompanying app provides appealing, easy-to-read charts and stats, packing a lot of power into such a tiny tracker.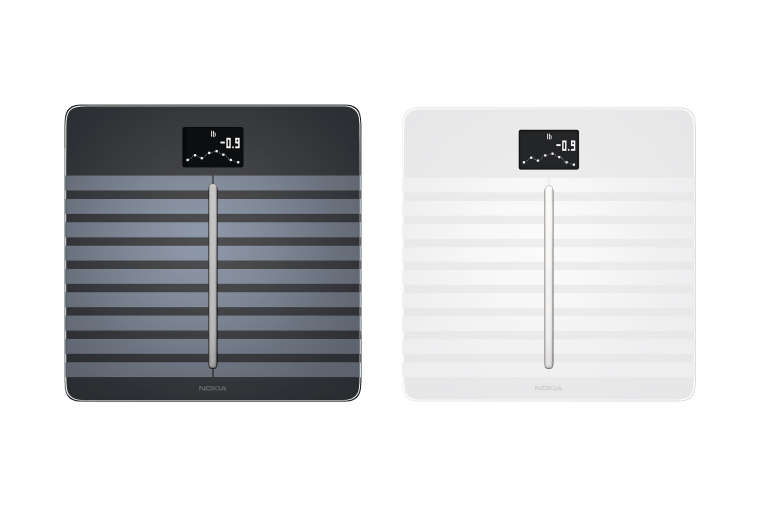 Price: $179.95
Pounds aren't always the best measure of health, especially when you're on a weight-loss journey. That's why we love The Nokia Body Cardio Smart Scale that also tracks other important measures of health like BMI, body fat composition, muscle and bone mass, body water percentage and heart rate. It also downloads information to a free app — so you can easily see health and weight trends at a glance and make informed changes to your habits. Plus, it automatically distinguishes between eight user profiles so everyone in the family can get in on the tracking fun.
Find BETTER gifts for everyone on your list:
Want more tips like these? NBC News BETTER is obsessed with finding easier, healthier and smarter ways to live. Sign up for our newsletter and follow us on Facebook, Twitter and Instagram.