As lazy summer days wind down and back-to-school season hits, it seems like our schedules are instantly jam-packed. Between work deadlines ramping up, getting your kids back in a routine, and shorter days, it can often feel like there's barely time to eat dinner let alone prepare it.
But you don't have to resort to takeout or delivery when a hectic workday leaves zero time to cook. Nutritionists know the tricks to getting a healthy and tasty dinner on the table STAT. Use these shortcuts and go-to recipes that the pros turn to on busy weeknights — these 11 dinners can all be on the table in 15 minutes or less!
Beans and Rice Bowl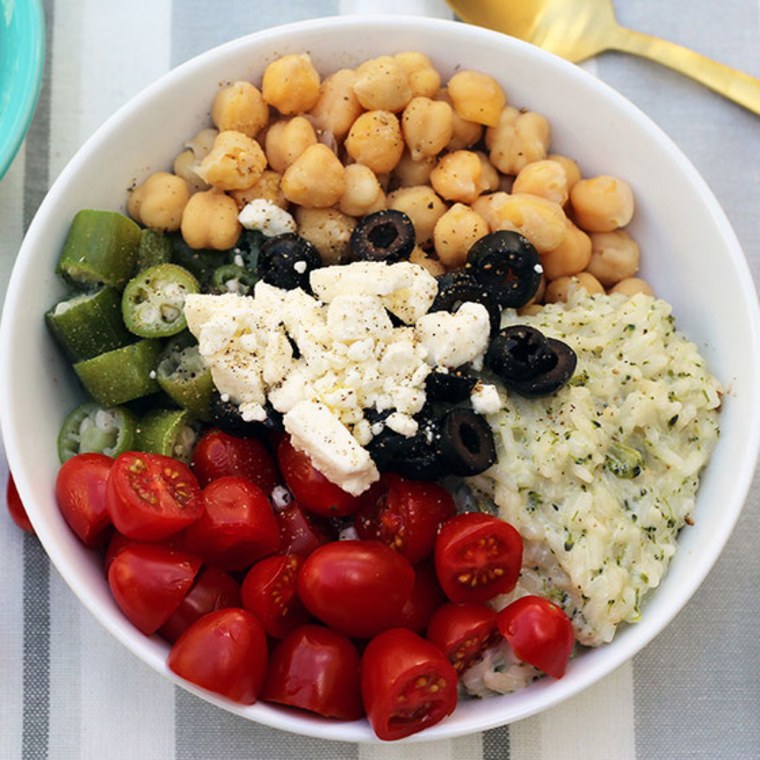 Stock your freezer with frozen veggies and your pantry with microwaveable brown rice, canned beans and canned sliced black olives — and you can have a quickie meal in ten minutes or less. The Okra, Chickpea and Tomato Rice Bowl utilizes foods you're likely to have on hand that will come together for one of the fastest dinners ever! Plus, the bowl is a good source of protein and an excellent source of fiber for maximum staying power. It contains a few fresh ingredients like grape tomatoes and crumbled feta, but feel free to swap in whatever veggies and cheese you have on hand.
Vegetarian Tacos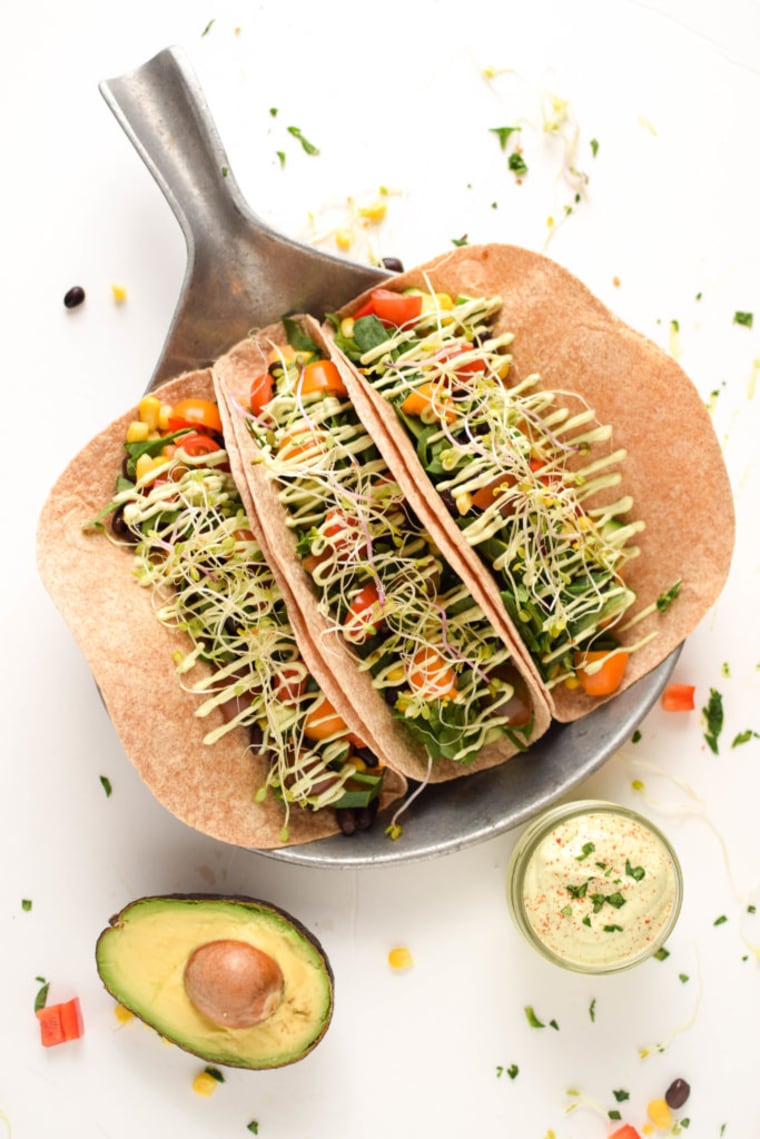 After a long day at school, little hands love finger food like tacos — and this meal can be on the table in a flash. "My go-to meal when I am strapped for time are these Vegetarian Hummus Tacos," says Emily Kyle, MS, RDN, a nutritionist in Rochester, New York. The five-minute meal features whole-wheat tortillas, black beans, avocado, Greek yogurt and plenty of veggies. "I add any topping or extra vegetable I have on hand, which helps to cut back on food waste and save money," she says.
Turkey Burgers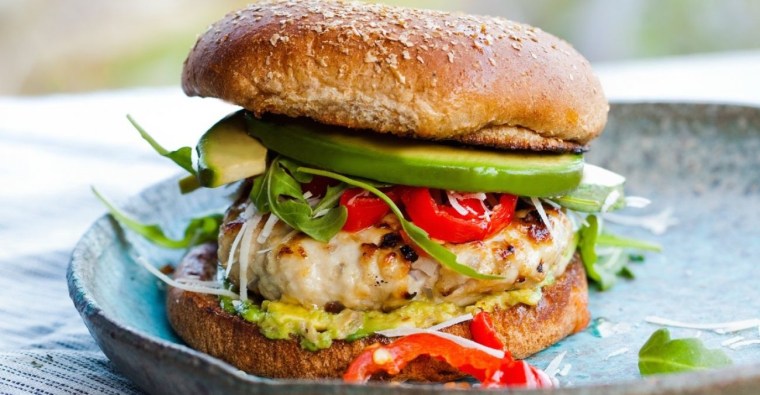 Even without a grill, a turkey burger can get on the table, stat. "My Red Chili and Cheese Stuffed Turkey Burgers are a family staple, especially during busy times like back-to-school season," says Patricia Bannan, MS, RD, a dietitian in Los Angeles and author of Eat Right When Time is Tight. "Super easy, these burgers only take about five minutes to prep and ten minutes to cook. Plus, the surprise chili-and-cheese filling in the middle of the burger is delicious." The dinner will keep you full all night, with 33 grams of protein and 6 grams of fiber per burger. "Serve on a whole-wheat bun and add your favorite toppings like arugula, salsa and avocado slices for added taste and nutrition," suggests Bannan.
Lentil Salad
Don't feel bad about taking shortcuts — like purchasing pre-cooked steamed lentils — on a busy weeknight. "My super fast go-to dinner involves a few healthy timesavers," says Cynthia Sass, MPH, RD, a dietitian in New York City and author of "Slim Down Now." Here's how she makes it: Sass whisks together a tablespoon of balsamic vinegar, a teaspoon of stone ground mustard, a half teaspoon of Italian seasoning and dashes of sea salt and black pepper. Then she tosses a half cup of pre-cooked chilled lentils with the dressing, spoons it over a bed of ready-to-eat greens, and tops it with half an avocado and a handful of sliced strawberries. "This combo is filling, satiating, nutrient rich and energizing — and it's ready in mere minutes," she says.
Egg Sandwich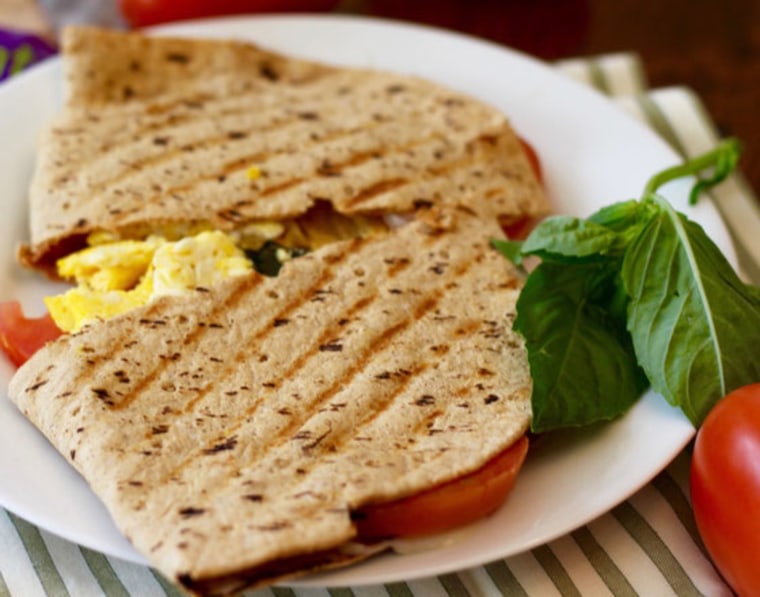 Breakfast for dinner? Yes, please! When it comes to quick-cooking protein, you can't get much faster than eggs. Give your typical egg sandwich an upgrade with this quickie Italian Flatbread Panini. Scramble the eggs in one pan, then add them as a filling to a flatbread sandwich with tomatoes, basil and mozzarella — giving the sandwich a quickie grill on a stove top cast-iron grill. What's more, this meal is loaded with 29 grams of filling protein.
Shrimp Pesto
"As a single working parent, dinner in 15 minutes is quite common in my house!" says Samantha Cassetty, MS, RD, a dietitian in New York City. "One meal that's on heavy rotation these days is shrimp pesto. Frozen, uncooked shrimp doesn't require an overnight defrost, making it an ideal protein choice for those of us who might forget to do such things." Here's how to make it: Just stick the shrimp in a colander in the sink under cold, running water to let it defrost. Meanwhile, boil water and prepare a bean-based pasta, according to package instructions. As the pasta is coming to a finish, toss in frozen broccoli. Drain; then cook the defrosted shrimp on a skillet coated with olive oil. They'll cook in just a few minutes on each side. Finally, combine the shrimp with the broccoli-and-pasta mixture, then toss with store-bought pesto. "I serve this with a spinach salad, topped with pine nuts instead of croutons," Cassetty says. "This brings healthy fats, plus added crunch and flavor to our greens. And the pesto doubles as salad dressing!"
Chickpeas with Veggies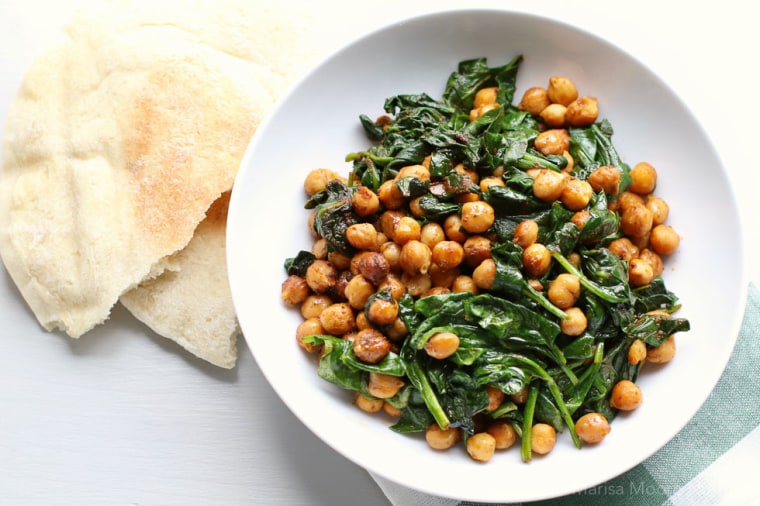 What's faster than rinsing and draining a can of beans? Almost nothing! "I always have cooked chickpeas in the freezer or a can of chickpeas in the pantry," says Marisa Moore, MBA, RDN, a dietitian in Atlanta. "I use chickpeas in many ways, from tossing them into pesto or marinara sauce for a meatless pasta dish to blending them into hummus to enjoy as a light dinner with vegetable sticks and warm pita bread." But her all-time go-to recipe is Smoky Chickpeas with Spinach. "This one pan, simple sauté combines chickpeas and spinach with smoked paprika and garlic for a flavorful and filling dish that's perfect as is, stuffed into a pita, or served over your favorite grain," she says. "With it, I get a protein and fiber fix in ten minutes flat!"
Turkey Meatballs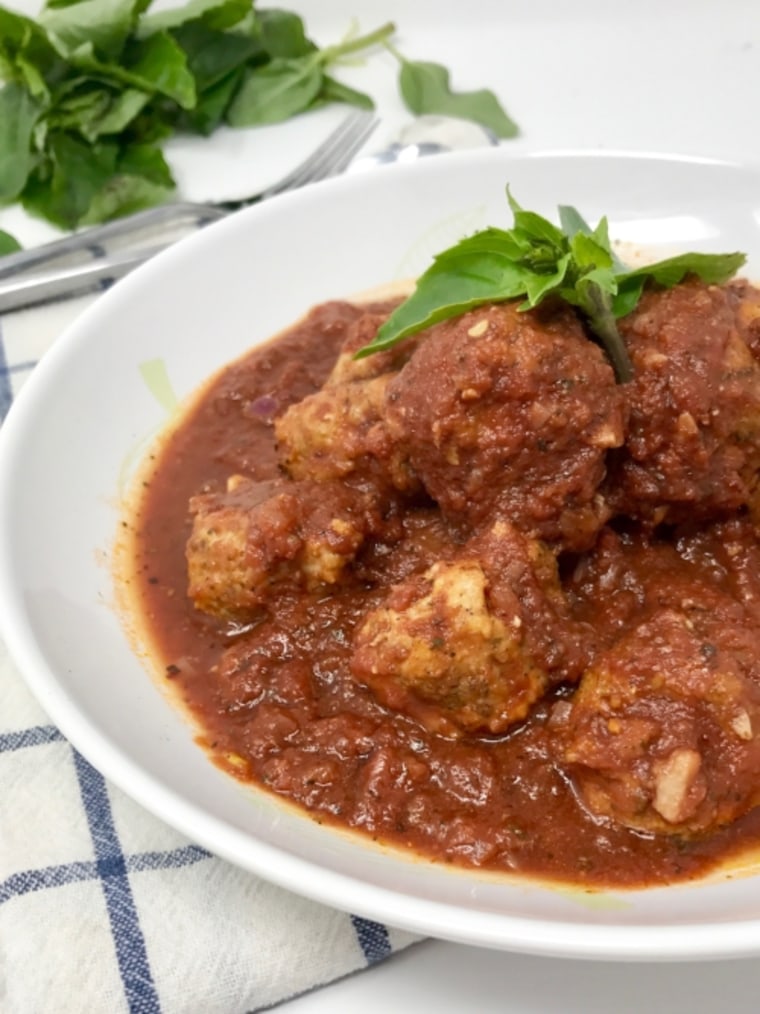 Here's a meal-prep secret many dietitians use: They utilize frozen ingredients. "I am often on the go, so we do loads of quick and easy dinners in my household," says Edwina Clark, MS, RD, head of nutrition content at RaisedReal in San Francisco. "Most weekends, I make a batch of turkey meatballs without the sauce, and freeze them in individual servings so I can whip them out during the week for a quick pasta or zoodle meal with store-bought marinara sauce." Clark notes that baby spinach is a staple in her fridge, and she adds that to the dish for extra veggies.
Baked or Broiled Salmon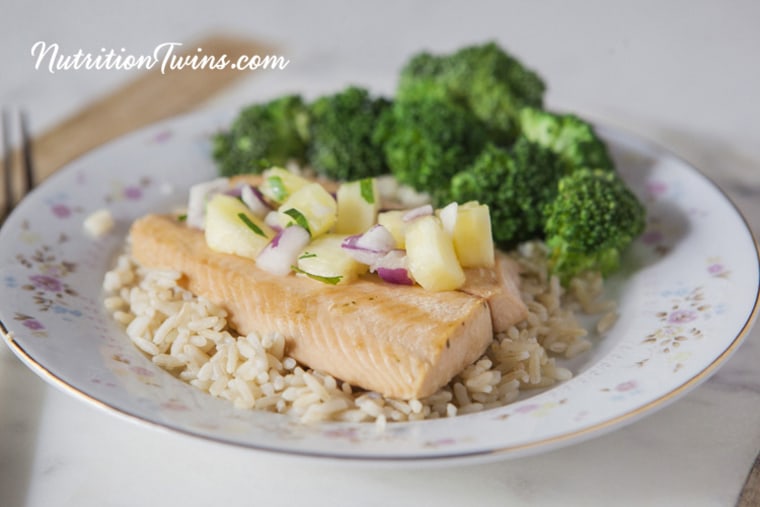 You might think that cooking salmon seems ambitious for a weeknight — but it really doesn't take long to bake or broil fish. "When things are busy and I want a quick and easy nutritious meal, I usually default to a serving of broiled salmon, couscous and steamed broccoli," says Keri Gans, RDN, a nutritionist and yoga teacher in New York City and author of "The Small Change Diet". "All I do is brush the salmon with olive oil and sprinkle on paprika, coriander and black pepper. Then I place the salmon in the broiler on aluminum foil and cook for around eight to ten minutes. Meanwhile, the couscous is cooking on the stove top and the broccoli is steaming in the microwave. Then I simply plate with a wedge of lemon." Lyssie Lakatos, RDN, CFT and Tammy Lakatos, RDN, CFT, dietitians in New York City and co-authors of "The Nutrition Twins' Veggie Cure", have a similar go-to meal with their Salmon with Pineapple Salsa. Instead of couscous, they'll prepare microwaveable brown rice. "This quick dinner is a delicious way to get omega-3 fatty acids and 27 grams of satisfying protein in a wholesome meal!" they say.
Peanut Noodles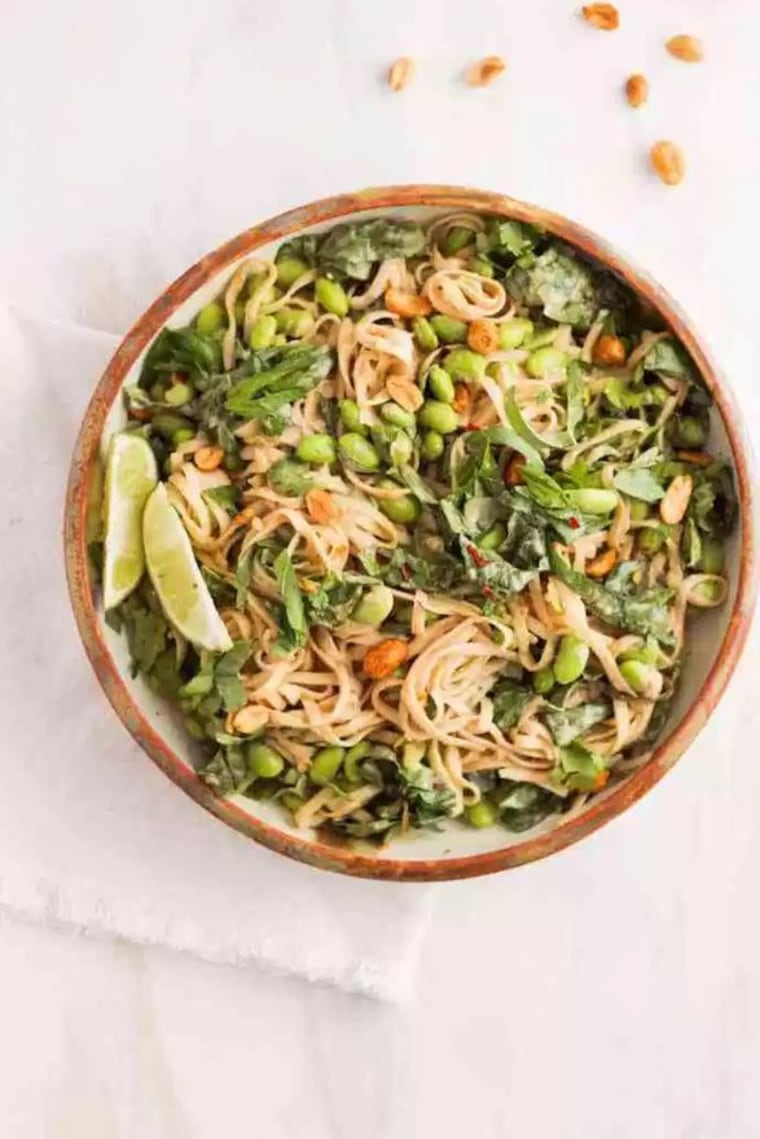 Here's a fact: Vegetarian proteins like edamame and peanuts cook more quickly than meat. "Whenever I'm short on time, I make 15-Minute Peanut Noodles for dinner," says Stephanie McKercher, RD, a healthy recipe blogger in Denver, Colorado. "I use frozen edamame instead of beef or chicken, so there's no need to worry about cooking meat with this recipe. This is my favorite thing to eat when I don't have lots of fresh ingredients in my kitchen!"
Black Bean Quesadillas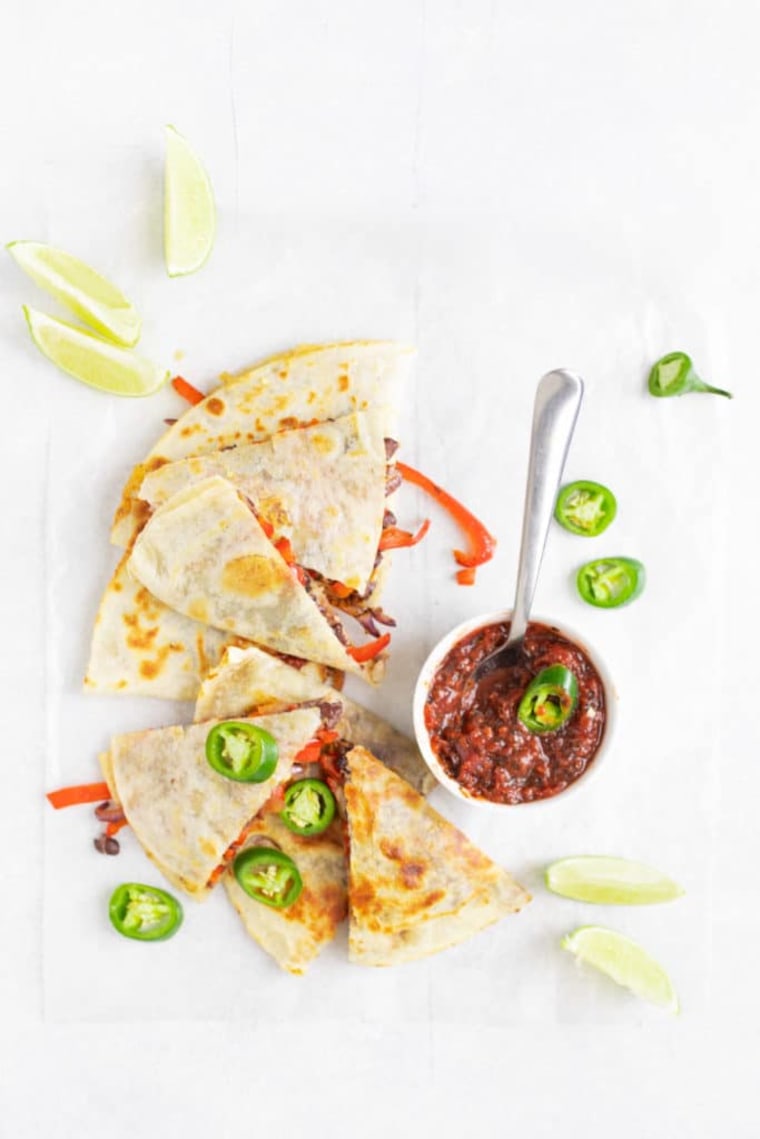 Yup, a quickie quesadilla can be loaded with protein and veggies. "Quesadillas can take as little as ten minutes to put together," says Rebecca Clyde, MS, RDN, a dietitian in Salt Lake City, Utah. "I love how versatile they are. I pack my Black Bean and Vegetable Quesadillas with beans or leftover meat with cheese and whatever veggies I have in my fridge. They're a great way to reduce food waste by throwing greens or other veggies that are about to go bad into the tortilla." Serve with fresh or canned salsa and guacamole for a nourishing and satisfying quick dinner.
MORE BETTER-FOR-YOU RECIPES
Want more tips like these? NBC News BETTER is obsessed with finding easier, healthier and smarter ways to live. Sign up for our newsletter and follow us on Facebook, Twitter and Instagram.