When you think of "snacking" what comes to mind? Munching a doughnut at your desk when that midday slump hits? A handful of chips while you watch TV at night?
Unfortunately, since snacking usually consists of mindlessly munching something we grabbed from the vending machine or pantry, it gets a bad rap. But it's actually a healthy habit — if done right.
Jackie Newgent, RDN, culinary nutritionist and author of The All-Natural Diabetes Cookbook, schools us on the common myths surrounding the act of snacking, and shares the ideal formula for crafting a snack that will actually support your health goals.
Misconception 1: Snacking hinders dieting efforts
"Properly planned snacking can actually help with weight management efforts," says Newgent. "Having a snack will help keep you satisfied between meals so that you don't overeat at lunch or dinner."
Misconception 2: Snack foods aren't healthy foods
"While there are many grab-and-go munchie foods that aren't so good for you, snacks can actually help fill in nutrient gaps and lead to a healthier overall eating plan," says Newgent. "Think protein plus produce! And know that snacks don't have to be typical 'snack' foods."
Misconception 3: Snacking ruins your appetite
"Going overboard on snack-time calories isn't a good thing. But there is a just-right amount!" says Newgent. "I typically recommend snacks that provide 150 to 250 calories — aiming for the higher range if you have a higher activity level or greater energy needs."
The Perfect Snack Formula
"Snacking on healthful choices that provide a mix of good carbs, healthy fats and protein can help keep your body and mind energized and digestive system working smoothly. This can lead to being more productive at work!" says Newgent.
Newgent provides guidelines by which to craft the perfect snack:
Calorie Range = 150 to 250 calories (varies based on activity level)
Mix of good carbs, healthy fats and protein
Easiest approach: protein + produce
Protein + fiber = satiety (at least 5g protein & 3g fiber)
Low in added sugars (ideally 5g or less)
No artificial ingredients
Easy to assemble
So now we know how to build the perfect snack, but is there a right time to eat it?
The snacking golden rule: Don't go more than 5 waking hours without something to eat.
"Keep in mind the snacking 'golden rule': Don't go more than 5 waking hours without something to eat," says Newgent. "So, if lunch is at 12 noon and dinner isn't planned until 8pm, plan to have an office snack around 4pm."
Think Outside the Vending Machine
Sure, some days you will pressed for time and settle on an apple from the office fruit basket. But on those days when you are able to plan ahead, opt for a snack that is a little more exciting.
"Creativity keeps things interesting. Enjoyment will help assure you keep following good snacking habits, so try to mix things up on occasion," says Newgent. "But what's more important is that you're filling in nutrient gaps at snack-time with something that's both healthful and enjoyable, even if it's not always that creative!"
Here are a few snack ideas from Newgent's recipe box to try.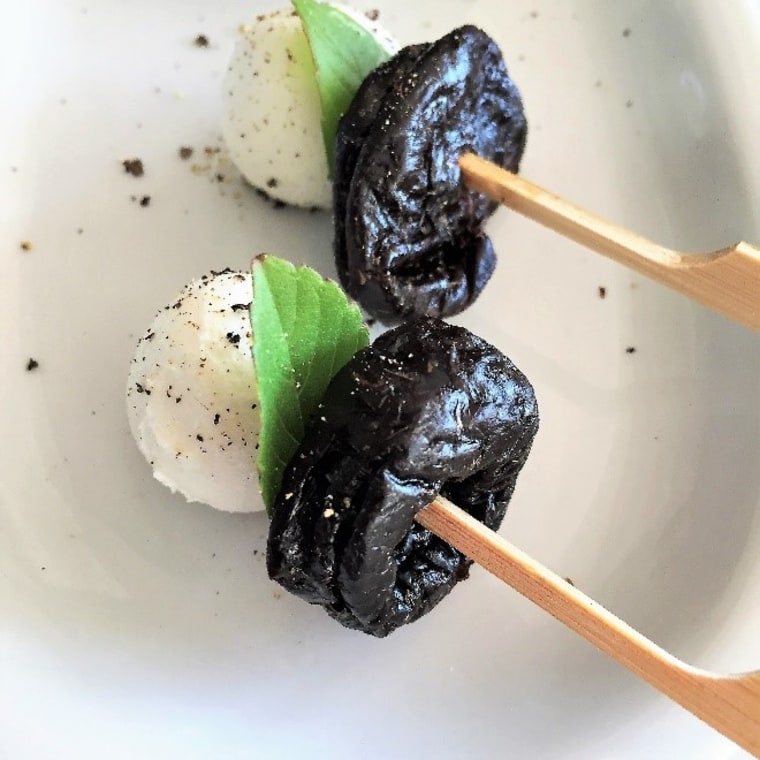 California Snack Skewers
On each of 4 mini skewers or toothpicks, insert a California prune + fresh basil leaf + soft goat cheese ball (1/3 ounce each). Sprinkle with freshly ground black pepper to taste (optional). (Editor's note: Newgent is a spokesperson for California Prune Board.)
Nutritional stats: 190 calories, 8 grams protein, 3 grams fiber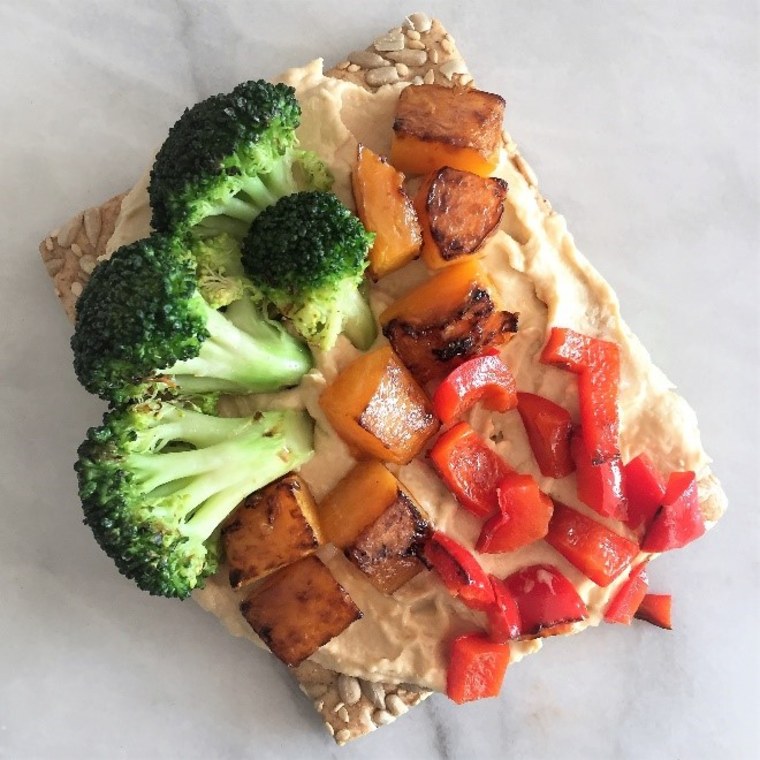 Hummus "Toast"
1 large whole grain crispbread topped with 1/4 cup classic or garlic hummus + 1/4 cup (or more!) leftover "vintage" veggies. Serve with a lemon wedge (optional).
Nutritional stats: 250 calories, 9 grams protein, 6 grams fiber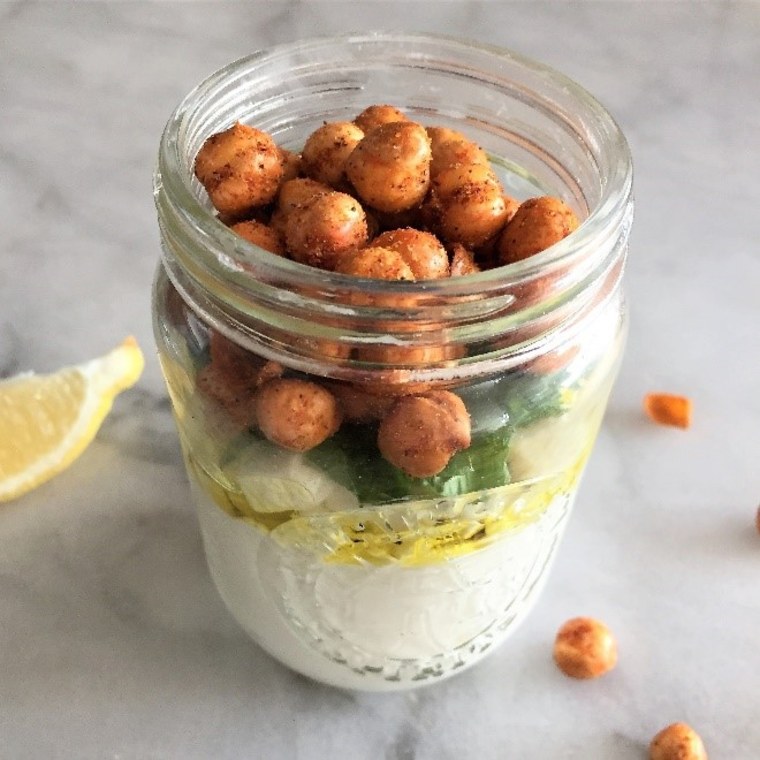 Savory Mediterranean Greek Yogurt Jar
In an 8-ounce capacity jar, add 1/2 cup plain 0% fat Greek yogurt, 1 1/2 tsp. extra-virgin olive oil, pinch each sea salt and freshly ground black pepper, 1 1/2 Tbsp. crumbled feta cheese, and 6 fresh mint leaves. At serving, sprinkle with 1/2-ounce crunchy baked chickpeas. Serve with lemon wedge.
Nutritional stats: 230 calories, 17 grams protein, 3 grams fiber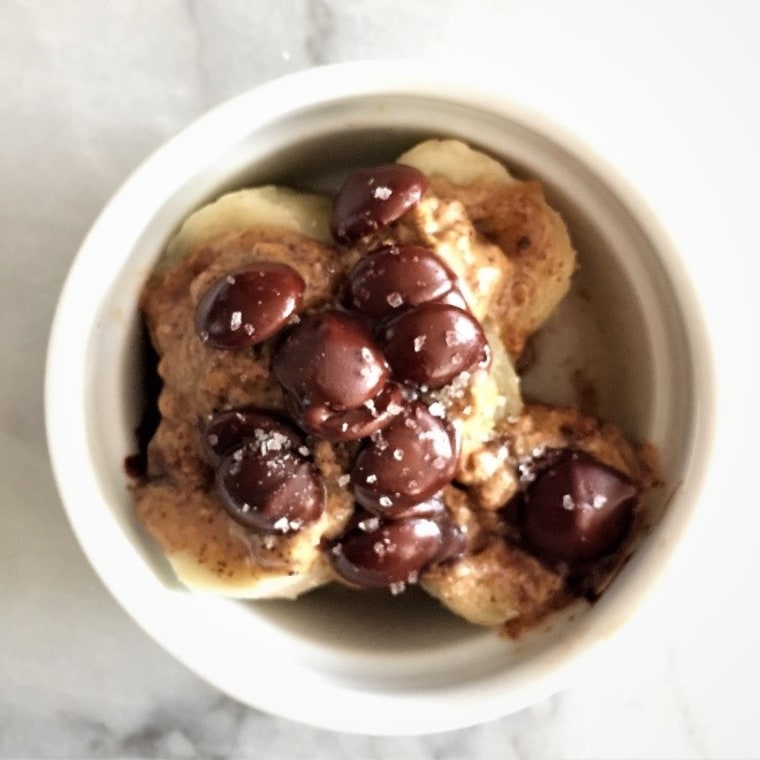 Micro-Baked Nutty Butter Banana
Cut 1 small banana into 5 chunks. Nestle into a small microwave-safe ramekin or bowl. Top with 1 Tbsp. almond butter + 2 tsp. bittersweet chocolate chips. Microwave until bananas are fully heated, about 45 seconds. To serve, sprinkle with optional pinch sea salt, cinnamon and/or cayenne.
Nutritional stats: 230 calories, 5 grams protein, 4 grams fiber
Want more tips like these? NBC News BETTER is obsessed with finding easier, healthier and smarter ways to live. Sign up for our newsletter and follow us on Facebook, Twitter and Instagram.