When I started my mission with the American Council on Exercise to adhere to the federal Dietary Guidelines and Physical Activity Guidelines for a full year, I obviously wanted to lose some of the 245 pounds I was carrying around every day. I also wanted to be able to enjoy my favorite activities without battling nagging injuries and headaches. And more simply, I wanted to be a happier, healthier and more active person.
Just as importantly, I was hopeful that the changes in my lifestyle would be contagious to my family and friends who would be watching me day in and day out during this process. Even if the people surrounding me were not able to make quite the same commitment that I was, I hoped to inspire a few healthier decisions every day.
And that is exactly what happened.
I've started sharing tips and shopping lists with my brother-in-law and an old college buddy, both of whom are in the early phases of adopting this program. I shared cooking tips with my mother when she was visiting and she has since made some changes and shed a few pounds.
Hopefully, I've inspired some of you as well.
But perhaps the most profound changes are the ones at home. My wife, Linda, had tremendous health struggles over the past decade that have taken a serious toll. While she did not sign up to do this with me, seeing the changes in how I look and feel has inspired positive changes in her own diet and exercise programs.
Cancer, Survival and Finding a New Body Normal
Linda is a six-year breast cancer survivor [spoiler alert: she's doing great!]. The effect that the illness and the extended battle she fought had on her body was profound, not to mention the tremendous psychological and emotional tolls.
Back in 2011, Linda was diagnosed with stage I breast cancer. When she went in for a lumpectomy to remove a small tumor in her left breast, we had reason to be hopeful that this would be her one and only surgery.
Unfortunately, the surgeon found a second mass and a biopsy of a lymph node under her arm discovered cancerous cells. This discovery meant that our initial hopes had been dashed and that Linda actually had stage II breast cancer.
After multiple surgeries and aggressive chemotherapy, Linda is cancer free. However, her body is permanently changed. Another mass was found in her right breast, which led to a bilateral mastectomy. Some of the large muscles in her back hat to be moved to rebuild her breast. This resulted in partial loss of strength and function in the upper back. Specifically, it can become difficult to lift things and twist.
The removal of the lymph nodes also meant that she now had to deal with lymphedema for the rest of her life. Lymphedema involves occasional dramatic swelling as the lymph fluid builds up with nowhere to go; for Linda, this happens in her left arm and hand. To counter this, she has to wear two different compression sleeves, one during the day and one at night. When the fluid buildup gets bad, she has to see a specialized physical therapist to massage the fluid to clusters of lymph nodes in other areas of the body. Linda was also hospitalized a few years back due to infections in the stagnant fluid in her upper arm.
Recovery, Weight Gain and Body Image
Linda's cancer was estrogen receptive, meaning that the presence of estrogen could promote the growth of cancer cells in other parts of her body. To combat this, in addition to undergoing surgery to remove her uterus and ovaries, she started taking a medication called anastrozole. Among the litany of potential side effects is weight gain, specifically male-pattern (that is, abdominal) weight gain — just what every woman wants to hear.
Bilateral mastectomy. Recovery. A battle with depression that delayed the start of radiation. Thirty radiation treatments. Recovery. Reconstructive surgery. Hysterectomy. Oophorectomy. Recovery, recovery, recovery.
The physical toll of the cancer itself was obviously substantial, but the ongoing treatment brings its own set of challenges.
Linda's oncologist recommended she take anastrozole for up to 10 years, and noted that that weight gain is all but inevitable. Her body was changed, through surgery and through medication, in ways she had no control over. She had a new body composition, one with limitations, and that was hard to accept.
For the past year or so, Linda has been participating in circuit-training classes where the trainers are aware of her limitations and modify exercises to help with her balance struggles and upper-body weakness. She likes the classes but has been inconsistent, largely because she finds it very difficult to stay motivated — understandably so — when there are so few signs of improvement. Sure, she feels better when she's attending classes, but it's tough to work hard and eat right when the numbers on the scale are creeping ever upward.
The American Cancer Society reports that body weight, physical inactivity and poor nutrition are all related to increased cancer risk. By changing her lifestyle, Linda may be reducing the chance of cancer recurrence.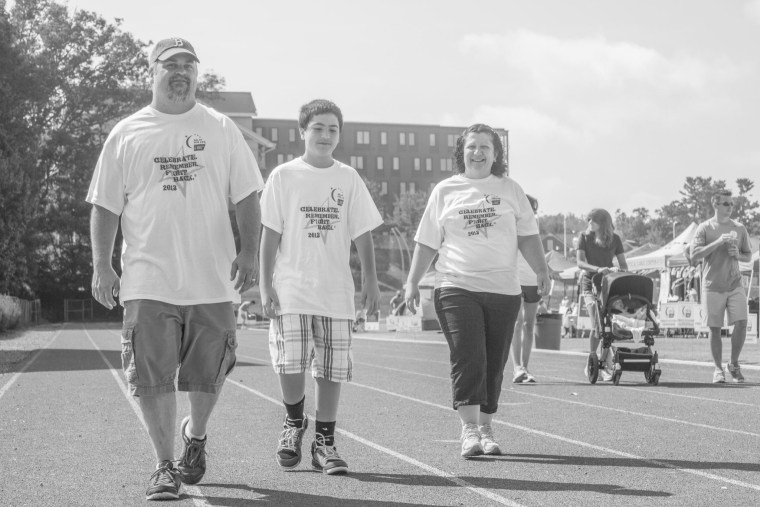 Finally, Progress in Post-Cancer Weight Loss
As a result of the work I'm doing, Linda has made some small but important changes to her own eating routine. She's added more protein (specifically a mid-day high-protein snack) and removed some fat from her diet. She has no concrete plan, but watching me eat healthier meals, and feel better because of it, has helped her eat better than in the past. She's also become much more consistent with her workouts, in part, she says, because she sees me working so hard.
The effects, I'm thrilled to say, are beginning to show. She's been slowly losing weight, excitedly walking into my office some mornings to report another pound gone. She went down a dress size and is on the verge of fitting comfortably into those too-small jeans that anyone who has struggled with his or her weight has hidden in the back of the closet.
This is no small victory for Linda. And these are exactly the types of extended effects that I was hoping this project might have on my family.
My Tip for You: Build a Social Support Network
The importance of social support cannot be overstated. In fact, social support from family and friends is an important predictor of successful behavior change. It comes in many forms, from empathy and encouragement when you're struggling, to problem solving and simple but essential companionship.
When I started this project, I talked to my family about my need for their support, explaining that while I understood that this would affect their lives in potentially unwelcome ways, I knew I could not be successful without them. The thing is, as Linda has seen signs of progress, she's been more excited to go the gym, which encourages me on days I'm not as committed… and the cycle feeds itself.
The change in Linda's mood and the smile on her face as she loses the weight she thought was impossible to shed is far more important than my weekly weigh-in. Her support for me has now turned into my enthusiasm for her. We now share a desire for mutual success, which is the ultimate form of social support.
I encourage you to find people in your life who are living healthy lifestyles and talk to them about how you can draw inspiration from one another. How has social support helped you in your efforts to lose weight or change your lifestyle? Tell me all about it.
I'm proud that NBC BETTER invited me to share my journey every two weeks with you through the completion of The Lifestyle Project and beyond, and now I want to hear from you.
Have questions about my journey? Ask me on Twitter.
Want more tips like these? NBC News BETTER is obsessed with finding easier, healthier and smarter ways to live. Sign up for our newsletter and follow us on Facebook, Twitter and Instagram.