Avocado toast is the gourmet meal of choice for trendy brunchers everywhere.
But, by now, most of us have taken this restaurant-worthy treat in-house to munch on whenever the mood strikes. After all, it can't get much easier then topping crusty bread with the bright green slices, a squeeze of lime and a sprinkle of salt.
So, sure, it's easy, but yours could probably be a whole lot prettier, right?
You hack into that avocado and end up turning it into a mash — which is fine, and just as delicious — for hurried mornings. But when you invite friends over for a leisurely Sunday brunch, it's time to take the presentation up a notch.
That's where chef and author of Kitchen Matters Pamela Salzman comes in. Here, she walks us through the steps of slicing an avocado that'll look and taste great fanned across your artisanal whole-grain toast. Here's how to do it.
HOW TO CUT AN AVOCADO INTO SLICES
What to look for: Avocados are notorious for taking forever to ripen — and then going bad in a day. To tell if your avocado is ripe, first squeeze it in the palm of your hand, it should give to gentle pressure. (Never squeeze with your fingertips which can bruise the avocado.) Then, peel off the cap at the end of the avocado. If ripe, it will come off easily and reveal a creamy green color underneath.
What you'll need: A cutting board, a large chef's knife, a large serving spoon and your ripe avocado.
HOW TO CUT IT:
STEP 1: Take your knife, and carefully cut through the stem end and you'll hit the pit. Glide the knife around the pit, and then twist both halves to separate them.
STEP 2: Gently tap the pit with the chef's knife and twist the knife to remove it. Remove the pit from the knife using a paper towel or dishtowel to protect yourself.
STEP 3: To slice the avocado, take the tip of your chef's knife and slice into the avocado half, making vertical cuts as thick or thin as you like.
STEP 4: Scoop the slices out with a spoon, and then you can fan them out on anything that you like — from toast to a salad!
Tip: Avocado browns pretty quickly. A squeeze of fresh lime juice will keep it green!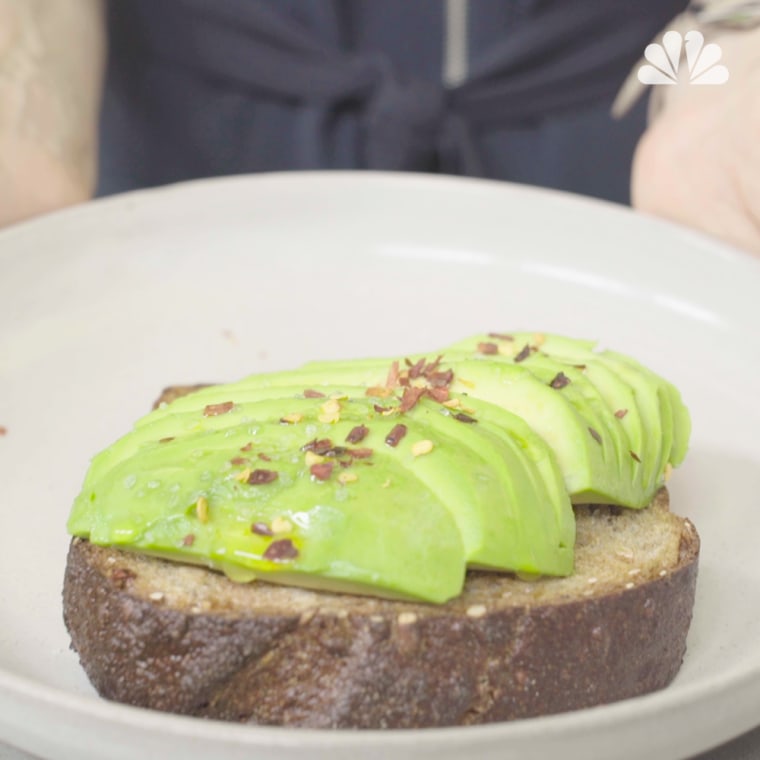 Avocado Toast
Upgrade breakfast with this filling recipe, chock full of heart-healthy fats.
INGREDIENTS
Half of an avocado, sliced
Pinch of red pepper flakes
Pinch of sea salt
Lime wedge
Drizzle of olive oil
DIRECTIONS: Toast the bread. Fan avocado slices on top. Sprinkle on salt and red pepper flakes and squeeze fresh lime juice over top and drizzle lightly with olive oil. Enjoy!
Party tip: Assemble an avocado toast bar for your next brunch gathering. Set out avocado slices, sliced veggies (we love radishes and tomatoes!), scrambled eggs, various herbs and spices and hot sauce and let guests build their own!