Pineapples are having a major moment. And we're totally on board with the trend: Is there any fruit as festive?
The sweet, tropical fruit is easy to love. What's not so easy? Cutting the darn thing.
By the time you've removed the crown, cut off the skin (including those pesky eyes) and chopped around the core, you've hacked the fruit to bits. So we tend to resort to buying the pre-cut varieties, which sets us back a few more dollars, but saves us from a trip to the ER.
But it's time to add the whole pineapple back to your grocery list. Chef and author of Kitchen Matters Pamela Salzman walks us through the steps of slicing a pineapple that'll look great in parfaits, fruit salads and flavored water — and leave all of our fingers intact. Here's how to do it.
How to Slice a Pineapple Into Cubes
WHAT TO LOOK FOR: Knowing how to spot a ripe pineapple will ensure that it's nice and sweet. The first thing to do is take one of the leaves out. If the leaf comes out easily, then it is ripe. Secondly, smell the bottom of the pineapple. A ripe pineapple will have a light, sweet fragrance.
WHAT YOU'LL NEED: A cutting board, a large chef's knife, a vegetable peeler and, of course, a ripe pineapple.
HOW TO CUT IT:
STEP 1: Lay the pineapple side down on the cutting board, and cut off the top and the bottom.
STEP 2: Set the pineapple bottom-side down on the cutting board, and begin to cut the skin away from the flesh of the fruit. If any stubborn eyes remain, use the tip of a vegetable peeler to scoop them out.
STEP 3: Cut vertically straight through the core (center) of the pineapple. And then cut each half in half again, leaving you with four equal pieces.
STEP 4: Slice the core off of each fourth. And then cut the pineapple into pieces.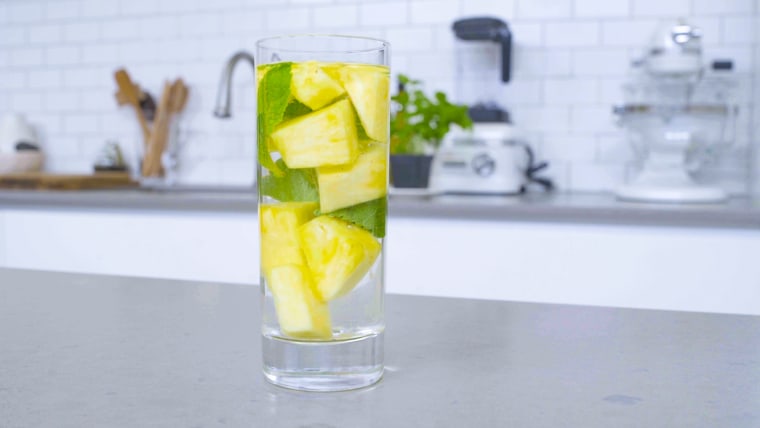 Pineapple Agua Fresca
This refreshing pool-side sip from Pamela Salzman's cookbook Kitchen Matters (Da Capo Lifelong Books, June 2017) makes for a tasty way to stay hydrated on a hot day!
INGREDIENTS
3-4 mint leaves
A few chunks of pineapple
Sparkling water
Optional: Sparkling wine
DIRECTIONS: Slice the pineapple as described above and place a few chunks into a glass. Sprinkle in some fresh mint leaves and top with sparkling water for a refreshing summer drink.
Party tip: Fill half the glass with sparkling water, and fill the remaining half with sparkling wine for a festive, low-calorie cocktail for your outdoor parties!
MORE IDEAS FROM BETTER
Want more tips like these? NBC News BETTER is obsessed with finding easier, healthier and smarter ways to live. Sign up for our newsletter and follow us on Facebook, Twitter and Instagram.