Quartz editor Paul Smalera lost 60 pounds in 18 months by tracking his weight in a Google spreadsheet.
Smalera, who weighed 242 pounds at the beginning of his weight-loss journey, input his weight into the spreadsheet each morning between 2010 and 2014. His average 10-day weight trend revealed that even if it went up a bit from the previous day, he was still losing pounds. He said it spared him from agonizing over the day-to-day fluctuations of his weight.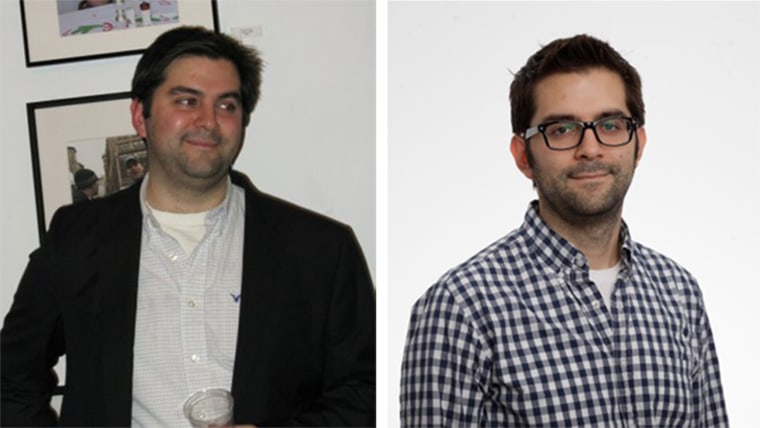 "It gave me a sense of scale that you just can't see on a day-to-day basis — a timeline that was just kind of beyond your brain's ability to keep track of the number that way," Smalera told NBC News BETTER.
Before Smalera started tracking his weight, he felt like he didn't have control over it.
Eat when you're hungry and avoid processed foods
Seeing how his eating habits affected his weight over a long-term period was eye opening for the 36-year-old.
"What I realized was I was eating way too much meat," Smalera said. "I was never going to be a vegetarian, but I realized I didn't need to have meat at every meal."
The editor scrapped the three-meal-a-day rule, opting instead to eat only when he felt hungry. And he focused on what he was eating instead of how much.
"I think the really big thing is that I cut out a lot of or pretty much all heavily processed foods, which I think can really just disrupt your body's sense of being full or being hungry when you've had enough nutrition or energy for the day," he said.
Exercise may not affect your weight
In 2011, Smalera trained for the New York City Marathon. The intense training increased his hunger and caused him to eat more, he said. His legs became more muscular, which caused him to gain some weight.
"What I found is that exercise makes you stronger, it makes you fit, it makes you healthier," said Smalera. "It has all sorts of mental and physical benefits, but for weight loss it didn't really seem to have an impact."
Trusting the data
Smalera now weighs just over 180 pounds, which he said is average for his 6-foot-3 frame. He said the spreadsheet prevented him from getting frustrated and giving up.
"I think it's really easy to get discouraged and dissuaded and think it's not working, and if you're not measuring properly then it might not be working, but you don't know that for sure," he said.
RELATED: How to Eat Better (Without Breaking the Bank)
"Figuring out just how to measure [your] goal and trust the data rather than get caught up in the day-to-day appearance and image and feeling actually was the key to avoiding some of the pitfalls," Smalera explained.
A data-driven way to understand your body
Before Smalera started tracking his weight, he felt like he didn't have control over it. Seeing the data allowed him to know what works best for him, he said. It also gave him more respect for his body.
"I'm more in tune with it, I kind of appreciate it and want to take care of it, because I'm starting to see now how incredible it is, and you can transform yourself that way, [and] basically have a different body if you put that intent into it," said Smalera.
How to track your 10-day weight trend
Use the Google spreadsheet template to start tracking your weight each morning.
Pay attention to any eating habits or foods that might be affecting your weight loss trend and adjust your diet accordingly.
Understand that exercise may improve your overall fitness, but may not impact your weight the way you expect it to.
Trust the data. It's easy to get discouraged when you look at the scale each morning, but your 10-day weight trend will give you a more accurate understanding of your weight loss and what works best for you.
WANT TO EAT BETTER? TRY THESE SIMPLE SWAPS:
Want more tips like these? NBC News BETTER is obsessed with finding easier, healthier and smarter ways to live. Sign up for our newsletter and follow us on Facebook, Twitter and Instagram.