Overweight. Terrible allergies. A junk food addiction. Digestive issues.
These were just a handful of the health concerns that Sahara Rose Ketabi battled from a very young age.
Luckily, a yoga class at age twelve inspired her to undertake a journey of exploring the mind-body connection and what that meant for her. It took some time, but once she finally took control of her health, Ketabi made it her goal to modernize the Ayurvedic teachings that had guided her to good health to make them more accessible to everyday people.
Ayurveda is an ancient body of wisdom rooted in the belief that the mind and body are inextricably connected. As holistic wellness has become increasingly popular (think: meditation, stress reduction, sleep, mindful eating), so has Ayurveda — so much so that Idiot's Guide decided to release a guide on the ancient wellness trend.
And they tapped Ketabi to pen it.
Our bodies are smarter than we will ever be. It just takes listening to its whispers before they turn into screams.
Deepak Chopra (who wrote the forward for her book) dubbed the 26-year-old "a leading voice speaking to the millennial generation," and she spent the month leading up to the book release co-hosting a 31-Day Mind-Body Transformation Challenge with the wellness guru.
Now that the book has hit shelves, Ketabi is busy juggling her life as a best-selling author, making time to Instagram some seriously beautiful (and healthy) food, and hosting her own podcast in hopes of continuing to bridge the gap between ancient Ayurvedic healing and modern western nutritional science and psychology.
"I know people don't have all day for lengthy self-care practices, so I make it super easy for people to live Ayurvedically, even if you've never stepped foot in your kitchen," she says.
NBC News BETTER chatted with the best-selling author about how her own health struggles inspired her career choice, how she takes her yoga practice to the next level, and why she'll never stop celebrating chocolate.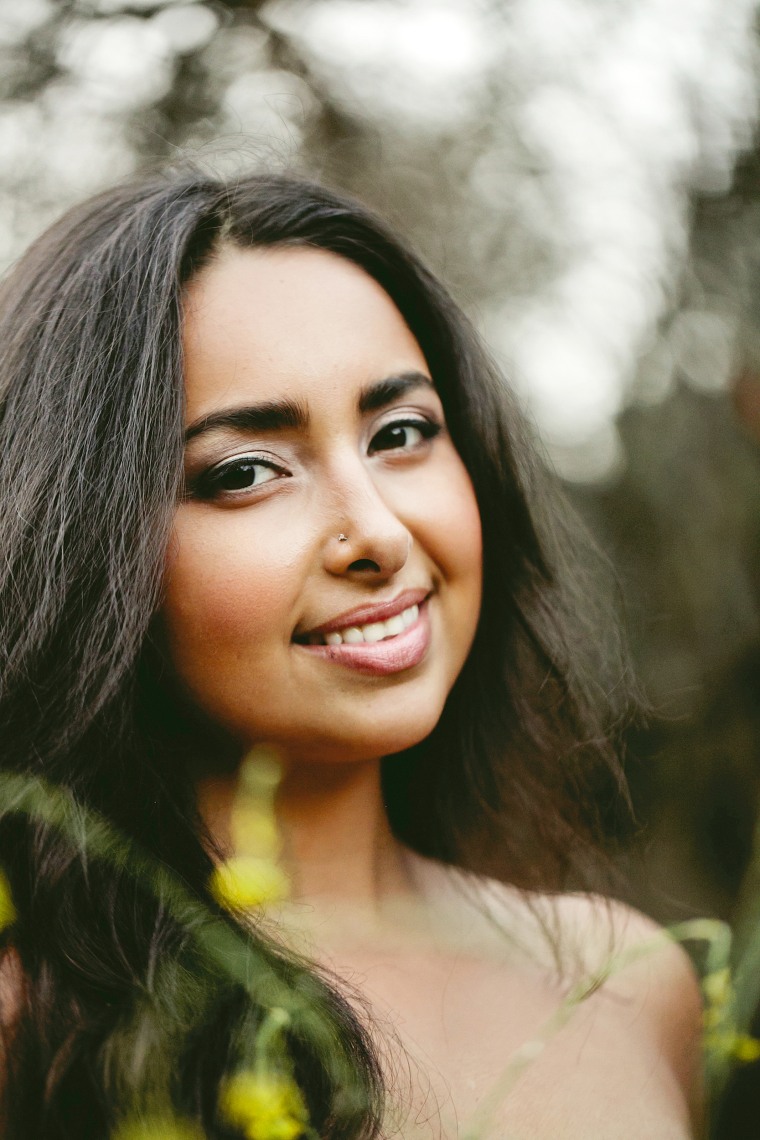 What inspired you to do what you do?
My own health problems. I think every healer first needed the healing themselves, otherwise they wouldn't have cultivated the passion! My own journey to health began when I was 12-years-old. I was overweight and suffered from horrible allergies, due to my diet of mac and cheese, soda and candy. There was a yoga studio in my town and something in me told me I needed to go take a class ... Not typical for a 12 year-old, especially 15 years ago before yoga studios were on every street corner. As soon as I began practicing, I noticed a deep shift in my mind and body. I felt more connected to my body than I ever had before and noticed I was showing up as a more patient and present person. This began my journey into studying the mind-body connection, which brought me to India, Bali, Thailand and other countries studying their ancient healing practices.
When did diet begin to play a role in your wellness routine?
In college I fell into raw veganism, the practice of only eating raw fruits, vegetables, nuts and seeds, which logically seemed to be the "healthiest" way one could eat, since you weren't even cooking your foods. I felt great at the beginning, but after about a year my health had totally deteriorated. I felt cold, weak and couldn't digest any food without significant digestive discomfort, which made me afraid of even eating. My menstruation stopped and my body was literally shutting down because I wasn't absorbing nutrients. I was at a loss: How could a diet that seemed so healthy and worked for so many others not work for me?
I was at a loss: How could a diet that seemed so healthy and worked for so many others not work for me?
That set me off to try every diet under the sun. Paleo, gluten-free, vegan, macrobiotic — you name it, I did it. I became fascinated with nutritional studies and decided to begin studying that as a career. In my holistic nutrition course, I learned about Ayurveda, the world's oldest health system based on eating the right foods for your unique physiology. It seemed interesting but the suggestions were extremely time-consuming, not to mention confusing. I didn't want to go from raw-vegan to eating rice with ghee (clarified butter) and lentils every day.
I decided to start trying some of the Ayurvedic suggestions — cooking my foods instead of eating them raw, including spices such as turmeric and cumin in my diet, drinking hot water throughout the day — and noticed my health radically improved. I was amazed by how badly my body wanted to be balanced, but the ice-cold smoothies I was eating was preventing it. I devoted myself to studying Ayurveda and spent the next two years studying with various teachers and immersing myself in the ancient texts. Immediately, I knew it was my purpose to modernize these teachings and make them accessible, so everyday people like me can begin benefiting from their practices.
Tell us about a bad thing or tough moment that you made you better.
Before I found Ayurveda, I had the most horrible digestive discomfort after almost anything I ate. I would literally curl up in a ball on the couch after a meal and just try to close my eyes and sleep to not feel the pain. Food lost its pleasure to me. I was just trying to figure out a way to eat that wouldn't bring me pain.
I went to DOZENS of gastroenterologists and none of them knew what was wrong with me. They just told me I had IBS (Irritable Bowel Syndrome), which is a blanket term they give almost anyone with a digestive discomfort they can't nail down. They told me there was no cure and I just had to deal with it and prescribed me some medication which was supposed to relieve my discomfort but actually made it worse. No one asked me what I was eating, if I was under stress, what my lifestyle was like. They just prescribed me a pill and said "Next!"
No one asked me what I was eating, if I was under stress, what my lifestyle was like. They just prescribed me a pill and said 'Next!'
I refused to take a quick-fix as an answer. I didn't want to mask my symptoms; I wanted to get to the root of the problem. This led to my dive into studying the digestive system and becoming certified in Ayurvedic, Sports and Holistic Nutrition. Digestive health is truly the cornerstone of Ayurveda. According to Ayurveda, "You are not what you eat, but rather you are what you digest." No matter how much kale you eat in the world, it doesn't amount to anything if you aren't digesting it, absorbing the nutrients and releasing the toxins. Learning about the intricacies of my body through Ayurveda, such as how I need to eat different foods depending on how I feel or what time of the year it is, has drastically shifted my life. Now I don't need to turn outside of myself for healing my body. Our bodies are smarter than we will ever be. It just takes listening to its whispers before they turn into screams.
You felt like you really "made it" when…
The first moment I felt like I really made it was when Penguin Random House, one of the world's most prestigious publishing companies, asked me to write the Idiot's Guide to Ayurveda. I grew up reading Idiot's Guides on many subjects so writing one myself was truly a dream come true and a testament that hard work really does pay off.
The second time I felt like I made it was when my lifelong inspiration Deepak Chopra wrote the forward to my book! Deepak's book, The Perfect Health, was the first Ayurveda book I had ever read and the first to hit the mainstream Western audience. It really felt like coming full-circle when he wrote the foreword because my book is the next step to take Ayurveda even further into the mainstream and make it a household name.
What do you do every morning to set yourself up for success?
Hot water and yoga are my musts. Hot water because it hydrates your body at a cellular level; yoga because it opens channels of your body so you can think more clearly.
Dehydration in the colon is the number one cause of digestive issues and I've noticed huge shifts in my digestion by starting my day with hot, rather than room temperature, water. Yoga is more than just a physical practice: it's one of the only times in my day when I'm totally present in the moment and deeply connected with my body. This sets me up for success for the rest of the day because I'm further aware of what my body really need; in fact, I notice I crave sweets and unhealthy foods days I don't do yoga because I don't have the same level of mind-body connection.
The one guilty pleasure you can't stop, won't stop:
Chocolate. I've gone without it and life's a bore. Chocolate was used by the ancient Aztecs for cacao ceremonies where they connect with spirit and balance the energies within them. I've participated in many cacao ceremonies and they've been some of the most blissful experiences ever: Imagine singing and dancing in a circle while drinking copious amounts of hot cacao. You just have to make sure the chocolate doesn't have sugar, otherwise it doesn't have its medicinal benefits. I don't think I would've been able to write my books without my cacao fix.
Favorite workout:
I've tried every workout under the sun and ALWAYS come back to yoga. To me, it changes my body unlike any boot camp or HIIT class. In fact, I actually gain weight when I do intense exercise classes because it causes an increase of cortisol, the stress hormone which causes belly fat, as well as adrenal fatigue. Ayurveda says how exercise should make you feel more energized, awake and radiant. Many people over push themselves and can barely walk out of the gym after a workout because they've surpassed their body's limits. That's actually causing more harm than good because your body is in a severe state of stress.
Your current workout routine/favorite way to stay fit?
I add lots of plank variations to my yoga practice, such as side planks, one legged forearm planks, pulse variations, etc. Throwing in some planks is a great way to get your core engaged and increase your body's basal temperature, which will get you burning more calories throughout the practice. I also love practicing anything on one leg because the core really has to engage to keep you stabilized.
Career crush (someone you admire right now):
Deepak Chopra will always be my career crush. He truly trail-blazed the way of bringing Ayurveda and consciousness awareness to the masses and has been doing this for 40+ years now, still going at it with his daily Facebook Live events. I hope to have 85 books by the time I'm his age and still be publishing! Go Deepak!
What goal(s) are you currently working on?
I recently began podcasting over at The Highest Self Podcast and I was not expecting to see what a pivotal difference it has made in people's lives! I touch upon all subjects for helping people become the best versions of themselves, from overcoming eating disorders and trauma to discovering your past-lives and soul's archetypes. Yes, we go deep! I've received so many messages from people saying it was exactly the podcast they've been waiting for and it's inspired them to start their dream careers.
Want more tips like these? NBC News BETTER is obsessed with finding easier, healthier and smarter ways to live. Sign up for our newsletter.