Modern life can sometimes feel like a blurred loop — juggling work, family and personal obligations — with brief respites on the weekends and evenings. My routine resets every Monday when I hop on the subway and head to work, attend meetings, scarf down my lunch midday (at my desk, natch), head home, cook dinner, browse social media, perhaps read or watch TV and pass out — only to start all over again the next day.
Add my husband's schedule to the mix and you get a very coordinated, timeworn dance that conveys the ennui of today's working population.
That's why I jumped at the chance to visit Farm Sanctuary, a 175-acre animal shelter set in the peaceful, rolling hills of Watkins Glen, New York — about a five-hour drive from our home in Brooklyn. There, my husband, Dave, and I would get to spend time with some of the roughly 700 rescued farm animals there, and help out with duties like barn cleaning, applying sunscreen to pigs and moving cattle to fresh pasture.
Research shows there are very real health benefits to human-animal interaction, like lowering blood pressure and helping with stress relief, along with improving moods and interpersonal relationships. Would I feel any of these gains on a short trip?
I phoned Rebecca Johnson, professor and director of the Research Center for Human-Animal Interaction at the University of Missouri College of Veterinary Medicine, for more information. She's been studying the subject for 18 years, and said that spending time with animals stimulates four of the five senses.
"In no other intervention in health care and anything that we do, do we have stimulation of all of those senses in one shot," she said.
"And so when you're out on this farm, you are hearing nice, pleasant country sounds instead of sirens and traffic. You are not smelling exhaust pipes; you are smelling … nature. You are looking at animals and at nature. You may even have been able to touch some of the animals, and in doing so, you have a relaxation response. And that makes you feel better because oxytocin is released, and that is a neurohormone that makes you feel happy."
Life on the Farm
When we arrived at Farm Sanctuary — after a seven-hour drive, two spent sitting in lower Manhattan traffic — I immediately felt a sense of calm. Perhaps it was the wide-open spaces and bright sunshine, or maybe it was the birdsong and the sound of... not much else.
Farm manager Mario Ramirez put us to work cleaning out a barn right after breakfast. The task, which involved pitchforks and rakes, took on a satisfyingly steady rhythm as we worked in unison to complete the job. But even more gratifying was witnessing the direct results of our labor: happy sheep settling back into a fresh, clean home. I found myself scratching the necks of some of the friendlier animals, and laughing when they'd demand more — by leaning in or stomping a foot — whenever I paused or slowed my pace.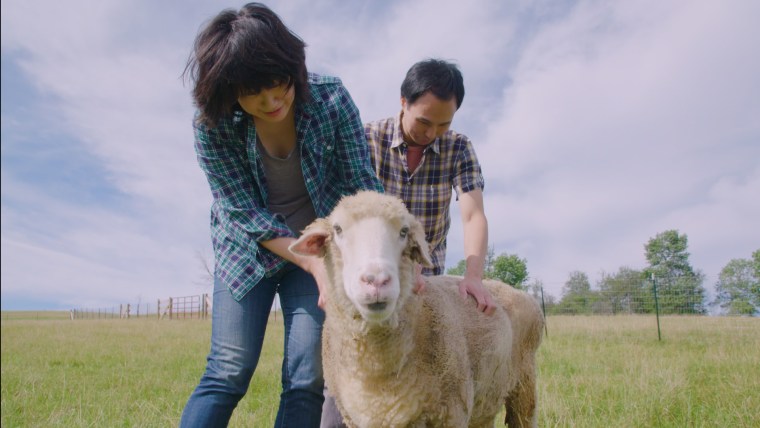 Next, we met senior shelter manager Tara Hess, who took us to the pigs' barn, where we not only fed some of the animals peanut butter sandwiches, which masked the flavor of their medicine, but we also applied globs of sunblock to the sensitive area behind the pigs' ears. Although it was intimidating to approach these 700-pound creatures, who had all been abused or mistreated in some form before arriving at Farm Sanctuary, we soon learned how gentle and dog-like some of them can be; a pig named Andy even responded gleefully to belly and leg rubs.
Later, up on a windswept hill where the cattle graze, we stood among towering, 6-foot-tall Holsteins, as well as Frank, the famed bull who escaped the slaughterhouse last year with the help of comedian Jon Stewart and his wife, Tracey. We met Jay, a steer who had been badly burned in a truck accident years ago; his sensitive skin requires the application of sunblock every few days for protection, so we donned gloves and got to work. The gentle giant, accustomed to the routine, allowed us to slather cream onto his skin with nary a complaint as we searched for bare patches in his fur.
Living in the Moment and Feeling Connected (Without Social Media)
I was skeptical that spending a short amount of time with animals on a farm could have much of an impact on my outlook on life, but while there, I found myself living in the present instead of constantly checking off items on a to-do list in my head.
"We need a reason not to work all the time," Johnson said about the benefit of being around animals. "And then as we age, we need the companionship, the unconditional love and a reason to get up in the morning, and someone to focus on besides ourselves."
We were looking outward in a meaningful way that also nurtured our inner selves.
On the farm, my husband and I felt part of a greater purpose beyond the day-to day demands of our lives, and we connected not only with people who worked on the farm, but with fellow guests who shared the same camaraderie. We were looking outward in a meaningful way that also nurtured our inner selves.
Another good sign? I wasn't constantly checking my phone for emails, Twitter news or other updates on social media. Dave didn't even bring his phone with him — an almost unheard-of move.
Long-Lasting Benefits?
But, would the positive habits and feelings last once we headed back to the rough-and-tumble of the city? "That's what we don't know," Johnson said of the research; experts also haven't yet figured out the right dosage for optimizing the physiological benefits.
When we returned to the familiar urban sprawl and invariably hit traffic before entering the Holland Tunnel, I could feel my stress levels rising again. And it would be back to the grind the next day.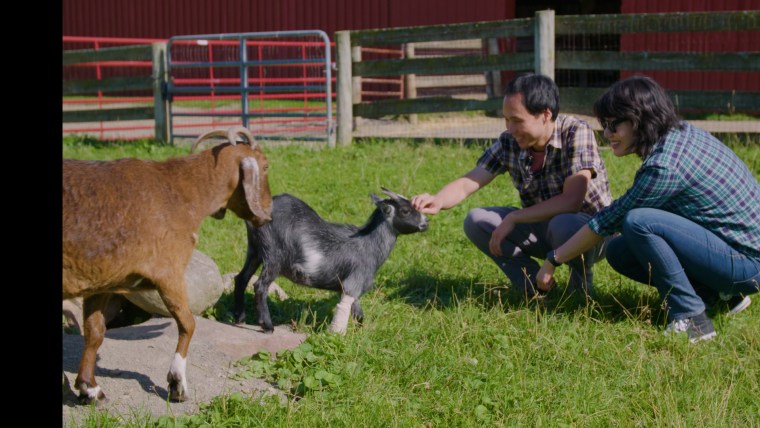 Still, part of why the memory of Farm Sanctuary holds fast has to do not only with the physical stimulus — those four activated senses — but also changing perceptions. Getting to know some of the real faces of the animals most hidden from society (despite being present everywhere in our stores), and seeing their capacity for affection and forgiveness is a transformative experience — and a powerful reason to adopt a more compassionate outlook and to reexamine long-established behaviors.
While we're not turning vegan anytime soon, as Twitter co-founder Biz Stone did following his own life-changing visit to Farm Sanctuary in 2000, we've already committed to eating fewer animal products and making more conscious decisions about our meals.
And now, whenever I'm feeling stressed or thinking negatively, I remind myself to take a step back, imagine the animals (or even take a literal look on the farm's live-cam feeds), breathe deeply and think of the bigger picture.
What If You Can't Visit a Farm or Get a Companion Animal?
Back at home, Dave and I have our two cats to keep us company. But even if you can't visit a farm or have pets of your own, Johnson, who also co-authored the book "Walk a Hound, Lose a Pound," recommends seeking the company of animals for your own health.
"Go and walk someone else's dog," she said. "Go and sit and hold the cats at the shelter. There are animals languishing in shelters all over this country, through no fault of their own, who need a little attention."
Johnson also suggests volunteering to walk the pets of the elderly, who are often advised to get rid of pets as they age. "We know that particularly for older people, these neurochemical changes are very, very helpful in helping them with their well-being," she said.
"The joy of having an animal if you have had animals before is something that generally we don't get even from other people. Because animals allow us to be silly. They inspire us to live in the moment, and they're never judgmental," Johnson added.
"No one has enough unconditional love in their life — no one."