"Where's your husband?"
It's the inevitable question Liz Pardue-Schultz expects to get the next time she goes to a wedding. The freelance writer knows her more introverted spouse isn't comfortable at big social gatherings, so she leaves him home.
"I feel terrible forcing him into a social situation that he's not comfortable with. That seems like something terrible to do to somebody that you love," Pardue-Schultz tells NBC News Better.
The college sweethearts have been going solo to social engagements since they started dating 10 years ago. But Pardue-Schultz said it still surprises many people. Recently, when the writer went alone to a funeral, she found herself explaining to a group of friends why her husband wasn't by her side.
"Everybody was like, 'Wait, we didn't know that was an option!'" she says, recalling the shocked looks on their faces.
"You would have thought I told people I could levitate."
Do You Put Social Pressure Above Your Partner's Needs?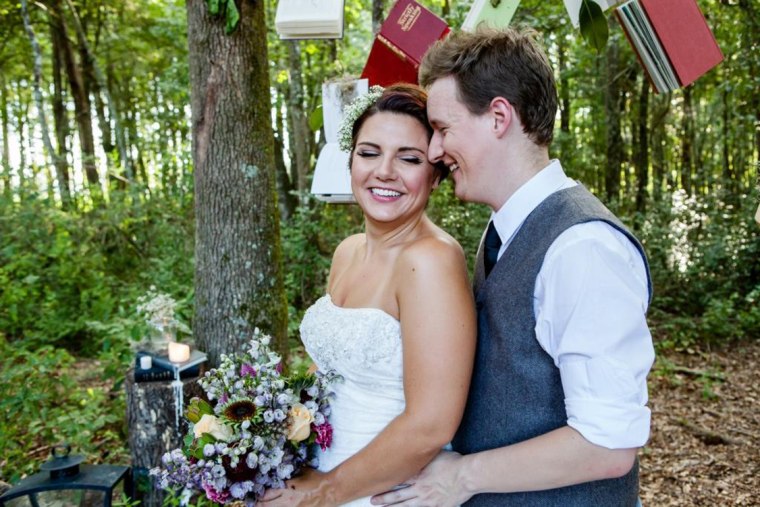 Many people in relationships often feel obligated to accompany their partners to events they don't want to go to, according to Pardue-Schultz. She says it all comes down to social pressure.
"Sadly, I see that our society very heavily values somebody's worth on whether or not they can quote 'catch a mate,' and if you don't have someone it's almost like you're not a valid person," she says.
"I've seen so many husbands that have been dragged along to events that they don't want to be at and these women just think that they have to do it," she says, noting that women can feel just as pressured to tag along with their partners.
"How many times have you heard someone say, 'She doesn't have a man'? Somebody can be the most successful person and it's like, 'Well, when are they going to settle down and find somebody?'" she said. "So if you bring somebody along you don't have to go through all that."
But forcing your partner to do things can create resentment, according to the 34-year-old.
"That's when guilt and blame and pressure [come in], and then it's that whole tit-for-tat," she says. "Like, 'Oh, I went to your cousin's wedding so now you've got to do this for me.' It's very manipulative, and not at all respectful to another person's needs."
Going Solo Builds Trust and Makes for More Interesting Conversations at Home
Going alone to an event your partner doesn't want to go to, and vice versa, can help you build a stronger bond, according to Pardue-Schultz. And when you create new friendships outside your relationship, it gives you more to talk about, she says.
"We see it's really, really healthy to have relationships with other people other than just each other and have our own lives and identities, because that's what attracted us to each other in the first place," she says.
But the writer understands it can be uncomfortable for couples to go to events without their partners, especially if they have trust issues.
"The bad news is that if you start doing this and you find you can't trust the person, then you've got a whole extra host of problems," she said. As painful as that may be, then you at least know it's time to do something about it, she explains.
"However, if you try it and it works out great, then the risk is worthwhile," she says.
Spend Quality Time Together You Both Enjoy
Though they don't go to every single event together, Pardue-Schultz said she and her husband couldn't be happier. Whether they're kayaking, or ordering takeout for a date night in their home theater, the North Carolina couple make sure they spend quality time together.
"He's not really musically knowledgeable so he'll have me make a top 10 list of songs and we'll sip wine and listen to them on our stereo and — because I'm a nerd — he'll let me talk about the history of the artist and the social [and] cultural context of the music," she said.
The writer said many couples are happy spending all of their time together, while others may need more independence. If that's the case, going solo is worth a try, she said.
"It can only make your relationship better and more clear," said Pardue-Schultz. "You know where you stand, and it builds your trust and your sense of independence, which makes both of you stronger as a unit."
Why Going Solo Can Benefit Your Relationship
Putting social pressure above your partner's needs can create issues with your relationship. You may feel pressured to bring your partner with you to social gatherings. But forcing your partner to go can create resentment and put you in a position where you will feel obligated to do the same for them in the future.
It builds trust and makes for more interesting conversations at home. If you don't trust your partner to go to events without you, it may be an indication of a larger problem you need to deal with. But if you let them go and find they are trustworthy, then taking the risk was worthwhile. You'll create new friendships and have more to talk about.
It allows you to spend more quality time together you both enjoy. Respecting one another's differences while doing things you both enjoy can bring a greater sense of independence and appreciation for one another.