There are those who think salads are boring. I am not one of those people. I love salads like crazy, but I definitely like to keep changing things up day to day, week to week. But just because we want variety doesn't mean that we have to buy a fridge full of produce. Two clamshells of lettuce form the basis for three very different salads, and you'll be very happy not to feel wasteful while avoiding the same old, same old.
For these three salads I chose a big clamshell of baby arugula, and one of baby spinach. You can use more mature lettuces, if you prefer. They will be larger in size, and the arugula may have a more pronounced spicy flavor. One reason the clamshell lettuces are so appealing is that they are usually washed and ready to use. They are also easy to open and close, so you can take out what you need, and neatly store the rest for future salads.
And what different salads you can make with the same lettuces!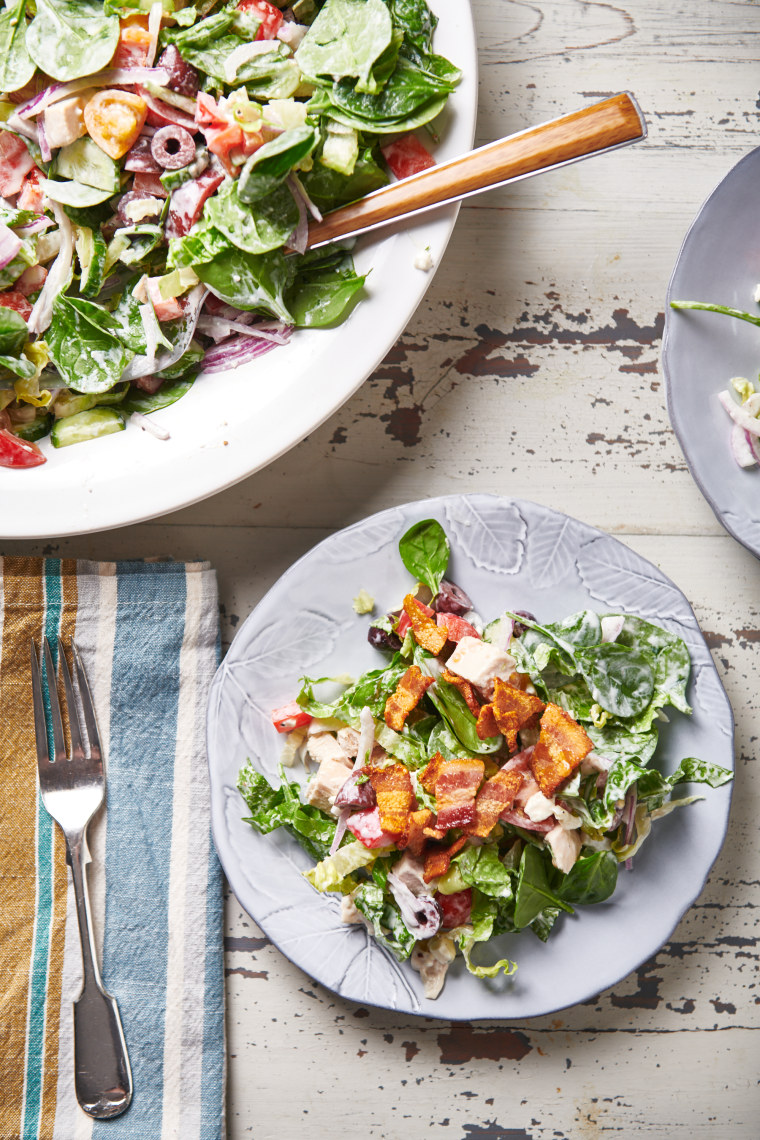 Here's a chopped salad with bite-sized chunks of tomatoes, cucumbers, red peppers, onion, olives and chicken. Here some of the spinach is used, mixed with crunchy sliced romaine. If you prefer to use all spinach you certainly can. The whole thing is tossed with a creamy, piquant blue cheese dressing, which you can make or buy. Crumbled bacon is the optional add-on at the end.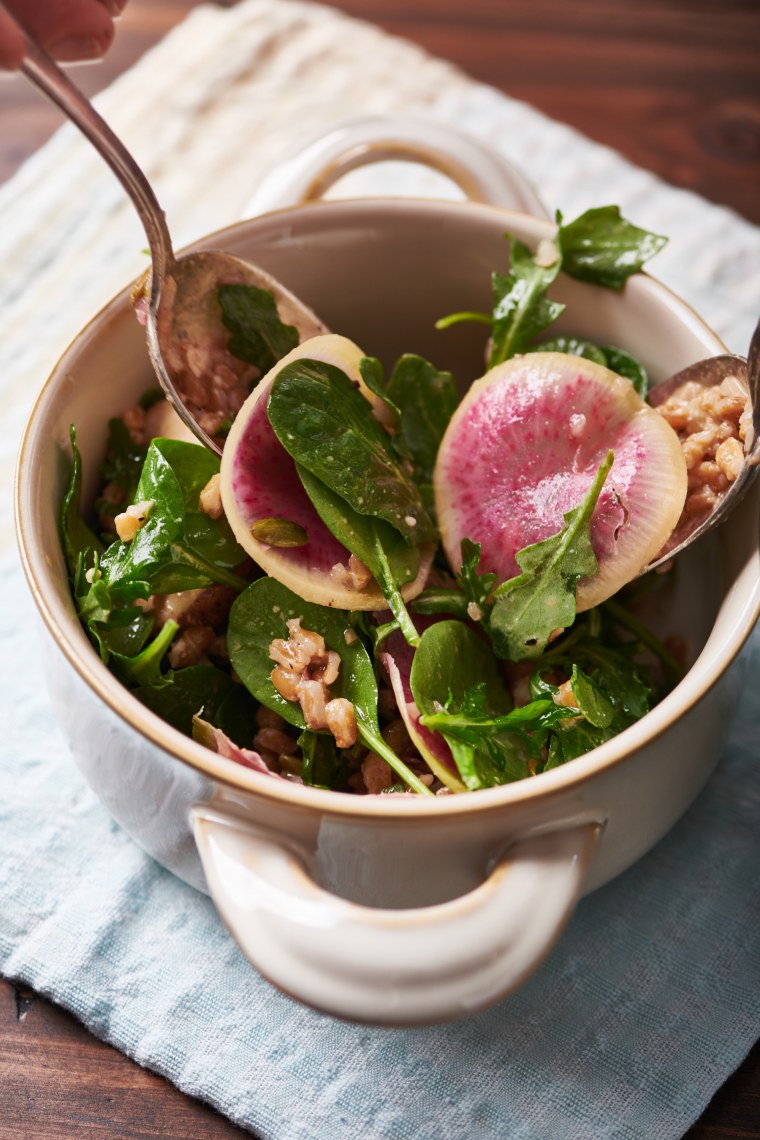 This is a vegetable and grain salad. Chewy grain of farro mingle with piles of the spinach and arugula, sliced mushrooms, red onion and gorgeous watermelon radishes, pulled together with a simple vinaigrette. You could add in pepitas or pine nuts at the end for a nice crunch.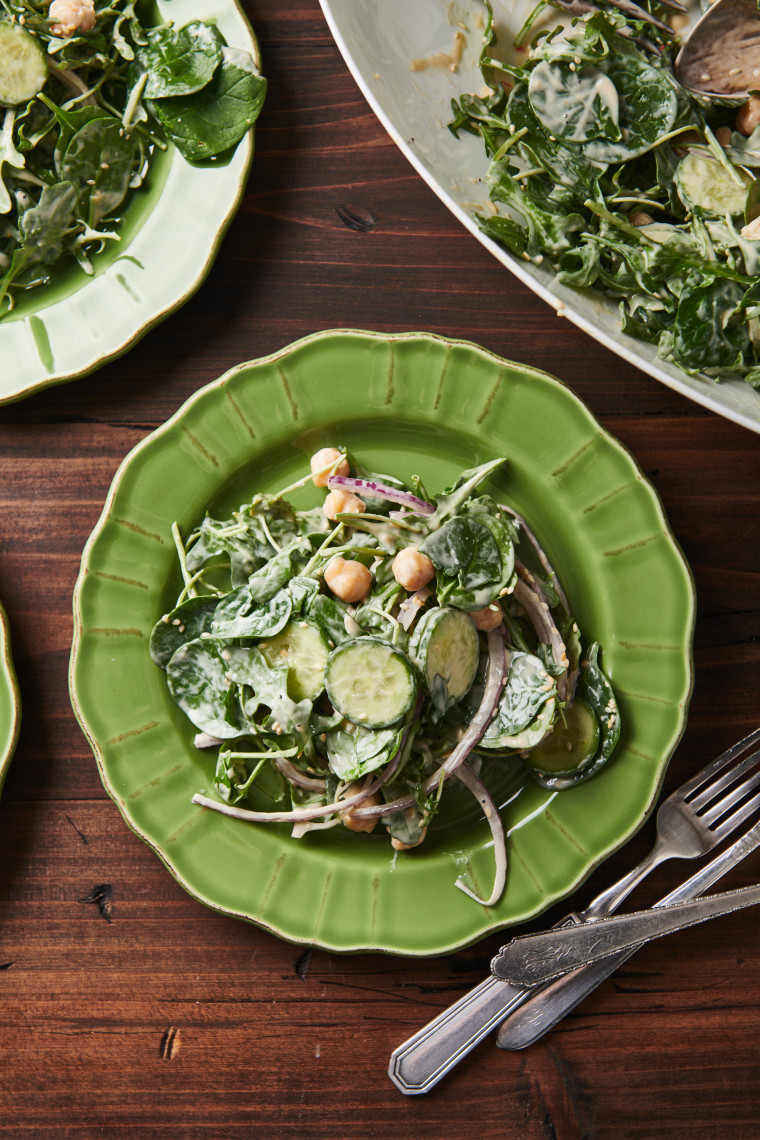 This salad includes the very same two lettuces but now we take a little dip into Middle Eastern flavors with a creamy tahini dressing that is also playing with sweet and spicy in the mix. Chickpeas add vegetarian protein and heft to this salad, cucumbers add crunch, and a sprinkle of optional toasted sesame seeds at the end is a lovely finishing touch.
So there you have it — three main dish salads, each different from the others, all with the base of two easy-to-find lettuces. Tote them to work, serve them up for healthy dinners, offer to bring them to the next potluck you are invited to.
5 family dinner ideas
Want more tips like these? NBC News BETTER is obsessed with finding easier, healthier and smarter ways to live. Sign up for our newsletter and follow us on Facebook, Twitter and Instagram.