I scream, you scream we all scream for ... low sugar, no additives, and easy to make ice cream! If you think that's a mouthful just wait till you taste this sweet, homemade, frozen strawberry delight.
While we do eat store bought ice cream as a treat, I offer this to my kids more frequently. Knowing the ingredients in your little ones' dessert is important and making it from scratch means you control just how much sugar they eat. (Not to mention, when our adult sweet tooth kicks in, it's great to have a healthier option on hand.)
You will love how this strawberry ice cream tastes like real strawberry! What you'll love even more is how easy the recipe is: with just four simple ingredients and a blender you can whip this up quickly for a tasty frozen treat this summer.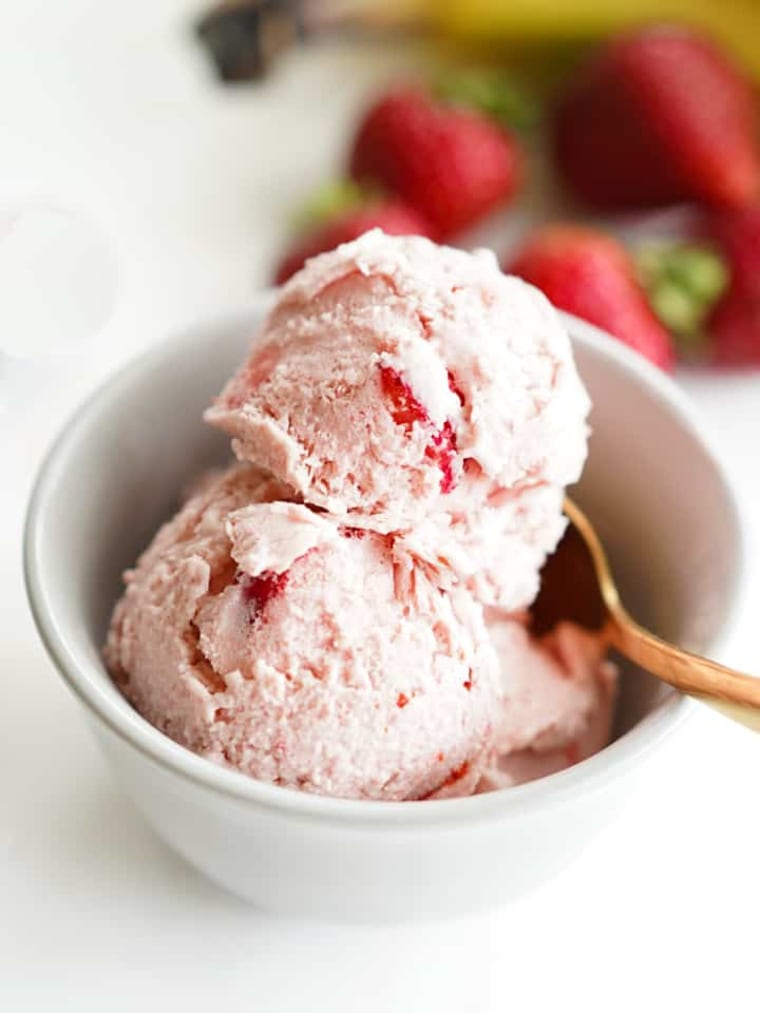 4-ingredient strawberry ice cream
Servings: 6
Prep time: 15 minutes
Ingredients
1 pound fresh strawberries
3 ripe bananas, peels removed
2 tablespoons sweetened condensed milk
1 1/2 cups heavy cream
Preparation
Rinse and pat dry the strawberries and remove the stems. Cut them into quarters. Slice bananas into ½-inch thick slices.
Line a baking sheet with parchment paper, arrange strawberries and banana pieces flat on the tray in a single layer, preferably with some distance between each piece (for easy removal), and freeze overnight till solid. (If you have a very powerful blender, you can skip this step and freeze in a bowl).
Time-saving tip: Buy frozen strawberries and bananas and skip the freezing!
When frozen (at least 6 hours), place the frozen banana slices and strawberries pieces in a food processor or blender. If the slices stick together, break them apart by hand first, so the processor can run more easily. Always be careful not to overfill the processor.
Drizzle with sweetened condensed milk, cream, and process until a thick creamy paste is formed, around 2-4 minutes. (I recommend starting with less condensed milk, giving it a taste, and adding more as needed. The amount of condensed milk needed really depends on your taste and how sweet your fruits are.) Scrape down the sides with a spatula as needed. If using a strong blender, use the tamper to constantly stir and press down the slices. Do this recipe in 2-3 rounds so as not to overwork the blender. Gradually increase the blending speed, but try to keep the blending within 2 minutes, also to protect the blender. (I have tried both methods, but I prefer the food processor.)
Stir in some fresh chopped strawberries and transfer to a freezer-safe container. Freeze for another 4 hours. Serve immediately, or scoop into a closed container and keep in your freezer. When ready to serve, allow ice cream to defrost at room temperature for easy scooping.
MORE RECIPE IDEAS
Want more tips like these? NBC News BETTER is obsessed with finding easier, healthier and smarter ways to live. Sign up for our newsletter and follow us on Facebook, Twitter and Instagram.