When I was growing up, meat was the centerpiece of every dinner. Meatless breakfasts and lunches? Sure. Cereal or toast in the morning, and grilled cheese or a PB&J at noon was just fine. But dinner without chicken, pork, beef, or fish? That was almost unthinkable.
Incorporating more plant-based protein and eating less meat, though, might be a better choice for my health, and the health of the planet. Here are six recipes that are so delicious, you might not even notice they don't include meat.
EASY BURRITO BOWLS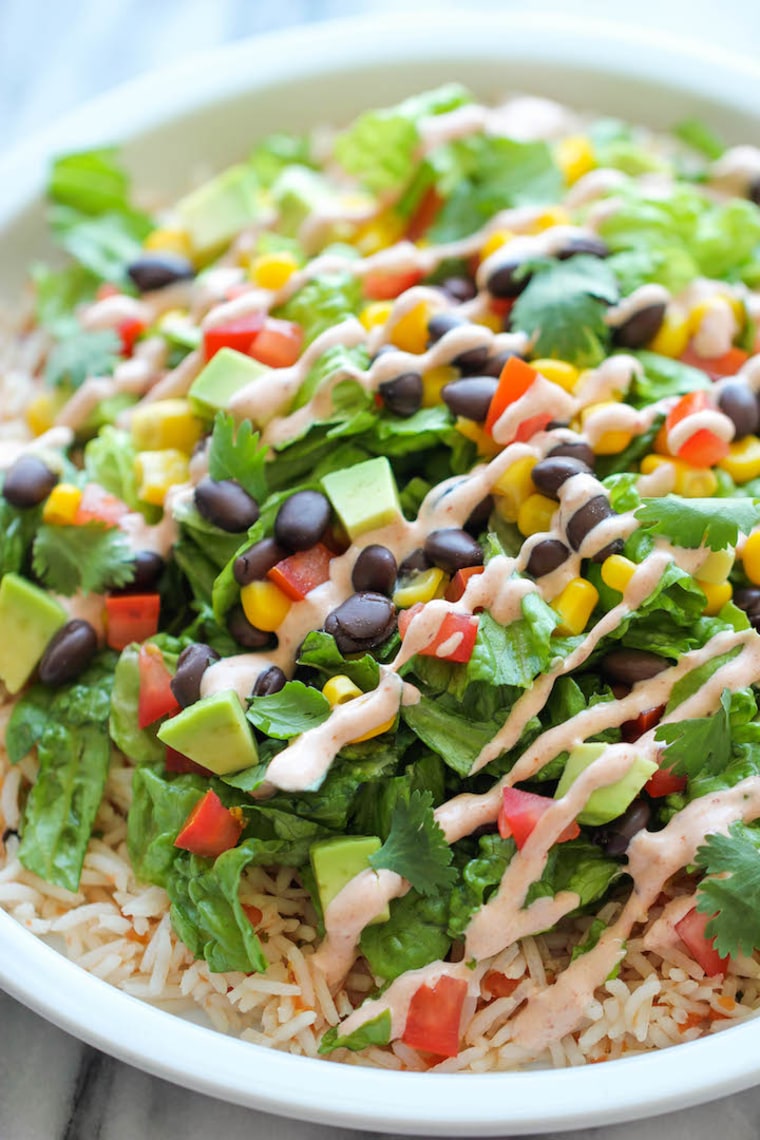 Forget Chipotle or Qdoba — you can build your own healthier burrito bowls at home. Chungah Rhee of Damn Delicious: Quick and Easy Meals for the Home Cook says, "This is one of my favorite dinners to make right at home! You can keep it completely meatless. And that chipotle cream sauce is out-of-this-world good!"
This recipe is packed with veggies, healthy fats, and fiber, and if you want to boost the health benefits even more, swap out the rice and replace it with quinoa.
EPIC BLACK BEAN QUINOA BURGER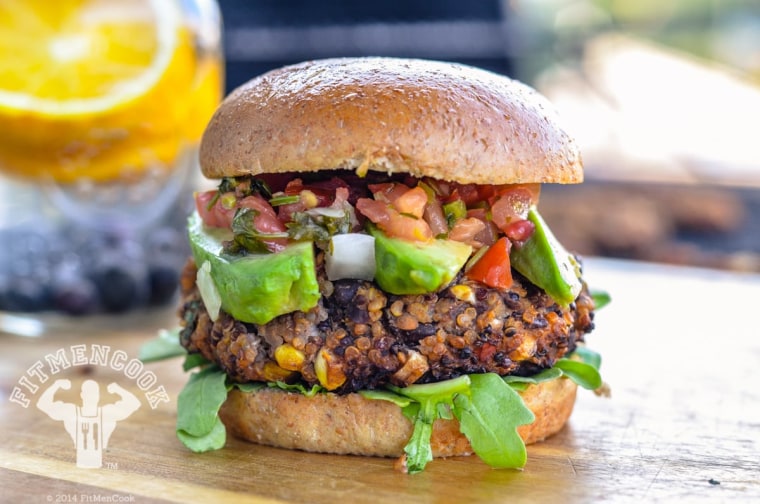 These black bean burgers are as easy to prepare as beef burgers, says food influencer Kevin Curry, creator of FitMenCook. If you have time, let the patties rest for 20 minutes in the fridge so they can firm up before you cook them.
"A black bean burger can be drier than a burger with animal protein, so you want to add toppings that can add some moisture and creaminess," Curry says. "Avocado slices or mashed avocado would be my number one choice. Traditional burger toppings like lettuce and tomato would be another good choice. I like that combo because of the crunch, and it is a great pairing with the black bean texture. Cucumbers or regular onions would be a good addition — something that gives a crunch and extra hydration."
Serve these burgers on whole-wheat buns, or on lettuce leaves if you're cutting back on carbs.
VEGETARIAN PULLED PORK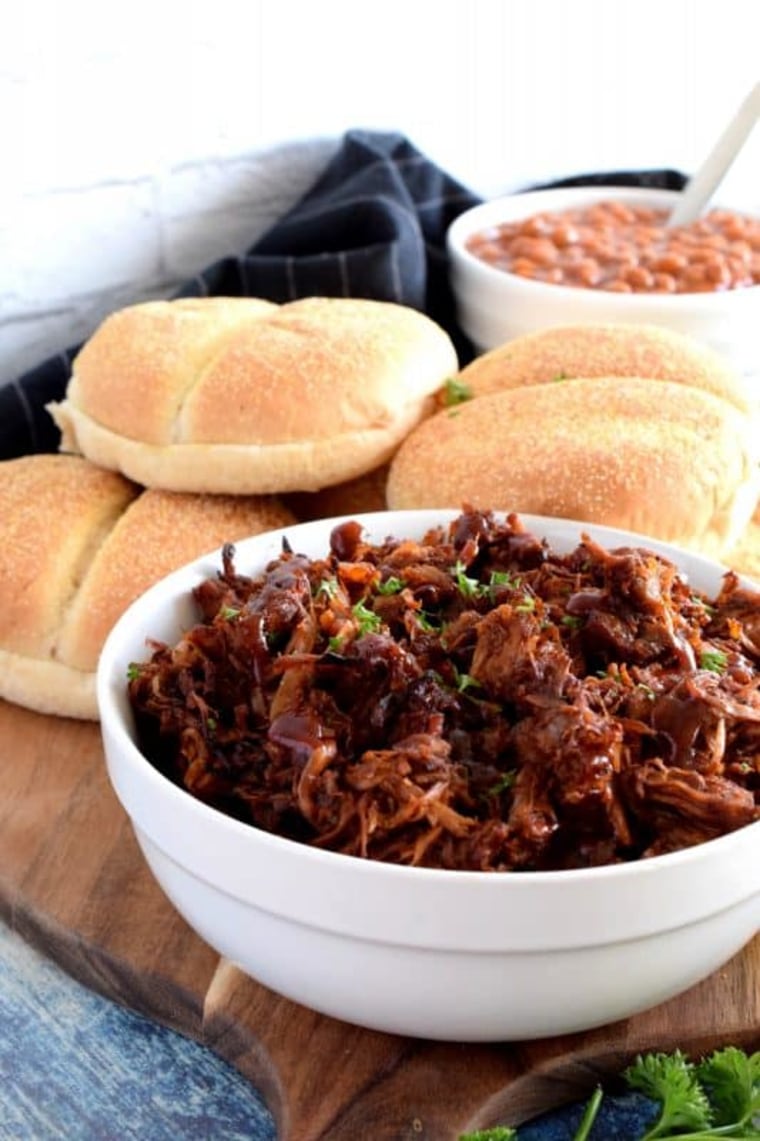 Jackfruit has become a popular substitute for shredded meat in vegetarian dishes, and it shines in this vegetarian pulled pork recipe from Lord Byron's Kitchen.
Food blogger Byron Thomas says he prefers this version to real pork because it's cheaper and faster. "Real pork needs a lot of slow cooking time to break down the meat, but with jackfruit, the whole dish comes together quite easily in just one skillet! The texture is very similar to real pork," he says. "It's a quick and easy meal that you can make just about any time, because unlike real pork, you can keep canned jackfruit in your pantry for months and have pulled pork in very little time!"
ORZO STUFFED PEPPERS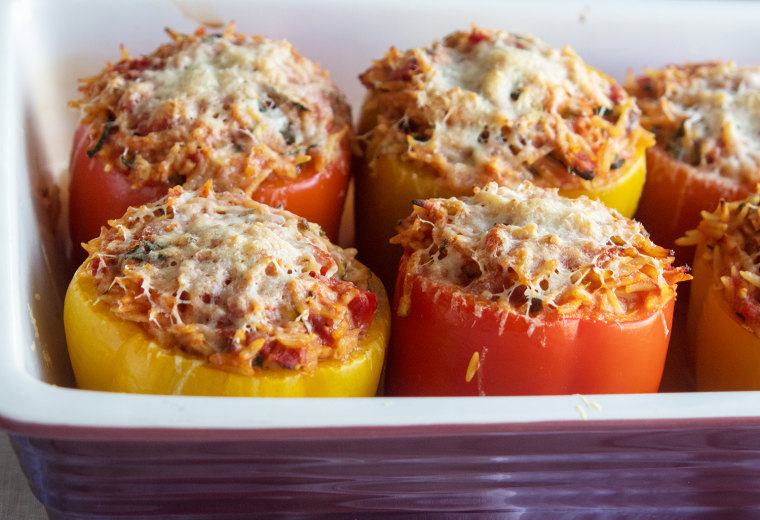 Packed with delicious ingredients like tomatoes and zucchini and topped with melted cheese, these orzo stuffed peppers are sure to be a hit. The recipe calls for chicken broth, but you can use vegetable broth instead to make it vegetarian.
Chef Giada De Laurentiis says, "These stuffed peppers are a snap to prepare, and with no browning of meat required the clean-up is a breeze too! With the bold flavors of Pecorino Romano, mint, and garlic, you and your guests won't even miss the meat. This one is a real crowd pleaser."
EASY THAI RED CURRY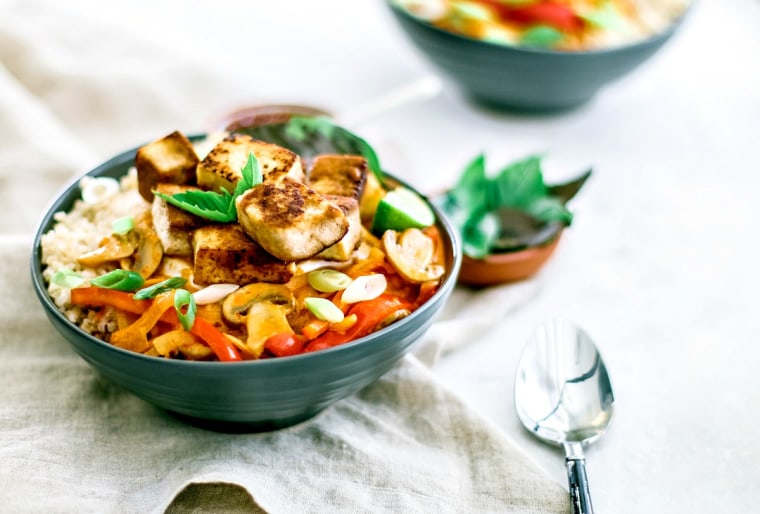 Food pro Dana Sandonato of Killing Thyme prefers this version of easy Thai red curry, with crispy tofu, over its chicken counterpart.
"Tofu gets a bad rap for being tasteless. But when you crisp it up and simmer it in a flavorful sauce like this one, it's anything but bland," she says. "This warming curry can easily become a meatless Monday fave—and since we're heading into cooler weather, it's the perfect time for it."
CREAMY WHITE CHILI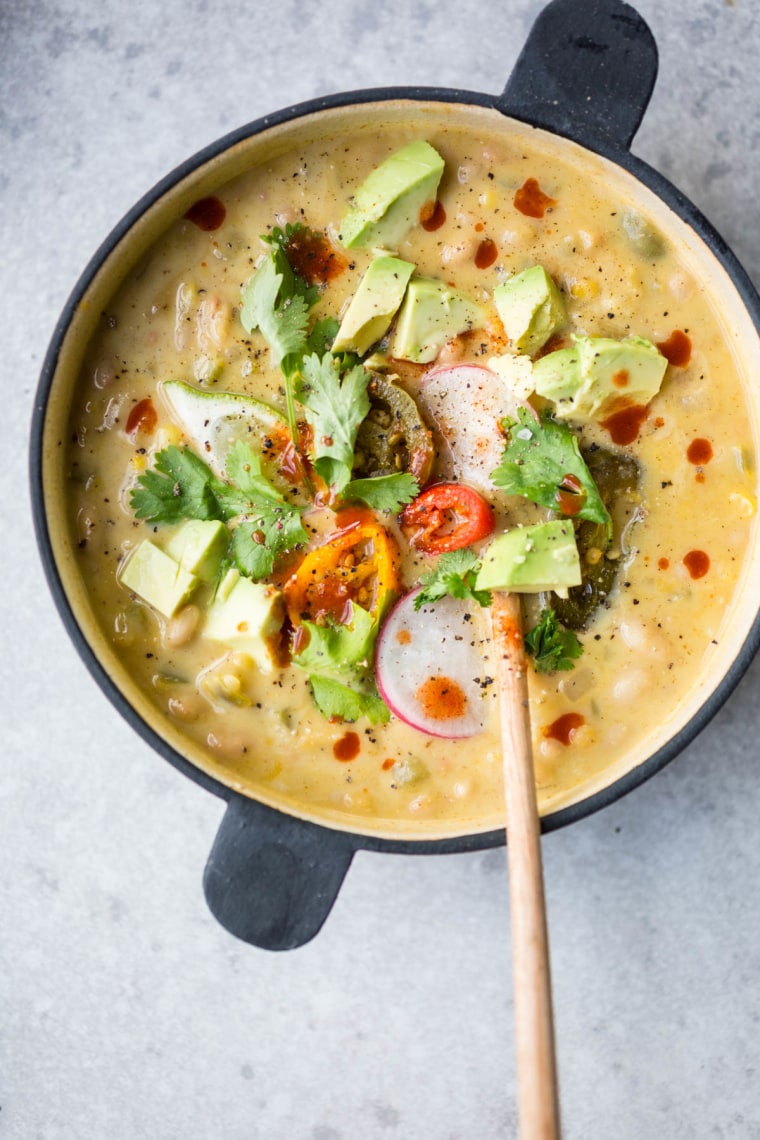 With creaminess from warm milk (nondairy if you prefer), protein from white beans, and the zing of lime juice and jalapeno, this creamy white chili is a home run for chilly fall evenings.
"This creamy white chili replaces the traditional chicken with protein-rich white beans to create a filling and delicious vegetarian main," says vegetarian food blogger Shelly Westerhausen of Vegetarian 'Ventures. "I love topping it with pickled jalapeños for an extra bite and tortilla chips for a crunch!"
MORE RECIPE IDEAS
Want more tips like these? NBC News BETTER is obsessed with finding easier, healthier and smarter ways to live. Sign up for our newsletter and follow us on Facebook, Twitter and Instagram.