Chances are you have one or more cans of black beans, white beans, chickpeas or other beans kicking around your pantry. But did you know that beans — both canned and dried — are a plant-based protein source that also provide iron, fiber and other essential vitamins and minerals? What's more is that beans are incredibly versatile and shine in everything from soups and stews to salads and dips. And, if you use the canned variety, they are incredibly quick and easy to cook. The only potential downside to canned beans is that they can be high in sodium, but low-sodium cans are readily available and rinsing beans before using can cut back on the sodium levels.
With all that in mind — and with those beans chilling in the cabinet — it's time to grab the can opener. For inspiration, we asked top food pros, including Giada De Laurentiis, Jennifer Segal, Abra Berens, Serena Wolf and Martha Stewart to share their very best recipes for canned beans. Here, they offer up an exciting mix of dishes that range from creamy pasta to zesty salads to hearty soups and stews.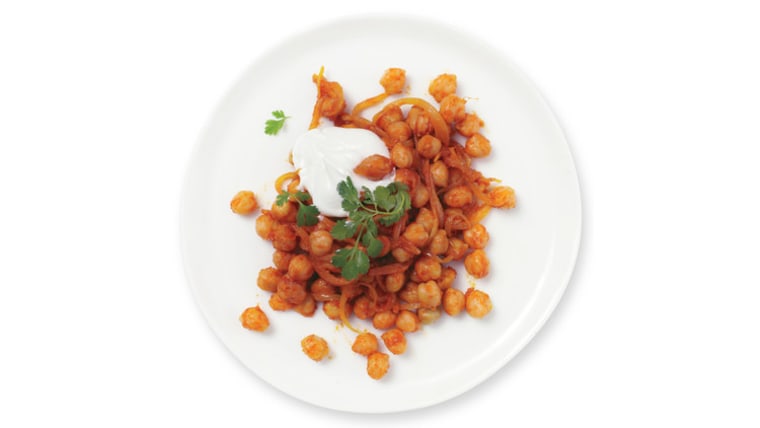 "Chickpeas are protein-packed and so versatile," insists cooking and entertaining expert Martha Stewart, who created this unexpected recipe. "I love this curried version that takes almost no time to prepare." To give canned chickpeas Indian-inspired flair, Martha quickly cooks them with ginger, garlic, onion, curry powder and tomato paste then serves them with cool, refreshing yogurt and bright fresh cilantro.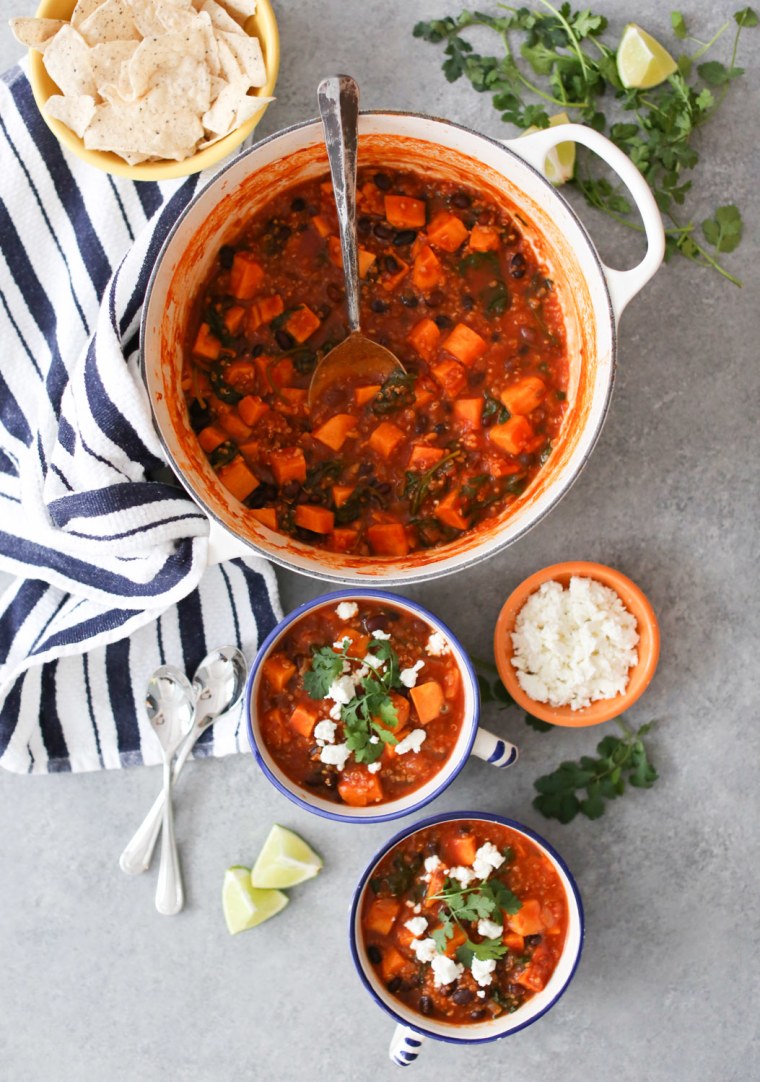 "Cooking beans yourself is great, but the soaking and cooking time means that you have to plan ahead, which is something we can all easily forget to do," says Serena Wolf, the blogger behind Domesticate Me. "Canned beans are such a great pantry staple that can be used to add plant-based protein to soups and stews," including this South of the Border–flavored black bean and sweet potato combo. "This stew is incredibly satisfying thanks to the hefty amounts of fiber and protein provided by the quinoa, sweet potatoes and black beans," explains Wolf. The toppings are optional, but "fresh cilantro, crunchy tortilla chips and the creamy tang of goat cheese add a little magic to each bowl."
"This recipe takes advantage of canned white beans in both whole and puréed form," says Wolf. They "add great buttery flavor to the soup," but the puréed version also helps thicken the broth. "The recipe freezes perfectly," says Wolf, but it's best to "leave the greens out when freezing and then stir them into individual portions when reheating to keep them as fresh as possible."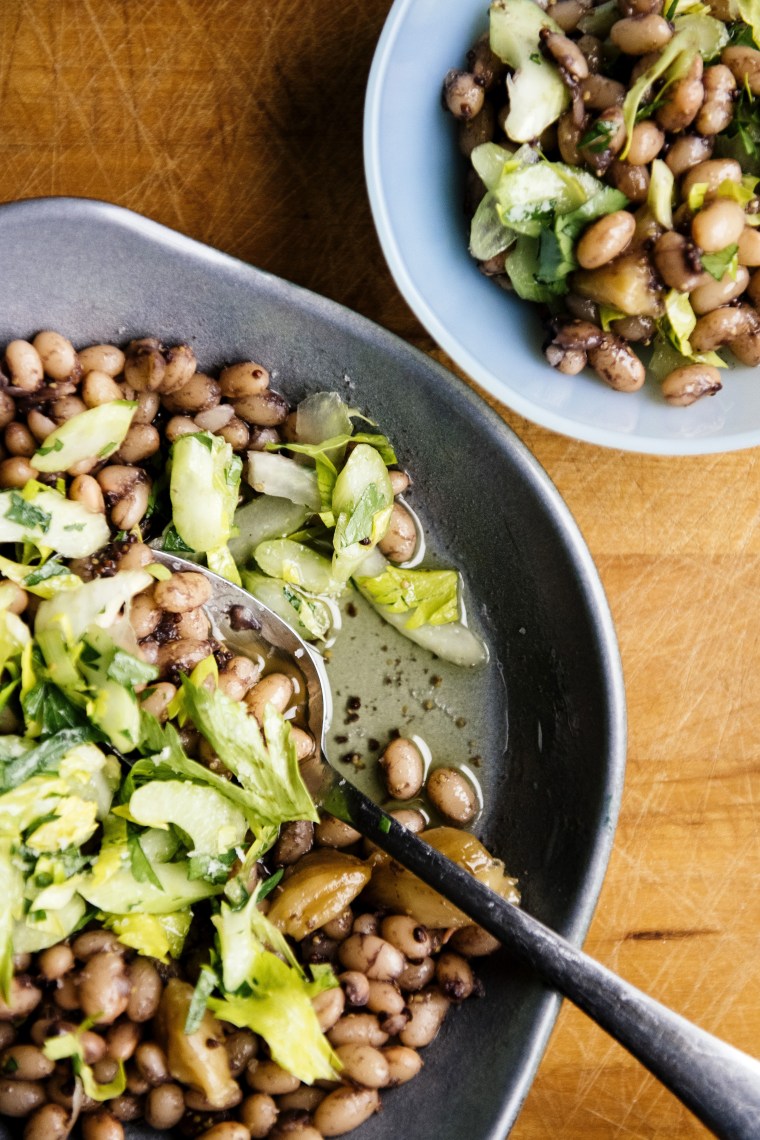 Using canned beans instead of dried means "you skip the cooking step, making for very fast meals," says Abra Berens, author of "Ruffage: A Practical Guide to Vegetables". Berens advises giving the beans a good rinse to get rid of the liquid from the can. She also likes to warm the beans a bit, to help "pull the flavor of the vinaigrette deep into the center of the bean." The resulting dish "is a study in contrasting textures," says Berens. "I love it in the middle of winter topped with a poached egg for dinner" or "on top of a thick slice of toast."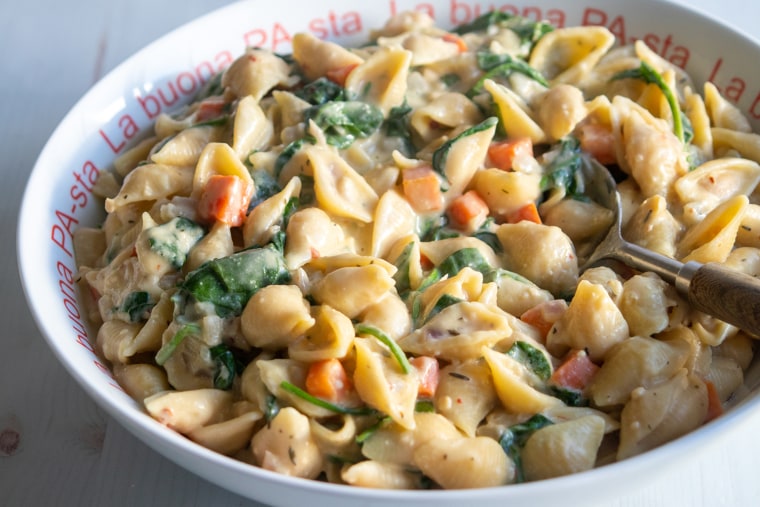 "This pasta gets its creaminess and heft from the humble white bean," explains TV personality, cookbook author and restaurateur Giada De Laurentiis, who created this colorful and deeply satisfying combination featuring carrot, red onion, and spinach. "Packed with vegetable protein and greens, this is definitely a one-pot meal everyone will enjoy!"
"This dip is so simple to make and uses ingredients I always have on hand," says De Laurentiis. "The avocado lends its richness to creamy cannellini beans for a match made in paradise." And they both deliver a good-for-you dose of protein. Best of all, thanks to the food processor, this dip can be whipped up in mere minutes and is then ready to serve with toasted bread or assorted cut vegetables.
This salad delivers "a perfect combination of textures — the subtle crunch of fresh corn and bell pepper and the creaminess of the black beans and avocado," says "Once Upon a Chef, The Cookbook" author Jennifer Segal. It's a crowd pleaser and pairs perfectly with grilled chicken, fish or steak, as well as burgers, or it can be served as a dip with tortilla chips. Segal recommends making the salad ahead and refrigerating it overnight, so the beans and veggies have time soak up more of that yummy dressing.
MORE CHEAP EATS
Want more tips like these? NBC News BETTER is obsessed with finding easier, healthier and smarter ways to live. Sign up for our newsletter and follow us on Facebook, Twitter and Instagram.