Put an egg on it? Sure, but why stop there? In terms of nutrition, eggs pack a punch and are a source of protein, iron, vitamins and minerals. They're also inexpensive and easy to cook, plus eggs can be prepared in myriad ways from baked to poached to fried to scrambled and are wildly versatile, working with a wide range of ingredients and in a variety of different cuisines. There's also the fact that eggs are the kind of staple ingredient we always pick up at the market and always keep in the fridge.
All that is to say, there's no need to limit eggs to topping your favorite dishes and there's certainly no need to reserve them for breakfast and brunch. To help you make and enjoy egg's full potential, we've rounded up recipes and tips from chefs and food pros, including Andrew Zimmern, Giada De Laurentiis, Teri Turner, Kevin Curry and Stacy Adimando. They've shared their favorites, which range from Middle Eastern-inspired baked eggs to a quick and irresistible pasta to egg-filled potato skins. If you don't have eggs in your fridge already, you better go pick up a dozen — or maybe two!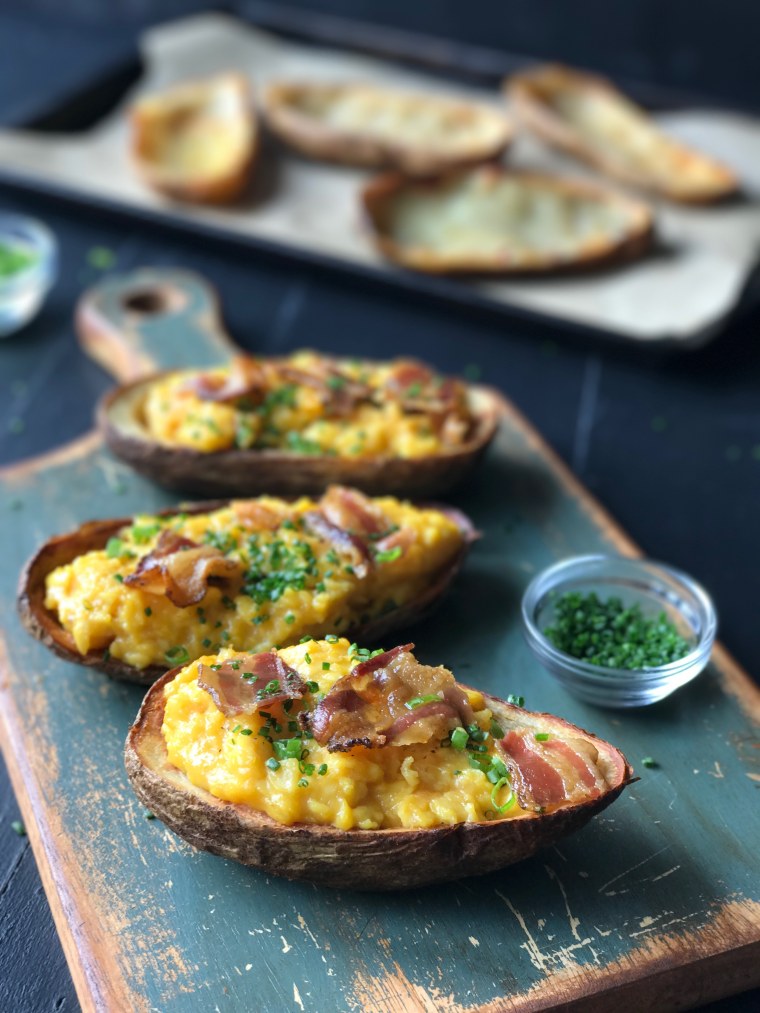 If there's anything better than potato skins, it's definitely these scrambled egg–filled and bacon-topped potato skins, created by Teri Turner, author of "No Crumbs Left: Recipes for Everyday Food Made Marvelous". Potato skins, says Turner, are "a spectacular carrier for just about anything." Scramble some eggs, add bacon and chives, and you have a hearty breakfast or light dinner that's "crunchy on the outside, buttery on the inside, with a luscious bite of egg," says Turner. "It's absolutely delicious."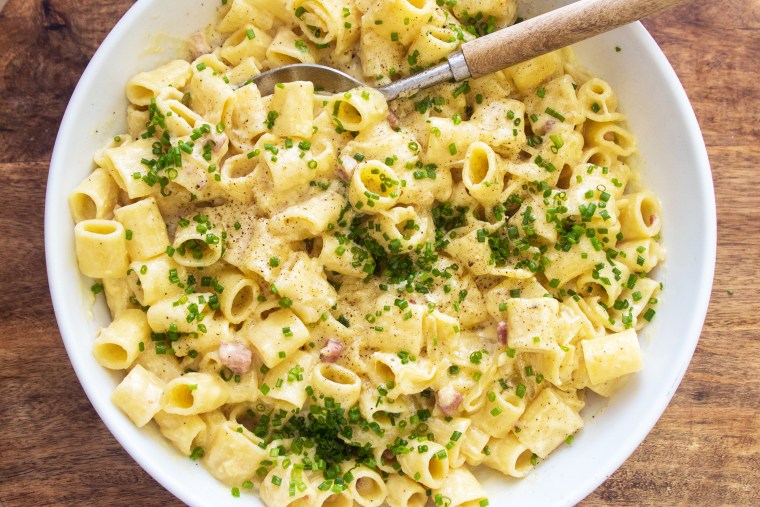 When it comes to turning eggs into dinner, TV personality, cookbook author and restaurateur Giada De Laurentiis looks to pasta and specifically, carbonara, a Roman classic that uses eggs, cream and cheese to create an irresistibly luscious sauce. "I am a big fan of reinventing classics and this carbonara is no exception," she explains. "I love the sweetness the dish gets from the caramelized onions." To keep that creamy sauce creamy, cook it over low heat and only briefly. "The eggs add a wonderful velvety texture from just warming them through and cooking gently," says De Laurentiis. "You wouldn't want to end up with pasta a la scrambled eggs!"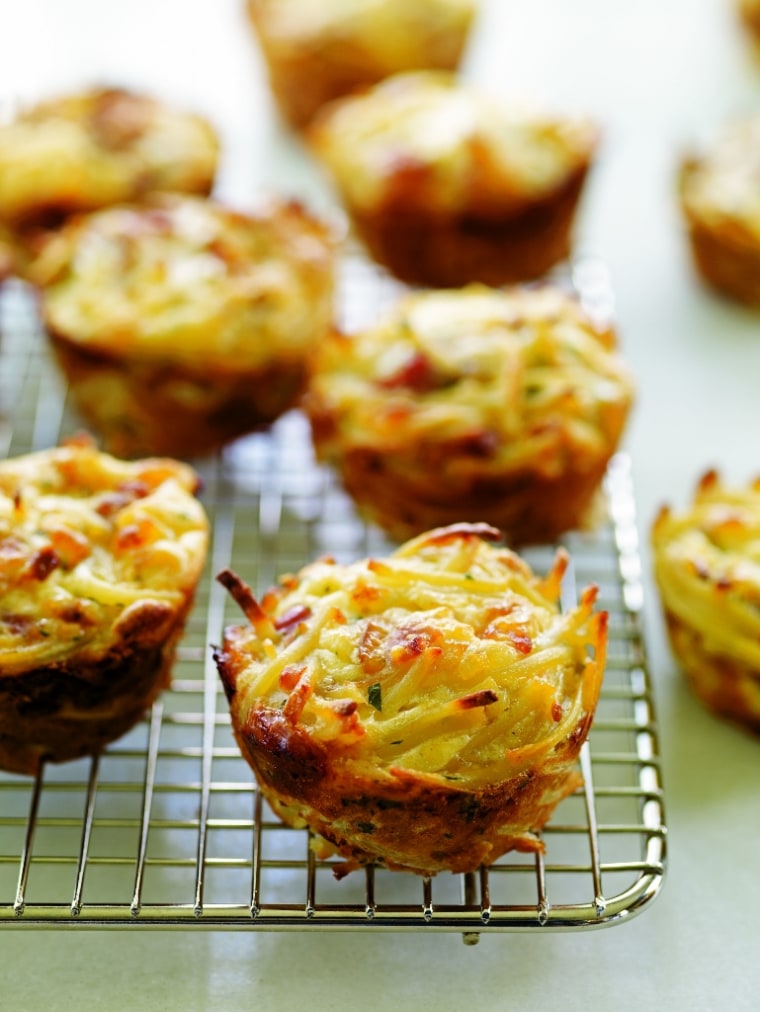 These pasta-filled frittatas are a spin on pizza di spaghetti, a dish De Laurentiis grew up eating and that was often made with leftover pasta from the night before. Frittatas are flexible and can be filled with almost anything. In addition to linguine, De Laurentiis packs hers with prosciutto, garlic and fresh parsley, plus Asiago, mozzarella and mascarpone. "These mini versions are perfect for a weekend brunch or even a weeknight dinner alongside a salad," says De Laurentiis, who also likes to pack them in her daughter's lunchbox.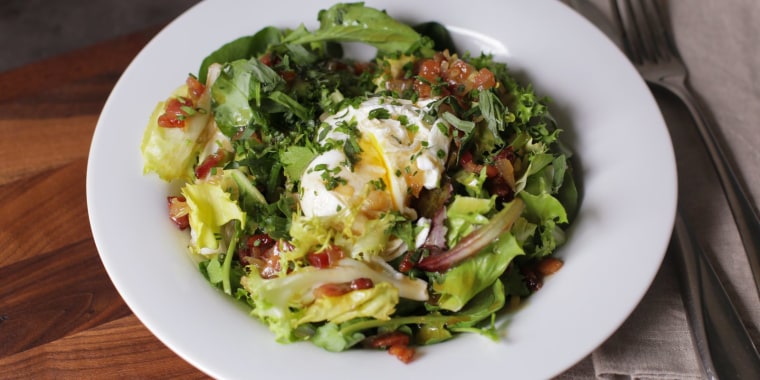 "You taste the purity of eggs when you poach them," says Andrew Zimmern, the James Beard Award–winning TV personality, chef, executive producer and host of Travel Channel's "Bizarre Foods". While he uses poached eggs for all kinds of dishes, including eggs benedict and on top of burgers and waffles, Zimmern "adores the flavor of eggs paired with greens, vinaigrette and of course, bacon," as in this elegant salad he created. For perfect poached eggs, Zimmern says "timing is everything," as you don't want to overcook them. Another trick is to "use acidulated water to keep the whites gathered."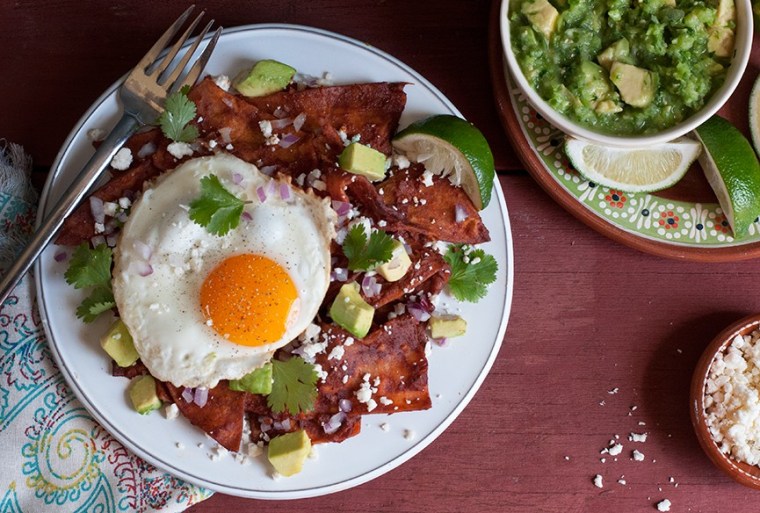 Zimmern also adds eggs to chilaquiles, a Mexican dish featuring fried corn tortillas that are cooked in salsa and sprinkled with cheese. "Paired with fried eggs, they are one of my favorite breakfasts," says Zimmern, who recommends using a super-hot pan to fry eggs. "Let the edges get lacy and crispy before serving," he says.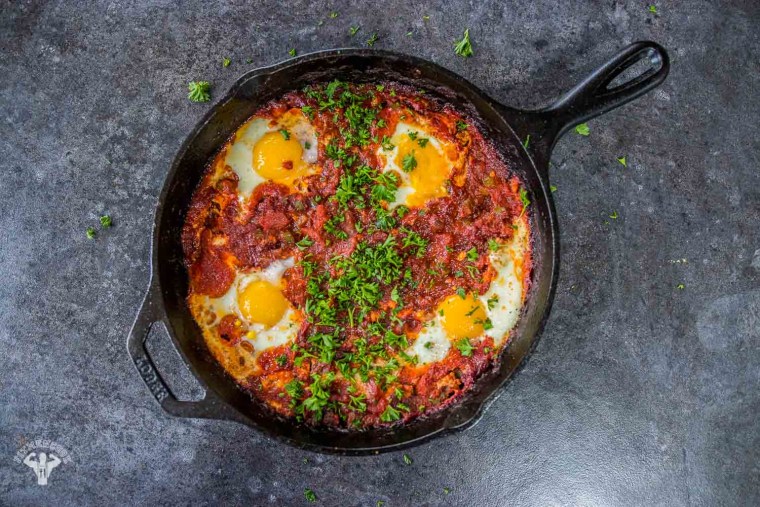 Inspired by a trip to Israel, this is fitness influencer and "Fit Men Cook" author Kevin Curry's take on shakshuka, a Mediterranean dish in which eggs are poached in a tomato-based sauce flavored with different herbs and spices. Because shakshuka is another highly adaptable egg dish, Curry puts a Tex-Mex spin on his version. "Life's all about finding ways to mix things up!" says Curry. "Crossing recipes and flavor profiles that would never normally share a plate is a great way to add variety." With that in mind, Curry incorporates onion, green bell pepper and spicy chili powder, along with more traditional spices like cumin and coriander.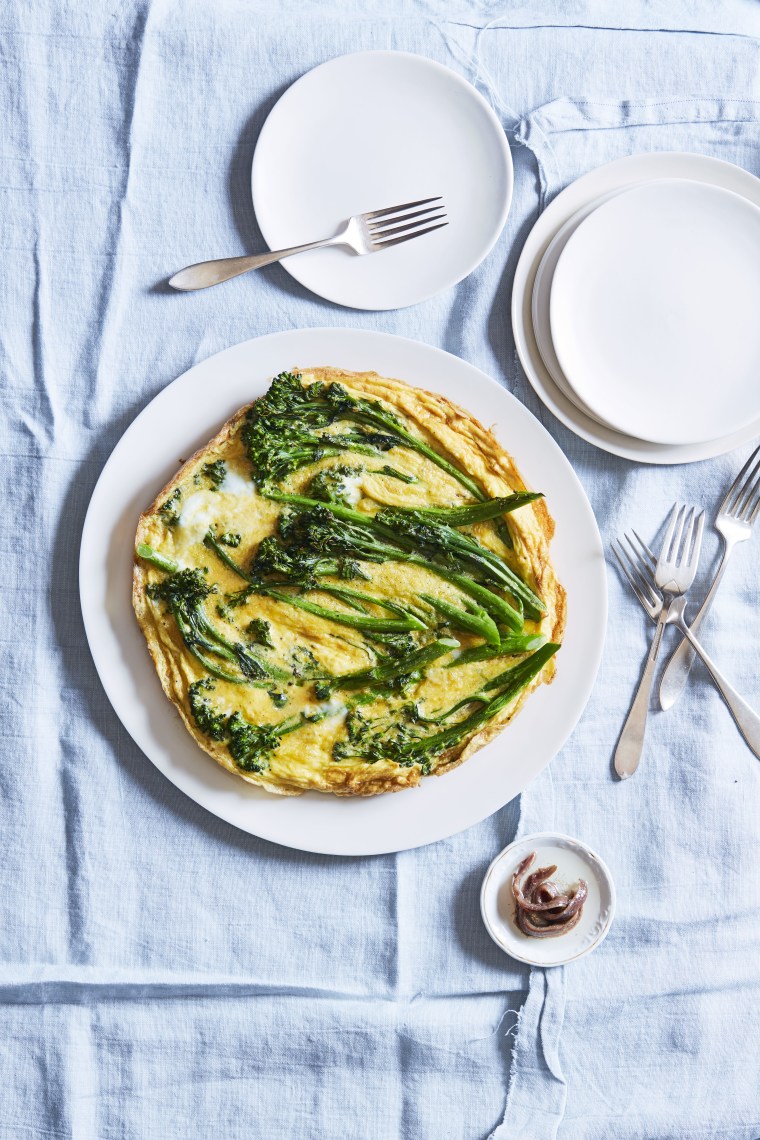 "Forgiving" and "endlessly adaptable" is how Stacy Adimando, author of "Piatti: Plates and Platters for Sharing, Inspired by Italy" describes frittatas. Adimando's features broccolini and is topped with chopped anchovies, grated cheese, or both, depending on your preferences, but you can use "almost any cooked vegetable, cheese or herb," she insists. Plus, frittatas can be served hot, at room temperature or even chilled. Finishing a frittata in the oven is a little easier, but Adimando insists flipping one on the stovetop isn't as hard as it seems. "Have confidence and be sure to wiggle the first side of the frittata loose in the pan before transferring it to a plate and flipping." Also, use a nonstick skillet or at least a very well-seasoned one.
More recipes and tips from food pros
Want more tips like these? NBC News BETTER is obsessed with finding easier, healthier and smarter ways to live. Sign up for our newsletter and follow us on Facebook, Twitter and Instagram.