With summer and warm weather comes an appetite for grilled food — especially burgers. Sure, you can eat burgers year-round, but there's nothing quite like a juicy patty hot off the grill, especially if you can enjoy it in your own backyard. Plus, when you're flipping burgers at home, you're in control. You get to pick the best ingredients and create different combinations to suit your palate or just what you happen to be craving. And the options are just about limitless. In addition to the classic American beef and cheese on a bun combo, you can make burgers with different meat, poultry, or seafood, sandwich them between all kinds of bread and rolls, and go crazy with toppings.
To kick off a summer we hope is filled with burgers and backyard time, we've gathered recipes and advice from chefs and food experts, including Andrew Zimmern, Giada De Laurentiis, Adam Richman, Serena Wolf, Martha Stewart and Jamie Purviance. From beef to salmon to turkey and from classic to creative, these pros have you covered, so fire up those coals and get ready for some serious burger bliss.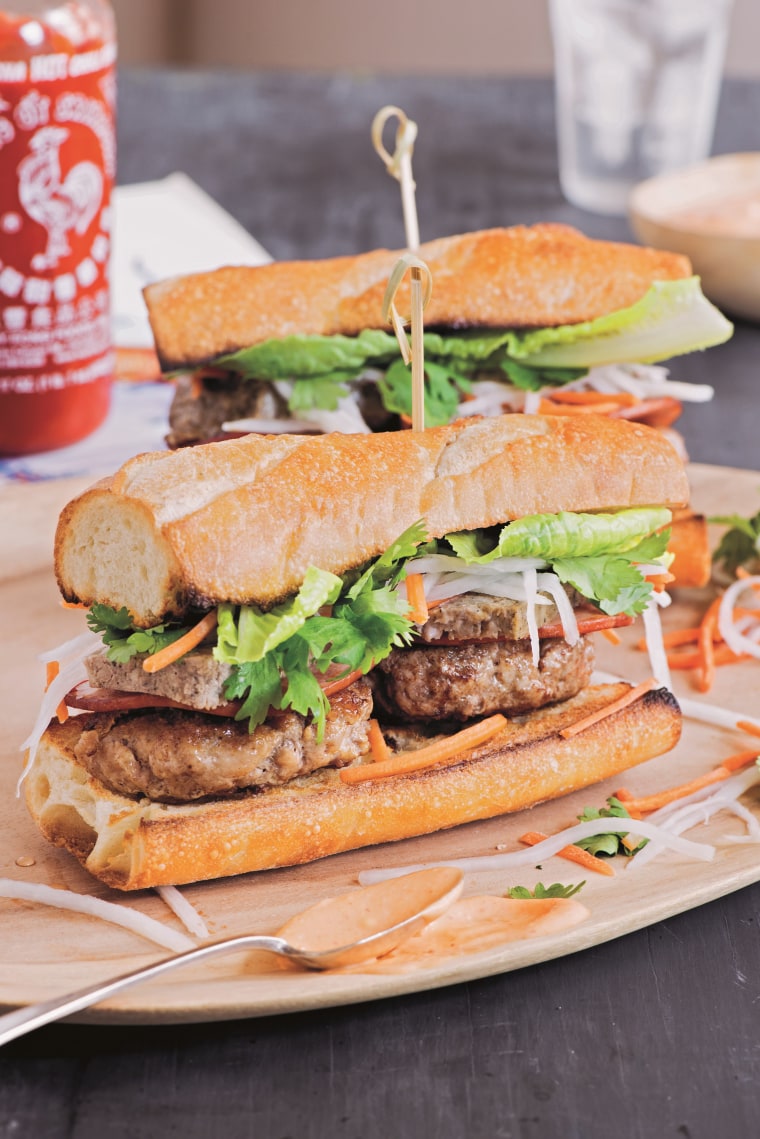 As the star of "Man vs. Food" and "Adam Richman's The Best Sandwich in America" on Discovery, Adam Richman knows a thing or two about sandwiches and travel-inspired eating. This pork burger, adapted from his cookbook, "Straight Up Tasty; Meals, Memories and Mouthfuls from My Travels," blends two of Richman's favorites, the classic American burger and the Vietnamese banh mi. The result showcases "their best attributes" and is "creamy, crunchy, sour and juicy," says Richman. Pork pâté is easy to find in upscale supermarkets or online, but if you can't find it — or just don't like it — Richman insists this burger has so much big flavor, you can skip it.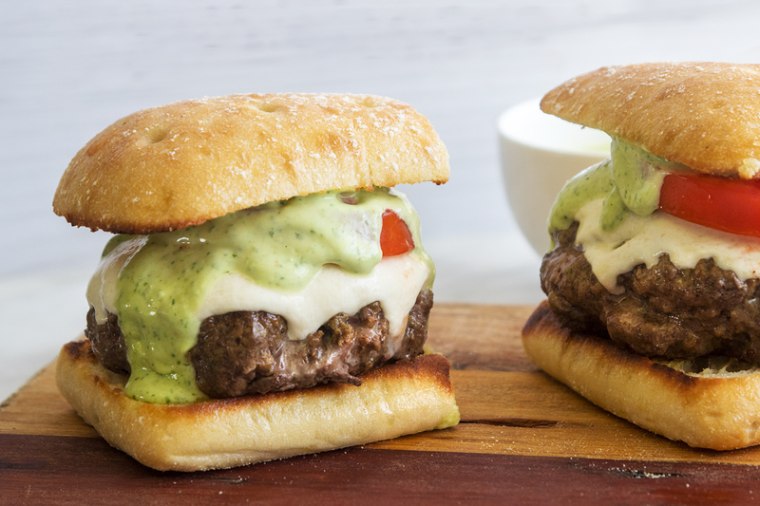 "Nothing says summer like ripe tomatoes in a caprese salad or a burger right off the grill, so why not have the best of both worlds?" asks TV personality, cookbook author and restaurateur Giada DeLaurentiis. Adding pesto—homemade or store-bought—and Parmesan to ground sirloin beef makes for juicy, flavor-packed burgers that get an extra boost from a bright and couldn't-be-easier-to-make pesto mayonnaise, plus fresh tomato slices and creamy mozzarella. Serving the patties on lightly grilled focaccia emphasizes the Italian theme, but regular hamburger buns also work. You really can't go wrong. As DeLaurentiis says, "These burgers are always a crowd pleaser."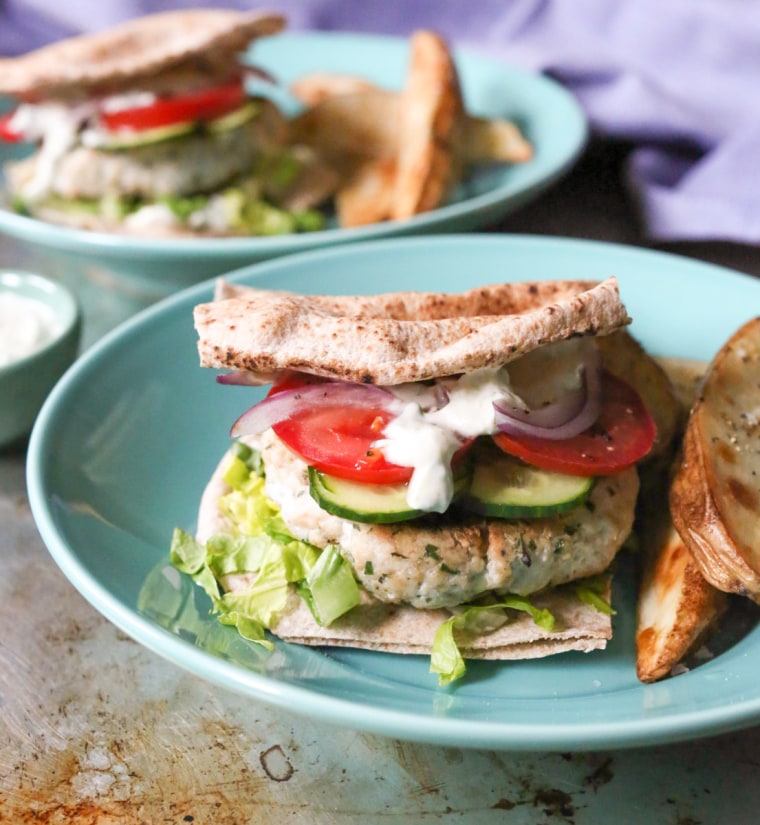 "Turkey burgers get a bad rap for being dry and tasteless," explains Serena Wolf, the blogger behind Domesticate Me and author of "The Dude Diet: Clean(ish) Food for People Who Like to Eat Dirty" and the upcoming "The Dude Diet Dinnertime: 125 Clean(ish) Recipes for Weeknight Winners and Fancypants Dinners. But, as a fan of turkey burgers, Wolf has several tricks up her sleeve. "I always recommend using 93% lean ground turkey," says Wolf. "That little bit of extra fat goes a long way." It's also helps to flavor turkey burgers more generously than traditional beef versions, adds Wolf, who uses onion, garlic, fresh parsley and mint, cumin, coriander, cinnamon and cayenne pepper to bump up these Middle Eastern-inspired patties. A little crumbled feta adds additional flavor AND a little fat to keep the burgers "extra juicy and tender."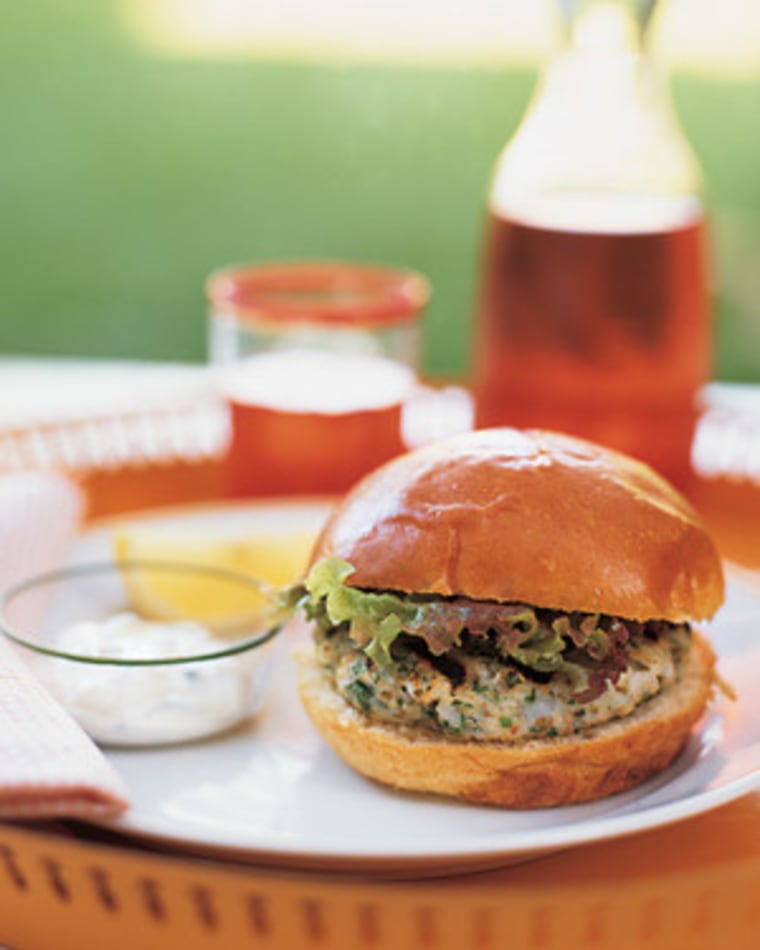 "Sweet shrimp and fish ground together form a uniquely rich, juicy burger," says cooking and entertaining expert Martha Stewart. "This recipe blends the perfect amount of scallion, parsley and lemon juice to hone and polish this burger's seafood flavor." Be sure to plan ahead so there's time for the patties to chill in the fridge before you grill them—they can even be made a day ahead and refrigerated overnight. The Tarragon Tartar Sauce is optional but makes a great condiment and takes minutes to whip up.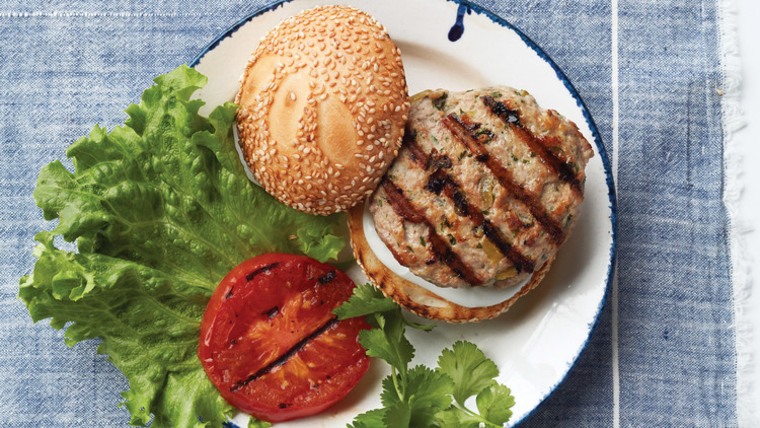 Like turkey burgers, chicken burgers benefit from a little extra seasoning. Stewart's solution is to add canned green chiles and fresh cilantro, which give these lean burgers "tons of flavor." Tomato slices are a burger standard, but Stewart steps up the game by grilling them until charred. And in lieu of cheese, she opts for a different kind of dairy: "I love the sour cream that adds a little extra creaminess at the end."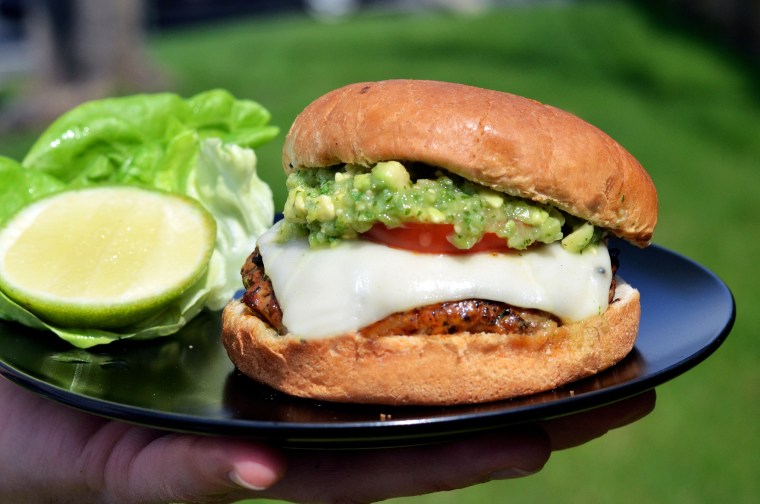 TV personality, chef and restaurateur Andrew Zimmern prefers to put a South of the Border spin on his pork burgers. "In this recipe, I infuse ground pork with bold Mexican flavors to create an irresistible burger," he explains. "For the best results, it's essential that you allow the pork to sit overnight with all of the seasonings to develop complex flavor." Those seasonings include onion, garlic, and jalapenos, plus oregano, chile powder, cilantro, and chipotle chiles in adobo. Zimmern's burger is topped with a quick tomatillo-avocado salsa that's the perfect complement to the rich patty, plus a thin slice of tomato and melty cheddar cheese.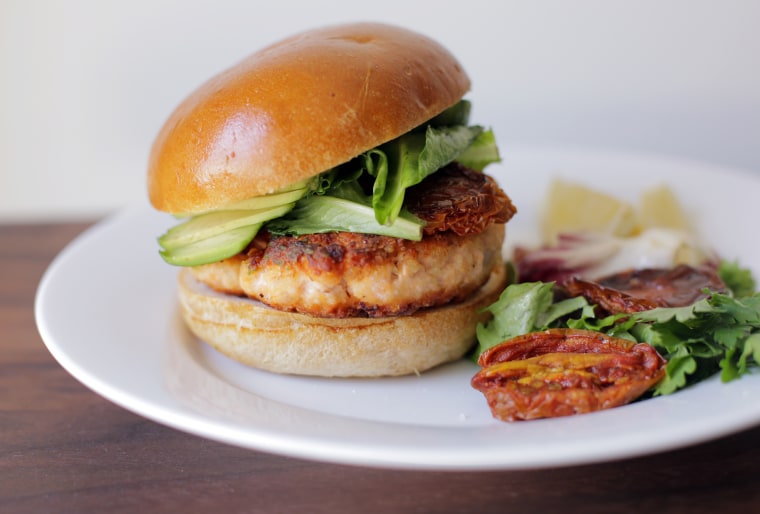 Unlike his heavily seasoned pork burgers, when it comes to salmon burgers, Zimmern takes a less is more approach. "This simple recipe allows the flavor of the salmon to shine," he explains. With fewer ingredients, quality is extra important. "I prefer to use fresh salmon, as opposed to canned salmon," says Zimmern. "The extra effort and cost is worth it for a better tasting burger with a superior texture." On top, Zimmern adds oven-roasted tomatoes, which he recommends keeping on hand, especially during the summer tomato season—plus avocado slices and greens dressed with a squeeze of lemon. "For a healthier alternative, you can skip the bun and serve the salmon patty on top of a salad."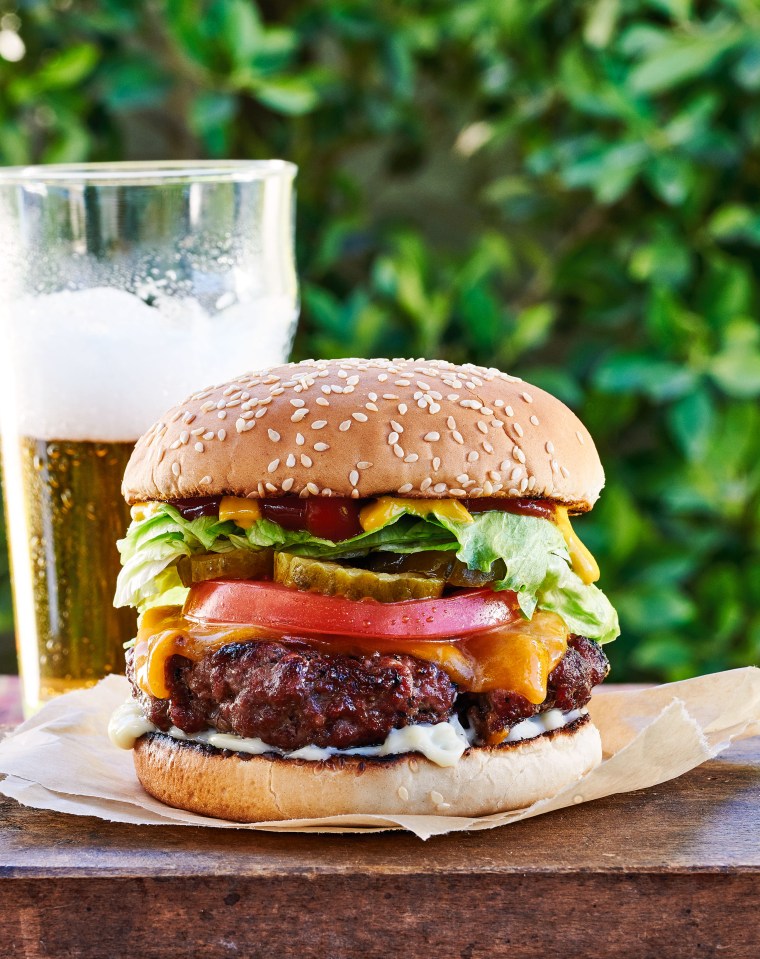 If you ever doubted the deliciousness of a classic burger, think again. "These cheeseburgers are exceedingly rich and gratifying," says grilling expert Jamie Purviance. "The tender meat produces beefy juices that run down your chin, and the flavor of the charred surfaces is enough to stun you into silence." Purviance, who included this recipe in his latest cookbook, "Weber's Ultimate Grilling: A Step-by-Step Guide to Barbecue Genius," recommends seeking out ground meat that's from a particular cut of beef, such as chuck or roast, and 20 percent fat. When it comes to shaping the patties, aim to create loose, round balls then gently flatten them until about 1-inch thick, says Purviance. If you press a little dimple into the center of each patty, that will keep the burgers from puffing up in the center, so you have a flatter surface for all your favorite toppings.
More recipes from BETTER
Want more tips like these? NBC News BETTER is obsessed with finding easier, healthier and smarter ways to live. Sign up for our newsletter and follow us on Facebook, Twitter and Instagram.