If you're not already a cast-iron skillet fan, it's time to discover the many, many benefits of cooking with this does-it-all pan. When it comes to retaining heat, it's hard to beat cast-iron, which is why it's ideal for searing and browning foods. Cast iron also gets better the more you use it, because cooking actually seasons the skillet, giving it a slick surface that food doesn't stick to. In fact, if well-seasoned, you can even use a cast-iron pan to fry eggs. Pair this with cast-iron's durability and you can see why these pans are often passed down from one generation to the next. Still, perhaps the very best quality of a cast-iron skillet is its versatility. This kitchen workhorse can be used for everything from quick stir-fries to roast chicken to cakes and breads, making it a great fit for smaller kitchens with limited storage.
By now, you must be convinced to invest in a cast-iron skillet or at least dust off the one you already own. But what to make? For inspiration, we asked a few of our favorite food pros, including Serena Wolf, Kevin Curry, Katie Workman, Kelly Senyei, Niki Segnit and Alex Snodgrass, to share their very best cast-iron skillet recipes — think pizza, pancakes, baked eggs, a giant chocolate chip cookie and braised chicken. As their recipes show, a cast-iron skillet truly is your best friend in the kitchen, delivering delicious meals and snacks and getting better and better with every dish you make.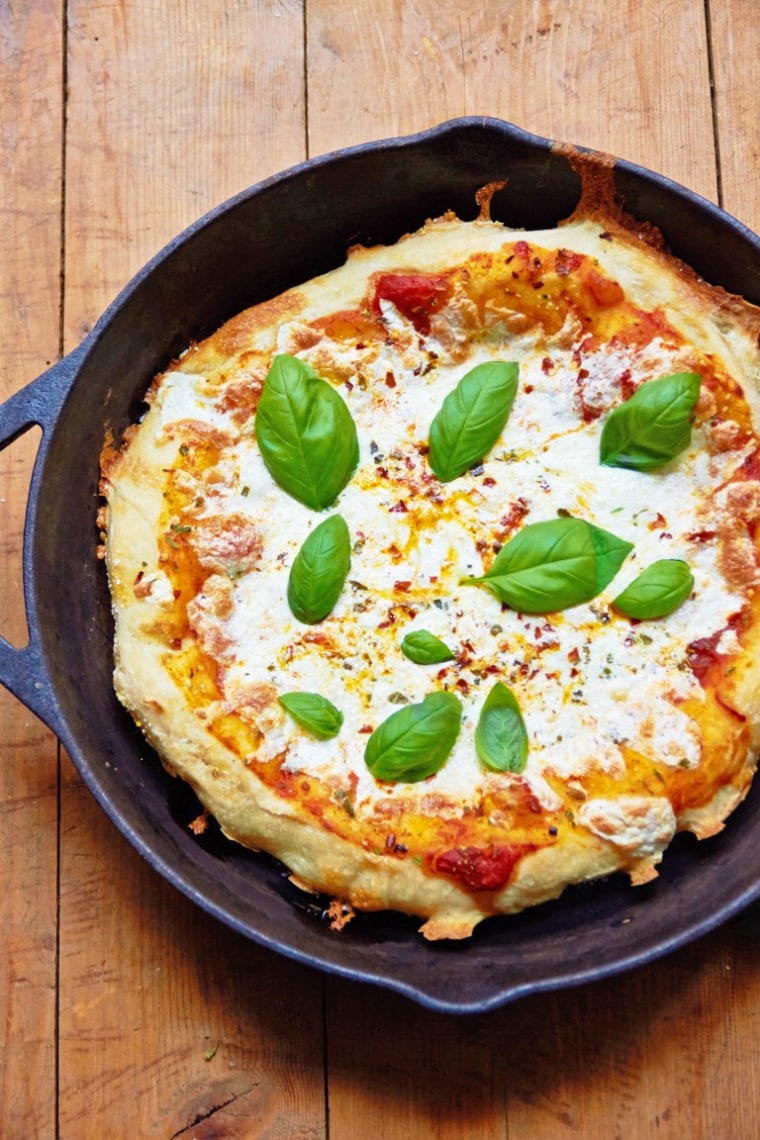 "I love cast iron for pizza because the pan gets super-hot and holds heat so well — it really mimics a pizza stone," says Katie Workman, the blogger behind The Mom 100 and author of "Dinner Solved: 100 Ingenious Recipes that Make the Whole Family Happy, Including You". Workman's secret trick is to preheat the pan in a 450°F oven then add the dough without any sauce or toppings and let it cook for a few minutes to puff and firm up for a chewy, springy pizza. Next, add your favorite sauce and toppings and finish baking the pizza. It's that easy.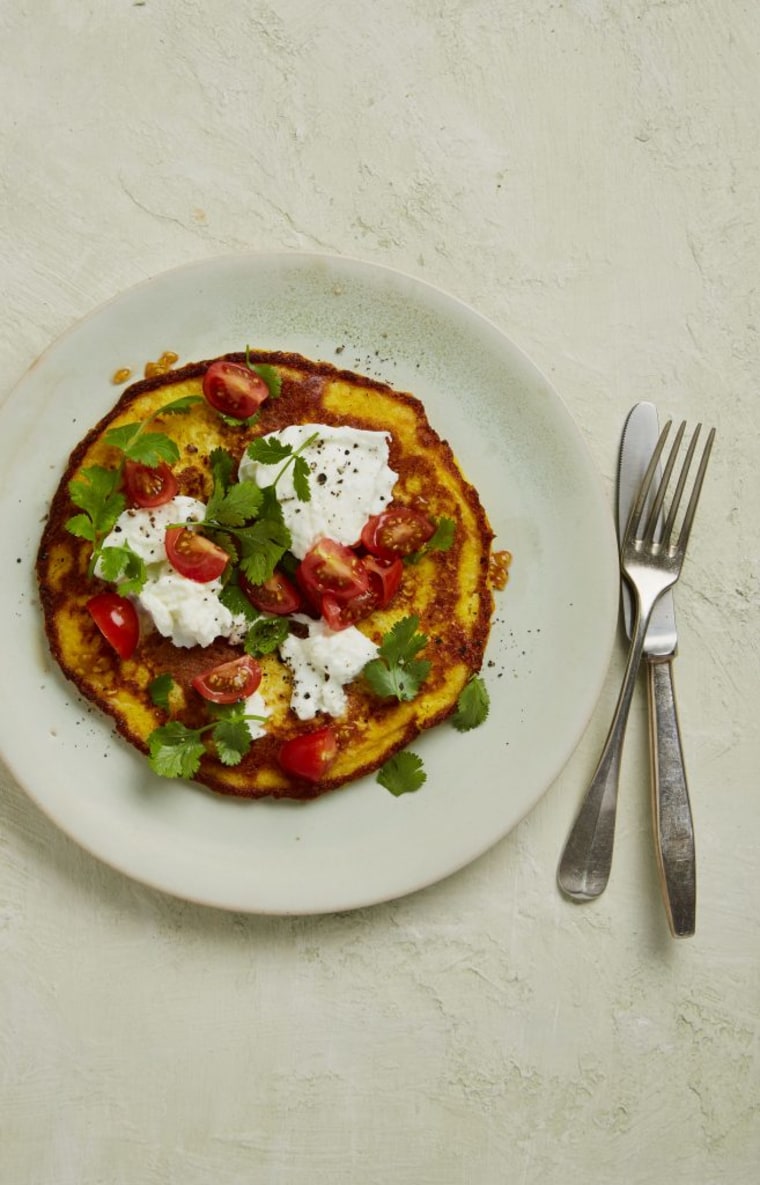 "A well-seasoned cast-iron skillet is popular with pancake makers because the batter is unlikely to stick to it," explains Niki Segnit, author of the upcoming cookbook "Lateral Cooking: One Dish Leads to Another". "Also, you get a nice even heat," which is key for making Segnit's Sweetcorn Griddle Pancakes. "You want to avoid hot spots because the sugar in the corn makes it prone to burning," says Segnit. Lightly sweet and with a unique texture that's a mix of rough and smooth, these pancakes make a lovely brunch or lunch dish. Serve them with tomatoes, basil and goat cheese or layer them with sour cream and lox.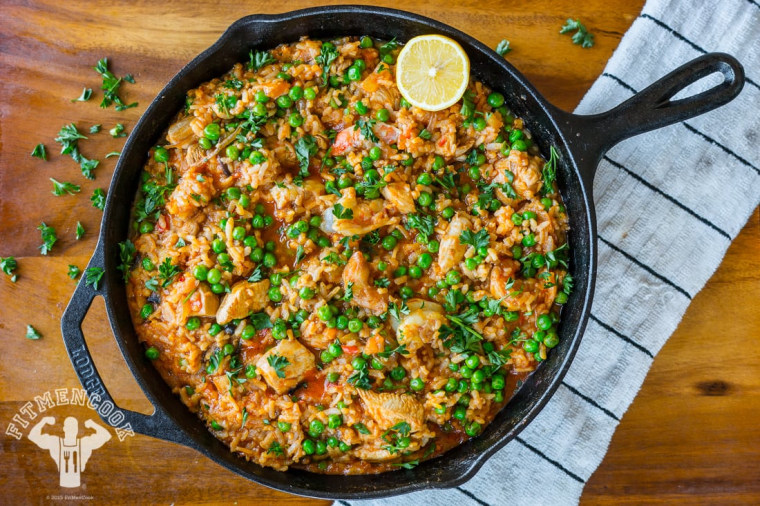 "The cast-iron skillet retains heat SO well!" insists fitness influencer and "Fit Men Cook" author Kevin Curry, who created this one-pan paella. "You can cook this on the stovetop or the grill, and it will come out crispy on the bottom and soft on the top." And that's exactly what you want for this classic Spanish dish. Plus, adds Curry, the recipe comes together quickly and can easily be customized with your favorite veggies and protein.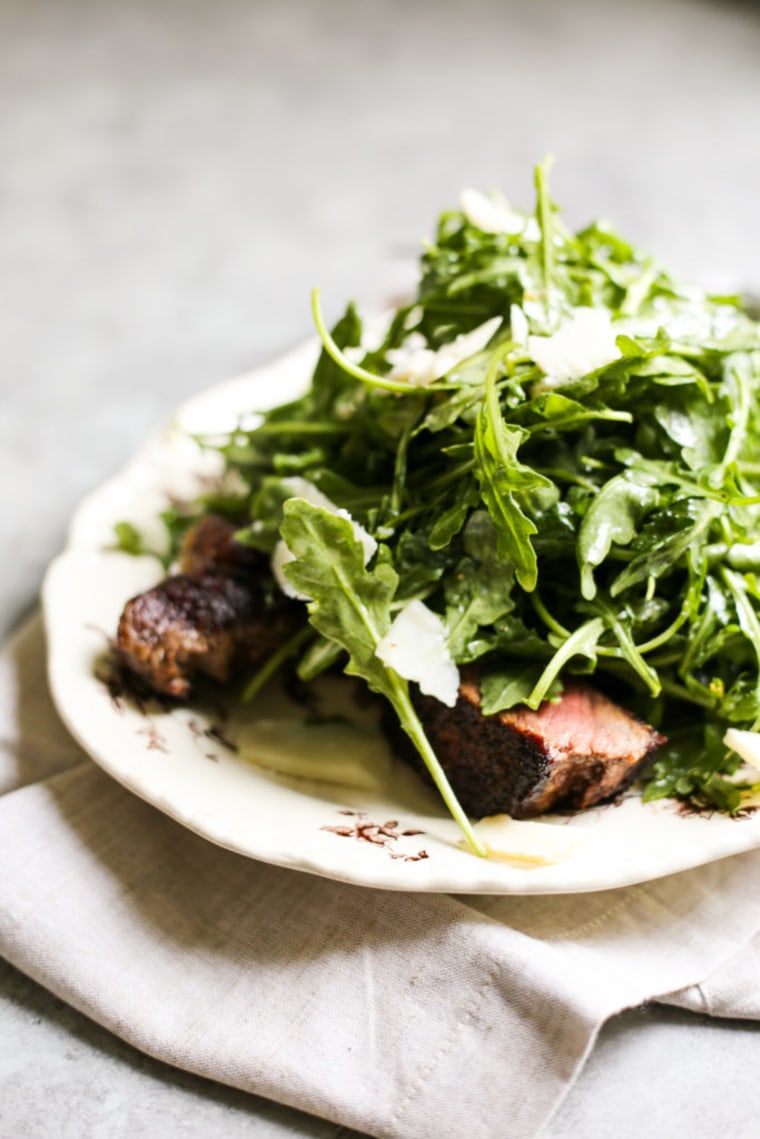 "I love this recipe because it brings a fancy steak dinner right to your own home," says Alex Snodgrass, the blogger behind The Defined Dish and author of the upcoming cookbook "The Defined Dish: Whole30 Endorsed, Healthy and Wholesome Weeknight Recipes." Snodgrass coats the steak in ground mushroom powder—simply dried mushrooms blitzed in a coffee grinder—to add an extra touch of savory umami, but it's the cast-iron skillet that really makes the steak sing. "I cook the ribeye in a cast-iron skillet because the sizzling hot pan gives it that signature sear," explains Snodgrass. "The pan gets extremely hot and also retains heat for a long time, making it the perfect vessel for steak!"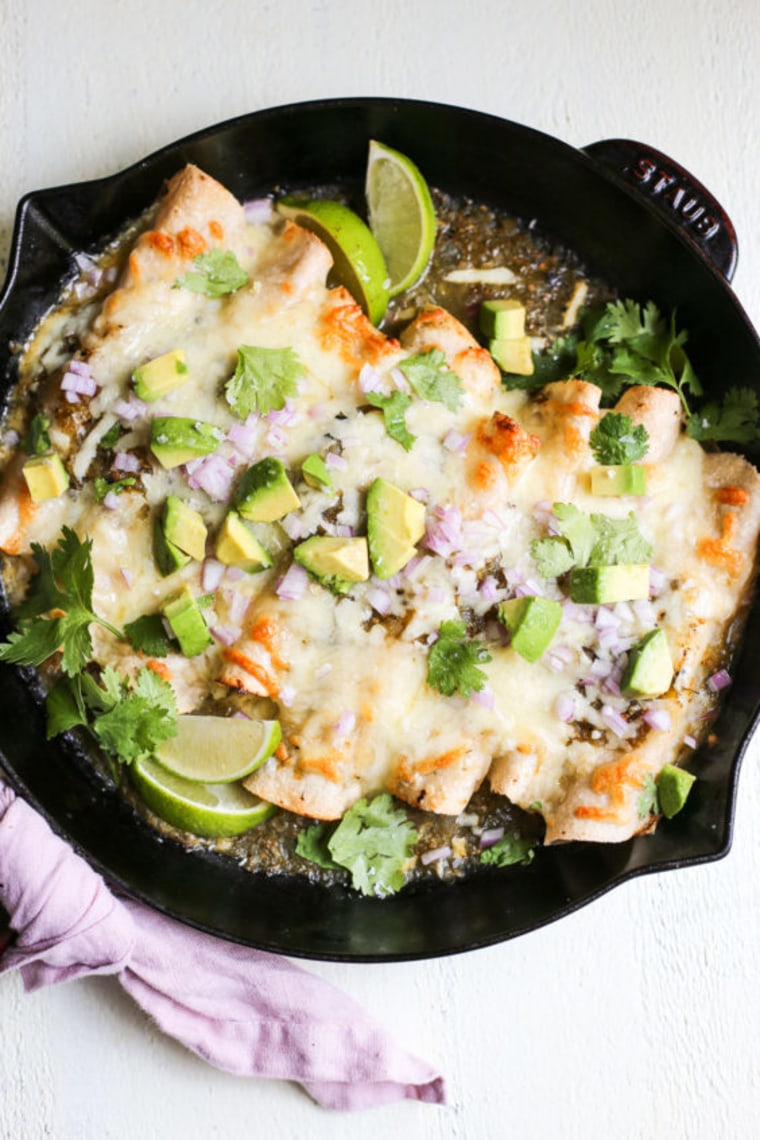 These enchiladas are one of Snodgrass's favorite cast-iron skillet dishes. "You can take it straight from the oven and directly to the family table," she says. "It looks prettier than a casserole dish." The recipe is also "easy to make" and "busting at the seams with flavor," says Snodgrass. Shredded chicken is combined with herbs and spices, sour cream and a roasted hatch chile to create a filling for tortillas then everything is baked with salsa verde and Monterey Jack cheese. Ten minutes in the oven and you've got hot and bubbly enchiladas ready to be topped with cilantro, diced onion and avocado.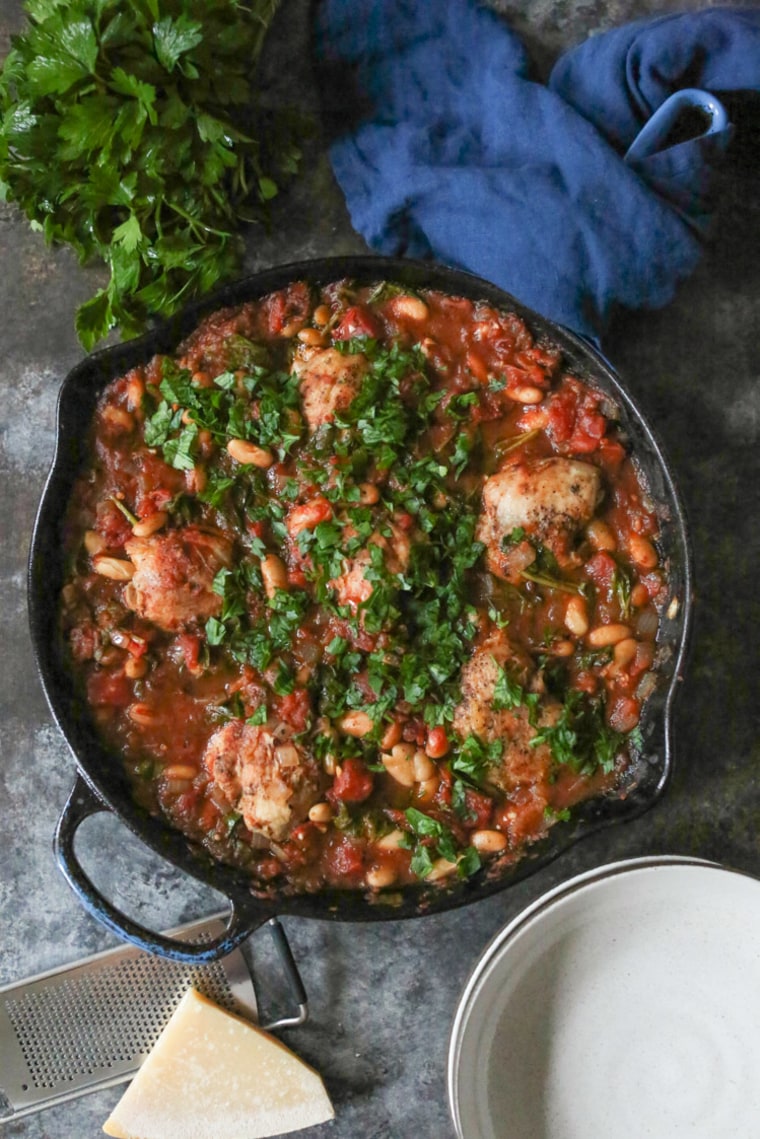 "What I love about this recipe is that it's made with mostly pantry ingredients, only requires about 15 minutes of hands-on prep work and can be served directly out of your cast-iron skillet," says Serena Wolf, the blogger behind Domesticate Me and author of the upcoming "The Dude Diet Dinnertime: 125 Clean(ish) Recipes for Weeknight Winners and Fancypants Dinners". "It's also packed with health benefits." Despite being a simple, one-skillet dish, this chicken, cannellini bean, tomato and spinach combination delivers fiber, antioxidants, and essential vitamins and minerals. If you want to make it even heartier, says Wolf, add some brown rice or quinoa to the mix.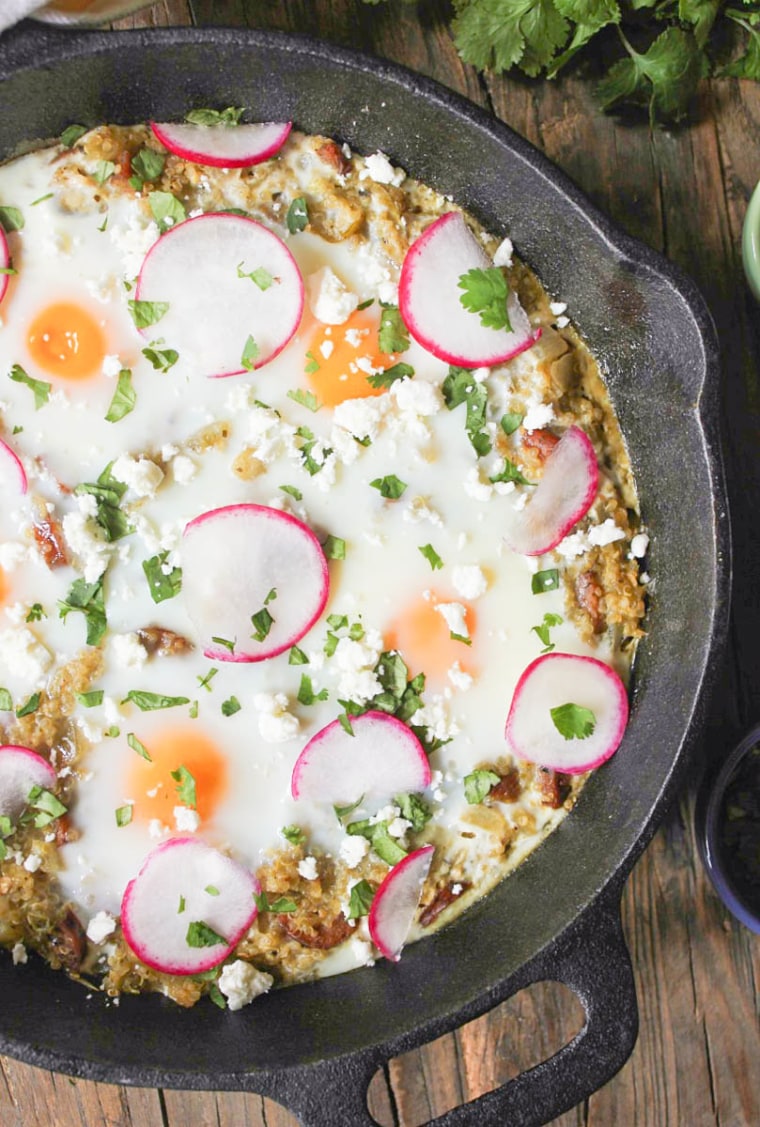 For another quick and convenient cast-iron meal, Wolf turns to baked eggs, which she pairs with chicken sausage, quinoa, feta and salsa verde. "This recipe is incredibly versatile," notes Wolf. Brown rice, farro and barley can all be used in place of the quinoa and you can swap in any kind of sausage or ground meat. Another option is to skip meat all together and add chopped bell peppers, zucchini or a cup of beans for a hearty vegetarian feast. Whatever you do, be sure to serve this one-pot meal in the cast-iron skillet you cook it in for a simple, rustic presentation — and fewer dirty dishes!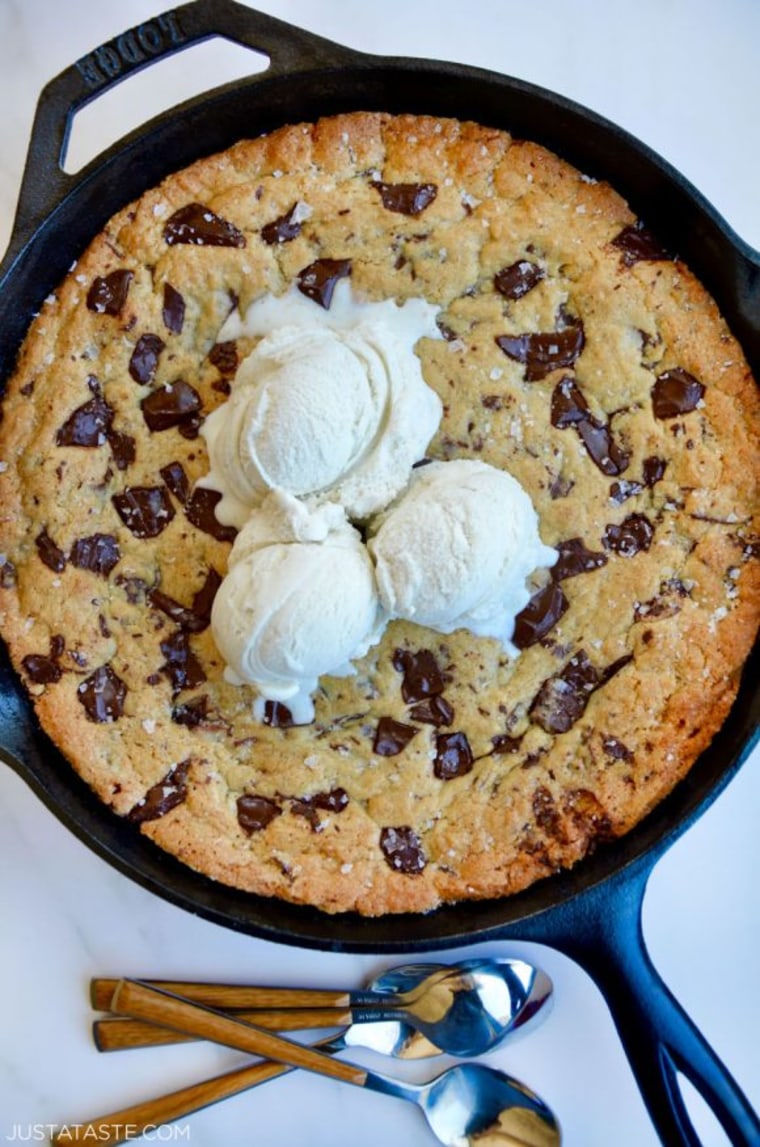 Take a cue from Just a Taste blogger Kelly Senyei and use your cast-iron skillet to make dessert and not just any dessert, but an oversized, oven-to-table skillet cookie no one will be able to resist. Because cast-iron heats up so evenly, your cookie will be perfectly baked, "from edge to golden brown edge," says Senyei. "Like most cookie doughs, this recipe tastes best if the dough has a day (or even three!) to sit before baking, so mix up a batch then store it in an airtight container in the fridge," explains Senyei. "When you're ready for a hot, crowd-friendly cookie, spread the dough into your cast-iron skillet, pop it in the oven and in 35 minutes or less, you'll be piling it high with scoop after scoop of ice cream."
MORE RECIPE IDEAS
Want more tips like these? NBC News BETTER is obsessed with finding easier, healthier and smarter ways to live. Sign up for our newsletter and follow us on Facebook, Twitter and Instagram.