Whether it's the dead of winter or the peak of summer, cherry tomatoes should always be on your shopping list. Unlike larger varieties, cherry tomatoes are available ripe and ready year round. And despite their small size, they're packed with bright, tomato flavor and just enough sweetness. They're also wonderfully juicy and pop in your mouth, thanks to their delicate skin.
Though often enjoyed raw in salads or on veggie platters, cherry tomatoes are as versatile as their big brothers and can be used in pasta, pizza, sauces and more. For kitchen inspiration, we asked some of our favorite food pros, including Giada De Laurentiis, Katie Workman, Kelly Senyei, Jennifer Marie Garza, Abra Berens, Martha Stewart, Serena Wolf and Kirsten Buck for their best recipes and tips. If you don't already have cherry tomatoes in your fridge, you'll want to add a pint — or maybe two — to your grocery list.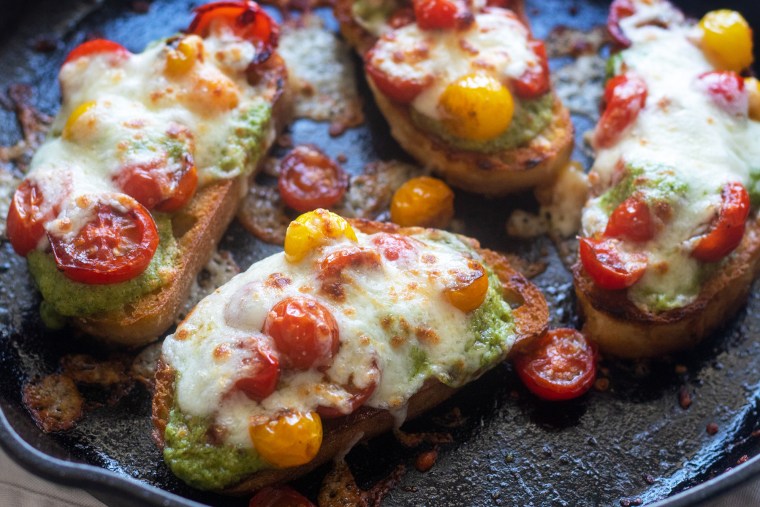 Caramelized cherry tomatoes are the "star" of this easy dish, says TV personality, cookbook author and restaurateur Giada De Laurentiis. They add "an irresistible pop of sweetness" and great color if you use a mix of red and yellow. "Cherry tomatoes are one of the only kinds of tomatoes I'll use all year round," adds De Laurentiis. They make "this pesto pizza a go-to for an easy weeknight dinner, no matter what month we are in."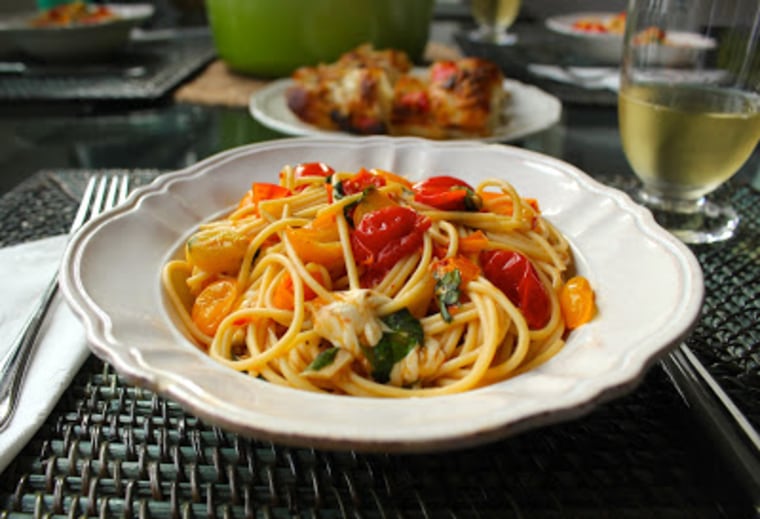 "Cherry tomatoes have such a delightful sweetness, says Serena Wolf, the blogger behind Domesticate Me and author of "The Dude Diet Dinnertime:125 Clean(ish) Recipes for Weeknight Winners and Fancypants Dinners". Wolf's simple pasta sauce "highlights their bright, fresh flavor with just a little olive oil, slivered garlic and crushed red pepper for heat." She cuts some of the tomatoes and leaves the rest whole, for a more interesting texture. "The halved tomatoes break down almost completely, while the larger ones simply soften and add an extra pop of chew and flavor when you bite into them," Wolf explains.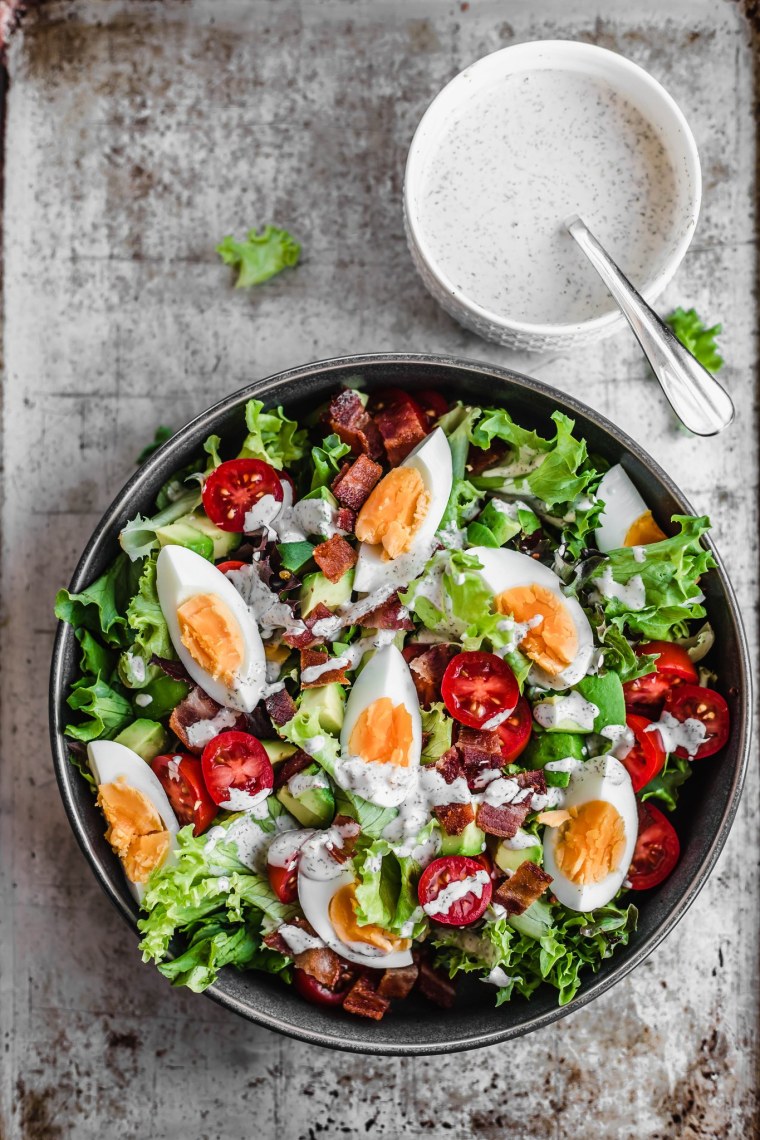 Kristen Buck, author of "Buck Naked Kitchen: Radiant and Nourishing Recipes to Fuel Your Health Journey," calls this salad a "lightened up, veggie forward" take on a classic BLT sandwich. Hardboiled eggs add protein and make the salad more substantial, while the Dilly Ranch Dressing is "a step up from standard mayo." Cherry tomatoes are the most important ingredient, insists Buck, because they add "freshness, acidity and sweetness." Her favorites are fresh, local and from the farmers' market in summer, but with sweet, tender cherry tomatoes available year round, you can enjoy this salad whenever you like.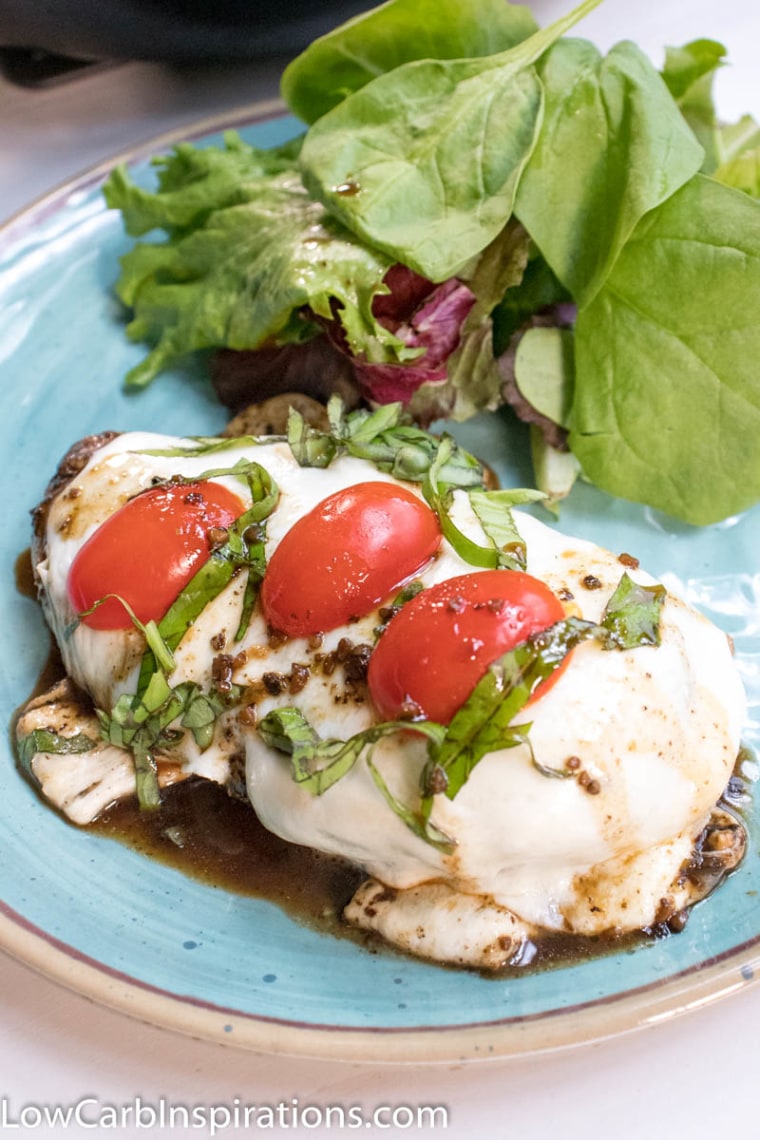 This easy-to-make, Caprese salad–inspired chicken dish comes from Jennifer Marie Garza, the author of "Keto Friendly Recipes: Easy Keto for Busy People" and the blogger behind Low Carb Inspirations. "Cherry tomatoes carry a powerful punch of concentrated tomato flavor" and pair perfectly with chicken, Italian seasonings and mozzarella, explains Garza. "I wouldn't make this recipe without them!"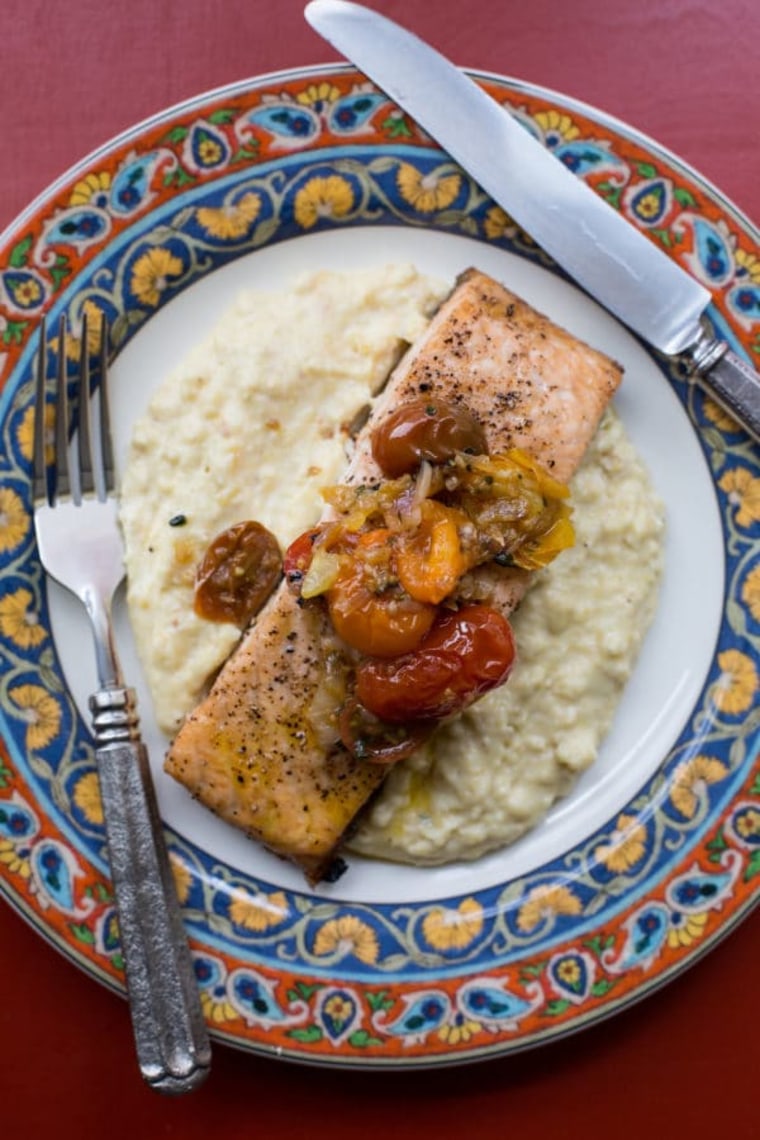 A warm tomato vinaigrette makes "a great counterpoint" to rich, pan-roasted salmon in this easy yet elegant dish from Katie Workman, the blogger behind The Mom 100 and author of "Dinner Solved: 100 Ingenious Recipes that Make the Whole Family Happy, Including You". Just a few minutes on the stove "slightly collapses the cherry tomatoes, and their juices lend a really nice sweet acidity to a simple vinaigrette" made with shallot, oregano, oil and vinegar. Once you make this easy sauce, you'll want to put it on everything, including chicken, pork or beef. "Definitely think of it when you are grilling this summer," says Workman.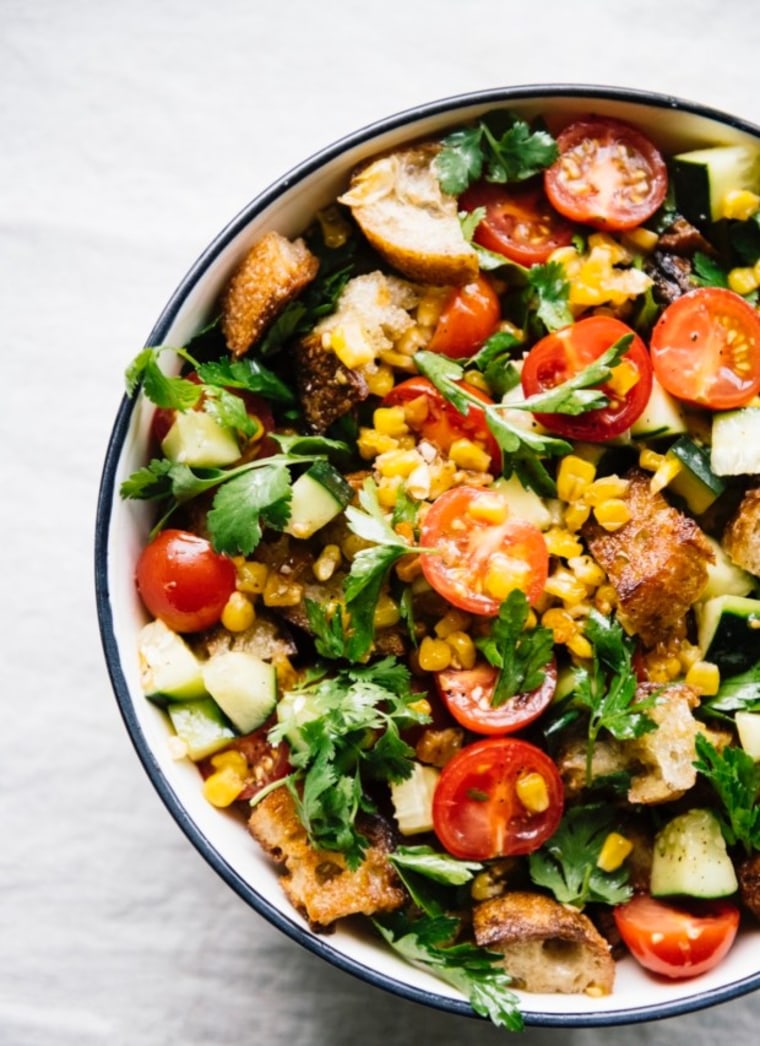 Panzanella, at its most fundamental, is a bread salad," explains Abra Berens, author of "Ruffage: A Practical Guide to Vegetables". She also describes it as a "one of those magical dishes that becomes more than the sum of its parts." All kinds of tomatoes are used in panzanella, but Berens likes using cherry tomatoes in this version, because their shape contrasts with the torn bread and small kernels of corn. "Plus, they don't juice as much as large globe tomatoes, so you can control the texture of the salad longer." And, perhaps best of all, the combination of cherry tomatoes and frozen corn makes this a year-round dish.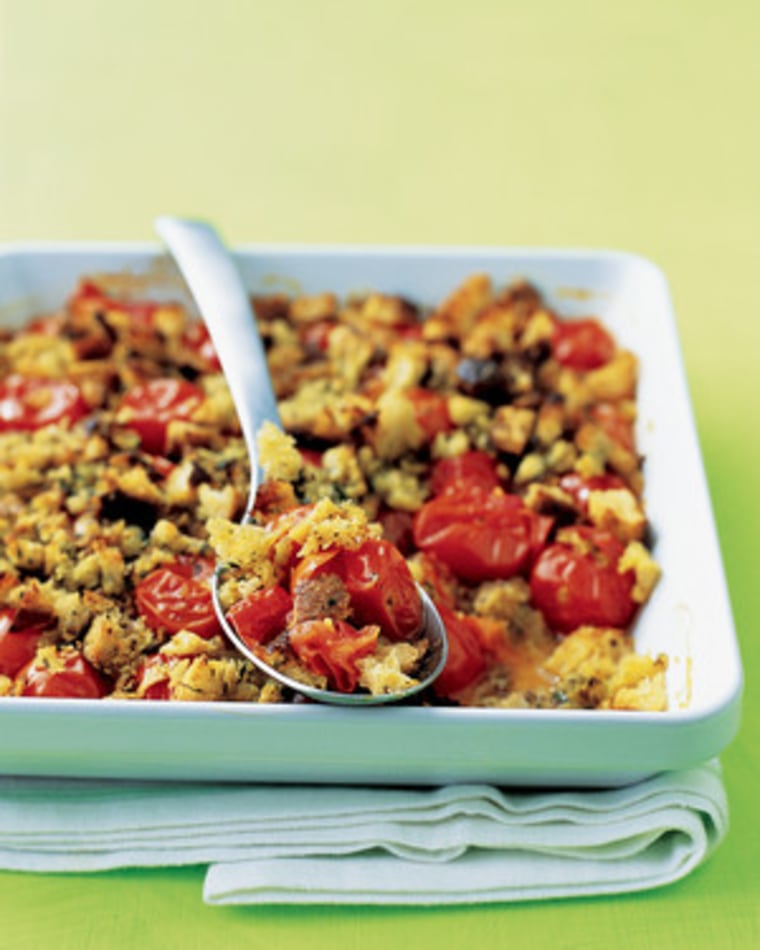 "This warm, comforting side dish is the perfect unexpected complement to any main," says cooking and entertaining expert Martha Stewart. To create this savory spin on the dessert crisp we all know and love, Stewart swaps fruit for cherry tomatoes and turns breadcrumbs, grated cheese and fresh parsley into an irresistible crunchy topping. "I love the combination of the bursting cherry tomatoes with the crispy bread and Parmesan," says Stewart.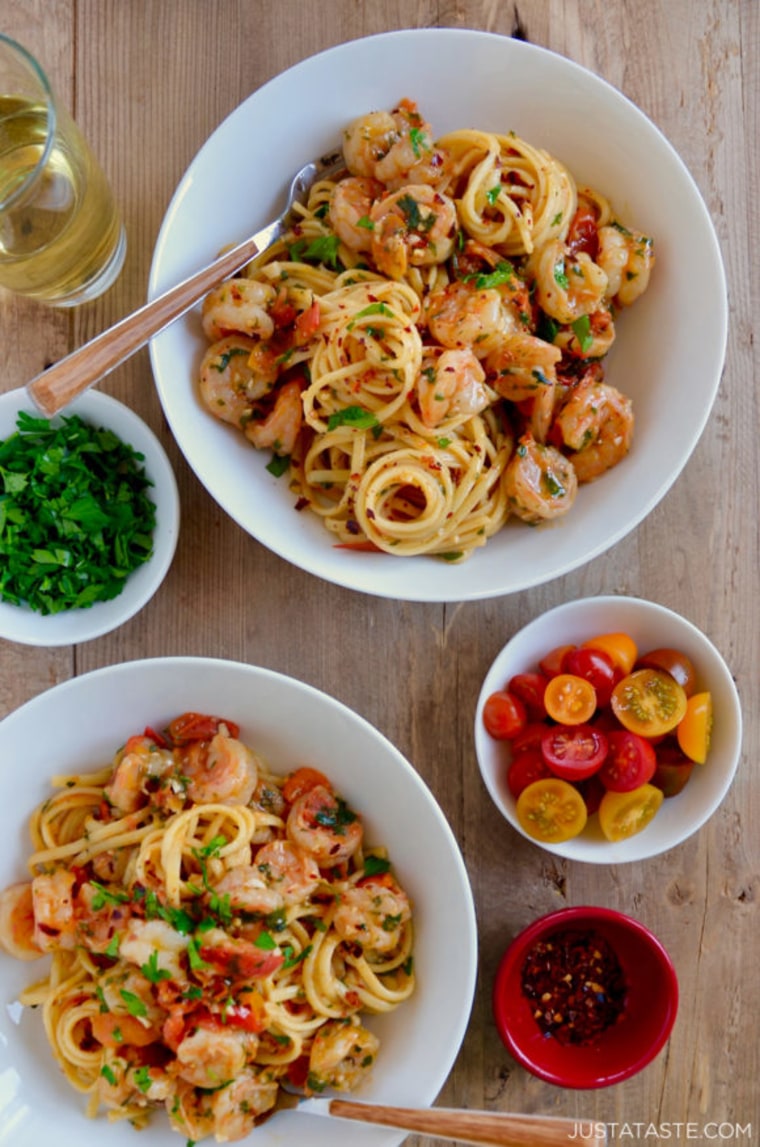 "Shrimp scampi may seem like a fancy, restaurant-only dish," but it's surprisingly simple to make at home," insists Just a Taste blogger Kelly Senyei. "You really only need a few ingredients to develop a big punch of flavor." Cherry tomatoes work perfectly in this pasta, because they "soak up all that garlicky, lemony white wine sauce." Best of all, "aside from cooking the pasta, this entire dish comes together in one pan, making cooking and cleanup a total breeze."
More recipes and tips from food pros
Want more tips like these? NBC News BETTER is obsessed with finding easier, healthier and smarter ways to live. Sign up for our newsletter and follow us on Facebook, Twitter and Instagram.