Whether you're looking to improve your diet, save a little money, limit your carbon footprint or just mix things up in the kitchen, meat-free eating is on the rise. But if you're one of the many Americans that eats an average of 222.2 pounds of meat and poultry per year, the idea of cooking and enjoying veggie-based meals, even once a week, may not come naturally. And, even if you have a few vegetarian favorites, those are often loaded with fat and carbs, which is far from ideal.
The good news is that chefs and food pros are full of ideas for how to whip up good-for-you, satisfying suppers that put the spotlight on vegetables and plant-based protein sources like beans, quinoa and tofu. Here, you'll find recipes from Giada De Laurentiis, Sara Lynn Cauchon, Kevin Curry, Serena Wolf, Kelly Senyei and Phoebe Lapine. If going meatless on Mondays sounds manageable, pick a recipe and start there. Once you discover just how satisfying meat-free eating can be, we're pretty sure you'll be back for more.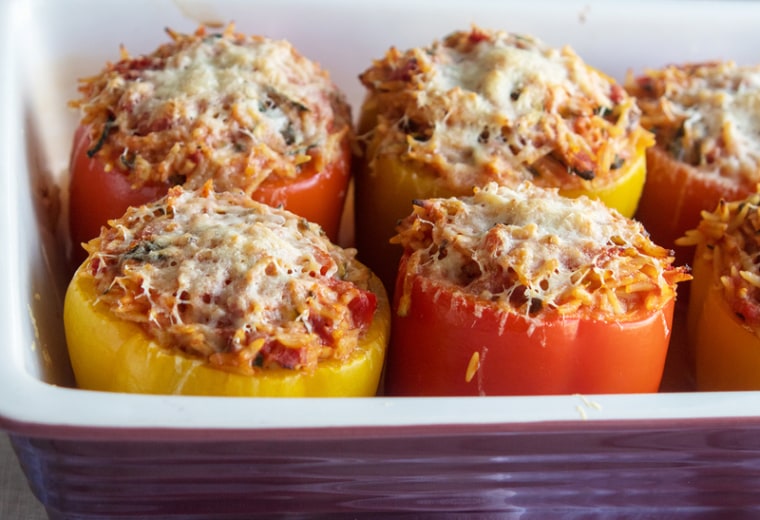 "These colorful stuffed peppers get an added boost of veggies from the grated zucchini in the mix," says TV personality, cookbook author and restaurateur Giada De Laurentiis. Add in orzo, tomatoes, garlic, mint and Parmesan, and you've got a flavorful, meat-free meal guaranteed to please everyone at the table. "The peppers get super sweet as they roast," explains Giada, who says her daughter, Jade, loves these for a meatless meal. To make this dish fully vegetarian, you'll need to swap the chicken broth for veggie broth.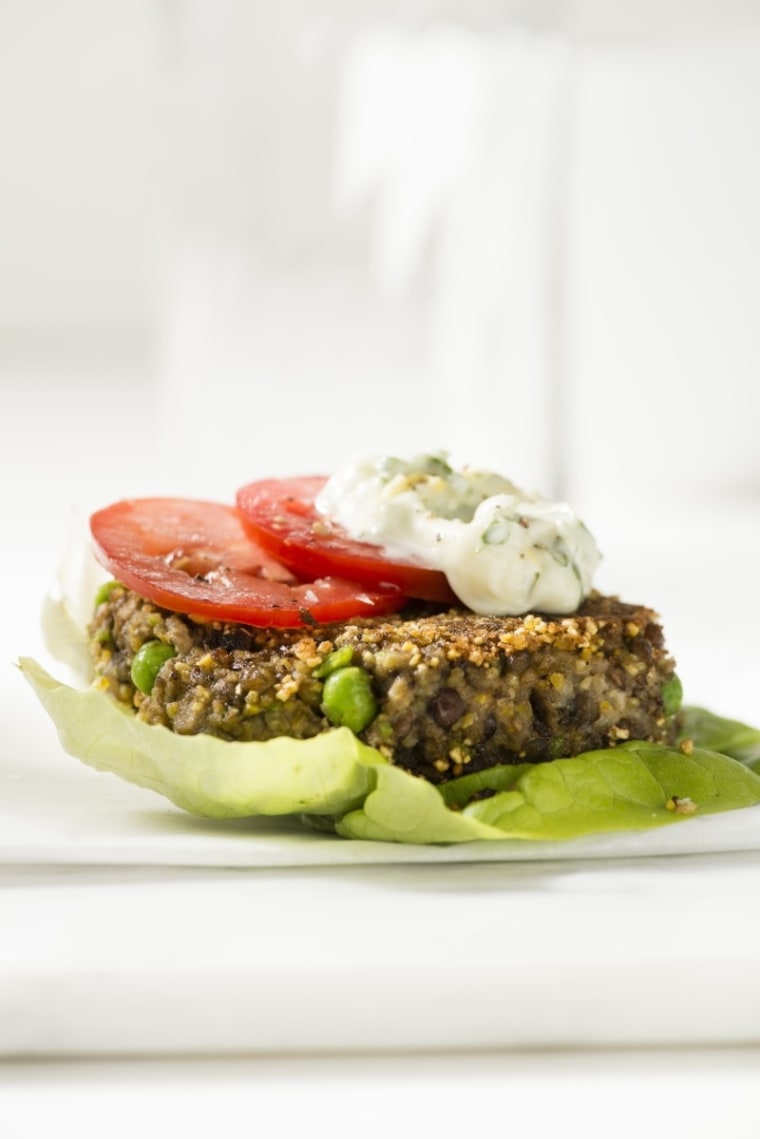 Just because you're skipping meat, doesn't mean you can't enjoy a good burger. "These are my favorite for an easy, meat-free burger," says Giada. "The mushrooms and lentils add a meaty texture, while the peas add a touch of sweetness to give them depth." For a creamy, tangy condiment, Giada dresses up egg-free mayo with fresh basil and grated lemon zest. If you want a lighter meal, serve the burgers with just lettuce and tomato or go more traditional and serve them on buns. Whichever you decide, "the whole family will eat them up!" insists Giada.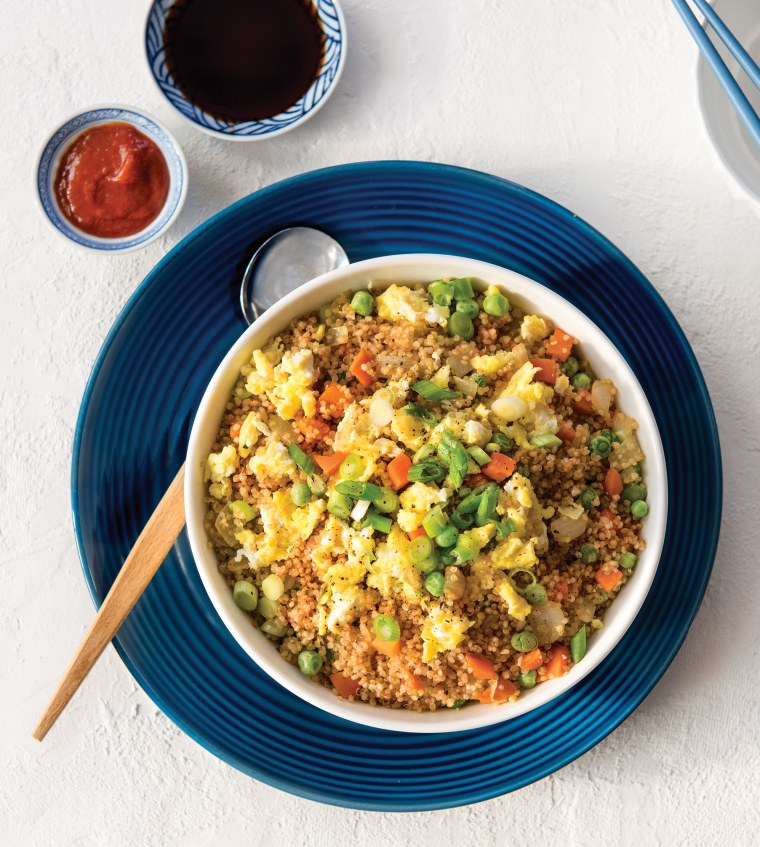 "This is one of those incredibly simple but incredibly satisfying meals," says Sara Lynn Cauchon, the YouTube star known as The Domestic Geek and author of the brand new cookbook "The Domestic Geek's Meals Made Easy: A Fresh, Fuss-Free Approach to Healthy Cooking." "Swapping the rice for quinoa in this classic dish pumps up the protein factor, as does the addition of scrambled eggs." Eggs are also quick cooking, which makes them perfect for speedy meat-free meals. If you want to take this stir-fry in a different direction, Cauchon suggests swapping in mushrooms, bell peppers, broccoli or snap peas. Chopped cashews or peanuts are great for adding a little crunch — plus bonus protein. This dish also makes "amazing leftovers, so it's a great lunch idea for your Sunday meal prep," says Cauchon.
Pad Thai is a takeout classic, but it's often quite heavy. Cauchon's version, made with zucchini, carrot and bell pepper zoodles "boasts all the deliciousness of traditional pad Thai without all the excess carbs." A combination of protein and fiber helps make this dish both filling and satisfying, explains Cauchon. And with so much flavor, you'll never miss the noodles. "It also cooks up in about 15 minutes, so it's perfect for weeknight cooking," says Cauchon. You can buy a spiralizer to make the zoodles, but Cauchon recommends using a simple julienne peeler, because it's more affordable and requires less kitchen space.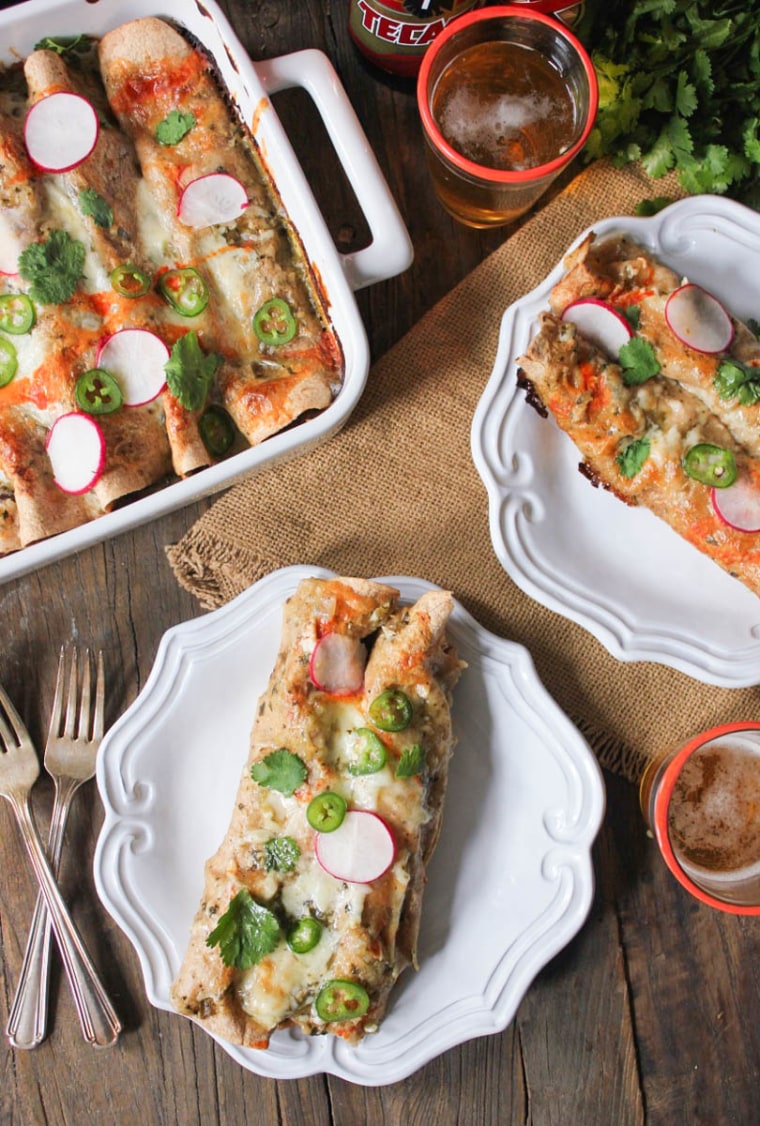 Enjoy the decadence of Mexican enchiladas in this lighter, meat-free recipe from Serena Wolf, the blogger behind Domesticate Me and author of "The Dude Diet: Clean(ish) Food for People Who Like to Eat Dirty" and the upcoming "The Dude Diet Dinnertime: 125 Clean(ish) Recipes for Weeknight Winners and Fancypants Dinners." "The combination of sweet potatoes, black beans and kale is delicious, but it's also high in fiber and protein, which will keep you feeling full and satisfied for hours," insists Wolf. If you want more variety, Wolf suggests swapping spinach for the kale, pinto beans for the black ones, or cheddar for the Jack cheese. Best of all, you can make these enchiladas ahead and store them in the refrigerator for two to three days or freeze them for up to three months before baking.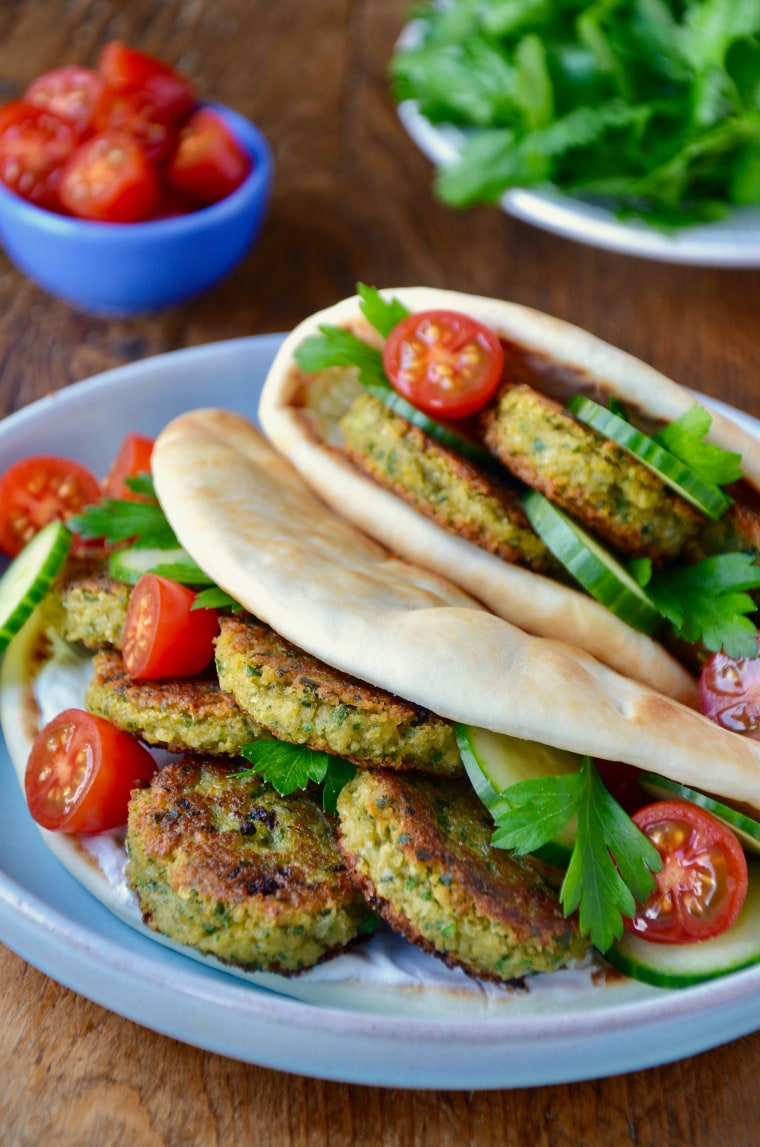 Falafel fans rejoice! This homemade take from Just a Taste blogger Kelly Senyei couldn't be easier. "While authentic falafel is made with uncooked (soaked) chickpeas, that process can take upwards of 24 hours," explains Senyei. This quick-fix version uses canned chickpeas and still achieves the characteristic taste and texture of traditional versions. "I love that I can get a good dose of protein, sans any meat," says Senyei. "The falafel are incredibly flavorful, and the pairing of the hot, salty rounds with cool, crispy veggies and herbs is hard to beat." Plus, it's a kid-friendly meal. "My boys (ages 1 and 2) absolutely love falafel — they're crispy, chewy, flavor-packed rounds that are great for serving in pita bread or dunking in yogurt." Falafel also re-heats quickly in a microwave, reports Senyei, so they're a great lunch option for work or when you're on the go.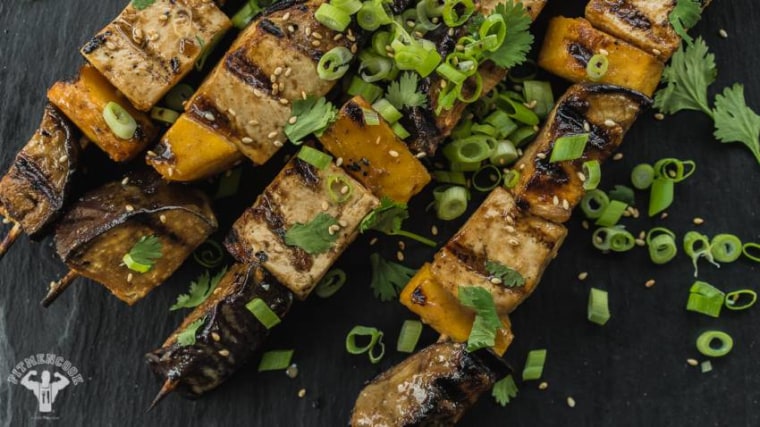 "Meat doesn't have all the fun!" says fitness influencer and "Fit Men Cook" author Kevin Curry. To make these addictive kabobs, Curry marinates chunks of eggplant, butternut squash and tofu in a miso marinade spiked with ginger, wasabi and tamari or soy sauce. He uses store-bought ginger paste to speed up the process, but you can also grate fresh ginger. And if you want to vary the veggie options, Curry recommends trying yams, cremini mushrooms and zucchini. The kabobs can be grilled or baked in the oven and are finished with a bright and crunchy mix of cilantro, green onion and sesame seeds. "Serve with your choice of grain or steamed or sautéed cauliflower rice," says Curry.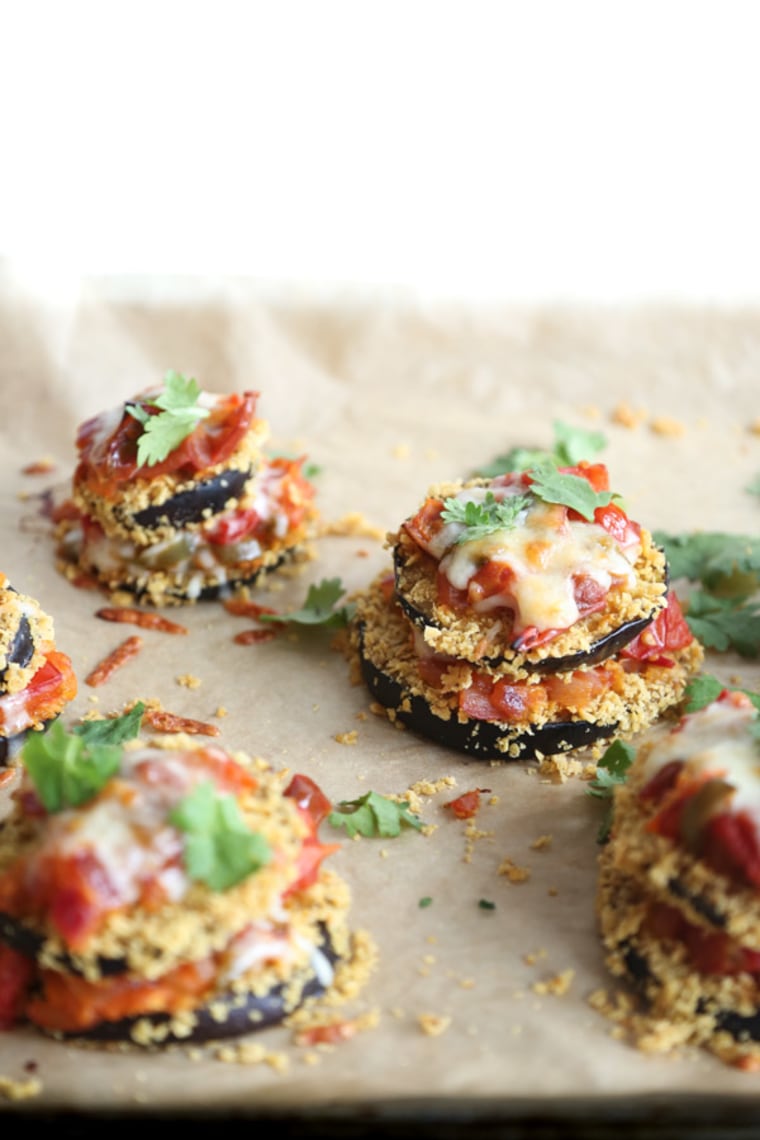 Eggplant parmesan is made gluten-free and given a Mexican makeover in this meatless main course recipe from Phoebe Lapine, the blogger behind Feed Me Phoebe and author of "The Wellness Project." "I am always that girl with three half empty bags of tortilla chips in the pantry," admits Lapine. "I'm always looking for ways to use them as a coating instead of breadcrumbs and I thought it would be a fun idea to swap out Italian tomato sauce for something more like a salsa in classic eggplant parm. It's a tough dish to make gluten-free, but tortilla chips are so naturally crunchy, they're a perfect solution. Another highlight of Lapine's recipe is that she forgoes the traditional casserole format for eggplant stacks, which makes for a more elegant presentation, one you'll want to remember for your next dinner party.
More vegetarian recipe ideas
Want more tips like these? NBC News BETTER is obsessed with finding easier, healthier and smarter ways to live. Sign up for our newsletter and follow us on Facebook, Twitter and Instagram.