Who doesn't dream of a Parisian pied-à-terre to call their own? While most of us may not be able to pick up a little place in Paris (or even go to Paris at this point), here's one dream of a place we can take inspiration from.
I spent a few nights at a vacation rental in Paris' 12th arrondissement last fall, and had to tear myself away each day because my husband and I wanted to stay and soak up the elegance and grandeur of the apartment. While, incredibly, the space was only 430 square feet, it was perfectly proportioned and designed for not only life on vacation, but at home.
Whether through serendipity or algorithms, I found a blog post after the trip about the apartment's gut renovation and remarkable transformation to the space we'd enjoyed. And happily, the owner was willing to share her best tips for creating the ultimate little Paris apartment — tips any of us can use wherever we live.
U.S. expat Kathryn Brown is the director of operations and client services for Paris Property Group, a firm that helps international clients buy or sell real estate in Paris. The apartment is her permanent residence, but local law allows a home to be rented short term for up to 120 days per year. She makes it available through Paris Perfect, which is where we rented it.
From breaking design rules to engineering for your life, here are Brown's tips for designing a glamorous — and livable — small space.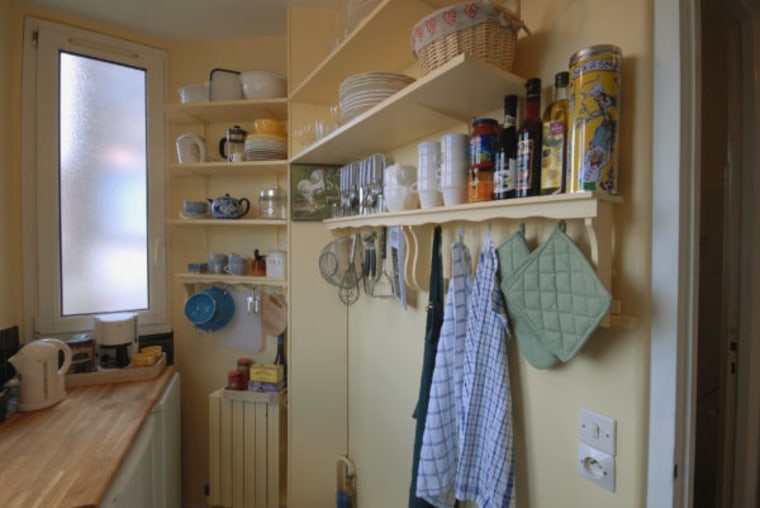 Rethink everything
Just because a hallway is long doesn't mean it has to stay that way. Bathroom on the left and kitchen on the right? Who says they can't swap? Unused space in the bedroom and the living room is cramped? Move that wall! Window in the way of a shower? Cover it!
While the apartment was perfectly charming, at least in looking at the 'before' photos, it wasn't functional or elegant. Brown didn't assume anything had to stay the way it was, and so, aside from keeping structurally necessary walls, she rethought everything.
Design for your life
You don't have to be an interior designer to create a beautiful space. Just think about how you'll use it.
"I don't have any design background," said Brown. "I'm a sales and marketing type person. The decisions that I made about the apartment were based on how I wanted to live in it."
So while she considered removing the wall between the bedroom and the living room to make the apartment a studio, she said, when friends and family visit, "then you're listening to each other snore. It would be weird, we'd be in the same room and that's not very grown up."
The layout, which equally divided the bedroom and living room with a windowed wall dressed in heavy curtains meant the couch had to sit on the opposite wall. It was oppressive, Brown said.
So she calculated how much storage she needed (and vastly pared down her wardrobe) and sized the bedroom around a new wall of built-in closets, moving the old dividing wall in to allow just enough room to walk around the bed (which hides storage beneath!).
In the sliver of a half bath, she had storage and shelving built precisely to fit things like her ladder and AC unit, which are stowed out of sight without a centimeter of wasted space.
You can go glam in a small space
The space Brown carved out of the bedroom made the living room spacious enough for a "majestic" fireplace focal point. Then she turned to the ceilings, a 1930s rounded, cove style decorated with a bit of trim. Working with a craftsman, "we flanked it on both sides with a little bit more impressive trim and it makes the whole thing look like crown molding," she said.
Conventional wisdom might say you need small furniture in a small space, but Brown bucked that with a big, comfy (though stylish) couch, a large, ornate armoire that holds the TV and serves as storage, plus a weighty cocktail table and a half-round side table that serves as a desk. A large, luxe, gilt-framed mirror on the mantle and glittering chandelier complete the scene.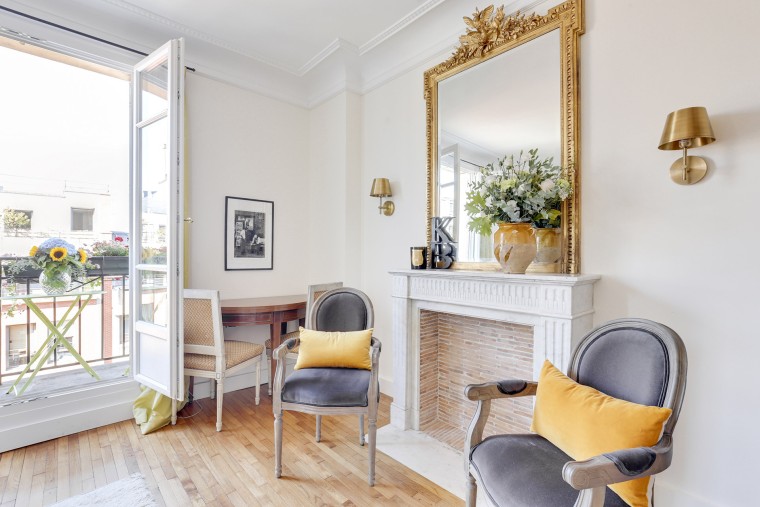 Flex the space
There's no dining room in the diminutive apartment, so Brown makes clever use of the living room. When she hosts a cocktail party for 30(!) or even Thanksgiving dinner, she sets the cocktail table on its side in the hall (or even relocates it to the elevator vestibule outside the apartment) and expands the half-round table with a leaf secreted behind the armoire and moves it under the chandelier. Et voila, a dining table for eight in less than five minutes. Some diners take chairs, others the couch, because who says you need eight dining room chairs for the occasional party?
Let there be light — but sacrifice it when you have to
Brown added a pocket door to the new wall between the bedroom and living room, and mirrored each side of the door. While it wasn't intentional, it turned out to be "dumb luck," she said, that the door reflected the floor to nearly ceiling windows that lined each room. With light everywhere, and the age-old trick of adding reflections, both spaces feel larger, brighter, and airier.
Meanwhile in the new bathroom, a trading-spaces floor plan swap with the former kitchen, she was left with the dilemma of a window in the shower. Giving up a window is a tough call, but there was still another one in the room, so she opted to cover it to allow for a more streamlined shower wall.
Consider your palette
Brown mixed patterns, colors, and textures throughout the apartment's flooring — a no-no by most rulebooks when you're trying to make a small space seem bigger. Each piece is harmonious with the others, and creates a personality and sense of discovery in each room. It succeeds thanks to a carefully selected palette throughout.
"Basically it's black, white, gray, and cream," she said. "It's a neutral palette and the idea is I can layer on whatever accessory I want." Like the chartreuse, silk-look curtains that have accompanied her to every apartment she's had in 20 years in Paris.
Of course we know there are infinite shades of white. For the white walls Brown chose a shade that hewed warm and yellow, Farrow & Ball Pointing, to combat the blue/gray tones so prevalent in the light and skies over Paris.
"The place just feels good to me," she said. "It feels warm." It's also versatile. "I wanted enough of a neutral palette that if I wanted blue and purple or red and pink accents it could go either way."
Streamline where it makes sense — and adapt when you have to
While she played with patterns and textures throughout the flooring, in the narrow galley kitchen Brown kept to a soothing gray wall of cabinetry with even most of the appliances hidden behind panels. The expanse of gray makes the decadent Lacanche stove pop even more. The kitchen, now housed where the bathroom previously was, snagged additional space from the too-long entry hall, allowing room for a dishwasher and a clothes washing machine.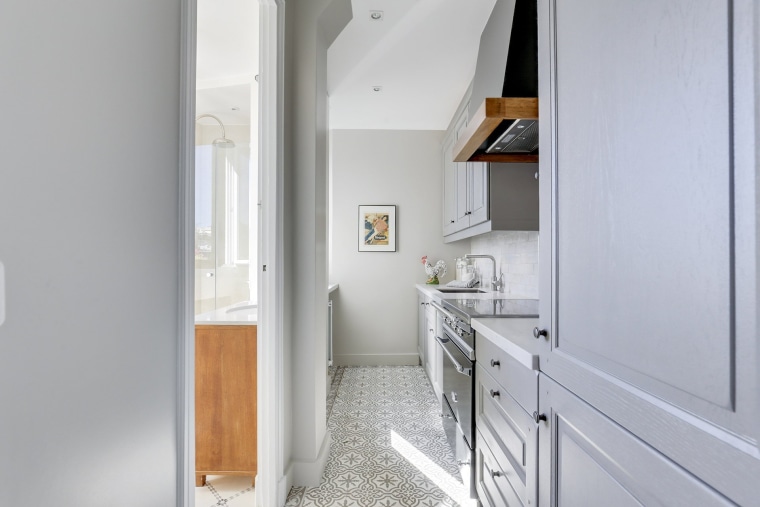 A clothes dryer found its home in the bathroom just a few steps away. It's unconventional to split them, yes, but a dryer is a luxury in a Paris apartment wherever it lives, so breaking the pair up was worth it.
Choose good bones
Of course all of this was made possible by the good bones of the apartment. Brown bought it foremost because it was what she could afford. But the apartment boasted windows on three sides, and outside space on the balcony that would allow her to have window boxes and greenery. She also loved the location, and the dreamy rooftop views.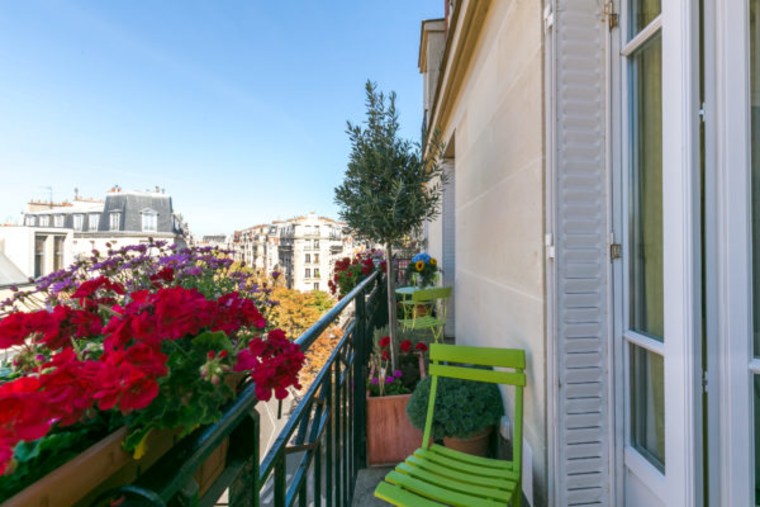 While it's a ways out from the more touristed, central zones of Paris, the apartment sits in a lovely location with a metro line nearby, a popular market around the corner, and an elevated walkway, the Promenade Plantée, just down the street.
The affordable (by Paris standards) price for the cute but less-than-functional, and dated apartment allowed Brown to really invest in upgrades. And she went out on a limb with the purchase and remodel, funding it herself after her financing fell through at the last minute. Seeing the potential of the place though, "sometimes you just have to take a leap," she said, "and have faith that it will work out."
MORE CLEANING & ORGANIZING TIPS
Want more tips like these? NBC News BETTER is obsessed with finding easier, healthier and smarter ways to live. Sign up for our newsletter and follow us on Facebook, Twitter and Instagram.