Pasta's ease and versatility make it a weeknight dinner wonder. Boil some noodles, toss in whatever you have on hand, and you can have a satisfying, stress-free supper on the table in no time. Plus, pasta is a crowd-pleaser — have you ever heard anyone say they don't like pasta?
In summer, when the market is filled with peak-season produce, pasta can really shine. It's the perfect base for showcasing ripe, fresh vegetables, including zucchini, yellow squash, baby greens and perhaps best of all, tomatoes. The options are almost limitless, but to help you enjoy a summer of seasonal, veggie-focused pastas, we looked to chefs and food pros for inspiration. With recipes from Elizabeth Minchilli, Andrew Zimmern, Kelly Senyei, Giada De Laurentiis, Kevin Curry, Sara Lynn Cauchon and Abra Berens, you'll find yourself stocking up on extra boxes of spaghetti, gemelli and penne, so you can enjoy a summer pasta any night of the week.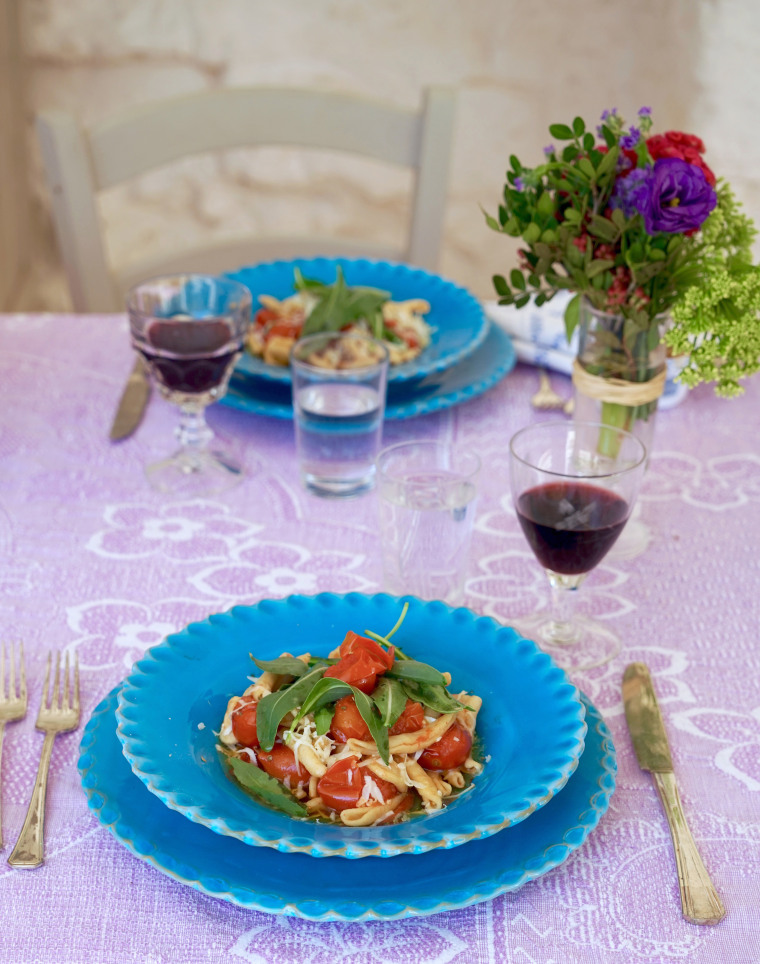 This simple pasta, from Elizabeth Minchilli's "Italian Table: Creating Festive Meals for Family and Friends" is perfect for summer, because it takes advantage of tomatoes at the height of their season, says the author and Italian food expert. "Although it requires some cooking, it's fast and you're not stuck in a hot kitchen for too long," says Minchilli. With so few ingredients, it's essential that you start with the best. Tomatoes should taste like tomatoes and be ripe and thin-skinned, but if yours are hard to bite into, cutting them in half before cooking will help. "Ricotta salata is a briny, salty, somewhat crumbly cheese," explains Minchilli. "Crumbled feta is a great alternative."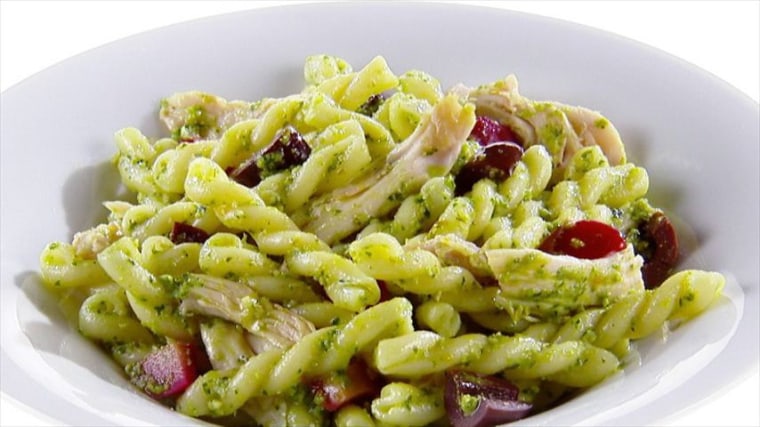 "Baby greens are all over farmers' markets during the summer months," says TV personality, cookbook author and restaurateur Giada De Laurentiis, who combines baby kale with walnuts, orange zest and juice, and Parmigiano Reggiano for an unexpected pesto to toss with spiral-shaped gemelli pasta. "Feel free to make a swap for the baby kale, depending on what is available," says De Laurentiis. "Baby swiss chard, mustard greens and even baby arugula would be great here." The pasta and pesto are tossed with rotisserie chicken to make this dish more substantial, plus two kinds of olives really bump up the flavor.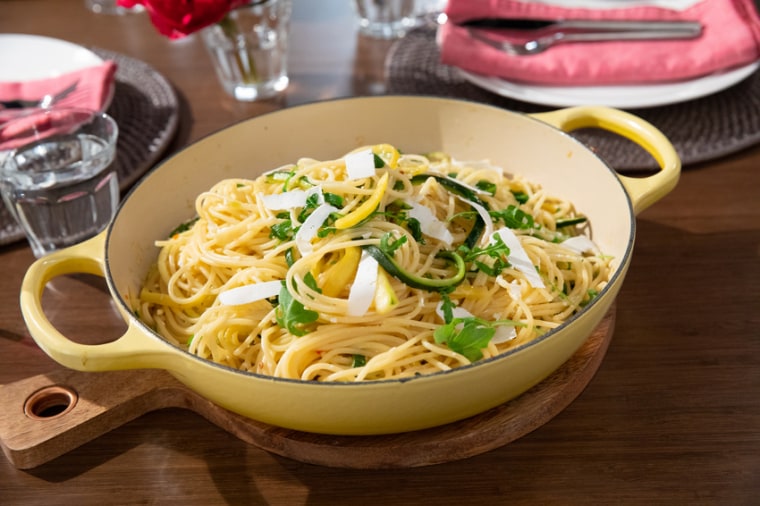 "Who doesn't have way too much squash in the summer?" asks De Laurentiis. This colorful pasta, featuring both green zucchini and yellow squash, will be your new warm weather go-to. Arugula adds extra veggies to the mix, while lemon zest and juice make for a brighter, livelier dish. Best of all, this pasta is good for parties and picnics. "The squash acts as a buffer to stop the pasta from sticking to itself, so it is just as good at room temperature as it is hot, explains De Laurentiis.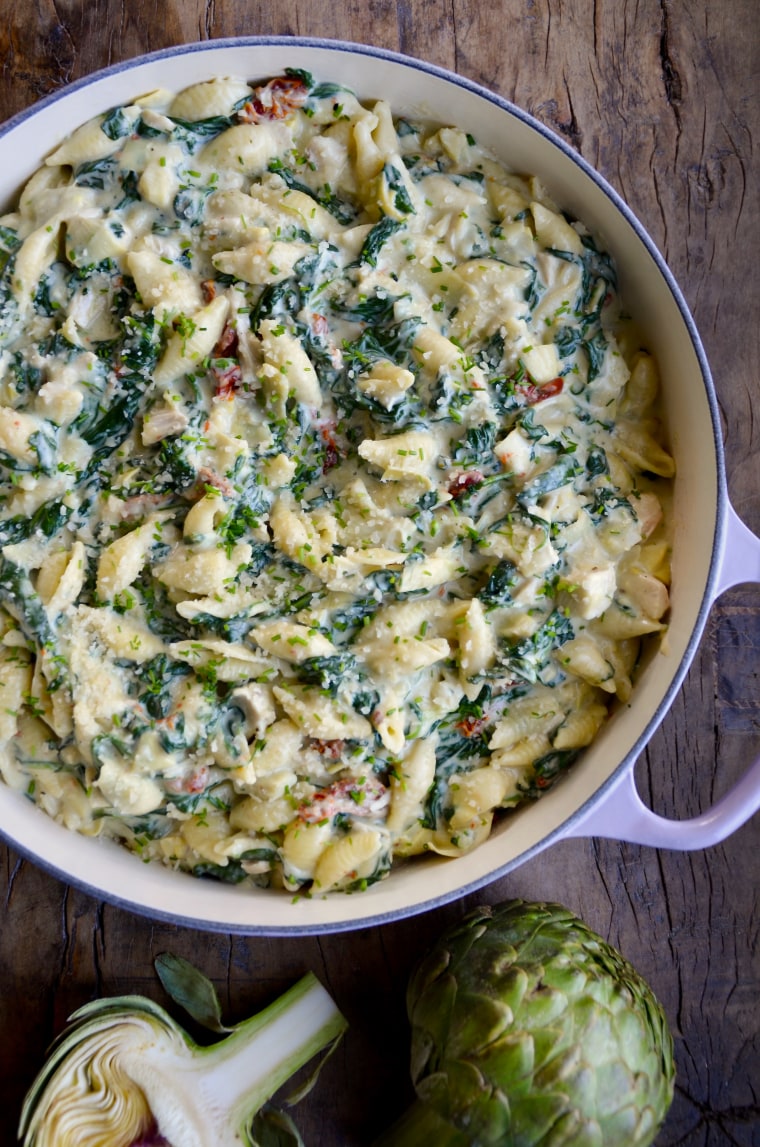 "Ditch the chips and grab your pasta of choice," says Just a Taste blogger Kelly Senyei. Her veggie-packed pasta transforms classic, irresistible spinach and artichoke dip into an "easy, cheesy meal-in-a-bowl." Plus, it's made with two full pounds of spinach, so you can indulge without the guilt. Artichoke hearts, sun-dried tomatoes, diced chicken and a garlicky cream sauce make it a complete supper. Best of all, the recipe makes 12 servings and leftovers "reheat like a breeze," says Senyei.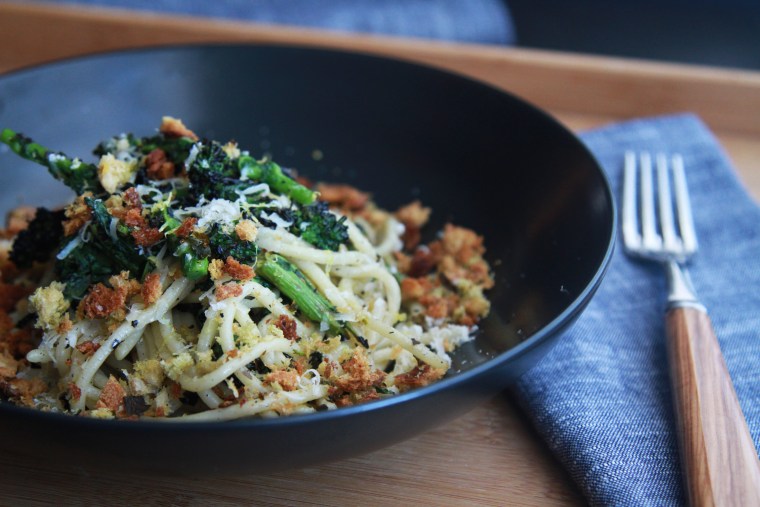 Andrew Zimmern, the four-time James Beard Award–winning TV personality, chef, executive producer and host of Travel Channel's "Bizarre Foods", loves the fresh summer flavors and versatility of this dish. Though pasta isn't typically associated with grilling, Zimmern grills broccoli rabe before tossing it with spaghetti and lemon- and garlic-infused breadcrumbs to create a supper that sits squarely in summer. "Bitter and vegetal green flavors, accentuated by the char, are perfect foils for something acidic like lemon," explains Zimmern. "The pasta, which acts as a flat canvas, marries all those BIG flavors." As a bonus, this dish is surprisingly good cold, so save the leftovers to enjoy for lunch.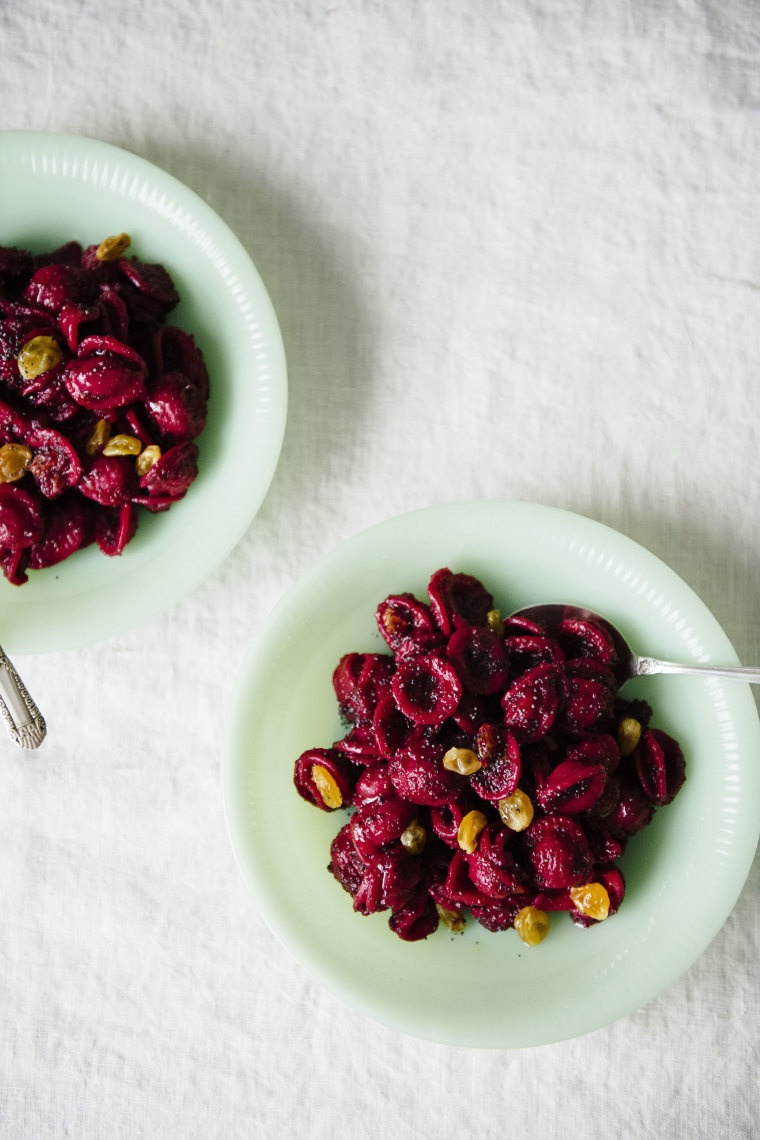 This eye-catching, purple-hued pasta, from Abra Berens' new cookbook, "Ruffage: A Practical Guide to Vegetables," gets its gorgeous color from puréed beets. "I love the texture of this dish," says Berens. "The pasta has a delicate chew coated with a slick of the beet purée, the raisins provide a juicy pop, and the poppy seeds a tiny little crunch." It's also an unexpected way to enjoy nutrient-packed beets. If you don't have time to steam-roast the beets, Berens says it's fine to use the packaged cooked beets available at supermarkets. Simply warm them with a splash of water in the microwave for easy blending.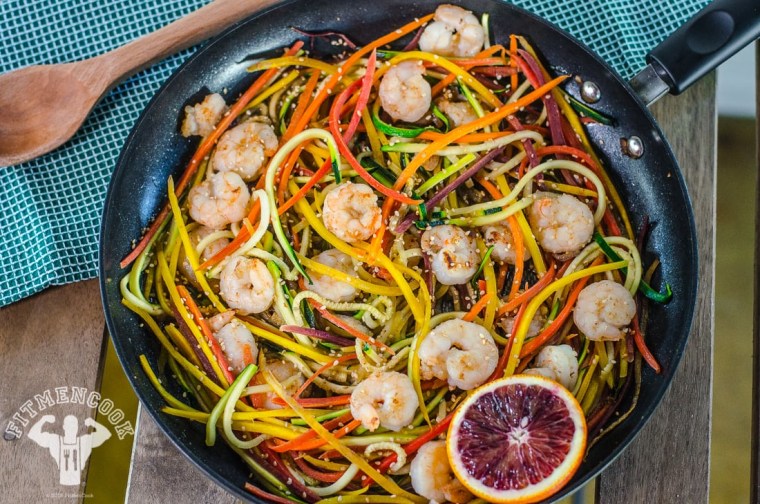 "One skillet and 10 minutes is all you need to make the most delicious shrimp and veggie pasta you've ever had," insists fitness influencer and "Fit Men Cook" author Kevin Curry. The secret is swapping traditional wheat pasta for zucchini and carrot noodles, which make for a lighter, more colorful dish that packs in both fiber and protein. Curry's trick for the ultimate veggie noodles is to toss them with a little salt and set them in a colander to draw out moisture. You'll also want to seek out colorful carrots, so your pasta looks as good as Curry's.
"One pot pasta is a total game changer when it comes to weeknight cooking," says
Sara Lynn Cauchon, the YouTube star known as The Domestic Geek and author of the cookbook, "The Domestic Geek's Meals Made Easy: A Fresh, Fuss-Free Approach to Healthy Cooking". "The idea is simple: Instead of cooking your pasta and sauce in two separate pots, they're cooked together using broth." The pasta absorbs the liquid, making for a more flavorful meal but also less dishes. "What's not to love?" asks Cauchon. Add in spinach and peas and you have a very veggie-focused dinner.