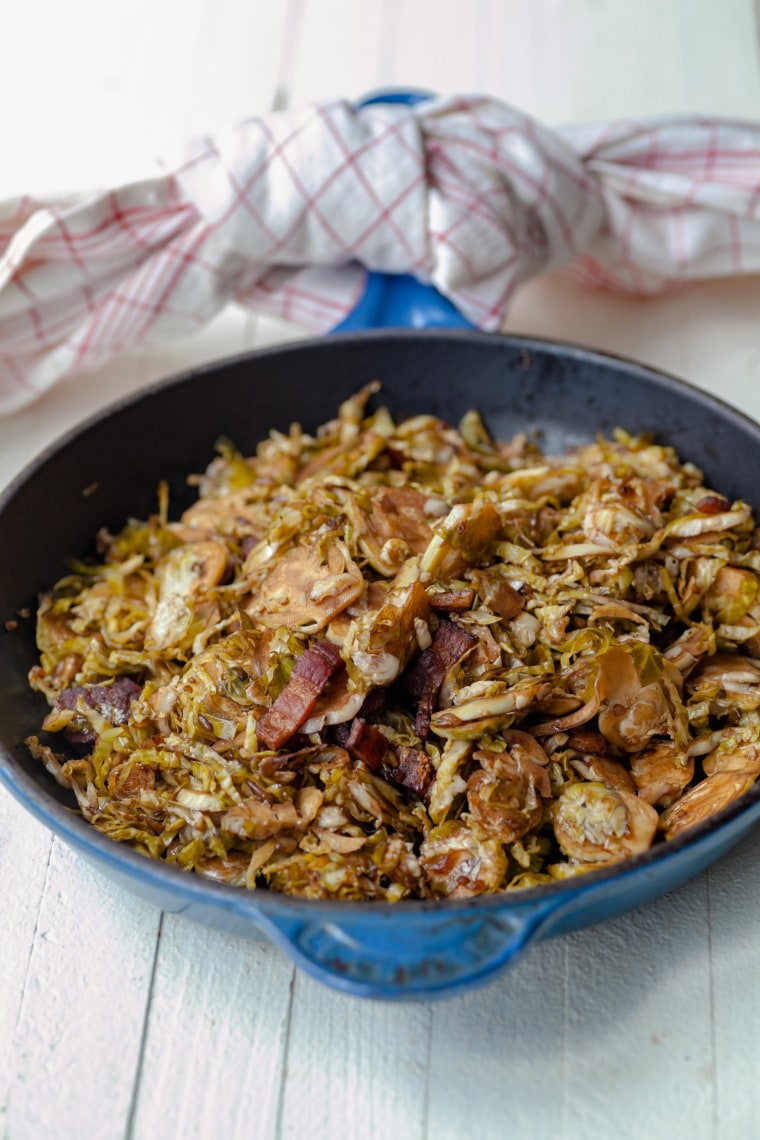 There are balsamic vinegars, and there are balsamic vinegars. And there are vinegars that pretend to be balsamic, but in fact are just little impostors.
True balsamic vinegar (known as aceto balsamico in Italian) is made only in Modena, Italy and has been aged for a minimum of 12 years, up to 25, in a strictly prescribed process. It is dark, and fairly thick, and has a notable level of sweetness playing into the tanginess. It can be pretty pricey, but if you love it, and want to splurge, this recipe is a great place to use it.
What most of us buy in the stores is commercially made balsamic, which is a combination of grape must and white wine vinegar, which is added to shorten the fermentation process. This vinegar is usually aged between three months and three years. This is also just fine here, so don't feel the need to break the bank — these Brussels sprouts are delicious.
If you have a food processor with a slicing blade, then you will be able to slice up these Brussels sprouts in no time. Alternately you can use a mandoline (with a safety handle) or a sharp knife.
The Parmesan and bacon added at the end are optional. Leave them both out if you are looking for a vegan side, and leave out the bacon but use the Parmesan for a vegetarian dish.
Serves 4
Ingredients
2 tablespoons olive oil
1 shallot, minced
1 pound Brussels sprouts, trimmed and thinly slivered
Kosher salt and freshly ground pepper to taste
¼ cup good balsamic vinegar
½ cup crisp cooked bacon lardons or crumbled cooked bacon (optional)
Shaved Parmesan to serve (optional)
Directions
Heat a large skillet over medium high heat, and add the olive oil.  Add the shallots and sauté for 3 minutes until tender. 

Add the slivered Brussels sprouts, season with salt and pepper, and sauté for 5 to 10 minutes, until the Brussels sprouts are wilted, or as soft as you would like them.  Stir in the balsamic vinegar and let it simmer and coat the Brussels sprouts.
What to Serve Balsamic Glazed Brussels Sprouts with:
More holiday tips and recipes
Want more tips like these? NBC News BETTER is obsessed with finding easier, healthier and smarter ways to live. Sign up for our newsletter and follow us on Facebook, Twitter and Instagram.