At the Culinary Institute of America (CIA) at Copia, the CIA's consumer branch, we hear first-hand what food enthusiasts are interested in, and 'plant-forward' cooking is probably the fastest growing topic we get asked about. People aren't necessarily looking to cut out all meat from their diet, but they're trying to substitute some of their meat proteins with plant-based alternatives.
The key is to not sacrifice texture or taste; this is why people love jackfruit — its stringy consistency is reminiscent of pulled pork and often served with barbecue sauce. A relative of figs and breadfruit, jackfruit grows in tropical areas of Southeast Asia, Brazil and Africa. It's an increasingly popular low-carb, low-sugar meat substitute in plant-forward cooking as it can take on the flavor of any sauce or seasoning. The Culinary Institute developed this recipe as a simple alternative to pork tacos. When you find a plant-based ingredient that captures the qualities of a specific meat ingredient like pork, you try out all your favorite pork dishes and then learn from which flavor profiles, spices and ingredients match up best. In this case, spices like cumin, chili powder and paprika are spot-on accents, as are yellow onions, garlic, chipotle pepper and, of course, lime juice.
SERVES 8
Ingredients
4 (20 oz.) cans jackfruit in water, rinsed and drained
¼ cup avocado oil
1 large yellow onion, thinly sliced 6 garlic cloves, minced
1 tsp. kosher salt
2 Tbsp. ground smoked paprika 2 Tbsp. ground cumin
2 Tbsp. chili powder
¼ cup maple syrup
4 chipotle peppers in adobo sauce
1 Tbsp. adobo sauce, plus more to taste
¼ cup soy sauce
1 cup water, plus more as needed
⅓ cup freshly squeezed lime juice
16 corn tortillas, warmed for serving
Shredded cabbage, for serving chopped cilantro, for serving toasted pumpkin seeds, for serving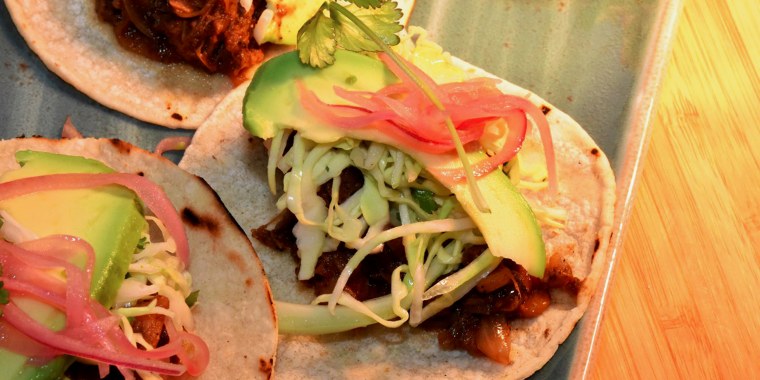 Directions
Trim the jackfruit, removing center core. Chop or pull remaining pieces into shreds. Set aside.
Heat the oil in a large skillet over medium—high heat. Add onion and sauté until onions are golden brown, about 7 minutes. Add garlic and sauté until fragrant, about 20 seconds.
Add jackfruit, salt, paprika, cumin, chili powder, syrup, chipotle peppers and their adobo sauce, soy sauce, water, and lime juice. Stir to coat and reduce to a simmer. Cover and cook until the jackfruit has absorbed the sauce and the sauce has thickened slightly, about 30 minutes, stirring occasionally. Use the back of the spoon to break the jackfruit up into smaller pieces, if desired.
Serve the jackfruit and sauce with corn tortillas, topped with cabbage, cilantro, and pumpkin seeds.
Recipe and photos courtesy of the Culinary Institute Of America At Copia.
More Super Bowl Recipes
Want more tips like these? NBC News BETTER is obsessed with finding easier, healthier and smarter ways to live. Sign up for our newsletter and follow us on Facebook, Twitter and Instagram.