If you're watching your budget this time of year (and who isn't?) you're probably taking a hard look at what you spend on food. And yet it's busy this time of year, so it's tempting to turn to takeout or delivery to streamline the dinner routine.
Forget the expense of takeout and the charge for delivery. You can serve up your own Korean favorites for less, and prepare them just the way you like. Here's how.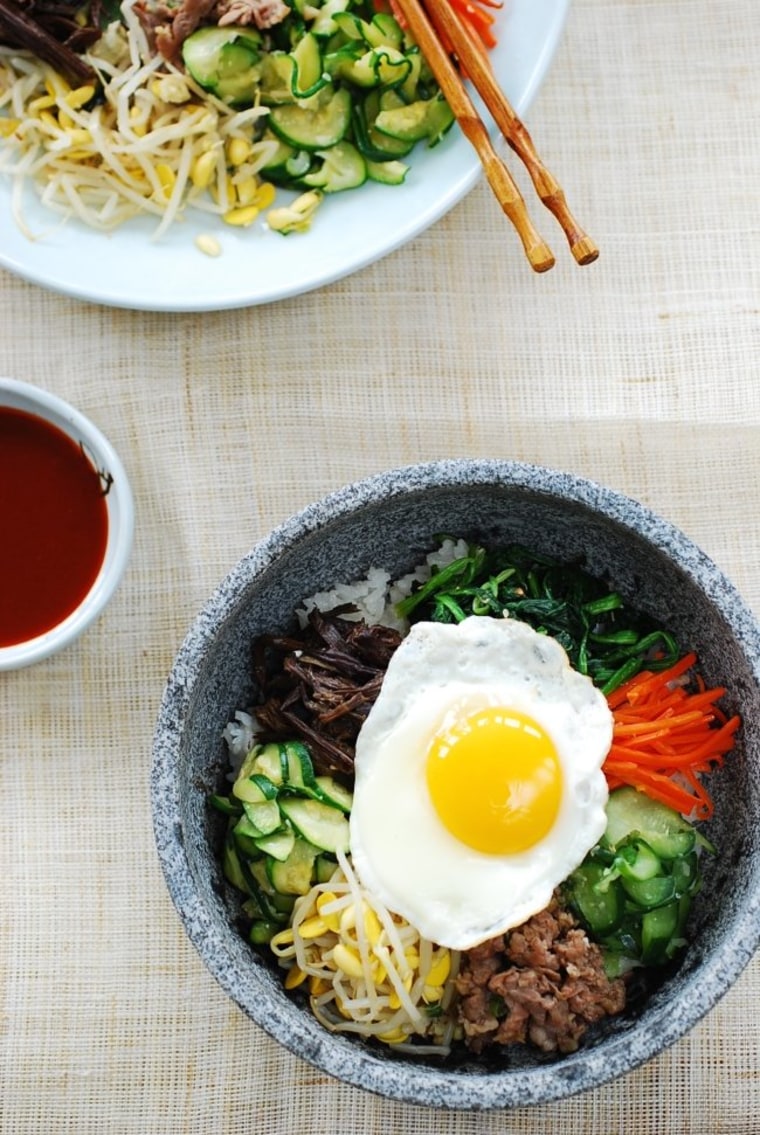 Bibimbap is simply rice topped with vegetables, meat and sauce. Don't be put off by the long list of ingredients in this recipe. Hyosun Ro, who blogs at Korean Bapsang: A Korean mom's home cooking, includes a collection of toppings you could choose, but just three of four of them would make a decent bibimbap.
"Bibimbap is much easier to make at home than you might think. You can use leftover side dishes from previous meals, or quickly cut up and blanch or sauté whatever vegetables you have in the fridge or find in your local grocery store," Ro says.
Just about any vegetables will do — mushrooms, zucchini, cucumbers, carrots, spinach, bean sprouts or broccoli slaw, for example. "You only need three or four of these vegetables and your choice of protein such as beef, pork, chicken or even seafood," she says.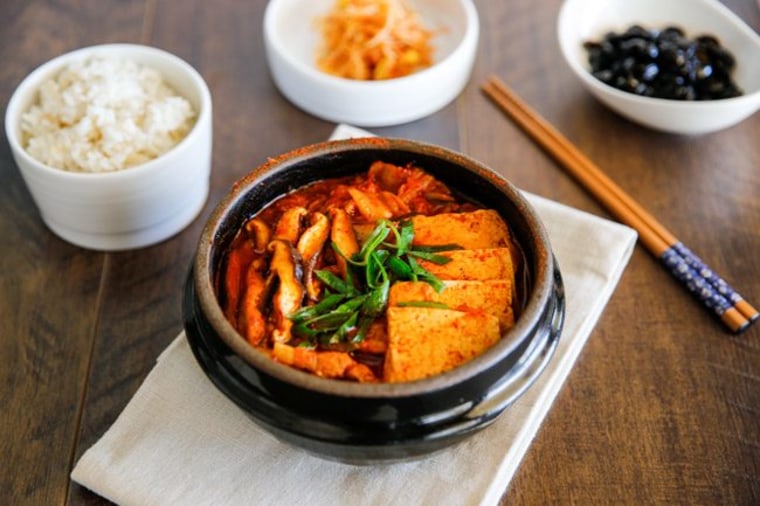 Sue Pressey, creator of My Korean Kitchen, says kimchi jjigae is a staple Korean dish. "Many Korean home cooks make it at home often because it's very easy and quick to make using readily available ingredients," she says. "Also, by making it at home, you can easily adjust the spice level of the stew."
While you can swap the meat based on what you have on hand or your dietary needs, Pressey is a fan of this kimchi jjigae made with pork belly. She says, "When the fat melts into the stew, it adds depth of flavor, making the stew extra hearty and comforting. Just perfect for wintery weather!"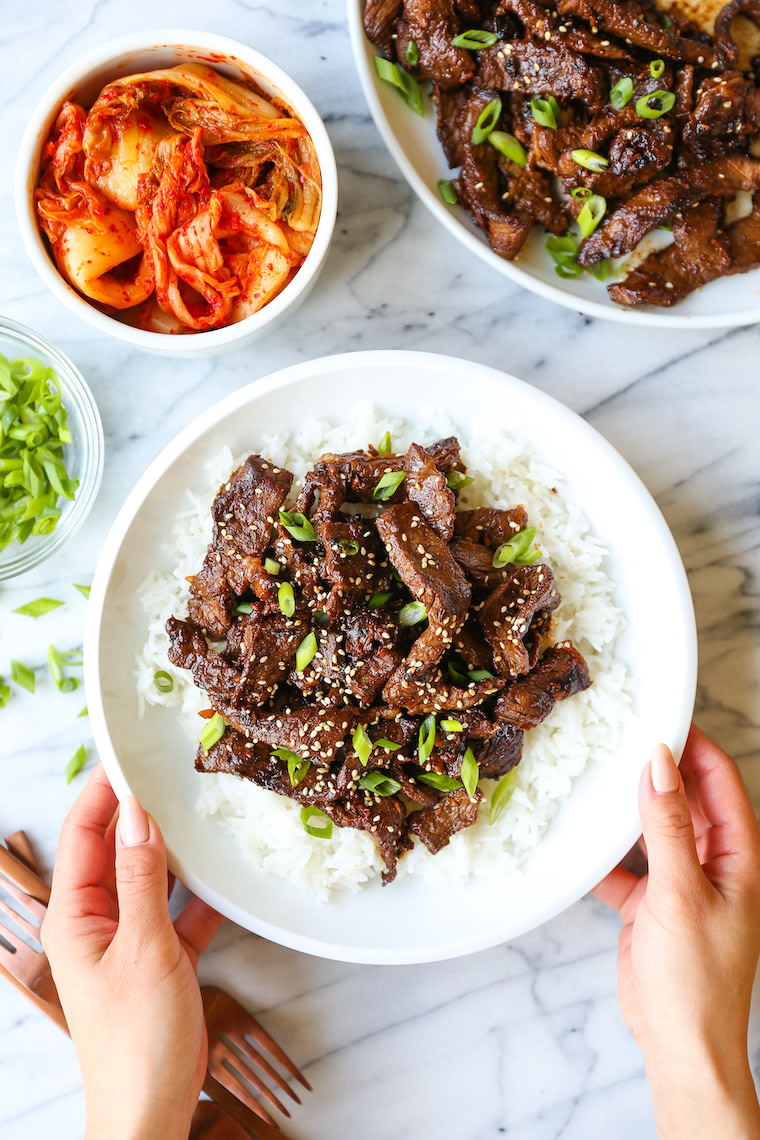 Ready to try making your own Korean barbecue? Chungah Rhee, CEO and founder of Damn Delicious: Quick and Easy Meals for the Home Cook, says it's easy and shares her take on the recipe for beef bulgogi her mom used to make.
"This is one of my favorite Korean dishes to make at home," she says. "The secret is freezing the steak for 30 minutes to help slice it real thin." Those thin slices soak up the marinade and cook quickly, so outside of the marinating this dish comes together in no time.
Serve it with rice and kimchi, or in red leaf lettuce tacos. "It's a perfect weeknight meal," Rhee says.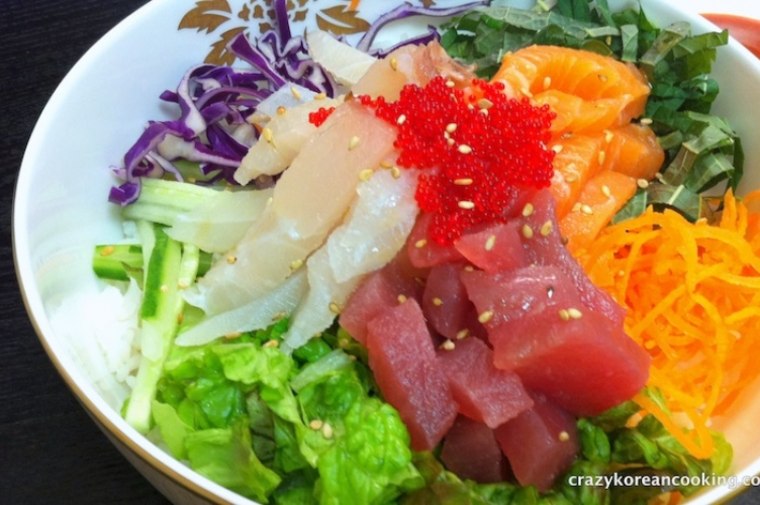 It's getting easier to find sushi-grade fish these days — you might see it in Asian markets, grocery stores that carry prepared sushi, frozen-food cases or online. If a fish isn't marked as sushi grade, ask — don't assume it's OK to eat raw.
Finding sushi-grade fish means making sashimi dishes like dup bap at home can be accessible and affordable. This recipe calls for tuna, salmon and red snapper, but you can mix and match your favorite sushi-grade seafood.
Grace Park, co-founder of Crazy Korean Cooking, recommends preparing this dish for a group, since buying different types of sushi-grade fish is expensive, though not nearly as costly as a restaurant meal.
As with the bibimbap, don't be intimidated by the long list of ingredients. You can build it with whatever you like. Just the fish, lettuce and sauce would come together nicely. "You can add vegetables and green leaf lettuce, perilla leaves, radish and chili peppers for the best flavor and authenticity," Park says. "And for picky eaters, you can also just use whatever fish you like."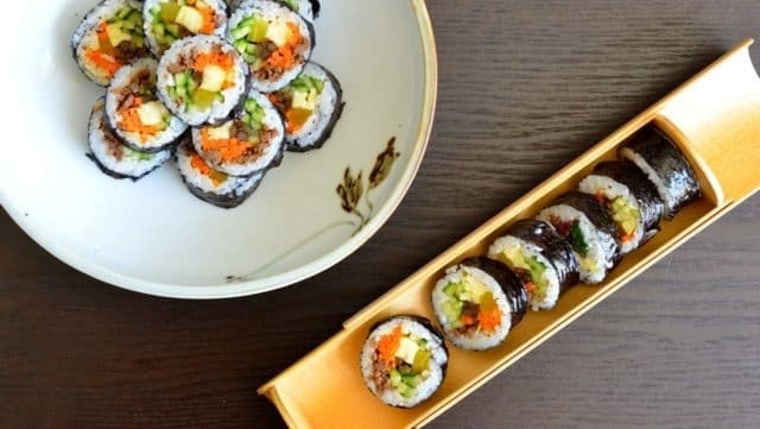 At a glance, you might mistake these Korean seaweed rice rolls for sushi. While they look similar, kimbap typically includes ground beef or prepared meat like Spam instead of raw fish. But like sushi, the rolls come in many different flavors depending on how you fill them.
Korean food blogger JinJoo Lee of Kimchimari: Authentic Korean Recipes Even You Can Cook, shares three different versions of kimbap — the classic beef and vegetables, a variation with burdock roots and cucumbers, and a quick version that uses ham or Spam.
"Even if it's your very first time making it, you are sure to succeed without too much difficulty and be able to make your kimbap just the way you want it," Lee says.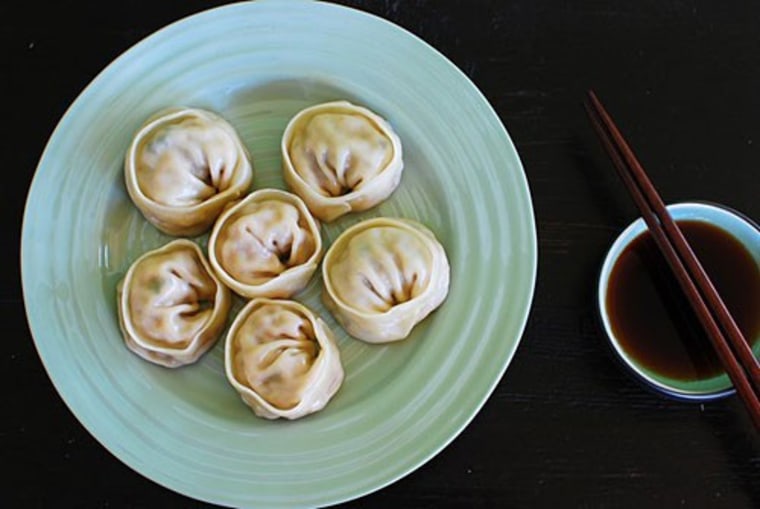 Bee Yinn Low, the food blogger behind Rasa Malaysia, says that dumplings are traditionally served as part of the Lunar New Year celebration. These are so delicious, though, you'll want to enjoy them all year round. And while wrapping the dumplings can take a bit of time, you can make 20 to 30 dumplings with her mandu recipe and freeze what you don't eat, so you'll have a quick snack or meal ready the next time you're craving them.
The dumplings get a unique Korean flavor and texture from the kimchi in the filling. "The recipe is so easy and versatile," Low says. "You can customize the ingredients in the filling and choose the preferred protein — pork, beef, chicken, turkey or vegetarian. It's also very affordable because you can make dozens of the dumplings with the recipe."
MORE CHEAP EATS
Want more tips like these? NBC News BETTER is obsessed with finding easier, healthier and smarter ways to live. Sign up for our newsletter and follow us on Facebook, Twitter and Instagram.