Throwing one last summer soiree this weekend? Labor Day is the unofficial send off to summer, so it's only fitting to go out with a bang by kicking your cocktail game up a notch.
You'll be happy to know that these fun presentation tricks take minimal time (some are even faster than making a mixed drink) and most of them can be prepped the night before, which means no scrambling the day of your barbecue.
Try some of these festive ideas to elevate your bar cart this weekend:
Frozen watermelon margarita pops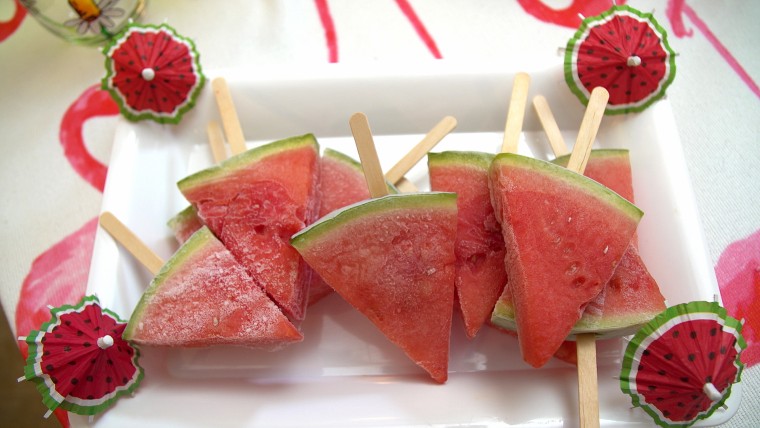 What you'll need: 1/4 watermelon, tequila, triple sec, lime juice, popsicle sticks, sheet pan
To prepare: In a large bowl, prepare the margarita mix by combining ¾ cup tequila, ½ cup triple sec and ¼ cup lime juice. Set aside. Slice watermelon into 1/2-inch triangles. Place the triangles into the bowl of margarita mix, let soak for 15 minutes. Make a slit in each watermelon rind with a small knife, and gently insert popsicle stick. Lay the wedges flat on a parchment paper-lined baking sheet. Freeze for 2 hours.
A quarter of a watermelon makes approximately 6 pops.
Poptails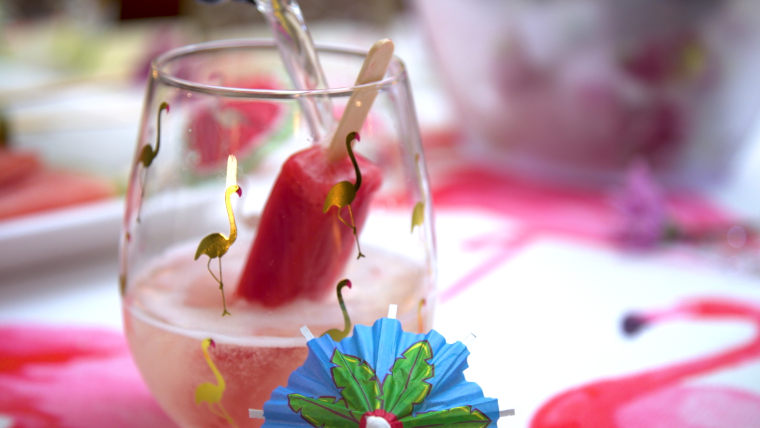 What you'll need: Prosecco, popsicles of choice
To prepare: Unwrap an ice pop and set it in a stemless wine glass. Pour prosecco over the top. As you sip, the popsicle will melt into your prosecco turning it a festive color as it adds a punch of flavor. If you have kids in attendance (or adults not imbibing) offer club soda as a bubbly alternative.
Floral ice bucket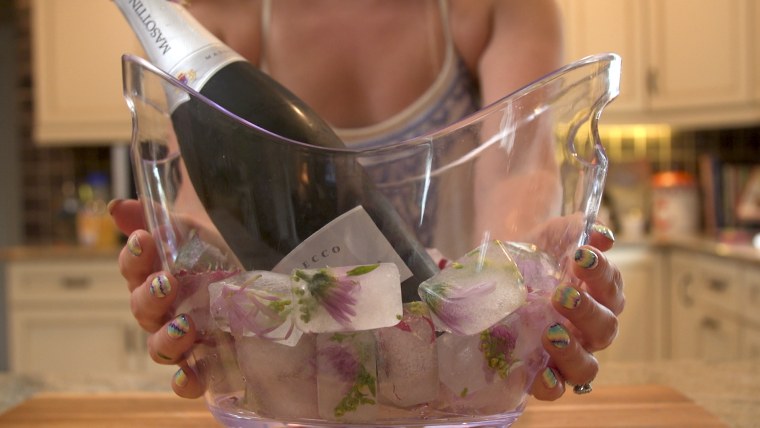 What you'll need: Ice cube tray, fresh flowers, water
To prepare: Break small buds and petals off of flowers and place them in each slot of the ice tray. Pour water over flowers. Freeze for at least 2 hours (or overnight). Remove ice cubes and place in ice bucket. Nestle your wine and liquor into the cubes to keep it chilled!
Prosecco cubes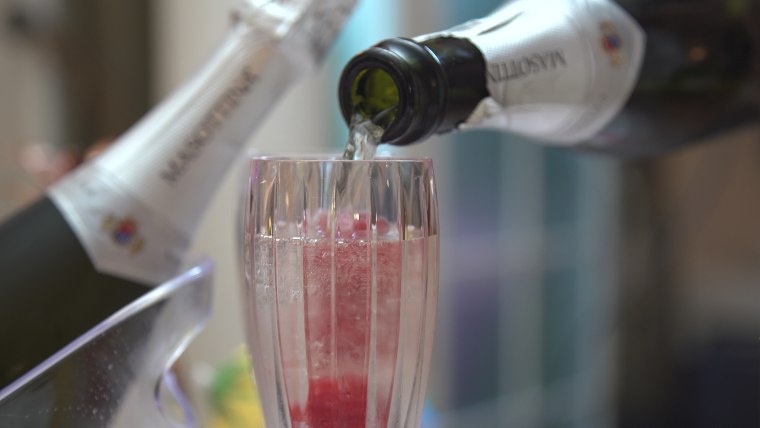 What you'll need: Ice cube tray, raspberries, prosecco
To prepare: Place 2-3 raspberries in each ice cube slot. Pour prosecco over raspberries, filling the ice tray. Freeze for 2 hours (cubes will be a bit slushy). To serve, add two ice cubes to a champagne glass and top with prosecco. As the cubes melt, they won't water down your bubbly, and once your drink is empty, you can eat the raspberries. Cheers!
Fruit & herb ice cozy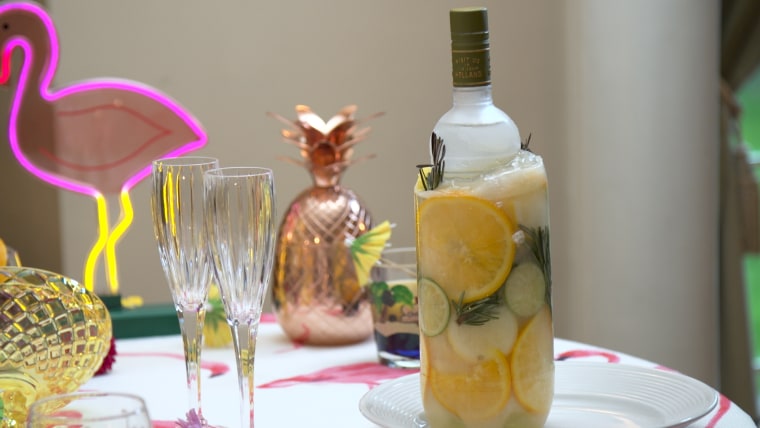 What you'll need: Clear 2-liter soda bottle, vodka (50-ML) or liquor of choice, knife, citrus fruit, rosemary sprigs
To prepare: Using a knife, cut the top off the soda bottle, approximately 3 inches from the top. Discard top. Slice citrus fruit into rounds. Place vodka bottle inside the soda bottle. Stuff the empty space around vodka with citrus rounds and rosemary sprigs. Fill to the top with water. Freeze overnight. Once frozen, lay bottle on its side. Using a knife, carefully slice down the center until the soda bottle "pops" open. Slide the ice cozy out of the bottle. Set the fruit and herb cozy on a decorative platter or bowl to catch the water as it slowly melts, keeping your liquor chilled!
More from BETTER
Want more tips like these? NBC News BETTER is obsessed with finding easier, healthier and smarter ways to live. Sign up for our newsletter and follow us on Facebook, Twitter and Instagram.