Since I was a child, having the Thanksgiving table look warm and lush and welcoming has been as much a part of the holiday as the foods we make and serve. There is an old-school cornucopia involved (which I think may need to be retired one of these days), and it's usually a way for the kids to get engaged (and then my aesthetically talented and control-freaky mother sneaks in at the end and makes it a bit more cohesive).
But a table anchored with a seasonal centerpiece just feels all out special and festive. It can be on the dining table itself, or maybe on the buffet (which is how we do it at our gathering). Here's how you can make this happen in your own house.
1. Head outside
If you're lucky enough to live somewhere with access to the outdoors you can head outside (or send the kids outside) and find the prettiest, brightest leaves, stones and pinecones, and some cool twigs, or maybe there are still some branches and flowers in bloom. Hunt and gather and use these items to decorate the table or the buffet. Or if this is not an option and you want to plan ahead, you can order some burlap leaves, and kind of fake it.
Or plan ahead and buy some branches or flowers. I am loving these two-toned magnolia leaves, tucked amongst the items, cremons (fat chrysanthemums) and some cool wheat stalks.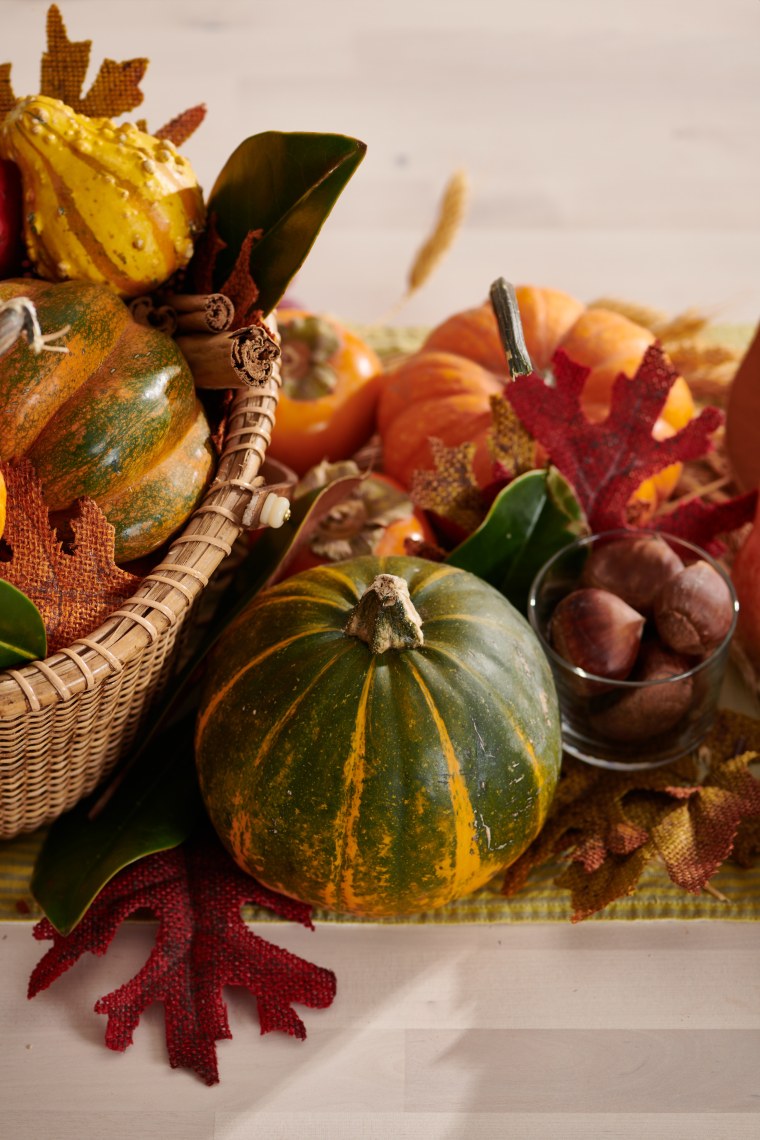 2. Pile on the produce
Whether you use a simple collection of several different kinds of apples, or mix in all kinds of fruits and vegetables, a generous array of produce makes the table look striking and bountiful. Choose from pumpkins and gourds and squashes (baby ones are super cute) to pomegranates, pears, quince, persimmons, oranges and grapes (at our house the clusters of grapes tend to get picked at before and during the meal, making my mom a little nuts — "use the grape scissors, people!" Grape scissors are actually a thing.).
You can also include dried fruit, like apricots or dates or figs. Multicolored dried corn cobs are another option. If you want to be traditional, maybe use a cornucopia to pull everything together, or some other cute baskets. Even the littlest kids can help with this!
Speaking of nuts, steer clear of them unless you are 100 percent sure that no one in the house has a nut allergy. Err on the side of caution. Chestnuts feel very seasonal, and all nuts are nice strewn about, or piled into clear glasses or vases. A few cinnamon sticks are also fun.
3. Go for seasonal color
So many ways to go — you can go for a riot of autumnal colors, greens and oranges and yellows and browns, or head in a less traditional direction with a more streamlined color theme (see the video above for more ideas). Think about oranges and creams, greens and browns, or reds and yellows.
4. Add candles
Nothing beats real candlelight for creating a warm, celebratory mood. Be smart about how you arrange them (no one wants to see a cornucopia catch fire), and make sure they are enclosed in glass. You can go for clear votives, or pick colors to coordinate with the other hues in your centerpiece.
More Thanksgiving tips and recipes
Want more tips like these? NBC News BETTER is obsessed with finding easier, healthier and smarter ways to live. Sign up for our newsletter and follow us on Facebook, Twitter and Instagram.