Maybe it's the warm weather or the relaxed schedule, but summer tends to invite more parties and gatherings. If you love having people over, but don't relish all the work required to cook — and clean up — a big feast, potlucks are your friend. This casual, everyone-pitches-in affair makes life easier on hosts without sacrificing the meal or party experience. Plus, you get the advantage of different culinary tastes and talents.
But what makes for a great potluck dish? Obviously, you want to impress the crowd, but you also need to make something that can be easily transported and sit happily on a buffet for a while. It helps if a recipe requires minimal last-minute fussing, as potlucks mean there will be more than a few cooks in the kitchen. For inspiration, we asked some of our favorite top chefs and food experts, including Giada Di Laurentiis, Andrew Zimmern, Sarah Copeland, Stacy Adimando, Teri Turner, Kevin Curry and Kelly Senyei, to share their best potluck dishes. With recipes for potluck-friendly mains, sides and desserts, you'll have everything you need for easy summer entertaining, whether you're the host or the guest.
(Get hundreds of barbecue, potluck and every day recipes in our Summer Recipe Guide.)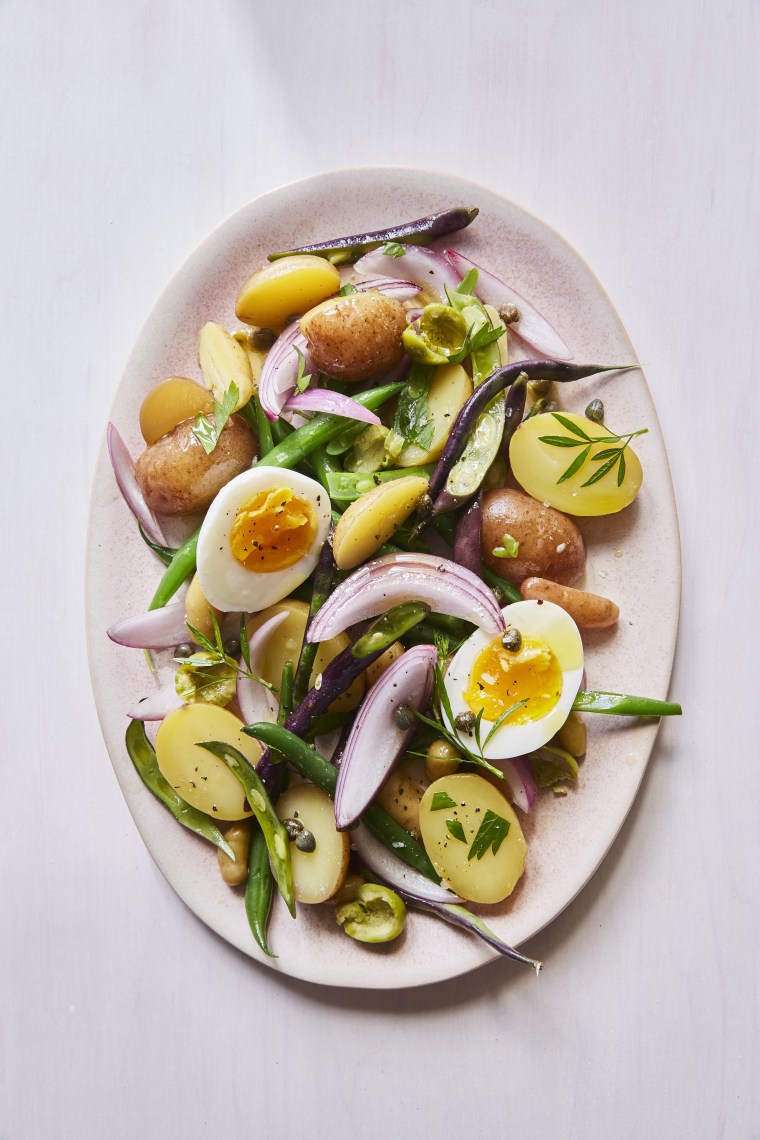 "I love a summer potluck dish where the components can be made completely ahead, and assembled right before the potluck begins," says Sarah Copeland, author of "Every Day is Saturday: Recipes + Strategies for Easy Cooking, Every Day of the Week". "That way the dish stays fresh and beautiful but is still easy for you to pull off." With crispy beans, sharp red onions, tender potatoes, soft-boiled eggs, capers and olives, this dish is satisfying and refreshing, says Copeland. For a potluck, she recommends making the dressing, cooking the potatoes and blanching the beans up to two days ahead. Store everything covered in the fridge and bring to room temperature before finishing the rest of the dish, which you can do up to an hour before serving.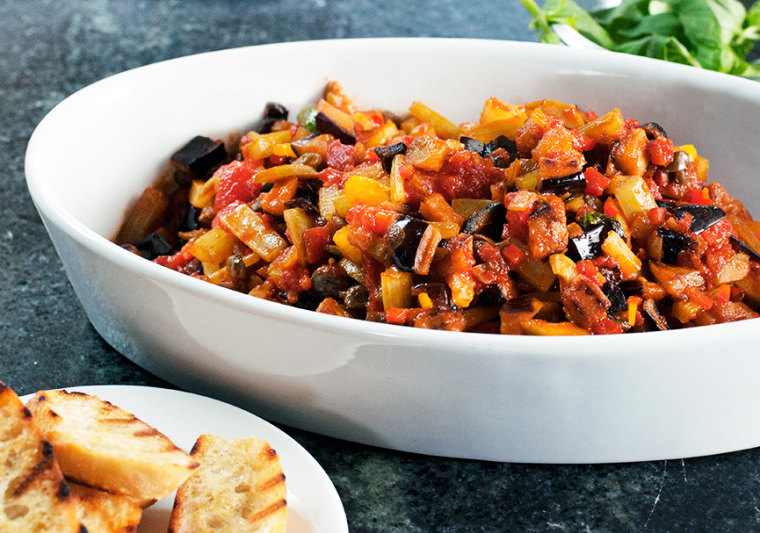 Andrew Zimmern, the four-time James Beard Award–winning TV personality, chef, executive producer and host of Travel Channel's Bizarre Foods, describes this veggie-focused dish as "the perfect summertime expression of agro-dolce, the Italian concept of sweet and sour and how those flavors play out on a plate." He adds that caponata is easy to make in large batches and transports well, two things that make it potluck friendly. If possible, make the caponata a day or two ahead and keep it in the fridge so the flavors can fully combine. Come party time, serve the caponata on its own as a salad, pair it with grilled chicken or bread or toss it with hot or cold pasta.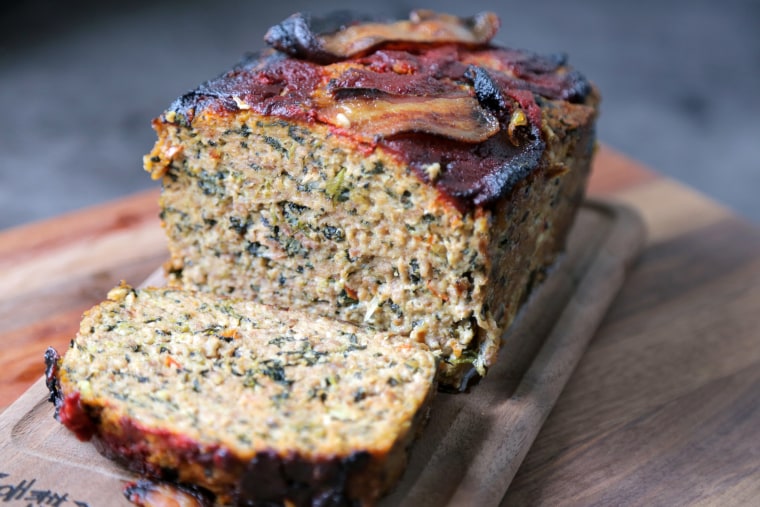 Meatloaf might seem like a winter dish, but when sliced and enjoyed cold or at room temperature, it's a surprisingly good fit for summer potlucks. You can serve meatloaf as slices or with crackers alongside, but Zimmern loves it on toasted bread with onions and Heinz Chili Sauce. "The beauty of this recipe," explains Zimmern, "is that the amount of vegetables mixed in gives the cold meatloaf a soft, lovely texture." Plus, it can be made up to three days ahead and kept in the fridge, so it's great for entertaining.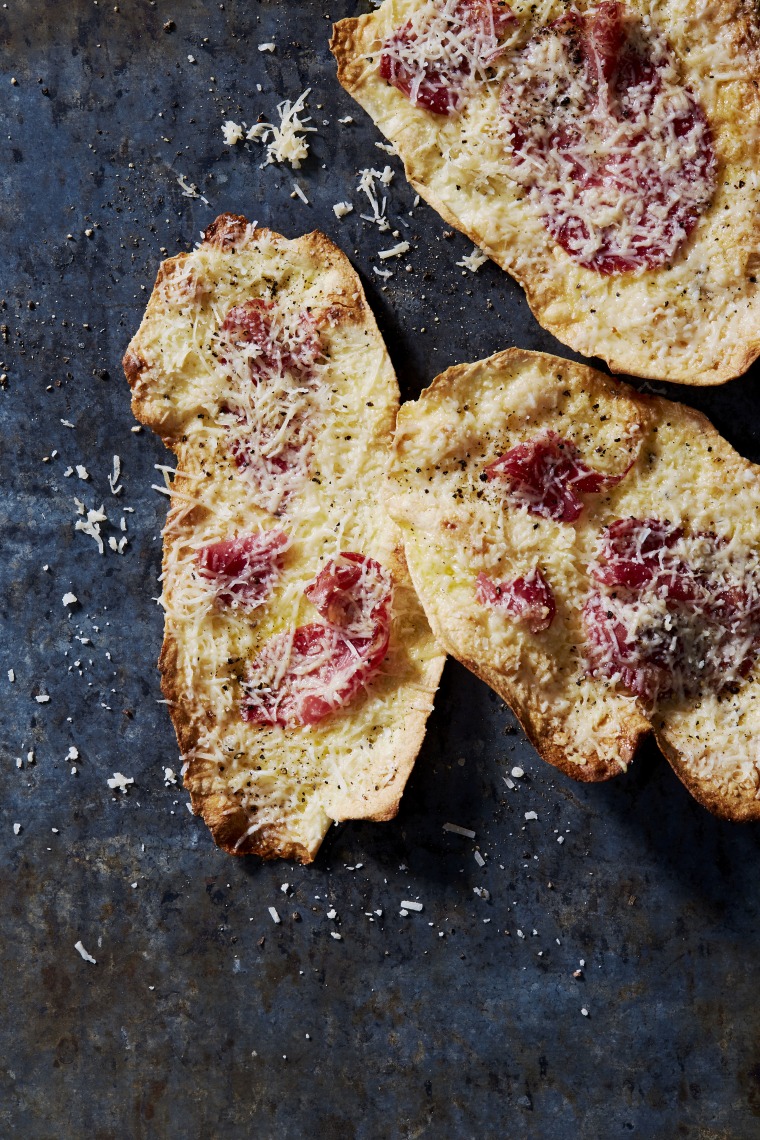 This paper-thin flatbread, known as carta di musica, comes from Sardinia, off the coast of Southern Italy, explains Stacy Adimando, author of "Piatti: Plates and Platters for Sharing, Inspired by Italy" and the executive editor of Saveur magazine. While delicious just drizzled with olive oil, carta di musica also "make an amazing base onto which you can pile on salty cheeses and cured meats," says Adimando. "It's a unique and unexpected thing to bring as a guest and barely costs anything to make party-sized batches." Roll and bake the flatbreads a few days ahead and keep in an airtight container, then when it's time to serve them, sprinkle on your choice of cheese, sliced vegetables and cured meats and broil to melt the cheese.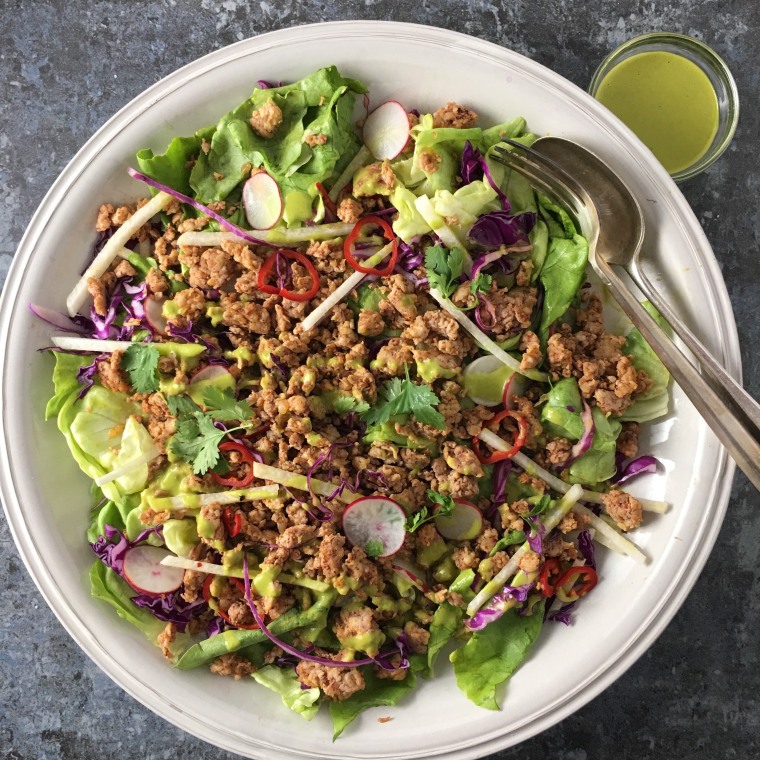 This salad is "so simple to make ahead of time and assemble at a party, plus the flavor combination is a total crowd-pleaser," says Teri Turner, author of "No Crumbs Left: Recipes for Everyday Food Made Marvelous". "The crunch from the fresh veggies, sweet from the dressing, and sour from the citrus make it one of those things you'll really love eating." Turner recommends cooking the meat and prepping the veggies and dressing the night before and storing everything in containers in the fridge. When you get to the potluck, all you have to do is combine, toss and enjoy!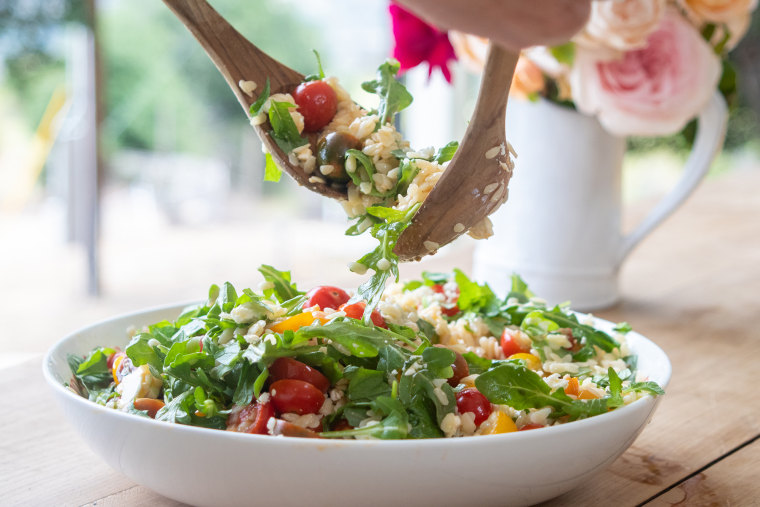 "This fresh and lively play on pasta salad" from TV personality, cookbook author and restaurateur Giada De Laurentiis comes together in no time and can be enjoyed as a meatless main or side dish. "And given the fact that it is best served at room temperature, it is perfect to bring to a potluck," explains De Laurentiis. "It has time to come to temperature during the transporting." With orzo, cherry tomatoes, mint and arugula, there's a lot to love about this colorful medley, especially the creamy feta that De Laurentiis says makes it extra satisfying and delicious.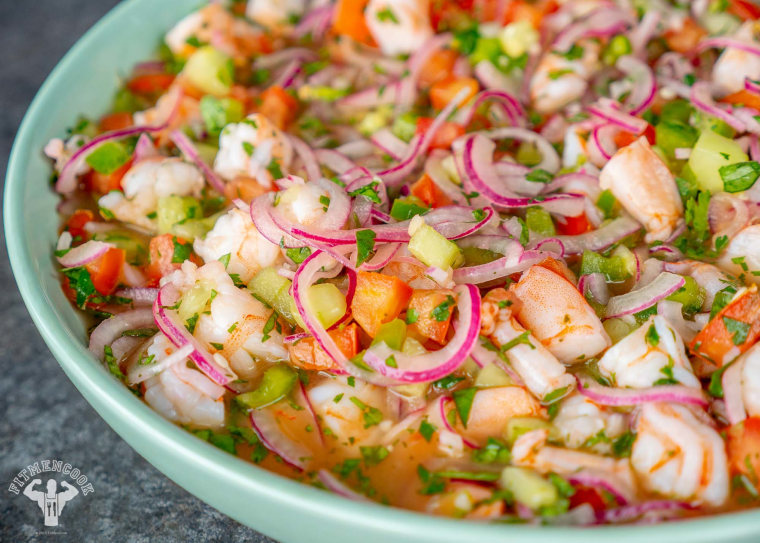 "If you've never had ceviche, add it to your list of foods to try, because it is incredibly delicious and flavorful and actually pretty healthy," says fitness influencer and "Fit Men Cook" author Kevin Curry. His streamlined, no-fuss recipe is easy to put together and made with cooked shrimp to maximize food safety. Once you make the broth and boil the shrimp, simply cover the bowl and refrigerate for at least two hours, so the flavors can meld together and shine on the party buffet.
Curry's unique take on fruit salad, featuring bell pepper, cucumber and jalapeno, makes for an unexpected sweet yet savory potluck dish. "We chose fresh pineapple, mango, watermelon, blueberries and blackberries for a colorful mix, but you can add mandarin oranges, strawberries, raspberries or apples for a twist," says Curry. "The jalapeno adds a kick of heat, while the mint washes over with a cool and refreshing flavor." The citrus in the syrup keeps the fruit from browning, so the salad stays beautiful all party long, and a little honey pulls all the flavors together, explains Curry. For dessert, serve this salad with something creamy like vanilla pudding or fresh whipped cream, recommends Curry. It also works as a salsa paired with roasted chicken or with yogurt for a quick and easy breakfast.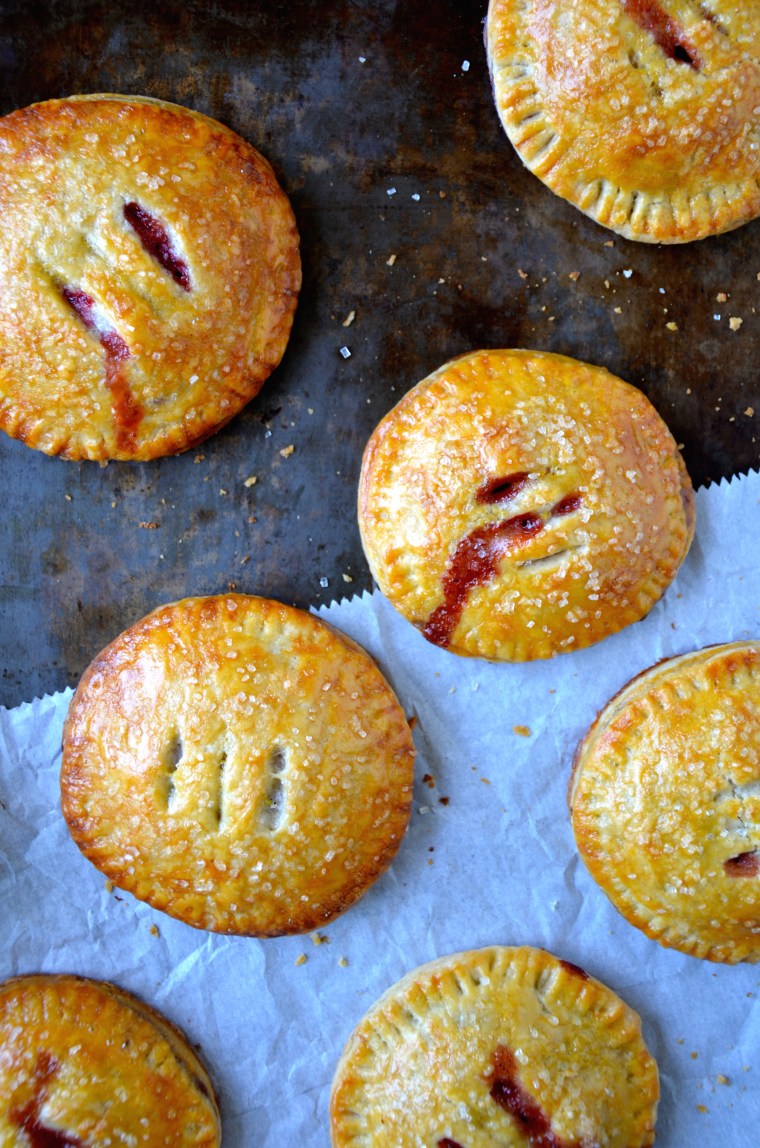 "Potluck desserts can be so much more than cookies or brownies!" insists Just a Taste blogger Kelly Senyei. These adorable fruit and chocolate-filled hand pies, made with an easy homemade sour cream pie dough, can be baked a day ahead and taste just as great at room temperature as they do warm. "Best of all, they can be stacked and packed for the ultimate portable summer sweet, made with whatever berry looks best at the market," says Senyei.
MORE RECIPE IDEAS
Want more tips like these? NBC News BETTER is obsessed with finding easier, healthier and smarter ways to live. Sign up for our newsletter and follow us on Facebook, Twitter and Instagram.