There is just nothing like a chopped salad, a salad with a whole lot of ingredients, cut small, so you can get a terrific assort of components all on one forkful. This one features chicken, so it's a real main dish salad. Super satisfying.
I like to use baby cucumbers, but you can use regular or English cucumbers and slice them in half lengthwise and then slice them into half moons.
And if you want to add that one more thing, a handful of crispy cooked crumbled bacon makes it even better. Just saying. And have you ever baked your bacon? Game changer!
Serves 4
Ingredients
1 large heart of romaine, thinly sliced crosswise
2 cups baby spinach
1 cup grape or cherry tomatoes, halved
1 cup halved and sliced cucumbers, preferably baby or Persian
1 red bell pepper, diced
½ red onion, thinly sliced and roughly chopped
½ cup halved Greek black olives, such as kalamata
2 cups diced cooked chicken breast
1 cup blue cheese dressing, homemade or store-bought (add a few tablespoons of milk or cream to this blue cheese dip for a quick and easy homemade dressing!)
Crumbled cooked bacon (optional)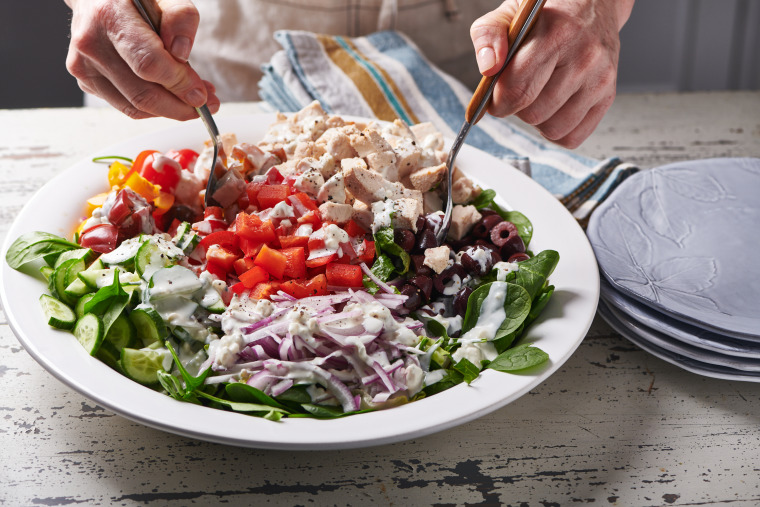 Directions
Pile the romaine and spinach in a large shallow serving bowl. Add the tomatoes, cucumbers, peppers, onions, olives, chicken, and toss. Dollop on the blue cheese dressing and toss again. Top with the bacon if desired.
More Salad Ideas
Want more tips like these? NBC News BETTER is obsessed with finding easier, healthier and smarter ways to live. Sign up for our newsletter and follow us on Facebook, Twitter and Instagram.