We've all been there: You've spent the day juggling personal phone calls in between back-to-back meetings, making no progress on your to-do list and feeling your stress levels steadily rise.
Suddenly your plans to head home (after that boot camp you skipped) and cook a healthy meal have been derailed by an overwhelming craving for fried rice from the local Chinese restaurant. But what if we told you that the two don't have to be mutually exclusive? You can cook your family a nutritious meal (in just 35 minutes) while filling those comfort food cravings — and these recipes will help you do it.
"I absolutely adore this American take on the traditional Chinese dish," writes ChihYu Smith, in her new cookbook "Asian Paleo," which helps people recreate the flavors of their favorite Asian dishes without the excess sugar and sodium. "The chicken is juicy, tender, and coated with my homemade Sesame Chicken Sauce that's sweetened with dates." The lightened-up sauce can also be used on beef, pork or shrimp — and is perfect drizzled over Smith's cauliflower fried rice that takes just 10 minutes to whip up.
Keep this combo on rotation for those nights when nothing can soothe the soul from a stressful week like digging into a plate of Chinese takeout.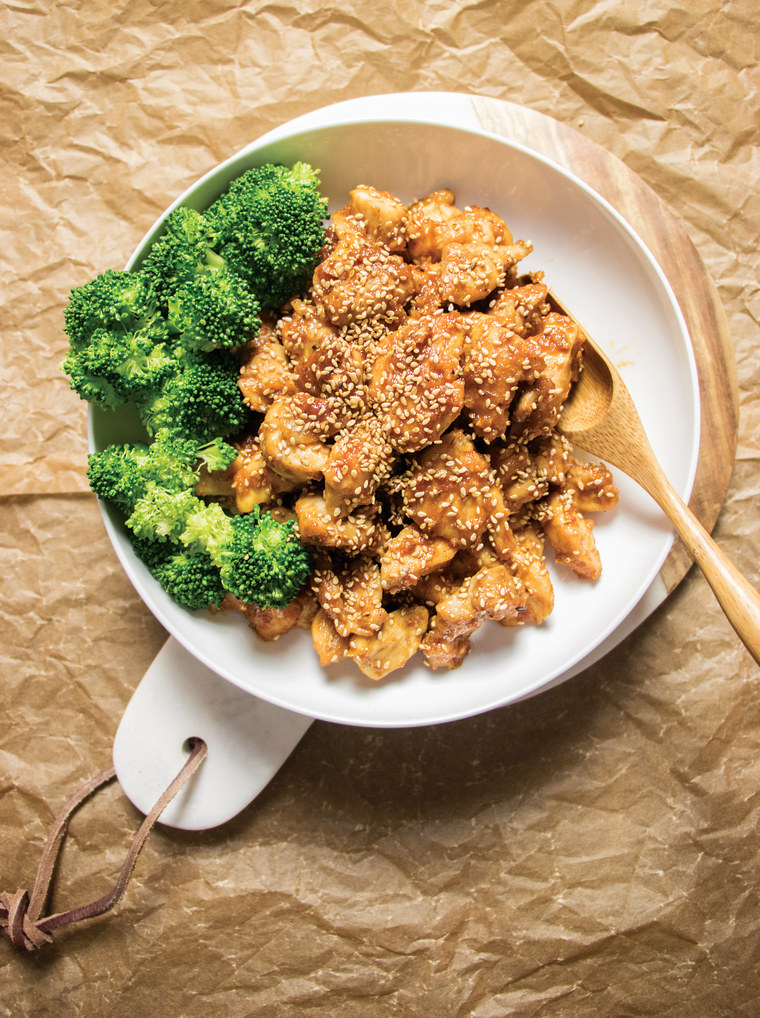 Chinese Sesame Chicken
Serves 4
Cook time: 35 minutes
Chicken:
1¼ pounds skinless, boneless chicken thighs and/or breasts
Salt and freshly ground black pepper
¼ teaspoon ground ginger
½ teaspoon arrowroot or tapioca starch
1 tablespoon olive oil
Avocado oil
Stir-Fry:
2 or 3 thin slices fresh ginger
1 large garlic clove, thinly sliced
3 to 4 tablespoons I Heart Umami Sesame Chicken Sauce (recipe below)
White sesame seeds
Chopped scallions
Broccoli florets or a simple mixed green salad of your choice
To serve:
Prepare the chicken: Chop the chicken into bite-sized pieces, place in a medium bowl, and add the remaining chicken ingredients, except the oil. Mix well and set aside.
Heat a large stainless-steel skillet over low heat until well heated, 4 to 5 minutes, then add 2 tablespoons avocado oil and panfry the chicken in several batches (do not overcrowd the skillet). Don't touch or move the chicken pieces until you see the bottom layer is golden brown, about 3 minutes. Flip the chicken and cook until the chicken is 90 to 95 percent cooked through, about 2 minutes. Remove the chicken and its juices from the skillet and set aside.
Start the stir-fry: Add a bit more avocado oil to the skillet used for the chicken and sauté the ginger and garlic, along with a sprinkle of salt, until fragrant. Add 3 to 4 heaping tablespoons of the sesame chicken sauce, stir-fry the aromatics with the sauce for 8 to 10 seconds, then add the chicken back to the skillet. Coat the chicken with the sauce and stir-fry for a few more minutes, until completely cooked through.
Serve hot and immediately, garnished with sesame seeds and chopped scallions, and accompanied by steamed broccoli florets or any simple mixed green salad.
I Heart Umami Sesame Chicken Sauce
Makes about ⅓ cup
6 Medjool dates, pitted
1 small garlic clove
1 teaspoon grated fresh ginger
3 tablespoons coconut aminos
2 teaspoons rice vinegar
1 tablespoon tomato paste
1 teaspoon hot chili sauce (optional)
1 teaspoon toasted sesame oil
1 tablespoon water
Place the dates, garlic, and ginger in a small food processor and pulse a few times until finely chopped. Add the rest of the sauce ingredients. Blend a few more times until the sauce is smooth and no fruit chunks remain. Store in an airtight glass container in the refrigerator for up to 2 weeks.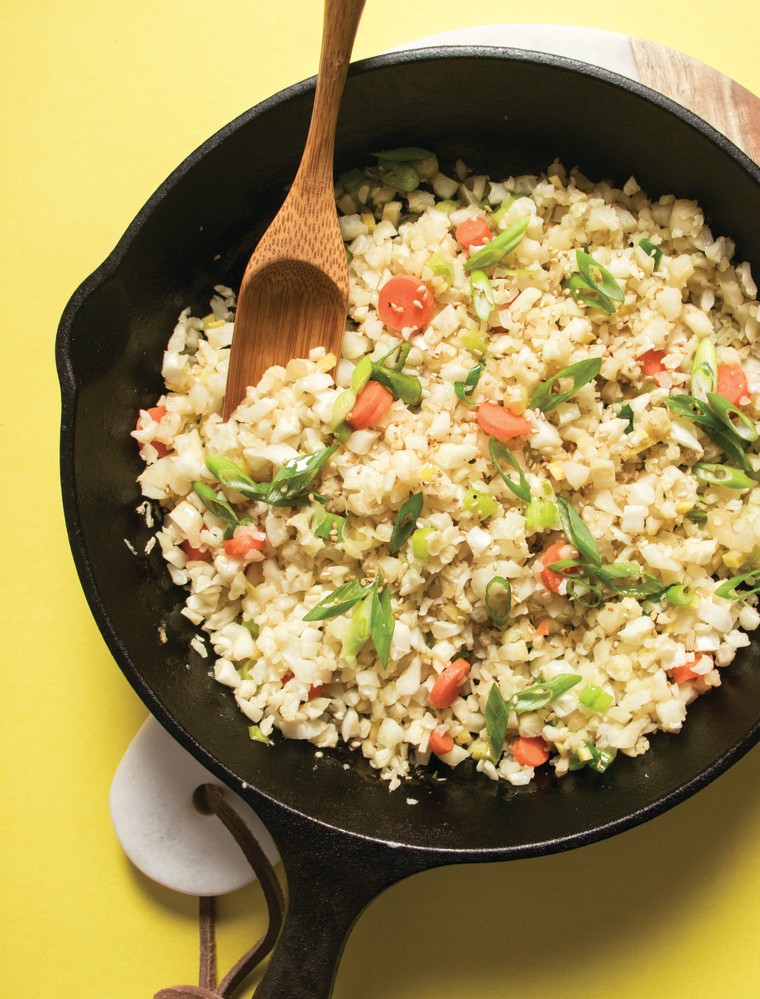 Simple Cauli Fried Rice
Serves 2 to 3
Cook time: 10 to 15 minutes
½ cauliflower, separated into florets (see note)
1 carrot, roughly chopped
1 tablespoon ghee or avocado oil
2 to 3 scallions, chopped and separated into white and green parts
2 small garlic cloves, finely chopped
Coarse salt
¼ teaspoon grated fresh ginger
2 teaspoons coconut aminos
1 teaspoon toasted sesame oil
Toasted white sesame seeds (optional)
To Serve:
Use a food processor to lightly pulse the cauliflower florets and carrot a few times until they are about the size of a large grain of rice. (Note: To save time, you can use 2 cups of store-bought cauliflower rice.)
Heat the ghee in a skillet over medium-high heat, then lower the heat to medium and add the white scallion parts and garlic. Season with a small pinch of salt. Sauté until fragrant, 8 to 10 seconds. Add the cauliflower and carrot rice, ginger, coconut aminos, and sesame oil. Season with a small pinch of salt.
Stir-fry quickly to cook the cauliflower rice to a slightly softer (but not mushy) texture. Turn off the heat and stir in the green scallion parts. Sprinkle with toasted sesame seeds before serving, if desired.
Reprinted Asian Paleo by ChihYu Smith. Reproduced by Permission of the Countryman Press. All rights reserved.
MORE RECIPE IDEAS
Want more tips like these? NBC News BETTER is obsessed with finding easier, healthier and smarter ways to live. Sign up for our newsletter and follow us on Facebook, Twitter and Instagram.