Our editors independently selected these items because we think you will enjoy them and might like them at these prices. If you purchase something through our links, we may earn a commission. Pricing and availability are accurate as of publish time. Learn more about Shop TODAY.
The countdown to one of the most expensive holidays is on, and no, we're not talking about Christmas; we're talking about Halloween. A new report from CompareCards by LendingTree found that 32 percent of millennials and 25 percent of Gen Xers say that they spend more on Halloween than any other holiday.
As a Halloween enthusiast who almost always ends up hosting some kind of festive shindig, I admit to spending embarrassing amounts of money on this holiday. This year, I had nearly decided to skip Halloween altogether in order to crack down on building up my savings, but after talking with deals and decorating experts, it occurred to me that I can enjoy this holiday as I normally would (by throwing a party), without sacrificing oodles of cash or time.
Use social media to inspire less buying and more sustainable decorating
The CompareCards report found that 48 percent of millennials (along with 37 percent of Gen Zers and 30 percent of Gen Xers) purchase Halloween items so that they can include them in social media posts. Rather than using social media as a motivation to spend, use it as a motivation to DIY; you'll find no shortage of inspiration on platforms like Pinterest.
"This year, people are searching and saving inspiration for DIY decor, with ideas for upcycling items you might already have lying around your home," says Swasti Sarna, Insights Manager at Pinterest. "Not only does re-purposing old items save money, but it's a great way to practice sustainability."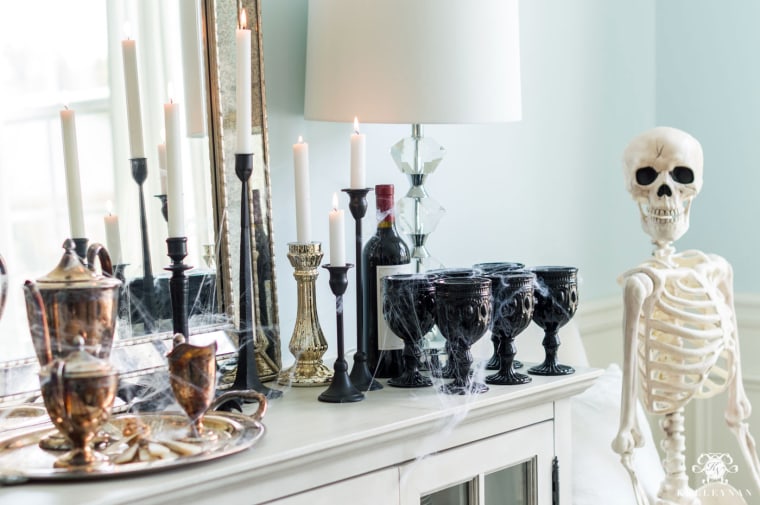 Get creative with what you have on hand and focus on just a few key areas
"When it comes to seasonal decor — especially Halloween — an easy and affordable approach is to consider what existing, year-round decor you already have and then adding a holiday-specific element to it. You don't have to overhaul to be effective," says Kelley Nan, creator of Gracious Living. "Spider webs are cheap and easy to drape quickly; spare bones (which can be found inexpensively at retailers like At Home) can be used in a centerpiece, at place settings, or at a drink station; and scattered candles — the more, the better."
Keep in mind that you needn't decorate all of your house, or even much of the inside to create a sumptuously ghoulish destination.
"For a holiday such as Halloween, I suggest concentrating on just a few focal areas to decorate. First of all, your front door and/or porch. Add some lanterns with LED candles on your porch, scatter a few pumpkins with faux spiders hot glued to them and a big spider crawling across the wall," says Jennifer Griffin, the mind behind the DIY lifestyle and home decor blog Dimples and Tangles. "It's easy to add just a few accessories there to make a big impact. Gather some sticks or branches from the yard, put them in a vase and add a few fake spiders to the twigs, then add a few small pumpkins from the produce section at the grocery store beside the vase."
Avoid buying seasonal/Halloween-themed items
"Yes, that tablecloth with bats and spiderwebs all over it is perfect for a Halloween party," says Julie Ramhold, consumer analyst with DealNews.com. "But if you give your party a color theme, solid tablecloths are cheaper than themed ones and will fit your spooky aesthetic perfectly. Don't buy sugar cookie dough with the bat or ghost design — opt for regular ones instead and then decorate yourself."
Go for a big batch of punch instead of individual cocktails
"Crafting individual cocktails can be festive, but it's also a surefire way to make sure you go through a ton of booze or other ingredients, depending on how big your guest list is," says Ramhold. "Instead, pick a simple seasonal punch recipe, and make a big bowl of it. Check on it periodically throughout the party to refresh if needed."
Make it spooky by adding plastic eyeballs or spiders (which you can pick up at the dollar store). Or go one step further and create a floating hand by freezing water or juice in a plastic glove.
To make your gathering friendly to people who don't drink, put the booze on the side and not in the punch. Or, simply remind people to BYOB.
Make your own baked goods
"It's so tempting to buy ready-made goodies like Rice Krispy Treats, but you'll save more money by just making a big batch on your own," says Ramhold. "Not only will you save on ingredients in the long run, but you'll also know exactly what's going into your party goods. The same goes for cookies and brownies, too — you'll get way more bang for your buck and your ingredients if you make them yourself."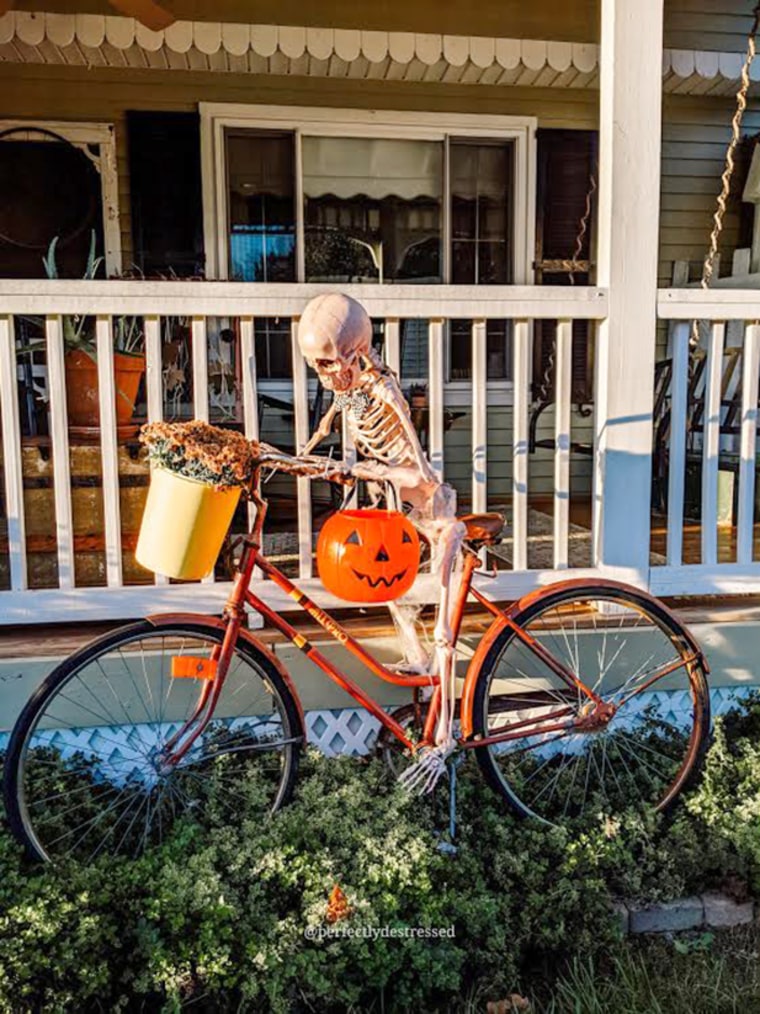 Check out thrift stores and Facebook Marketplace
Check out local thrift stores for knick-knacks (you're almost guaranteed to find things like an excess of vases for those broken twig bouquets). You might also turn to Facebook Marketplace for last minute deals on just about anything.
"I use Facebook Marketplace as my first — and sometimes only — stop for all of my holiday party needs," says Kristin Gambaccini of Perfectly DeStressed, who scored both a vintage bike and a skeleton for a total of $10 on Marketplace. "I paired them together for a fun twist. I [also] purchased vintage-looking bottles for only $3 to create faux apothecary potions. They can even be filled with apple cider or spiked party punch for a fun and totally different way to serve your guests."
If you're not sure what to search for on Facebook Marketplace, consider the following keywords: "mirrors", "candles", "theater props", "skeleton","skull", "clowns", "gothic" and of course, "Halloween".
A DIY decor shopping guide for under $25
This coming weekend, I'll be throwing yet another Halloween shindig, with the goal of spending no more than $25 on decor for the common areas of the house. I came up with the hard spending limit of $25 rather ambitiously — thinking it was probably half of what I would actually end up spending — but after scouring Pinterest and Instagram for ideas, I'm realizing that this is a pretty reasonable budget.
Here's a look at some of the coolest and easiest Halloween DIY decor concepts floating around social media. Though you really only need to implement a few of these decorations to curate a spooktacular party mood, you can also do them all for under $25.
Making your own cutout bats with black construction paper is incredibly easy, fun for kids and can bring an understated elegance to any wall, table or shelf. You can download free printable bat template from sites like FirstPalette, or you can do it the old-fashioned with a sheet of paper, a drawing utensil and a pair of scissors. The beauty here is that you don't have to be too precise in your craftsmanship. You can also get creative by attempting crows, mice, cats and other critters. You can order a 50-sheet stack of black construction paper on Amazon for $6.95. If you're planning to make a lot of cutout creatures, this might be your cheapest bet, otherwise I recommend dropping by a dollar store. For the sake of this $25 guide, we're going ahead and pricing this decoration at $6.95, in which case you'd have a remaining budget of $18.05.
Serving wine at your party? Wrap a thick white ribbon (or gauze) around the bottles instead of ribbon and slap on a pair of googly eyes to turn them into mummies. You can also use this decoration with used wine bottles that were otherwise headed toward recycling. Same goes for jars, pillar candle holders, and even water bottles. You can make the googly eyes using a black sharpie, white paper and a pair of scissors — or nab a bag of 500 self-adhesive peepers on Amazon for $3.56. Remaining budget if you go the Amazon route: $14.49.
A bag of assorted toy cockroaches goes for $4.60 on Amazon. To give your guests an unexpected scare, stuff a couple of these creepy crawlers in your bathroom's soap dispenser to make it look like these bugs are steeped in slime or formaldehyde. You can also use these to give a punch bowl or jello mold an added "ew" factor. If you're going for something edible, you can save money by simply adding gummy worms instead of insects, which is what I'll be doing. A bag of gummy worms shouldn't cost you more than two bucks at a supermarket. Remaining budget if you go the gummy way: $12.49.
Serving jello shots? Prepare them as you normally would, but rather than leaving them to set in a paper shot glass, suck up the liquid with plastic syringes and set those on a track in the fridge to cool. For kids and/or sober guests, booze-free jello syringe shots are just as easy and indeed cheaper to make. A 12-pack of plastic syringes (sans needle, of course), aka, "gelatin injectors" goes for $7.89 on Amazon, but you can likely find them for less at your local medical supply store. If you do buy on Amazon, you have a remaining budget of $4.60.
As Nan notes, fake spider webs are cheap, and the stretchable kind can go a long way. You can get 200 square feet of stretch spider web on Amazon for $4.35, leaving you with 25 cents to burn.
There are tons of other party decor tricks you can DIY without spending any money — you just have to use your imagination. For instance, do you have a pair of old stockings and black heels lying around? If so, you've got yourself a free and easy-to-assemble decoration right there.
"Stuff the stockings with newspaper and put them into the shoes, then place this under a welcome mat or hang it in a tree as a fun display that looks like a witch or other person has gotten stuck," says Stacy Caprio, blog manager at Deals Scoop. "The key is to use what you have on hand and get creative to make fun decorations those around you will notice and appreciate."
More on BETTER
Want more tips like these? NBC News BETTER is obsessed with finding easier, healthier and smarter ways to live. Sign up for our newsletter and follow us on Facebook, Twitter and Instagram..