Perhaps you've heard of the Mediterranean diet, which has taken the top spot in U.S. News & World Report's best overall diet rankings for the third consecutive year. Hundreds of studies point to the fact that people who live in the Mediterranean basin enjoy longer, healthier lives, and what's interesting is that throughout the region (say, Italy vs. Greece vs. Spain), people enjoy a variety of foods, but they essentially adhere to the same eating pattern.
What can I eat on the Mediterranean diet?
While there are no restrictive rules to follow on a Mediterranean diet, there are some guiding principles:
Eat more plants ... To be specific, eat a lot more plants. A Mediterranean eating pattern is plant-centric, and each meal is based on plant foods, which include veggies, fruits, minimally processed whole grains (such as quinoa, brown rice, old fashioned oats and bulgur), pulses (the umbrella term for beans and legumes), nuts and seeds.
… And plant-based oils. The Mediterranean diet is known for being rich in high quality, extra virgin olive oil, but other anti-inflammatory fats get the green light: think nuts and seeds (and their butters) as well as avocados and olives.
Have seafood at least twice a week. This includes fish, like salmon, tuna and sardines, along with other seafood, like mussels, scallops and shrimp.
Do dairy right. People in this region enjoy cheese and yogurt, maybe even most days, but they eat these foods in the portioned amounts, which might be less than you're currently used to.
Cut back on most animal foods. Chicken and eggs are fine on most days, but red meat is eaten less frequently. And even when these foods are eaten, they're surrounded by plants.
Enjoy wine (up to a point). Wine is very much a part of a Mediterranean lifestyle, but it's sipped responsibly — no more than a 5-ounce glass a day for women and two 5-ounces glasses for men.
Reduce sugars and refined grains. It's probably not the first time you've heard this; these foods tend to cause inflammation and oxidative stress that can leave you susceptible to chronic health problems, including diabetes, heart disease, memory problems and cancer. These foods are eaten very infrequently on a Mediterranean diet.
Seek out the highest quality foods possible. Often times, flavor, nutrition and quality go hand in hand. Whenever possible, try to eat the highest quality foods available to you. For instance, you may consider trading up from cage-free eggs to pasture-raised eggs. Pasture-raised chickens forage for their own food and therefore, their eggs have a different and healthier nutrition profile. On the occasions you're choosing red meat, look for grass-fed beef.
You may also want to try foods with the USDA Organic seal, which indicates a high standard of production methods that don't include toxic or synthetic fertilizers, GMOs, antibiotics, synthetic growth hormones or artificial preservatives, flavors, or colors. These production methods are not only more sustainable for the environment, they're also indicators of quality production practices.
Why should I try the Mediterranean diet?
The Mediterranean diet is a sort of non-diet diet, in that it's much more inclusive than what you may think of when you hear the word diet. Although there are some suggestions — eat more plants and eat smaller portions of chicken and eggs — you won't get a really concrete set of rules. Whole fresh food — mainly from plants — forms the foundation of this plan, and since you can eat until you're satisfied, it avoids a lot of problems common with typical diets (for example, feeling overly restricted or deprived, uncomfortably hungry, or too bound by rules that may lead you to permanently give up.)
Beyond that, it's linked with many — and I mean many — impressive benefits! The list is long, but here are a few noteworthy health perks with strong evidence as suggested by a recent review study:
It reduces obesity and improves body composition. People who follow this type of eating plan tend to lose weight (when necessary), and that often results in improvements in waist measurements that can lead to a lower risk of disease.
It's been linked to a reduction in risk of cardiovascular disease and death from cardiovascular disease in both overweight and normal weight people who didn't previously have heart disease.
It leads to improvements in markers that suggest better blood glucose control among people with type 2 diabetes.
It helps you find a more sustainable place on the scale by offsetting the typical weight gain that tends to occur in the over 40 crowd.
Recent science points to a few more body-wide benefits like better bone mass among premenopausal women, better athletic performance (i.e. faster running times), and a lower risk of depression compared to people following other diets.
What makes this eating pattern so healthy is that it gets at the root of many health problems: inflammation, oxidative stress and an unfavorable gut microbiome. These processes are linked to many health conditions, including mood disorders, diabetes, heart disease, memory problems, skin concerns, cancer and the list goes on.
What are the drawbacks?
This diet does wonders for your body and mind, but it does have some drawbacks. While it's lack of absolute rules means it's easily adaptable for real life, I can't ignore the fact that people often gravitate towards more rigid plans (like keto or paleo) because these programs reduce the decision overload that many people face when deciding what to eat — a habit that you participate in multiple times a day (so multiply your overwhelm times three or five).
While a whole foods approach is the best way to score all of the nutrients your body needs to thrive, the Mediterranean diet may seem really drastic if you're used to eating a fair amount of packaged foods or fast food meals, and it might involve more grocery shopping and cooking than you feel equipped to handle. These issues aren't insurmountable, but you may need some extra support to get over the initial hurdles of beginning the plan.
How to get started
You don't need to do anything to get started other than potentially stock up on a few things you haven't been eating. You'll want to pick up fresh fruits and veggies, minimally processed whole grains, beans, nuts and seeds, as well as some poultry, eggs, seafood, cheese and yogurt if you eat them.
You can start with something really approachable — say, pasta — and enjoy it through a Mediterranean lens. Have whole grain pasta tossed with plenty of veggies (think: broccoli, tomatoes and peppers), plant-based fats (both olives and extra virgin olive oil) and maybe some cannellini beans or tuna (or both).
You can also explore other global cuisines using these guiding principles. A veggie stir-fry made with sesame oil and shrimp served over quinoa or brown rice would easily fit within a Mediterranean diet framework. Here are a few delicious and simple recipes that also meet the mark.
Breakfast
Just like other meals on the Mediterranean diet, breakfast is centered around plant foods. It's easier to slip these nutritious powerhouses into your menu than you may think. Grate some zucchini into your oatmeal or stir in some store bought pre-sliced matchstick carrots. Or have a yogurt smoothie made with berries, mangos, or peaches plus greens, such as spinach or kale. Here are a some more ideas for mornings when you have more time.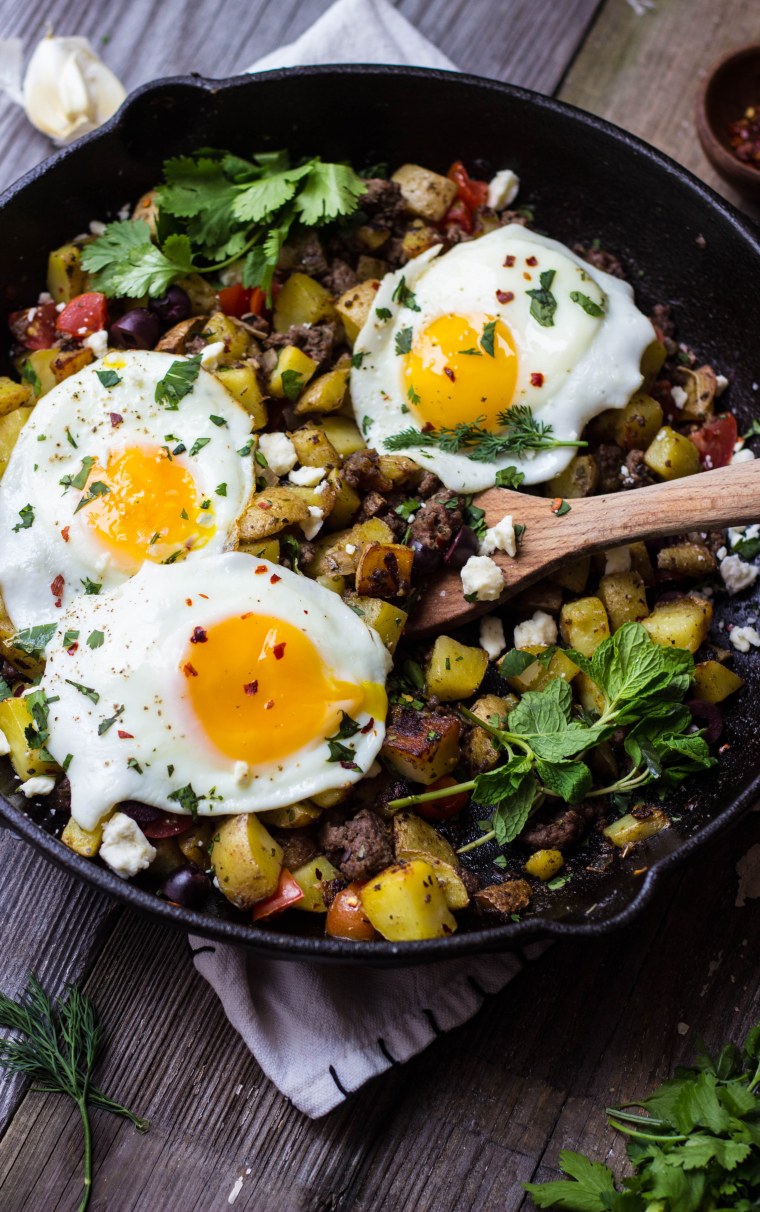 This hearty breakfast, brunch, or really, anytime meal, shows you how to include meat sparingly as those enjoying a Mediterranean diet do. To amp up the veggies even more, serve with a side salad or some sautéed zucchini.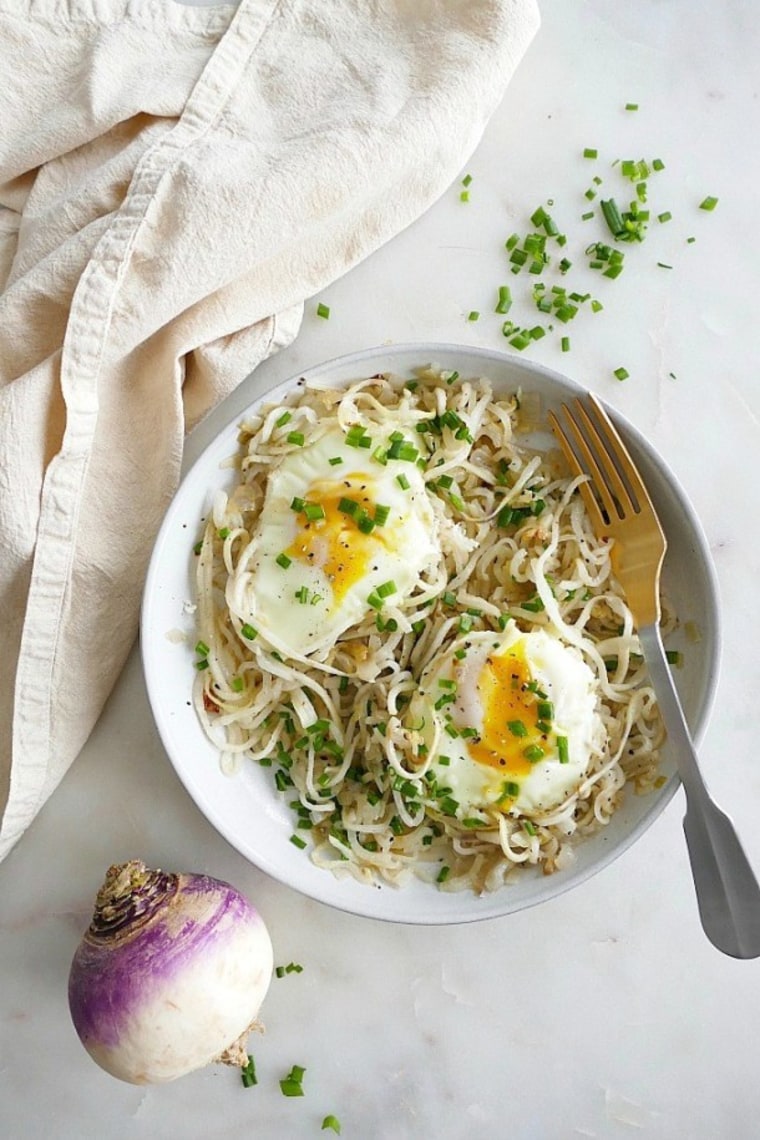 This dish serves your AM eggs over a bed of veggies—in this case turnips, but any veggie would do!
Lunch and Dinner
Veggies and other plant foods are on the menu again at lunch and dinner. But you can still make the Mediterranean diet as easy as you'd like. Use shortcut ingredients, like pre-washed veggies, canned beans, and quick-cooking frozen whole grains. For more Mediterranean diet menu inspiration, here are some delicious meals to try.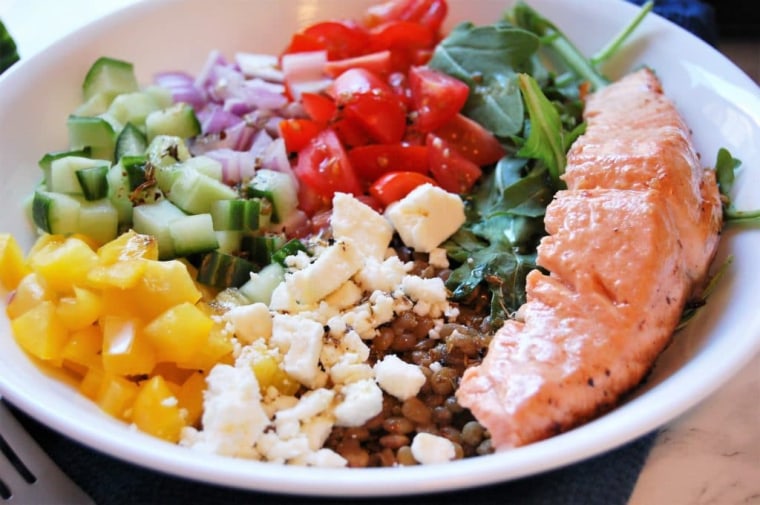 This recipe calls for cooking lentils but if you want to skip that step, you can always sub in conveniently pre-steamed lentils.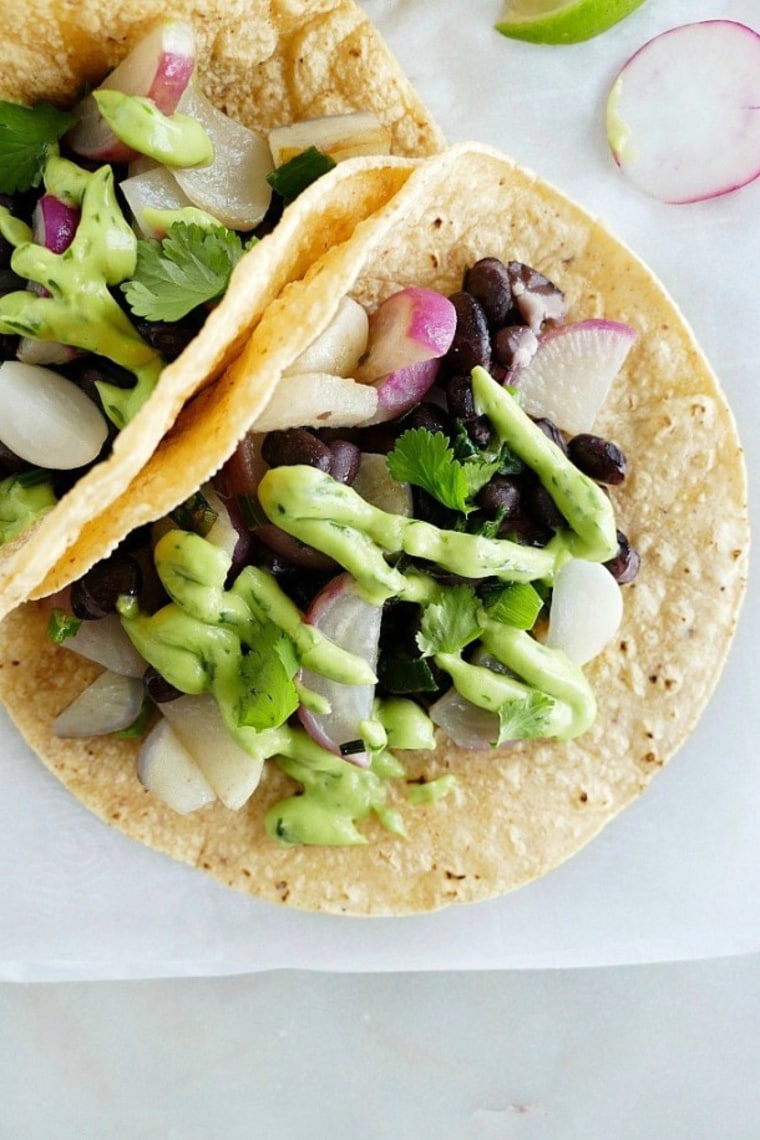 Here's a perfect example of how to look at your next taco Tuesday night through a Mediterranean lens.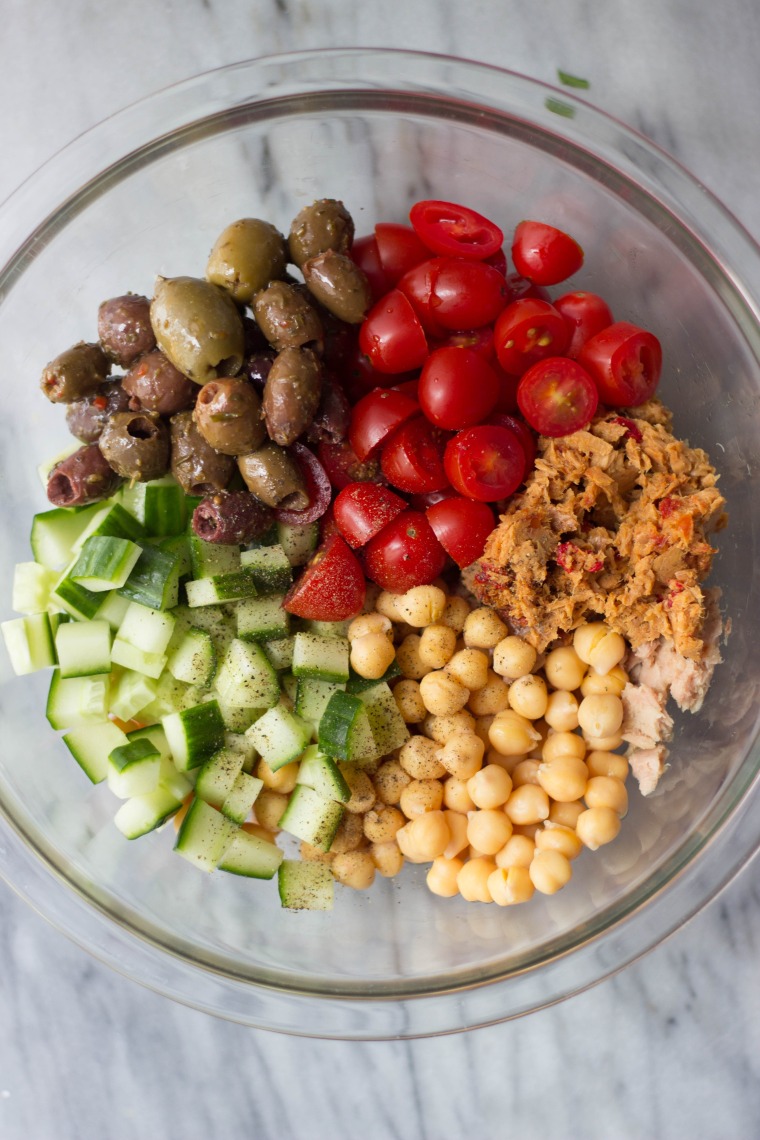 Eating more seafood doesn't have to be complicated. Here's a 10-minute Mediterranean style meal that checks lots of boxes: seafood, pulses, veggies, and plant-based fats to name some.
MORE FROM SAMANTHA CASSETTY, RD
Want more tips like these? NBC News BETTER is obsessed with finding easier, healthier and smarter ways to live. Sign up for our newsletter and follow us on Facebook, Twitter and Instagram.