Sure, it's the thought that counts. But sometimes you get a gift card you really don't want or can't use.
Maybe you don't eat at that restaurant. Maybe there's no store nearby. Maybe there's not enough value on the card and you would need to spend your own money to buy something.
Unless you can regift it, chances are you'll toss that card in a drawer or put it in your wallet, and hope you'll find a way to use it someday. But will you?
About 6 percent of all gift cards are never used, according to Anduro Marketing. If you haven't used the card within 180 days, chances are you won't, according to the Paytronix Annual Gift Card Sales Report 2019.
Rather than losing money, why not sell the card? You won't get full value for it, but it's better than losing the card or forgetting to use it. That's a 100 percent loss.
"I'd rather see people spend their gift cards, redeem them, and get the full value, but I really like the fact that there's a backup plan if you can't do that — sell them," said Shelley Hunter, Gift Card Girlfriend at GiftCards.com.
Where to sell your unwanted gift cards
The market has greatly consolidated in the last year. Most gift card websites now focus on selling cards at a discount or buying in bulk.
The two main sites that still buy unwanted gift cards from individuals are Raise and Cardpool — and they have very different business models. Cardpool buys cards directly from consumers. Raise lets you list the cards you want to sell on their marketplace.
Cardpool
Founded in 2009, Cardpool buys physical and e-gift cards from about 250 major retailers, including clothing and department stores, movie theatres, jewelry and electronics stores, restaurants, pet and auto parts stores, and supermarkets.
"What we pay really depends on the popularity of the brand and what we can sell it for after we purchase it," said David Jones, Cardpool's CEO. "For a card that's really in high demand, like iTunes, Walmart and Target, we would pay as much as 92 percent of the value, whereas for less popular cards there may be a discount of 20 to 30 percent."
The process is simple and quick. Just enter the brand, card code and balance. Once that information is verified, Cardpool will make you an offer. In most cases, you won't need to send the physical card.
There are two payment options: Amazon eGift card or a check in the mail. You'll get 6 percent more if you choose the Amazon e-gift card. For example, we went to the Cardpool site to get an instant quote on selling a $100 Nordstrom gift card. Cardpool offered $70 via check and $74.20 via Amazon eGift card.
In the next few months, the company plans to offer a few other payment options, such as Venmo, PayPal and Western Union.
Cardpool CEO Jones pointed out that the company received some bad reviews last year. The site now has new management, he noted.
"For anyone who had a bad experience, I want them to know that those customer service issues have been fixed," Jones told NBC News BETTER.
Raise
Raise is a marketplace for selling gift cards. It accepts listings for thousands of major brands for free. You get to set the price.
If the card sells, Raise collects the money from the buyer, deducts a 15 percent fee and forwards the balance via check, PayPal Funds or ACH direct deposit.
Since Raise acts as the middleman in the transaction, neither the seller nor the buyer should worry about fraud. "We have 3 million customers, so we're able to drive traffic and move cards really quickly," said CEO Jay Klauminzer.
How much of a discount do you need to offer to get that card to sell? Raise can help you with that.
"We have hundreds of thousands of cards listed, so we've got enough data over time, that we can really tell a person what they're going to need to sell it at," Klauminzer explained.
For popular cards, such as Costco, Target or Walmart, you can offer a very small discount, between 1 and 2 percent, and it will sell, Klauminzer told NBC News BETTER.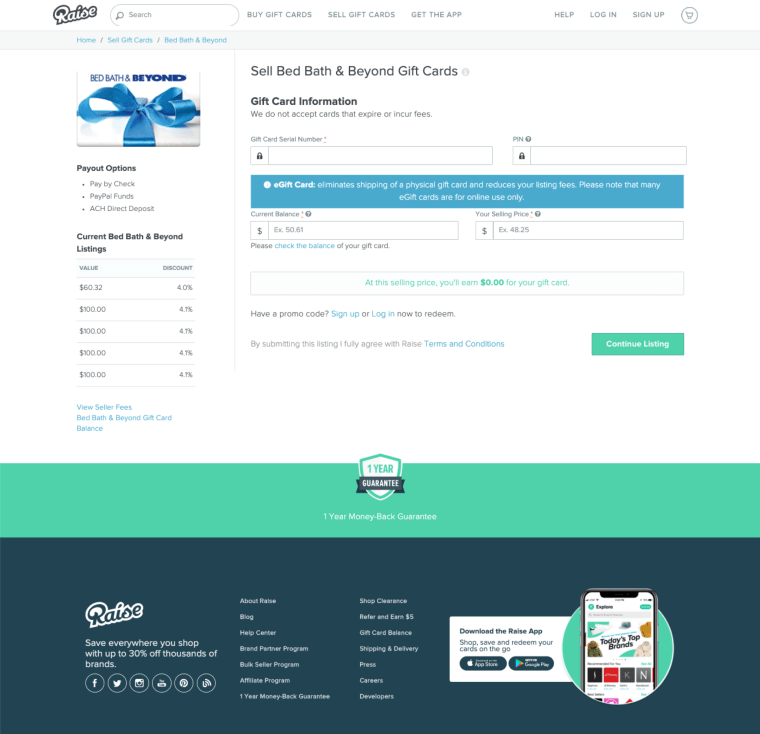 When I entered information on a $100 Costco gift card, Raise said I should list it for $98.65, a discount of only 1.4 percent. On the other hand, the site suggested I offer to sell a $100 Storables gift card for $89 or 11 percent off.
If you want your card to sell in a couple of hours, you might want to be more aggressive with your discount. If you aren't in a rush, try to get maximum value. You can readjust your discount higher at any time if the card hasn't sold.
Tip: Compare what you'd get from Cardpool versus selling it on the open market with Raise.
We checked the numbers for a $100 Target gift card. Cardpool would pay $70 ($74.20 if we chose an Amazon gift card). Raise suggested we sell the card for $98.08 in its marketplace. After factoring in the 15 percent fee, we'd still make more — $83.36 — if the card did sell at that price.
Fraud Alert
There's a lot of fraud associated with gift cards, so it's important to visit a reputable gift card exchange that's been around for a while and offers a money-back guarantee. Otherwise, you could get burned.
"Try to sell it yourself through something like Facebook Marketplace or Craigslist and there are no protections in place there whatsoever. It's easy for you to be scammed," said Julie Ramhold, a reporter with DealNews.
Remember: A thief can drain the money stored on a card — even if you have the piece of plastic in your possession — if they trick you into giving them the number on that card.
More Money Tips
Want more tips like these? NBC News BETTER is obsessed with finding easier, healthier and smarter ways to live. Sign up for our newsletter and follow us on Facebook, Twitter and Instagram.