Ah, Italian food. It may have its roots in Italy, but it's an American staple now, offered up at favorite local restaurants and popular chains like Olive Garden, Buca di Beppo, and Maggiano's Little Italy.
It's easy to turn to Italian takeout for dinner, but why not try making it yourself? At home, you're in control the ingredients. You can sub out healthier choices for the heavy sauces, meats, and cheeses you typically find in Italian takeout.
You'll come out ahead financially, too. "All food prepared by someone else is marked up substantially," says chef Andrew Zimmern. "Cooking at home is always the less-expensive option."
Once you see how easy and tasty these options are, you may turn your back on takeout for good.
TURKEY AND SPINACH VEGGIE LASAGNA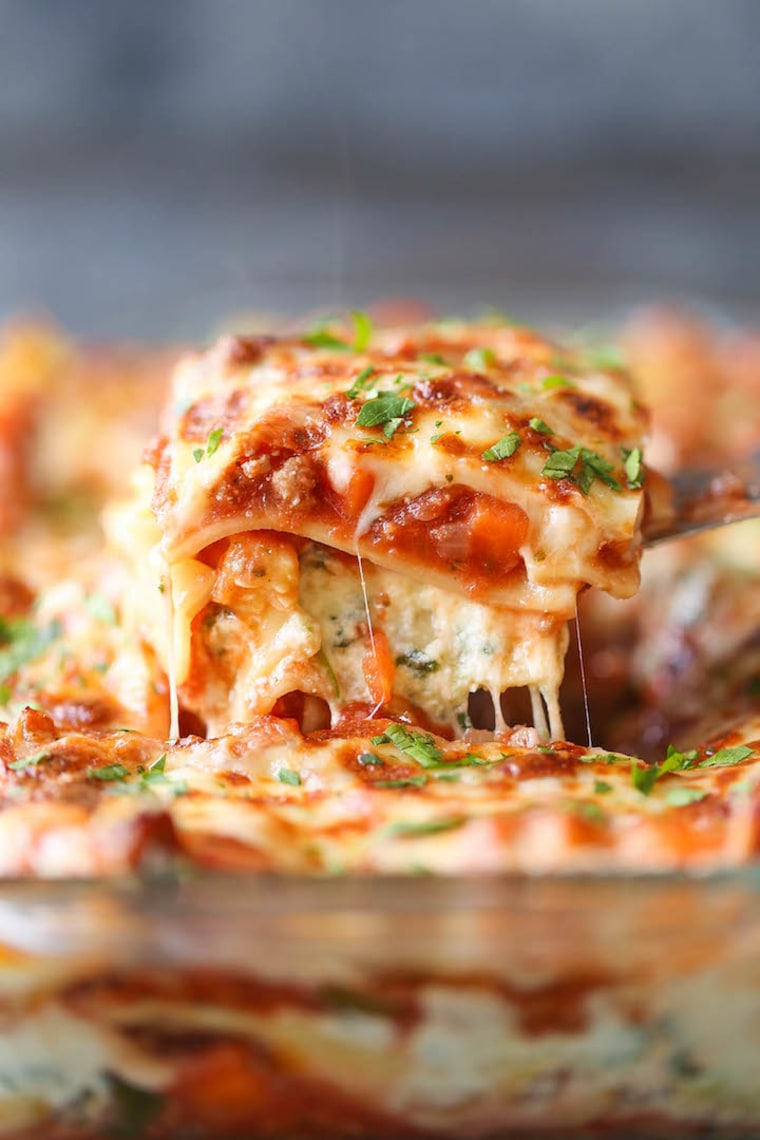 By replacing sausage or ground beef with ground turkey, choosing reduced-fat cheeses, and loading up on vegetables, this turkey and spinach veggie lasagna from Chungah Rhee, the blogger behind Damn Delicious: Quick and Easy Meals for the Home Cook, is loaded with flavor, not calories.
"I really love this recipe because you can lighten it up without compromising taste," Rhee says. "By using whole-wheat lasagna noodles and incorporating so many different veggies, you can still have your favorite kind of comfort food without any of the guilt!"
You can assemble your lasagna ahead of time and refrigerate it up to 24 hours, or freeze up to three months.
EGGPLANT PARMESAN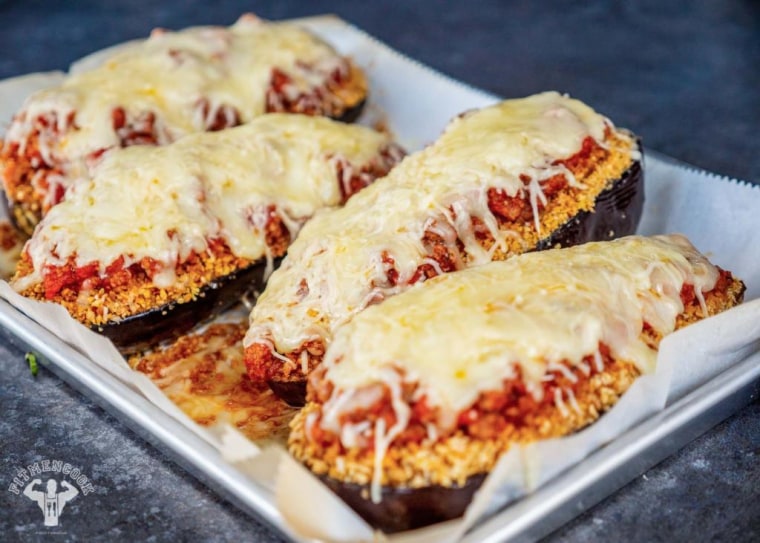 Stock up on eggplant at your farmers' market and use it to build Kevin Curry's lighter, healthier eggplant parmesan. Curry, creator of Fit Men Cook, says, "Many people opt for eggplant parmesan over pasta because it's a vegetable—so it must be more calorie conscious. But when fried in a hot, oily pan at your favorite Italian restaurant, eggplant's spongy texture absorbs all the oil in the pan, making for a decadent and heavy dish. We cut the calories in half by spraying the eggplant with oil, instead of dousing, and baking instead of frying."
The dish comes together in about 30 minutes. "You've got dinner for the whole family, or a week's worth of single-serve meals," Curry says.
And the savings over takeout can be substantial. "An eggplant parmesan dish at an Italian restaurant can cost you $15 minimum," Curry says.
ITALIAN SAUSAGE, PEPPERS AND ONIONS SANDWICH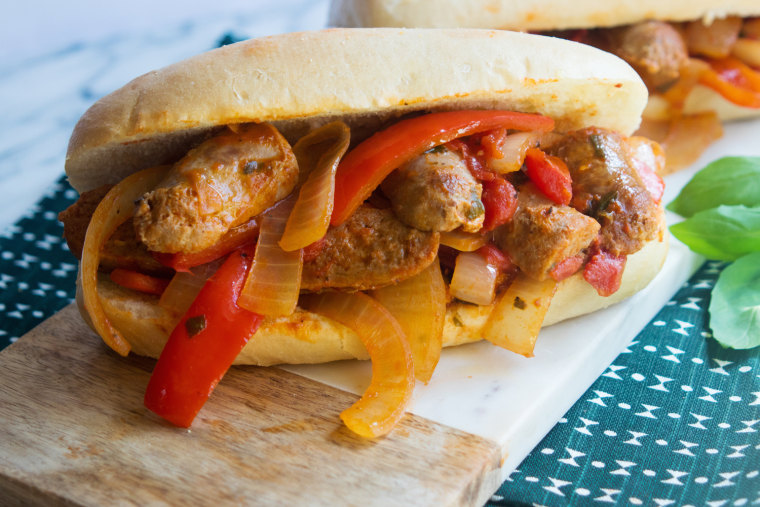 "When you think of a loaded Italian sausage with peppers and onions, you probably imagine something incredibly rich," says chef Giada De Laurentiis.
"My version uses Italian turkey sausage over pork to make it lighter, but there's no sacrificing flavor. Tons of fresh herbs, garlic and Marsala wine give the onions and peppers a huge punch of Italian flavor without packing on a bunch of extra calories."
Want to lighten it up even more? Skip the bread. "Sometimes I just eat the sausages and peppers straight out of a bowl," says De Laurentiis.
LINGUINE WITH CLAM SAUCE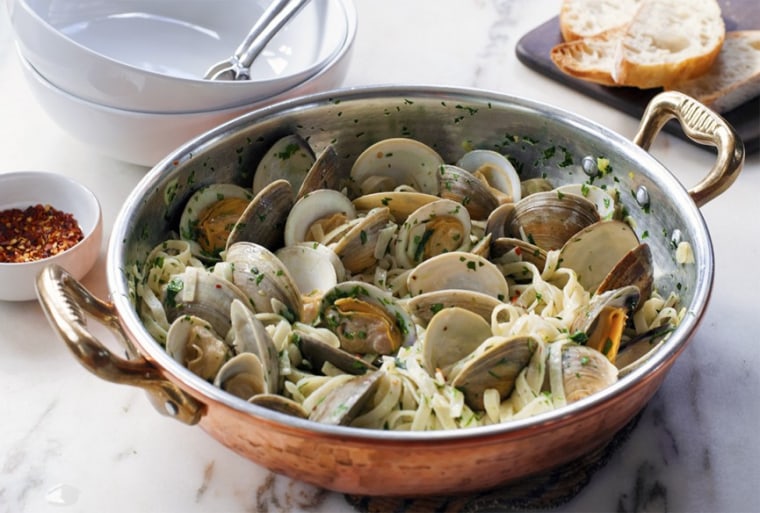 Zimmern, chef and executive producer and host of Travel Channel's Bizarre Foods, credits his passion for clams to his childhood growing up on the East coast waterfront. "My family dug for clams every week in the bays of Long Island, and I've been eating clams every week since. We grew up on clam pizza, clams casino, clams oreganata, and of course plenty of linguine with clams — I'm a New Yorker after all."
Zimmern calls his linguine with clam sauce "The easiest fancy-looking, one-pan pasta meal I can think of. It's quick and simple," he says.
MORE RECIPE IDEAS
Want more tips like these? NBC News BETTER is obsessed with finding easier, healthier and smarter ways to live. Sign up for our newsletter and follow us on Facebook, Twitter and Instagram.