With meat shortages on the rise and fewer trips to the grocery store due to the coronavirus, now's the perfect time to start buying and cooking more seafood and fish.
Seafood is a great source of healthy fats, vitamins and protein, though, and it's low in saturated fat. And you don't need to be steps away from the sea to get good fish. Quality frozen fish is widely available at stores across the country.
With these tips and recipes from food pros, I'm adding seafood to my weekly dinner routine. Here's what they recommend.
How to shop for fresh fish
"If you walk into a store and the seafood section smells like seafood, turn around and go the other way," says Stephanie Harris-Uyidi, host of the "Posh Pescatarian: Appetite for Adventure" TV series. That smell is a sign that that area isn't cleaned thoroughly, or the fish isn't stored properly.
Take a look at what you want to buy. Good fish fillets or steaks should be shiny and bright, not gray or dry-looking. If the scales are still on it, they should look nice and moist, too. And if you're brave enough to buy a whole fresh fish, the gills should be red and moist, and the fins and tail should look fresh and bright. "It should be packed on ice but not sitting in soupy ice water," Harris-Uyidi says.
Ask questions. Find out if the fish in the case is fresh or previously frozen and how long it's been there. Ask for another piece from the back if you want something fresher.
How to choose frozen fish
"Oftentimes, frozen can be fresher than fresh, because in some markets it's frozen right off the boat," Harris-Uyidi says.
Make sure the packaging is tightly shrink-wrapped and secure. Avoid packages that have heavy ice crystals — that's a sign that air is getting in. Choose packages at the bottom or back of the freezer, since they aren't exposed to as much temperature fluctuation.
What to look for in shellfish
When you buy clams and mussels, they are still alive. If the shells are slightly open and you tap them, they should close. If they don't, discard them. Depending on the type of shellfish you buy, you could discard up to a third of them. Harris-Uyidi says that's just part of the normal life cycle of shellfish.
Don't brush off canned seafood
If you look down your nose at canned seafood, look beyond tuna packed in oil or water. "Canned seafood is another really great option," Harris-Uyidi says. "It's portable, affordable and sometimes exotic. Canned seafood has a reputation like wine in a screw-top bottle, but there's a whole new level of canned seafood out there."
Where to buy seafood
Seafood markets will offer a lot of variety and fresh options, and depending on where you live, farmers' markets might also be good choices for fresh seafood.
But you don't have to trek to a specialty market to buy your seafood. It's perfectly fine to buy fish and shellfish at your local grocery store or national chains like Costco, Walmart, Target or Trader Joe's. "They have all the American classics — salmon, trout, cod, shrimp — that sort of thing," Harris-Uyidi says. Those kinds of stores generally have good quality and decent prices, but a limited selection.
How to make smart choices
When choosing fish, it's important to keep sustainability in mind. "Wild fish is a limited resource," Harris-Uyidi points out. The Monterey Bay Aquarium puts out consumer guides that can help you choose seafood with less environmental impact.
Keep your own health in mind, too. Dozens of types of fish and seafood are safe to eat. But fish high in mercury aren't recommended for women who are pregnant or breastfeeding, or children under age 2. "Mix up the species you're eating," Harris-Uyidi says. "Don't eat salmon every day or tuna every day. Try something new."
These six recipes will give you a great place to start.
HERBED STRIPED BASS WITH WINTER KALE SALAD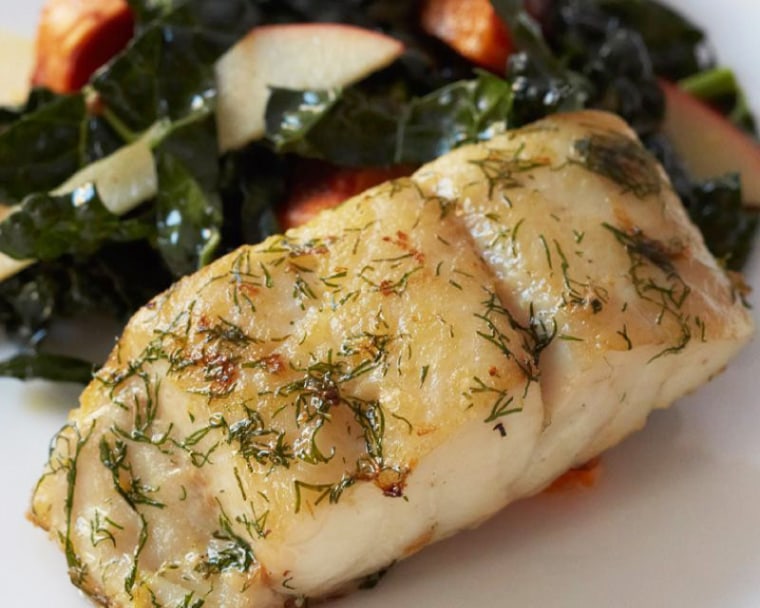 Food Network star and cookbook author Giada De Laurentiis shares her easy recipe for striped bass. It's a great choice for a chilly winter evening, and delicious anytime. "This recipe is so satisfying without being heavy. It's light, bright, crunchy and filling — just the way I like to eat any day of the year."
She says any flaky white fish would work in this recipe — you could try halibut, snapper or cod in place of the striped bass.
MUSSELS FRA DIAVOLO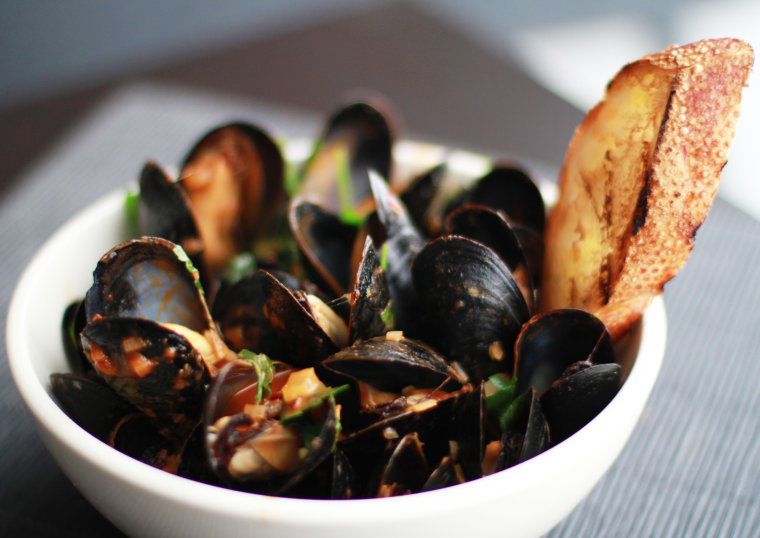 Andrew Zimmern, chef and executive producer and host of Travel Channel's Bizarre Foods, is a big fan of mussels: "Mussels, especially when they are fat, plump and full, are one of my desert island foods. I am constantly eating them and have a dozen different ways I prepare them regularly."
He says his mussels fra diavolo recipe is an easy one. "Any home cook can master this on the first go. It's delicious on its own or over angel hair pasta. And the bright acidity of the tomatoes makes this a great vehicle for a first-time mussel eater," he says.
SHRIMP CHIPOTLE BOWL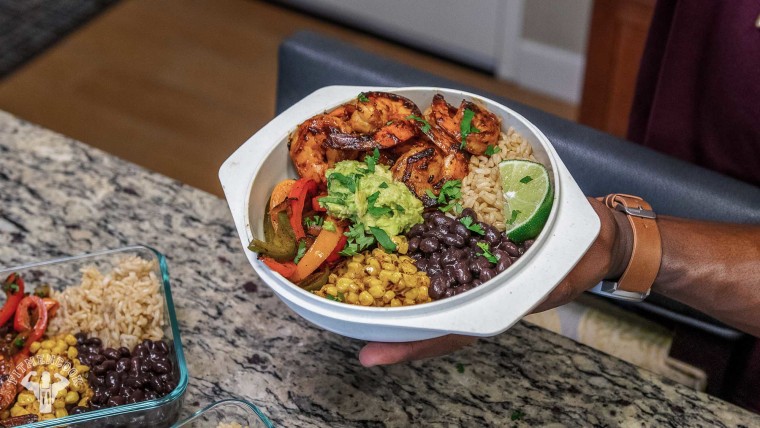 With this delicious shrimp dish, you can skip the takeout and make a healthy meal at home for less. "This recipe is clean eating in a sense that it really lets the food speak for itself," says food influencer Kevin Curry, creator of FitMenCook.
It's a low-calorie dish, but the variety of ingredients help you feel full. Curry says, "I love this recipe because it reminds me a lot of Chipotle. It's simple and quick — once you mix everything together, you're pretty much done."
HOT HONEY AND SOY SALMON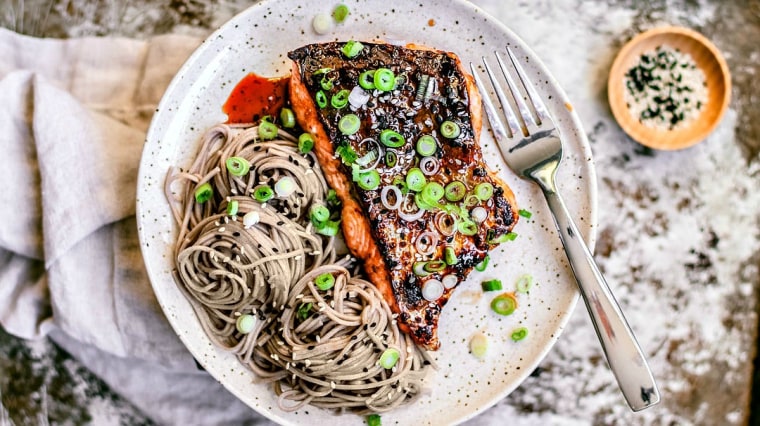 Dana Sandonato, the food pro behind Killing Thyme, says she can have this hot honey and soy salmon on the table in 20 minutes.
"This recipe really kicks up your weeknight dinner, which is why I love it. It's elegant yet simple," she says. "It's also a great excuse to put more fish on your table, which is so important. Salmon is incredibly heart-healthy and the skin is full of nutrients. I understand that eating the skin isn't for everyone, but when you crisp it up like in this recipe, it's hard not to love."
PARMESAN BROILED TILAPIA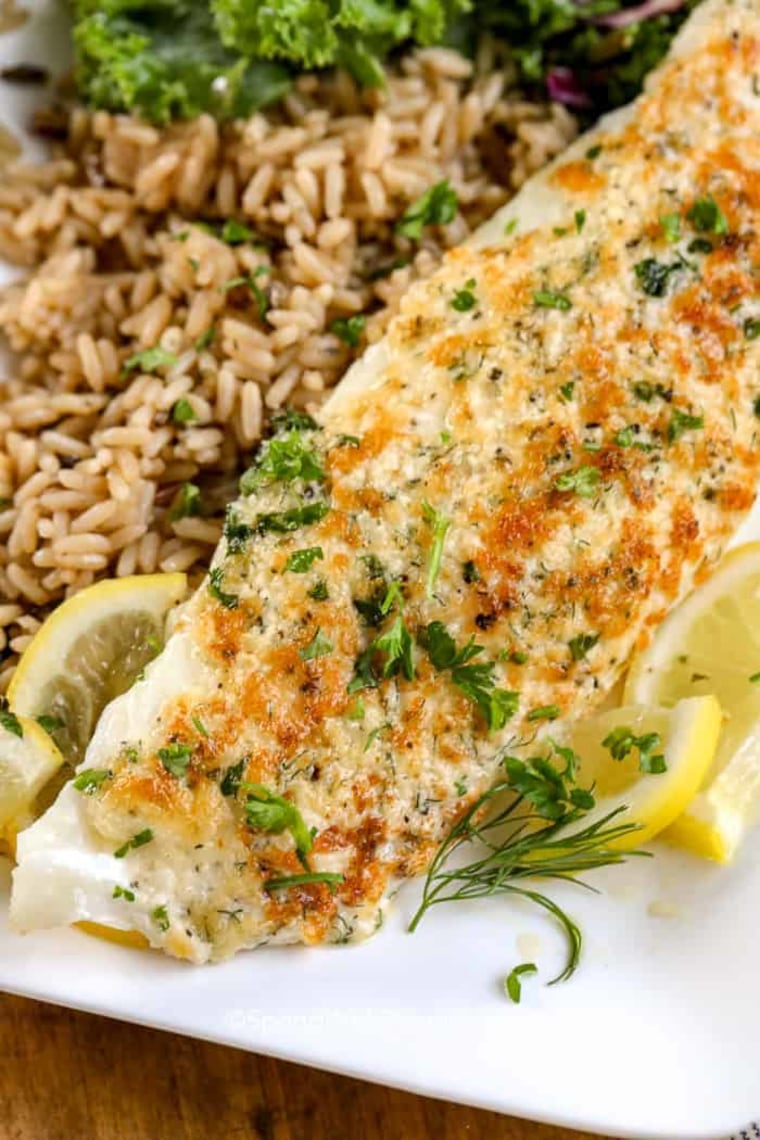 Holly Nilsson, the food blogger behind Spend with Pennies: Easy Home Cooked Comfort, says her parmesan broiled tilapia recipe has been pinned more than 750,000 times.
"This broiled parmesan tilapia is the best tilapia recipe I've ever had, with a tender flaky fish fillet and an amazing parmesan crust! It needs just minutes of prep and goes from start to finish in 15 minutes," she says. You could substitute any white fish for the tilapia if you prefer.
OVEN BAKED TROUT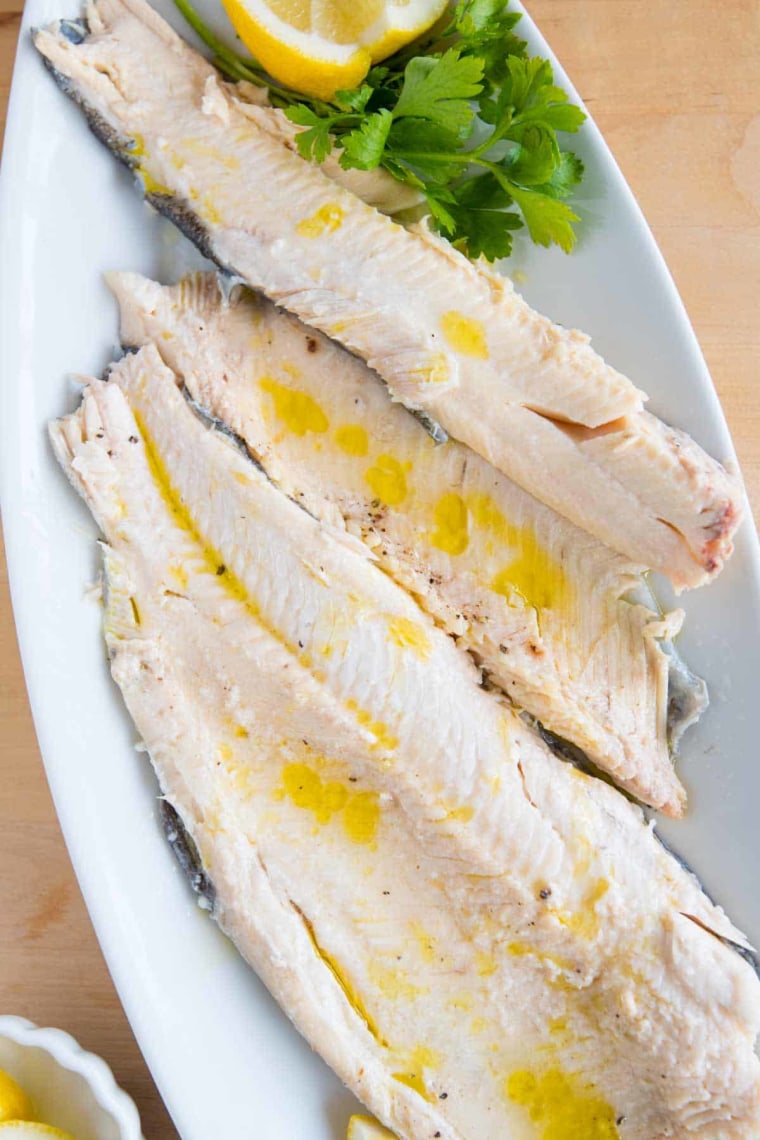 If you're ready to step up your seafood game, try preparing a whole fish. The foil wrap helps keep the fish juicy. "If you're new to seafood, cooking things in parchment or foil is a great option to maintain moisture," Harris-Uyidi says.
Adam Gallagher, co-creator of Inspired Taste along with his wife Joanne, shares their go-to trout recipe. "This oven baked trout is incredibly easy to make," he says. "The baked fish is tender, juicy and flavorful thanks to lemon and herbs."
MORE RECIPE IDEAS
Want more tips like these? NBC News BETTER is obsessed with finding easier, healthier and smarter ways to live. Sign up for our newsletter and follow us on Facebook, Twitter and Instagram.