Our editors independently selected these items because we think you will enjoy them and might like them at these prices. If you purchase something through our links, we may earn a commission. Pricing and availability are accurate as of publish time. Learn more about Shop TODAY.
If you're hosting Thanksgiving, a holiday dinner or gathering around your kitchen table with friends and family this season, some decorating is in order.
But every host knows that entertaining during the holidays can be expensive and time consuming. Luckily, we can shave off some of that burden when it comes to creating a festive tablescape by getting a little creative.
Emily Pinon, partner and creative director of Bastille Flowers & Events and Ode A La Rose, walks us through three simple — but festive — arrangements that will set the scene for your meals this season. They can be displayed separately, or combined for a full tablescape, and are sure to impress your guests without costing you a lot of precious time or money.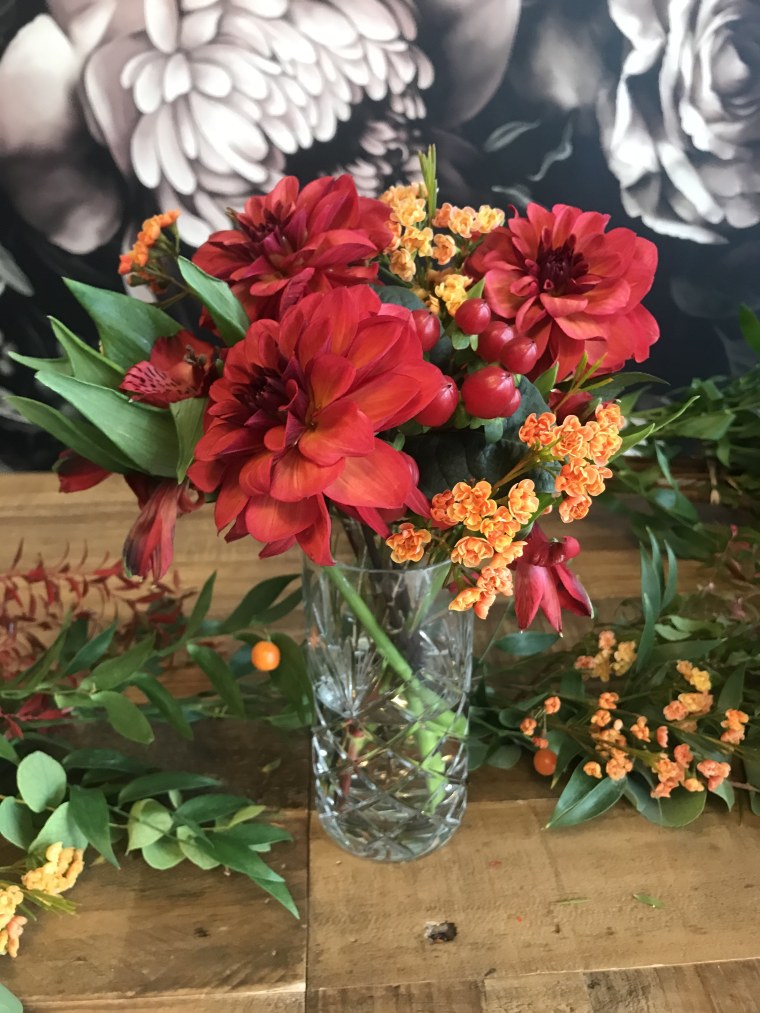 Drinking glass floral arrangements
"You should have access to these flowers at your local supermarket, like Trader Joe's or Whole Foods; some of the greenery, depending on where you live, you may even have access to in your backyard," says Pinon. "You can do this with any drinking glass, even with a special mug, or if you want to do a garden party, use tea cups."
What you'll need
Florals: wax flower, hypericum berry, alstroemeria, dahlias. Other options: roses and spray roses in fall tones, mini carnations, sunflowers, babys breath, tulips
Shears/scissors
Flower preservative
¼-inch, clear floral tape
Drinking glasses
Step 1: Create a tape grid on the top of your drinking glasses
Create a grid on the top of your glasses using ¼-inch floral tape. This prevents your stems from falling to the outside of the glass. Create a tic-tac-toe pattern by stretching two pieces of tape parallel to each other across the mouth of the glass, then stretch two more pieces over the glass perpendicular to the first two, overlapping the tape into a grid pattern. The tape grid allows you to position the flowers where you want them, and you can use less product, says Pinon. "When we're doing this for events, we reinforce it by taping around [the edge] of the glass," she adds.
Step 2: Add fresh water and flower food
Fill glasses about ¾ full with water, add a sprinkle of flower food and stir to help it dissolve. "If you have guests coming over the course of the week and you want it to look really fresh, change the water every day, and also, keep them in your refrigerator at night and your flowers will last even longer."
Step 3: Prep the flowers by removing foliage and cutting stems
Remove all leaves from stem; if they get into the water they promote bacteria growth and shorten the lifespan of your flowers. Measure the flower to the edge of the vase to see where you want to make your cut, and then cut the stem on an angle to expose more of the stem and help the flower drink water faster. It's always better to start longer and then cut them shorter if needed, says Pinon. If you cut them too short it's more challenging to design. "You want your stems to touch the bottom [of the glass]; it gives it a more finished look, and you also know that [the flowers] are going to drink water and stay hydrated in case you forget to add water." Make sure stems are clean with no bumps or thorns. If you need to take stems out to rearrange them, those bumps will get caught on the tape and other stems and make it difficult to make adjustments to your arrangement, says Pinon.
Step 4: Create your arrangement
Pinon suggests working flower by flower, starting on the outer edge, and placing flowers into the grid holes you have created. If you notice the stems seem too long for your glass, you can remove them and cut slightly shorter. "That's part of designing, you may change your mind as you go," say Pinon. In this case she starts with three to four alstroemeria stems in the outer quadrants of the grid. Alstroemeria are a hearty flower that can last more than a week, she says. They start tight and closed, and then as the flower opens the pedals curl back and you can see more color,. so make sure to leave a bit of room around them so they can open. Next, add two to three hypericum berry stems to each glass, leaving some foliage around the top of the berries to help fill out the design. (Note: If any smaller chunks of berries fall off, save them! You can use them to add a pop of color to your garland). Next, add your wax flower, which helps fill in the gaps. Wax flower comes in large stems, so you actually can get 4-5 stems out of one, says Pinon. Finally the dahlias, which Pinon adds last since they are the most special and most expensive in this arrangement, so you want to showcase them, not bury them. "We want them to rest on top; we don't want to nestle them too far in, otherwise they get smashed and hidden," she says. Add three stems to larger drinking glasses, and two to smaller glasses or cups.
Step 5: Step back and assess
"Step back and look at everything from afar," says Pinon. "Go through your compositions and check to see if there are any holes you want to fill; you can use wax flower to do that. Sometimes you can cut some of your stems a little shorter to tighten things up."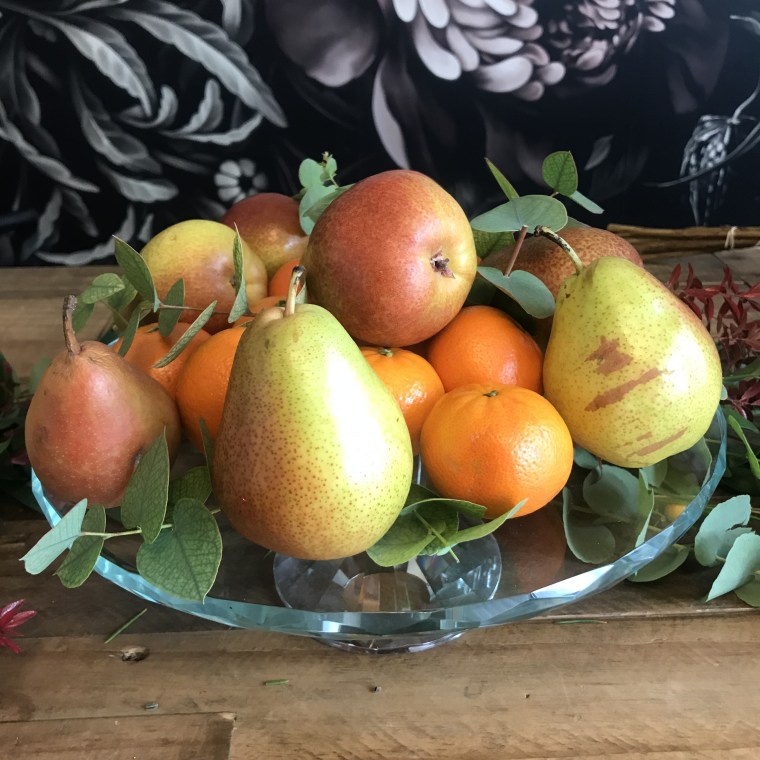 Autumn harvest centerpiece
What you'll need:
Cake plate
Seasonal fruit
Eucalyptus (or other foliage)
"We all have fruit lying around the house, and a cake stand somewhere, or even a big compote bowl," says Pinon. Any fruit will do, but Pinon chose varieties that pulled in the colors of her flowers — clementines, pears and apples. Simply pile them nicely on the glass. You can use double-sided tape or glue dashes to keep them in place if you choose. Then, cut little bits of your greenery — like eucalyptus, foxwood or maple leaves — and insert between the fruit as an accent. "If you have larger leaves, you can start with those first and create a base and then start putting your fruit on top," suggests Pinon. To transition this idea from Thanksgiving harvest to holiday themed, swap out the fruit for pomegranates and add pinecone accents to the centerpiece and the garland.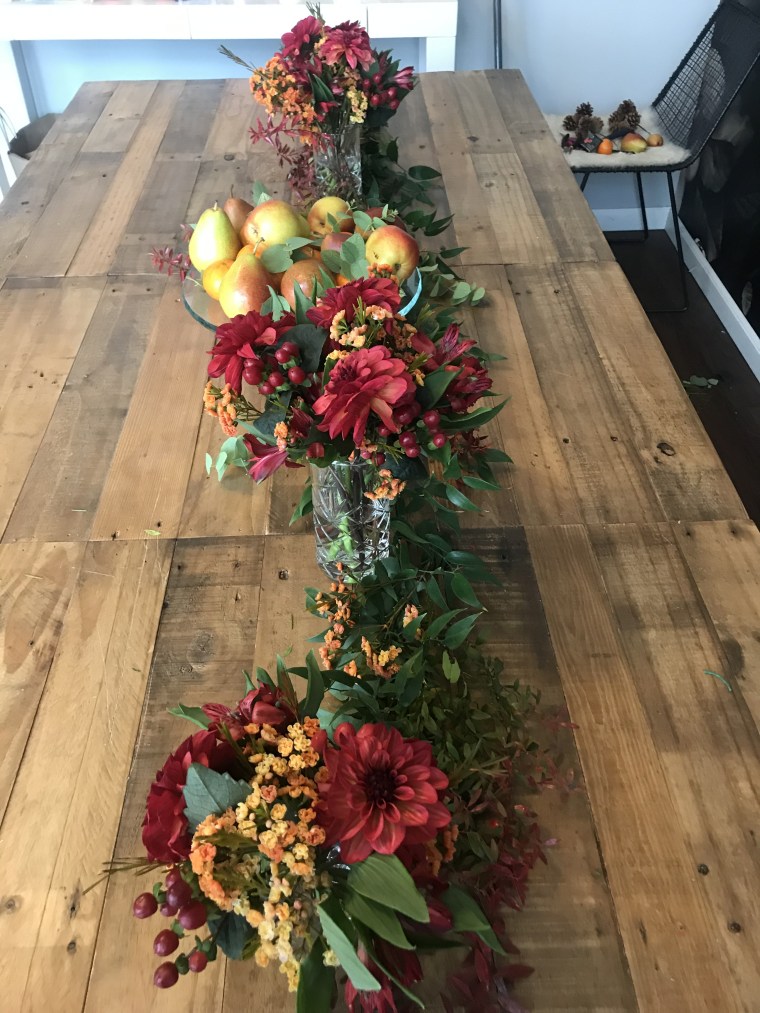 DIY Garland
What you'll need:
Foliage: eucalyptus, burning bush, ruscus
Floral wire
Garlands are a popular holiday decoration, but they can be expensive when bought pre-made, whether fake or fresh. But Pinon has a 5-minute DIY version that will cost you next to nothing and looks just as beautiful.
Pick up a few kinds of greens, either from your backyard, local florist or grocery store. Pinon chose ruscus, burning bush and eucalyptus. You can pick one, or choose a combination, she says. "Ruscus is a very common type of foliage that you should be able to find at most flower shops, Whole Foods and Trader Joe's sometimes carry ruscus, or you can find another kind of greenery," she says.
If the stems are long, you don't even need to wire it, say Pinon, you can simply place it on the table lengthwise. But if you have smaller pieces that you want to connect, take a small piece of wire, overlap the two pieces off center, and wrap the wire around the stems, joining them together and creating a longer strip. (Hack: you can even use a green twisty tie, says Pinon.) Then simply line them up end to end down the length of your table. You can finish off the garland by adding a few small stems of wax flower (or any other leftover bud from your vases) throughout.
More Thanksgiving tips and recipes
Want more tips like these? NBC News BETTER is obsessed with finding easier, healthier and smarter ways to live. Sign up for our newsletter and follow us on Facebook, Twitter and Instagram.