Chickpeas straight from the can are one of the greatest go-to beans — or even just one of the greatest foods — to have in your pantry and your repertoire. They are excellent added to salads, soups, stews, chilis, and more. High in fiber, full of protein, low in fat, they add bulk and texture to all kinds of dishes, vegetarian, vegan or otherwise.
But chickpeas toasted up in the oven, with just the right amount of salt, and possibly some light seasonings are a game changer. And they are so easy to make! Simply toss the chickpeas with the olive oil and salt right on a rimmed sheet pan. You can also add all kinds of seasonings, and combination of seasonings that you like, and toss to evenly coat the chickpeas. Some examples are chili powder and ground cumin or minced fresh rosemary and a bit of finely minced garlic.
The oven temperature is actually fairly flexible, so you can roast them along with other things that might be cooking in the oven. At 375°F you should bake the chickpeas for about 25 minutes, until they have turned golden brown and shrink slightly. They will harden slightly and crisp up as they cool, so do not overbake, or they will get somewhat tough and chewy.
If your oven is set for a higher temperature, 400° or 425°F, start checking them at about 15 minutes. If your oven is set to 300° or 325°, add 5 to 10 more minutes of baking time. Again, remember that they will firm up as they cool, so plan accordingly.
For some dishes you may want them lightly roasted, and fairly soft. For other applications, or for snacking, a bit firmer. And if you are going to add them as a garnish to soup, maybe even a bit more crispy.
Which brings us to the myriad uses for roasted chickpeas. Like canned chickpeas, or cooked dried chickpeas, they are terrific added to salads and soups.
Add roasted chickpeas to these recipes
Slightly spicy — and just a touch of sweet — roasted vegetables become an instant soup with the addition of some broth (using vegetable broth will give you a vegetarian soup) and a food processor. This recipe calls for a combination of rutabagas, carrots and butternut squash, but you can play around with different vegetable combos. Try the roasted chickpeas on top instead of the croutons.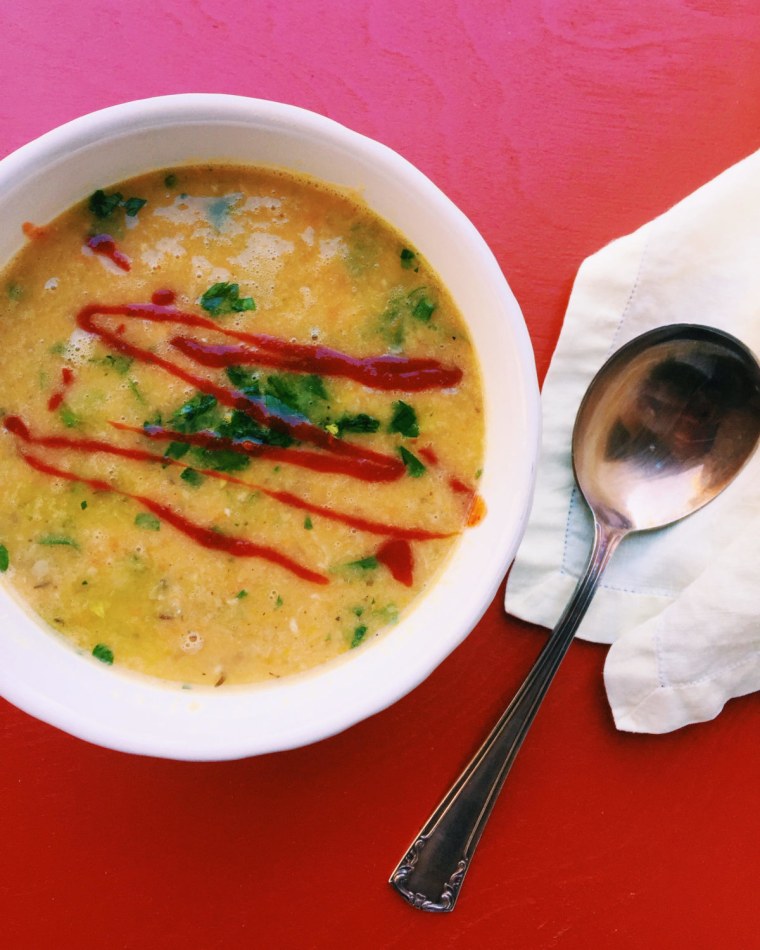 Chickpeas squared! Dried cicerchie are like an Italian cousin of chickpeas — use either to make this soup. This is a vegan protein powerhouse of a soup (if you use vegetable broth and skip the final sprinkle of Parmesan). Toss a handful of roasted chickpeas on top for a chickpea festival.
This soup highlights the pale golden colors and slight sweetness of yellow beets and parsnips. Roasted chickpeas on top add a different layer of golden texture.
In this recipe the chickpeas are added to the sheetpan after the cauliflower has begun roasting so they are done at the same time.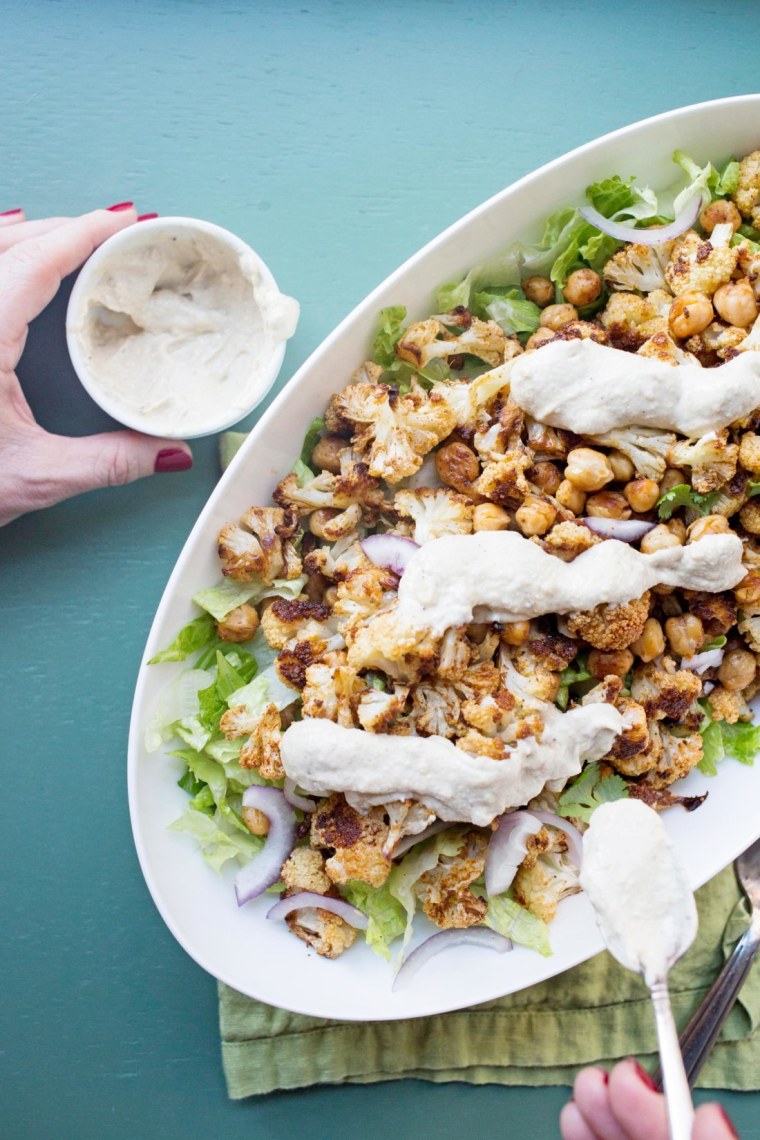 The addition of roasted chickpeas would kick this salad up a notch in texture, a chewy-crunchy counterpoint to the soft salmon and avocado.
This salad tastes like a whole lot more work than it is — terrific flavor, fun textures, and lots of color. First, it has a lovely mix of baby lettuces, spinach and arugula, which have personality but delicacy. It has feta, which makes pretty much any salad better (sorry, vegans! You can leave it out and you will have a vegan salad). And then — the roasted chickpeas for chew and substance.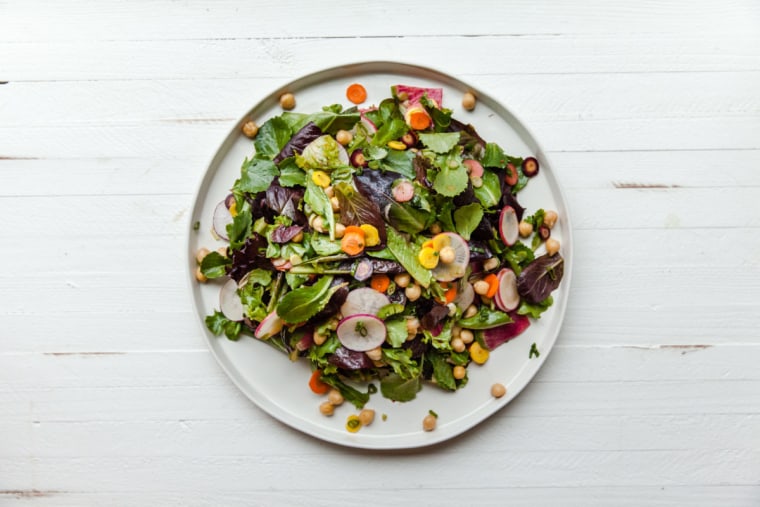 Sub roasted chickpeas for canned chickpeas in these recipes
Beautiful, sweet, orange butternut squash gets roasted with some slightly — but appealingly — bitter radicchio. You can sub in roasted chickpeas for the plain canned chickpeas in this recipe.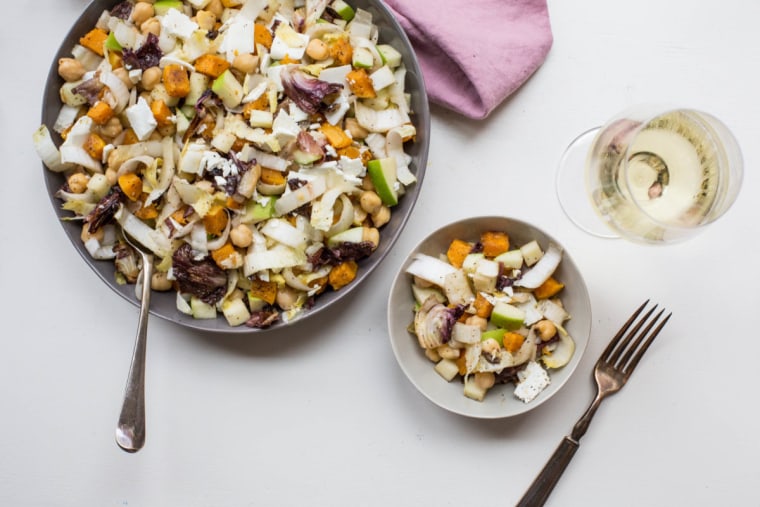 The colors in this salad are truly pleasing — definitely get an assortment of carrots in different colors if possible and play around with different types of radishes. Many assortments of baby lettuces also contain a variety of colors. Again, sub in roasted chickpeas for the plain canned chickpeas for a different textural layer.
MORE CHEAP EATS
Want more tips like these? NBC News BETTER is obsessed with finding easier, healthier and smarter ways to live. Sign up for our newsletter and follow us on Facebook, Twitter and Instagram.