"What most people associate with pesto is classic pesto Genovese, which is the perfect balance of nutty, sweet, salty, buttery and umami," TV personality, cookbook author, and restaurateur Giada De Laurentiis tells NBC News BETTER. But in her own kitchen, De Laurentiis prefers to think about what pesto actually means, "any sauce that has been pounded or crushed." Pesto comes from pestare, Italian for "to pound" or "to crush."
The traditional blend of basil, garlic, Parmesan and pine nuts is an Italian classic for a reason, but being more flexible with your ingredient list "opens the door for so much more," explains Laurentiis, who likes to make pesto with everything from parsley to peas to broccoli. Here, she shares pointers for achieving pesto perfection at home, plus five favorite recipes and creative ideas for using each one.
Choose your tools
One of pesto's selling points is that it can be made by hand, with a mortar and pestle or in a food processor. It all depends on how much time you have and what you prefer. For De Laurentiis, the answer is easy.
"Let's be honest, I'm a busy mom, so the food processor is much easier and quicker for me to whip up any kind of pesto rather than pulling out the old mortar and pestle." Regardless of method, De Laurentiis recommends starting with ingredients that take the longest to chop, such as garlic and any nuts, and adding more delicate ones like herbs and baby greens towards the end. "You don't want to bruise them up too much," she warns.
If you opt for using the food processor, "always pulse in the Parmesan or other cheese at the end or stir it in by hand," says De Laurentiis. That way, the heat of the machine won't melt the cheese.
Mix it up
As you can see from the recipes included here, pesto is ripe for experimentation, so take a cue from De Laurentiis and play with different combinations to suit your palate and the meal you want to make.
"Always think about balancing flavors and textures," advises De Laurentiis. "For so few ingredients, pesto is rather complex, and you don't want one ingredient to stand out too much from the others." To achieve a balanced sauce, De Laurentiis says "to start slow and taste along the way."
Go beyond pasta
Pesto and pasta may be perfect partners, but with such a versatile sauce, it would be a shame to limit yourself to penne and pappardelle. "There are so many uses!" insists De Laurentiis.
Add a little acid — think lemon juice or vinegar — to make a dressing for salads or a sauce for steak or fish. Another easy option is to stir pesto into Greek yogurt for an easy, creamy dip for vegetables or to spread over chicken before baking.
Store like a pro
Pesto may be easy to make but that doesn't mean you want any to go to waste. Whether you make a big batch or just have some leftovers, proper storage is key. De Laurentiis recommends keeping pesto in an airtight container in the refrigerator, but it's also important to take an extra step to keep your sauce fresh and green. "I always pour a layer of olive oil over the top and then place a piece of plastic wrap directly on the oil," she says.
Pesto 5 ways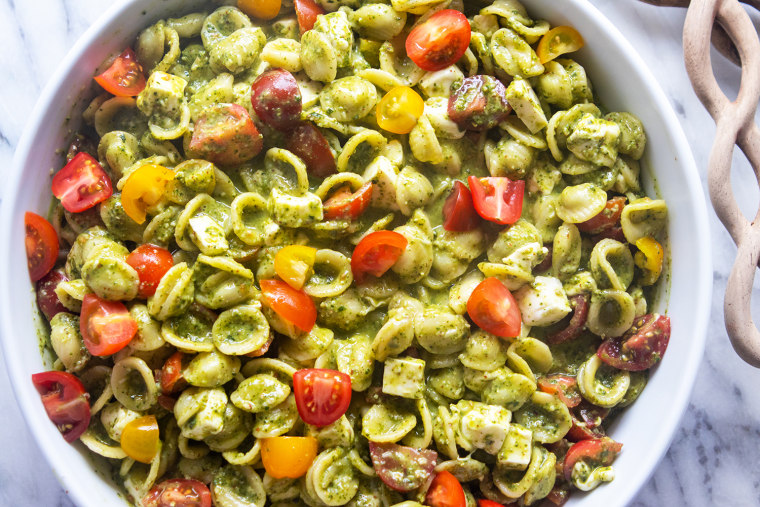 This almost classic pesto features almonds in place of pine nuts. De Laurentiis adds creamy mozzarella, sweet cherry tomatoes and warm pasta for a fuss-free supper, but the vibrant sauce is also a great match for blanched green beans. Think of it as a new twist on green beans almondine, says De Laurentiis.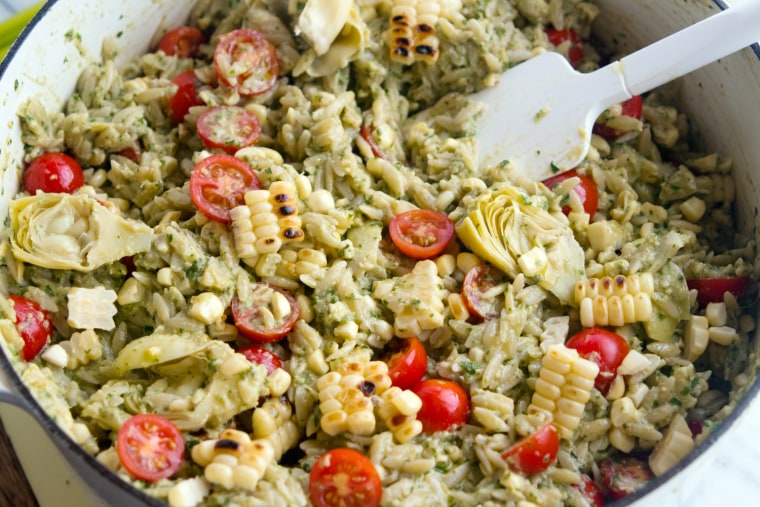 Frozen artichokes, toasted walnuts, parsley, oregano and a heavy hit of Parmesan come together in this unexpected take on pesto. In addition to the corn and orzo combo here, De Laurentiis likes to spread this pesto on chicken sandwiches.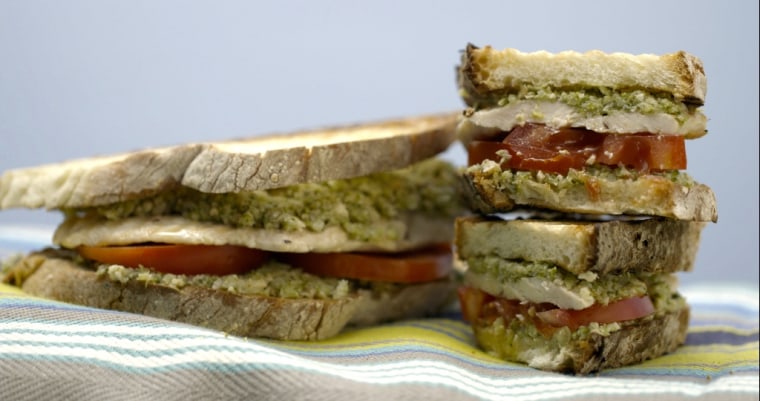 Broccoli is blended with walnuts, lemon, Parmesan and a touch of honey to create a slightly heartier pesto that De Laurentiis serves with grilled chicken, thick rounds of beefsteak tomato, and rustic bread. For a play on a classic pasta, she recommends tossing this pesto with orecchiette and spicy Italian sausage.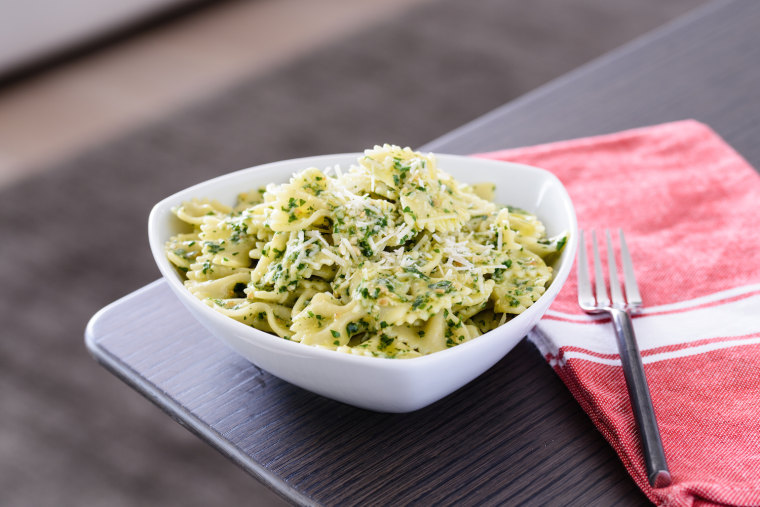 This parsley, pine nut and lemon combination is a great year-round pesto and if you add a bit more olive oil to the mix, De Laurentiis says it makes a great dressing for greens or a flavor-packed sauce for grilled chicken or salmon.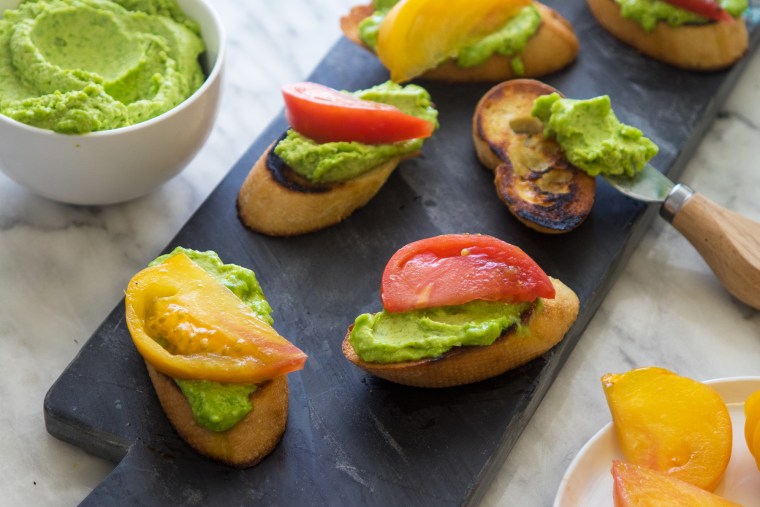 To create this yummy spread, De Laurentiis pulses frozen peas with garlic, Parmesan, olive oil, salt and pepper. It also makes a dynamite filling for tortellini. In fact, that's how De Laurentiis uses it at her restaurant in Las Vegas.
MORE RECIPE IDEAS
Want more tips like these? NBC News BETTER is obsessed with finding easier, healthier and smarter ways to live. Sign up for our newsletter and follow us on Facebook, Twitter and Instagram.